Sailing with sandy paws and salty whiskers
Bringing your pets aboard may have its challenges, but a little planning can make for happy times cruising with your four-legged friends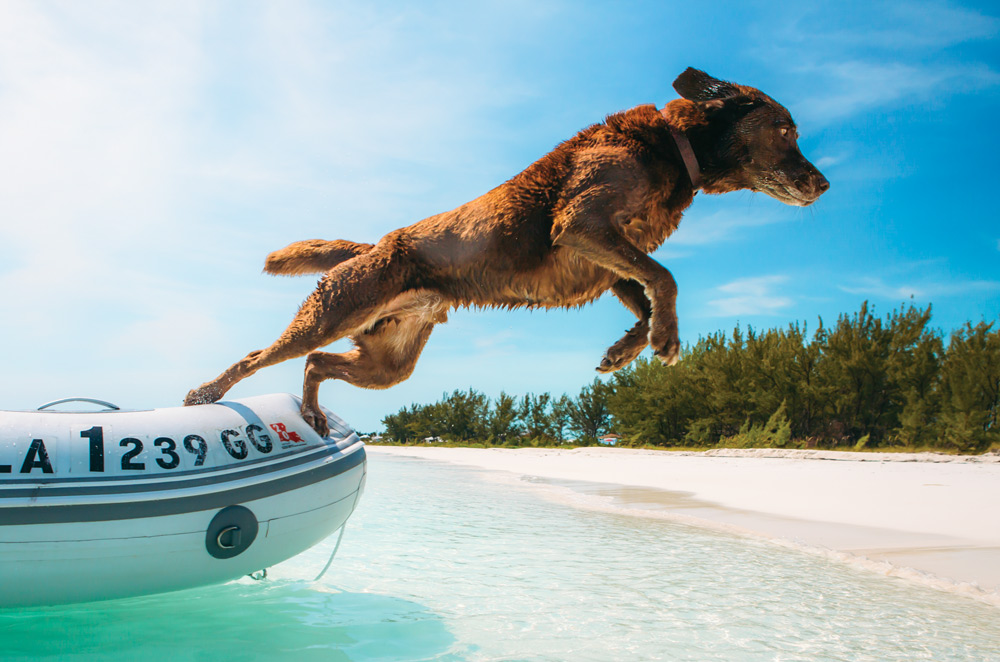 Brooke Bass photo
International travel
Something both dogs and cats do have in common is the need to declare them to customs and immigration upon arrival into each new country. It's not uncommon for cruisers to have to alter their plans because animals are not easily accepted in a particular country or because the additional fees are prohibitive.
With the standard practice of ensuring your pet has all of his or her vaccinations up to date, a valid health certificate and rabies titer, Stephanie estimated that her two dogs ended up costing her $1,200 to import them directly from the USA to the BVI.
"Cruisers have to meet the regulations of the country they're traveling to and also the country they are leaving from. We met with the U.S. Department of Agriculture vet for full certification and then sent the paperwork to a government vet in the BVI. We found this part of the planning process very costly," she added.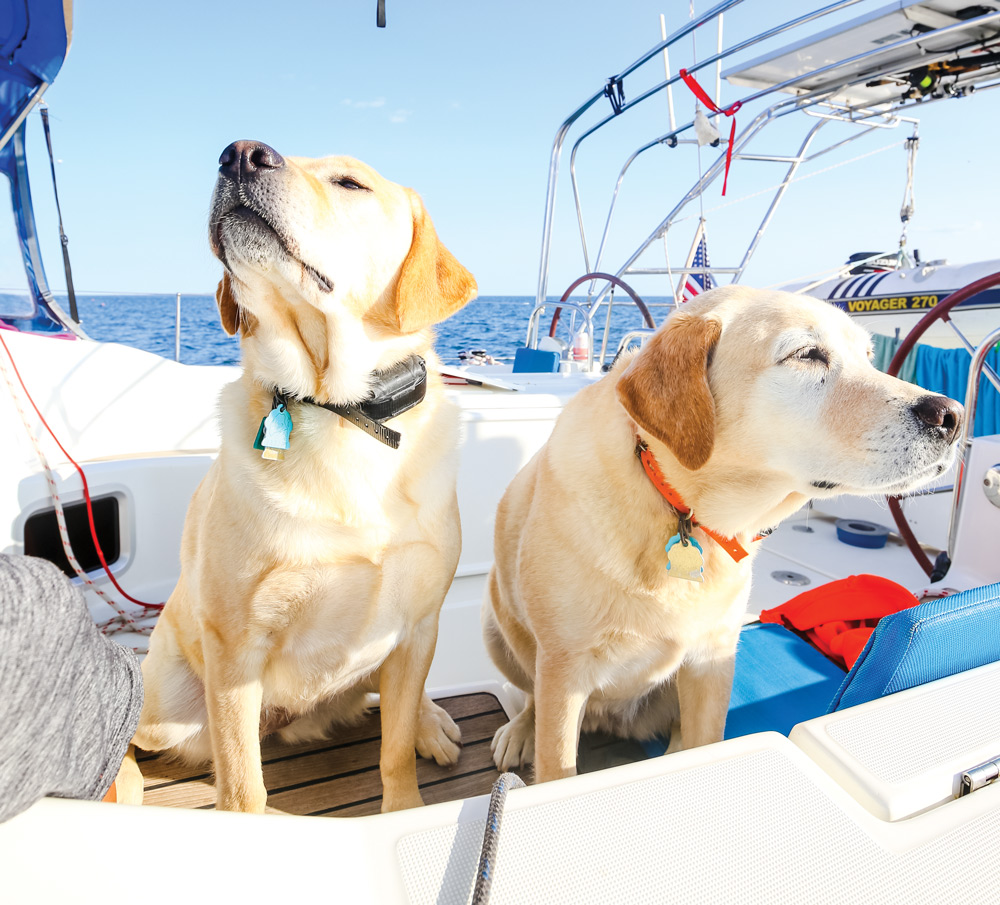 Erin Carey photo
Stephanie has found emailing vets directly to be the best way to gain knowledge on fees and requirements for future destinations. Alternatively, some large veterinary offices provide a service where a travel specialist conducts all the research on behalf of the pet's owners, ensuring they meet all of the countries requirements before departure. In general, all pet owners reported spending a subsequent $50 to $100 each time they visited a new country, and that was just in customs fees, with vet appointments costing $25 to $50 on top of that, if required. Pet owners also need to take into account the transportation fees to and from the vet, often resulting in taxi fares of a similar amount. Many cruisers have to plan weeks if not months in advance, researching their future ports of call to ascertain the requirements for bringing pets ashore. Often information is difficult to come across or hard to interpret because most of the data refers to pets arriving by plane, not by boat. Blood work, a microchip and tapeworm treatment are also often required. It's imperative that you do your homework.
Some marinas don't allow pets and some countries may deny entry to breeds of dogs known to be more aggressive, such as pitbulls. Animals could also be placed into quarantine if country officials deem it necessary. The absolute worst-case scenario is that your pet could be euthanized due to your lack of research if you arrive in a country that feels strongly about biosecurity.
Gear and chow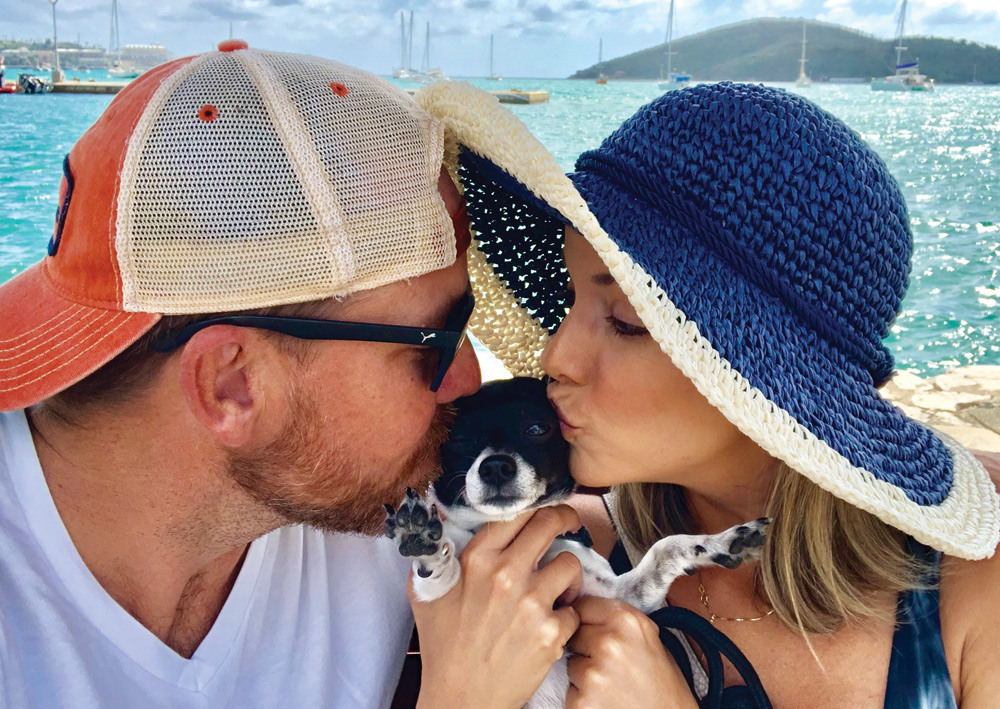 Erin Carey photo
If your pet has a special diet, or you have a particular brand of food you prefer to use, it is suggested you bring as much as you possibly can from home. Several pet owners mentioned the difficulty they faced sourcing high-quality pet foods in areas such as the Caribbean, the Pacific and Asia, often resorting to placing orders online and having it delivered to whatever island they were on for an exorbitant price.
Safety gear for your pet is another issue you will need to address before you leave, ensuring you have a correctly fitting harness, tether and life jacket for your pooch or kitty. Others even purchased special leashes, carry bags, a light for after dark beach romps, an identity tag with the boat's details and contact information, and weighted blankets to calm their pets in times of stress. Then there are the grooming utensils, pet netting around the lifelines to prevent a POB (pet overboard) and bedding that can withstand the salty environment and dampness. If there is a possibility that you may need to fly home with your pet, it's important that you take an airline approved pet carrier with you, as sourcing them in remote places can be extremely difficult.
The size and breed of dog, along with its agility and sure-footedness, should be considered when deciding if cruising is right for your pet. In general, a pet that can be held under your arm and lifted with one hand will be easier to wrangle at docks, up and down the companionway and onto the dinghy. Smaller dogs also take up less space, require less food and water and land travel is easier to accommodate with a small dog. Long-haired breeds will require regular grooming due to the sand and saltwater, and if water is a precious commodity on your boat, this is something you may need to consider carefully.
Security onboard is often a heated topic, and several owners cited the protection their dogs provide as a significant benefit to having them aboard. Some argue though that a dog offers a false sense of security and many intruders will not be put off by a dog. If nothing else, they may be able to provide you with an early warning. Dogs that bark a lot will not be popular in an anchorage, and nervous dogs who cannot be left on the boat alone will also present problems.
The bottom line
There are many benefits to cruising with a pet. There's the joy they provide as they frolic and romp along deserted beaches, darting this way and that, trying to take in all the new sights, tastes and smells at once. They are also entertaining, especially if you have a dog who will jump off jetties and attempt to catch fish or hang over the front of the dinghy, the wind in their jowls, their ears flapping in the breeze. Moreover, there is the company and companionship, affection and unconditional love, not to mention the stress release after a day of trying boat jobs.
Overall the payoffs seem to be worth the complications and expenses for most. However, a few said they would never consider taking an animal aboard again and certainly wouldn't have considered it if the pets weren't already a part of the family. Of all the people I spoke to, their love and dedication toward their four-legged friends was apparent, and the lengths owners go to assure their pets comfort, safety, and enjoyment aboard a boat was heartwarming. Cruising with a pet adds another element of happiness to an already fulfilling, yet challenging lifestyle, only you can decide if having a pet on board is right for you.