Having a weather router dedicated to your passage can offer valuable information and peace of mind
Menacing clouds hung low in the sky, and despite it being only 3 p.m., it felt on the verge of nightfall. The radar screen was lit up like a Christmas tree, and we did our best to dodge and weave the angry red blotches blocking our path. Two weeks earlier, we had departed from St. Martin in the Caribbean, wearing nothing but shorts and T-shirts. Now, I was bundled up in layer upon layer of fleece and foul weather gear, neck scarf and a beanie, protecting me from the chill of the North Atlantic air.
I wedged myself tightly into a corner of the cockpit and adjusted the tether that was securing me to our boat. Gazing back at the following sea, now as high as the solar panels on top of our arch, I was comforted by the knowledge that our Moody 47 ROAM had done this passage seven times before us. Unfortunately, the same couldn't be said for her crew. The Garmin inReach buzzed from its position under the sprayhood. It was a message from our weather router, Chris Parker.
"There's a low-pressure system forming to the west of you and another to the south," he wrote. "We need to get you to the Azores ASAP."
Conditions had been gradually worsening for days, and Chris had been keeping a close eye on the situation. While I was aware of the low-pressure systems in the area, our last communications had instructed us to continue east, with the plan of slowing down until the turbulent weather had passed. This was going to delay our arrival by a few days, but after 15 days at sea, a few extra made little difference. Receiving the news that we would now be trying to outrun a low-pressure system, bringing with it 50 knots of wind caught our attention though.
What if something went wrong and we were caught in the middle of the storm?
Alternatively, remaining at sea for several days more left us vulnerable to further depressions on the horizon. So, we made a mad dash, 300 miles northeast to Faial, an island of the Azores, and were tucked in safely when the low eventually hit.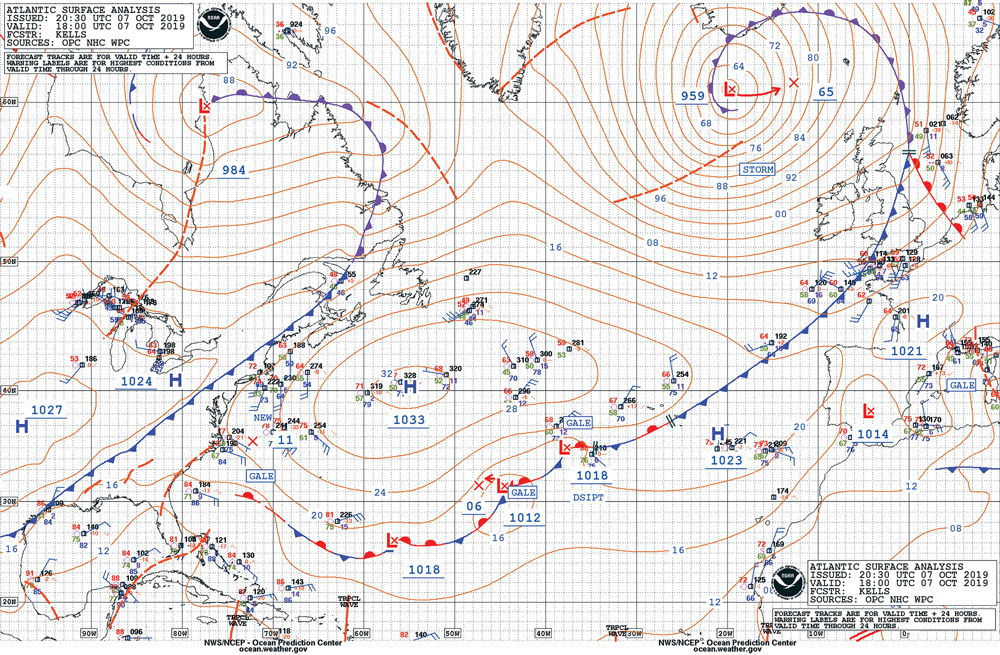 By employing the services of Parker, meteorologist and founder of the Marine Weather Centre, we were able to mitigate one significant element or risk during our first ocean passage. Knowing he would deliver reliable, detailed and extremely accurate weather information to our boat, even if we were thousands of miles from land, was a great comfort. Not only would Chris's weather reports provide us with a long and short-range forecast, but he would also take into account our crew (which included three children), the size and speed capability of our boat, and our desired comfort level. By sending us specific waypoints to follow, he was able to assist us in navigating around small local interferences, while keeping us informed of the overall bigger picture.
What routers provide
A good weather router will not only keep an eye on the wind speed and direction; they will also monitor real-time data from ocean buoys and satellite imagery. Currents, the height, direction and frequency of waves and swell, along with squall activity, are also monitored. This data would be difficult to obtain while sailing across an ocean, where download speed is limited, and obtaining the data is time-consuming. If single- or double-handing, your time could be better spent managing fatigue.
Not only do weather routers provide you with valuable advice and direction, but they are also monitoring your position. While they can't guarantee that you will not encounter rough weather, they can provide guidance to help you through it. They are also experienced in assisting authorities with emergencies at sea, and for that reason, I included Chris' contact details on my float plan and provided his email and phone number to my loved ones. I saw him as another set of eyes with a vested interest in getting us across the ocean safely, and in my book, that was worth paying for.
What technology do you need
There are several ways to receive communications while sailing offshore. A satellite phone connected to a laptop computer can receive limited emails and small attachments, including GRIB files and weather charts. The Iridium Go does a very similar job and can be connected to your tablet or smartphone using an app. It can receive voice, text, and emails, from the comfort of your cockpit. However, the device requires a monthly plan of around $140 and an initial outlay of about $1,000.
The Garmin inReach was our choice for offshore communications. This device can be used through an application on your smartphone or tablet and allows text messages to be received globally, up to 160 characters per message. It also provides a location tracker and can post to a Facebook page. The upfront cost is $448 and the monthly unlimited plan, which can be canceled at any time, is $99.
In addition to satellite devices, our boat also had a complete single sideband radio and P4 Dragon Pactor modem, which has been fitted by the previous owners. To install this type of system new, will set you back approximately $5,000. To receive weather via SSB radio, you have a few options. You can participate in voice nets run by weather routers or speak to them for advice specific to your yacht. You can also receive emails and GRIB files through a Pactor modem and a subscription to SailMail, or you can receive weather faxes on your laptop via SSB for free.
Initially, I was hesitant about receiving weather forecasts via text message through the Garmin inReach. However, my fears were quickly quelled when I received the first group of messages and realized that not only were they very detailed, but they allowed me to refer back to the waypoints time and time again. We also signed up to SailMail, an offshore service provider that allowed us to receive GRIB files on our computer, delivered through our SSB radio and Pactor modem. Despite having an SSB radio, the inReach quickly became our preferred method of receiving weather updates due to its ease of use, especially when paired with the Earthmate app.
A good fit
Different weather routers specialize in different geographical areas, and your requirements will dictate what kind of weather router you will need. While most can provide offshore advice, some also specialize in yacht racing, regattas, and local and regional sailing. Look for reviews of weather routers and inquire about their services directly to make sure they are a good fit.
Here are a few well-respected weather routers.
Sebastian Wache is the weather router who recently assisted Greta Thunberg and her crew to cross the Atlantic Ocean. He supports regatta crews worldwide, using special high-resolution models for pre-routing. He also assists anyone from beginners to professionals in any geographical location. His services start at 59 to 90 Euros per individual weather forecast. Vessels crossing the Atlantic can purchase an all-inclusive passage for 594 Euros. www.wetterwelt.de
Rick Shema is a weather router who covers the Pacific Ocean and surrounding regions. He has more than 48 years of yacht racing and cruising experience, with forecast skills learned as a U.S. Navy meteorologist and oceanographer. A Departure Package start at $95 and en-route updates are $65 to $75 per transmission.
Bob McDavitt provides weather advice for recreational yachts crossing the Pacific Ocean. He helps with departure date planning, waypoints for the voyage and updates along the way. His services start at $60 to $70 New Zealand dollars for a voyage forecast, complete with waypoints. www.metbob.com
Stephanie Ball of MeteoGib specializes in sailing and shipping weather routing and forecasting for the UK, Mediterranean, Atlantic waters and the Indian Ocean. Her services range from 70 to 140 British pounds per daily SMS forecast. www.meteogib.com
Chris Parker provides high-value-added weather forecasts and routing advice, typically to small sail and power vessels, via SSB Voice Nets, voice telephone, email, SMS text messaging or any combination. He specializes in the entire Caribbean, the Gulf of Mexico, Pacific Coast of Central America, Bahamas, entire U.S. East Coast, Bermuda and Atlantic waters North of the Equator, including Trans-Atlantic vessels in both directions to/from ports such as Great Britain, Azores, Portugal, Gibraltar, and the Canaries. Chris provides packages of ten forecasts, whether via email, SSB, or text message, for $250. Ten forecasts are usually enough for vessels crossing the Atlantic Ocean. Additional forecasts start at $35. www.mwxc.com
If you are using the services of a weather router, should you ignore the fire-red sky or the ring around the moon, the dew on the decks, or the barometer plummeting through the floorboards? You probably know the answer.
"Of course, I can't anticipate all inclement weather, and I encourage clients to use as many forecast sources as they can (this includes paying attention to their environment)," Parker said. "I also encourage dialogue. But ultimately, you are the one who needs to make weather-based decisions, so you need to understand the weather situations too. I hope never to tell sailors what to do. I may recommend tactics, like how to pick up favorable wind-shifts to win a race or how to delay the need to jibe until after sunrise, but ultimately, you need to make the final decision."
For me, using a weather router seemed like a no-brainer. But plenty of sailors choose to go without. Ultimately every crew needs to make their own decisions based on experience level, knowledge, and confidence in their ability to use the technology available to them.
Once we dropped anchor in the Azores, there was no doubt in our minds that we had made the right decision for us. As we stepped foot on land after 2,483 nautical miles and 17 days at sea, we reveled in our achievement, acutely aware that we couldn't have done it alone. I flicked Chris one last message on the Garmin inReach, "We made it!"