Shifting gears into cruising mode
When the Golden Rock Regatta was cancelled, this crew of racers changed plans and switched to charter cruising in the Leeward Islands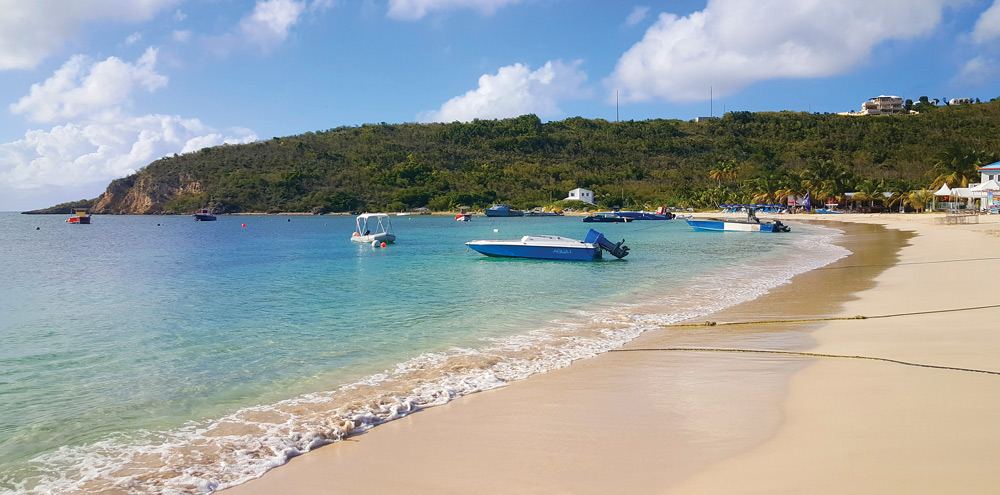 Betsy Senescu photo
The next morning we were back to St. Maarten, making a wide pass around the west coast and Les Terres Basses to Simpson Bay. This was the site of one of our previous GRR stopovers, plus many of the Heineken Regatta races that have been held for 40 years now.
Juul Hermsen, founder of the GRR, was meeting us at St. Maarten Yacht Club to discuss his future plans. During the span of our visit he would organize a merger with La Course de l'Alliance Boat Race, an early December regatta between St. Maarten, St. Barts and Anguilla.
St. Martin Y.C. is always abuzz with activity, especially when the audience assembles to watch the drawbridge open and the mega-yachts squeeze in and out of the lagoon. We had dropped hook in the bay, which despite some airport noise, we all enjoyed. The anchorage is expansive with good, sandy holding and south-facing conditions that provide mild seas and sparkling waters
for swimming.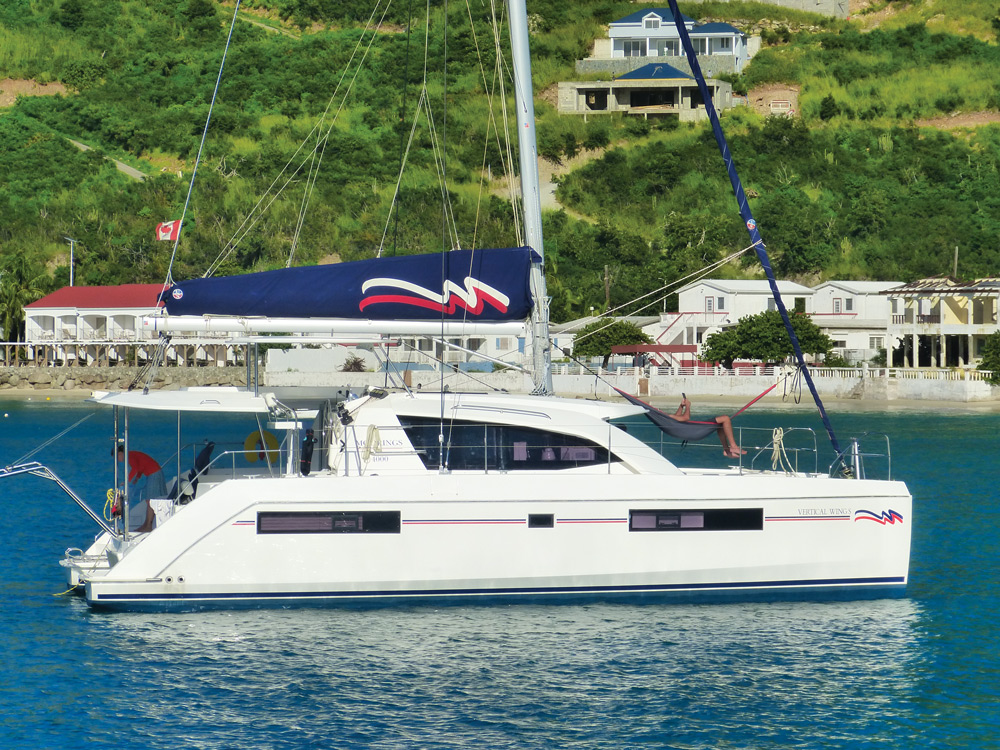 Betsy Senescu photo
From here we embarked on a greatly anticipated trip to St. Barts. The combination of southeasterly course and a 16-knot northeasterly breeze made for a spectacular 17-nautical-mile sail. Tom said the reach between St. Maarten and St. Barts was his highlight of the trip. As we approached the island an ominous squall enveloped Morne du Vitet, the island's tallest mountain, and we stood off until it cleared before anchoring just off the fairway to Gustavia, below Les Gros Islets. We spent two days in St. Barts—two days as perfect yet different as possible. In Gustavia we prowled the trendy and pricey shops, dodging motorbikes on the narrow roads, and feasted at gourmet restaurants. From there, we circled around to Anse a Colombier, a scoop of paradise at the northern tip of the island. Void of settlement, accessible only by boat or foot trail, it proved an idyllic oasis. After picking up a mooring (we had pre-paid park fees in Gustavia) we snorkeled the rocky perimeter of the cove, then swam across the middle where shy Green Turtles tugged at the seagrasses on the ocean floor. That night after a delicious dinner on board, we laid on the trampoline and watched the profusion of stars that shone brilliantly in the dark. We called out the constellations and were lulled by the gentle rocking of the swells.
It was an early departure the next morning, heading back to Simpson Bay where we had agreed to meet Juul and take photos of the fleet of the Grant Thornton Keelboat Series. Watching the local sailors compete while we relaxed on the bay, I wondered if any of our group felt they had missed out on racing during this trip.
"I used to be a gung-ho racer," said Barry, who's owned three different race boats over the last three decades, "but as the years have passed, I've learned that taking the time to see and enjoy your surroundings, as opposed to looking at your sail trim 24/7 is pretty nice too."
"We race constantly at home so I was perfectly fine with not racing," Terri said. "In fact it was actually nice not to have an agenda."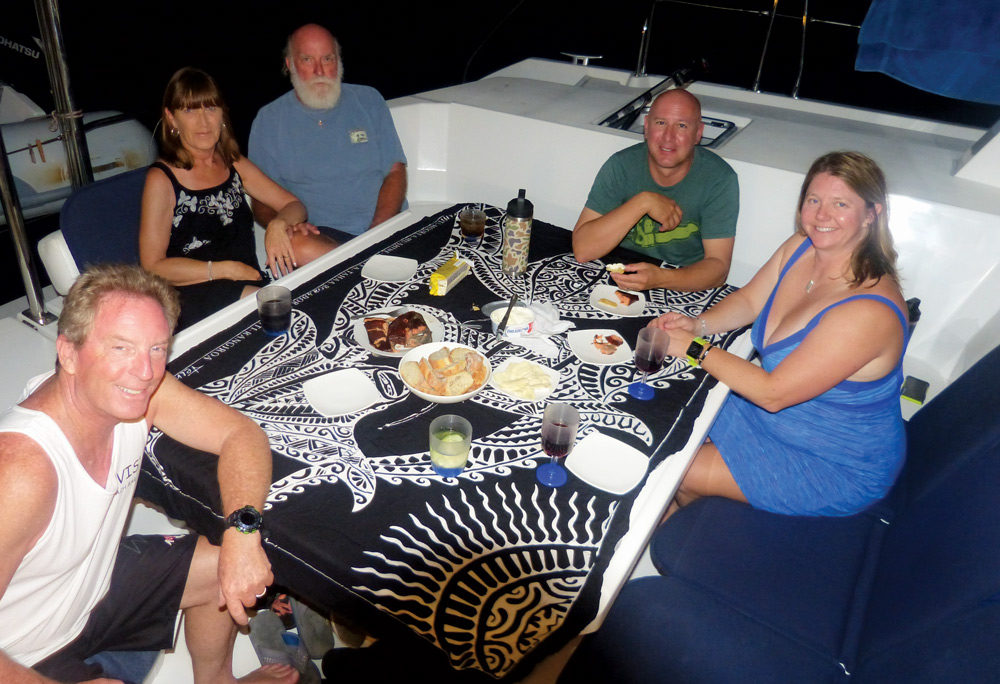 Betsy Senescu photo
Our final day was spent in Grand Case just north of Marigot, a 10-nautical-mile voyage in light breeze. By now we had fully collapsed into cruising mode. With a faint breeze off the bow, we let the twin 45-horsepower Yanmar engines do the grunt work. Gliding through the lee of St. Maarten, we stopped first at Creole Rock in the northwest corner of the bay. While our catamaran swung sweetly on a mooring ball, we snorkeled over to the rocks to check out the marine life, then lunched before anchoring (like pros) and dining aboard. It was a quick jaunt back to Marigot our last morning, for check-out handled adeptly by Sebastian and the Sunsail crew. Then we swept off to the airport for our flights home.
"I was skeptical about the catamaran at first, but it proved to be a game-changer," Kaci said. "We will definitely charter cats in the Caribbean moving forward. It was comfortable, easy to spread out, and quite easy to sail, all of which made for relaxing passages."
"It just kept getting better every day. We won't quit racing, we like the balance," Terri said. But as far as hanging out with great friends, she said, cruising on a multihull was the cats meow.
---
The Golden Rock Regatta will merge with St. Maarten Yacht Club's La Course de l'Alliance to maximize sponsorship money and participation December 3 to 6, 2020. The regatta celebrates the alliance between the Netherlands, France and Great Britain with roughly 70 nautical miles of racing between St. Maarten, St. Barts and Anguilla. Click here for details.
For more information on this charter, visit The Moorings.com