Spice up a charter by throwing in some competitive fun
Chartering isn't always about lolling around at anchor in turquoise splendor. For avid racers, bareboat chartering offers a chance to enjoy competition in new and exciting venues, with fresh opponents and an international flair. That's how we ended up at the Caribbean Multihull Challenge, a relatively new event in the winter racing season, organized by the people who made the Heineken Regatta synonymous with seriously fun racing in paradise.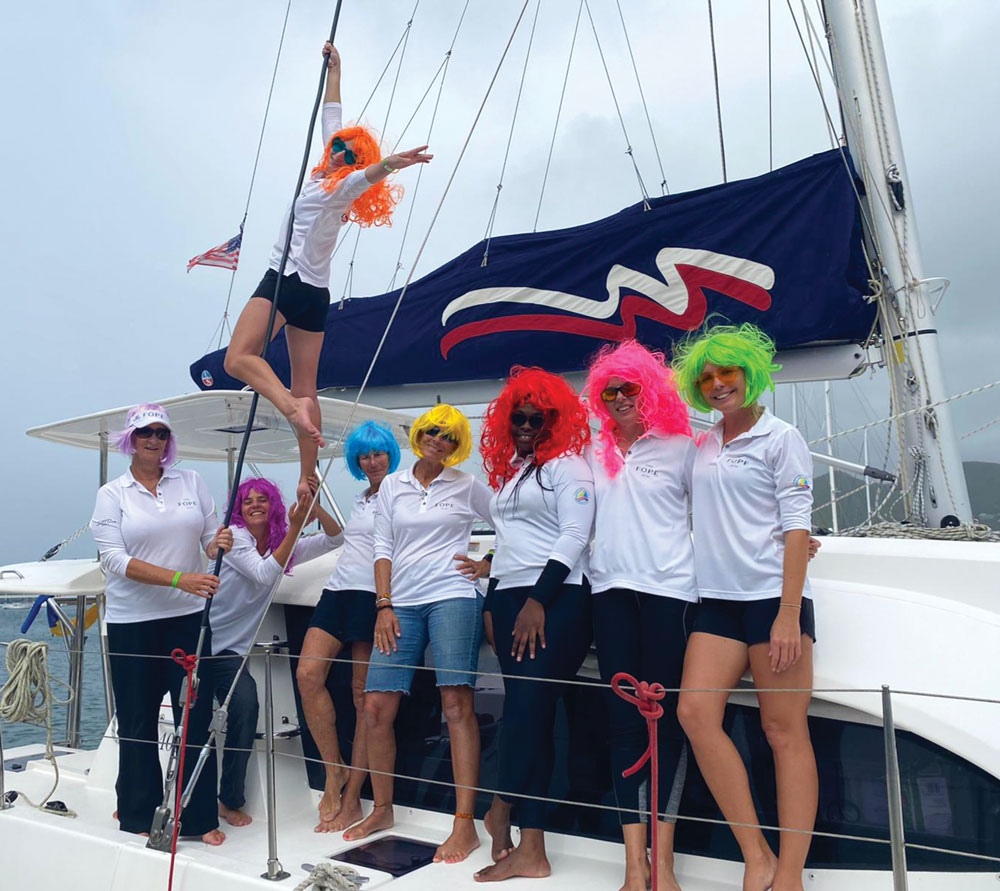 I was invited to compete aboard a chartered Moorings 4000 catamaran with a pick-up crew of gals from St. Maarten. The only all-woman team in the regatta, we had Capt. Annie Gardner, an absolute rock star sailor, join us as skipper.
We arrived several days early to get the lay of the land and the boat. We would be sailing a fairly new and pristine Moorings 4000: lithe (as far as catamarans go) at just over 39 feet long and 22 feet wide, with a generous 1,032 square feet of sail area, which is fine for calmer waters, but was a lot of canvas for Caribbean conditions. Trade winds typically fall in the 15- to 20-knot range, but our forecast was for a walloping 18 to 26, conditions that would make sailors at home button up and head for the bar. Hence, after a thorough boat check and chart briefing with The Moorings, we spent the first day learning the boat systems and practicing reefing.
We picked the boat up at the base on the French side in Marigot, provisioning at the smart French boulangeries and wine shops before we left for Simpson Bay on the Dutch side and docked at St. Maarten Yacht Club, the host club for the CMC and other world-class events. The next morning our team met bright and early. Crewmembers spanned the nations and decades: from teens to mid-60s; St. Maarten, Curacao, South Africa, England, Poland and the Americas. The island is a sailors' delight and draws people from around the world to this international melting pot. To round out our crew we invited two young women from Kidz At Sea, a local foundation dedicated to helping area youth build a future in the maritime industries.
We practiced all day on the catamaran. In a world where bigger is always presumed to be better, we were thrilled instead that the compact Moorings 4000 was trim enough to be responsive and quick. However, while set up for shorthanded cruising, with all lines conveniently led to the helm station; it was a challenge for racing when multiple maneuvers need to happen speedily, with multiple sailors occupying the same space. It took some choreography for our crew to master the hasty tacks and jibes we would need to be competitive. We practiced feverishly all day and then headed for the bar.
We met up with the organizers of the event, Petro Jonker, Steve Burzon and Robbie Ferron. Burzon credited Ferron with the CMC concept, saying he recognized many regattas accommodated multihulls in Caribbean waters, but none really catered to their needs and characteristics.
"Upwind starts and around the buoys racing is not a multihull's cup of tea," Burzon said. "We wanted to design a regatta just for multis, with reaching starts and longer courses with fewer turning marks. I thought it was a great idea."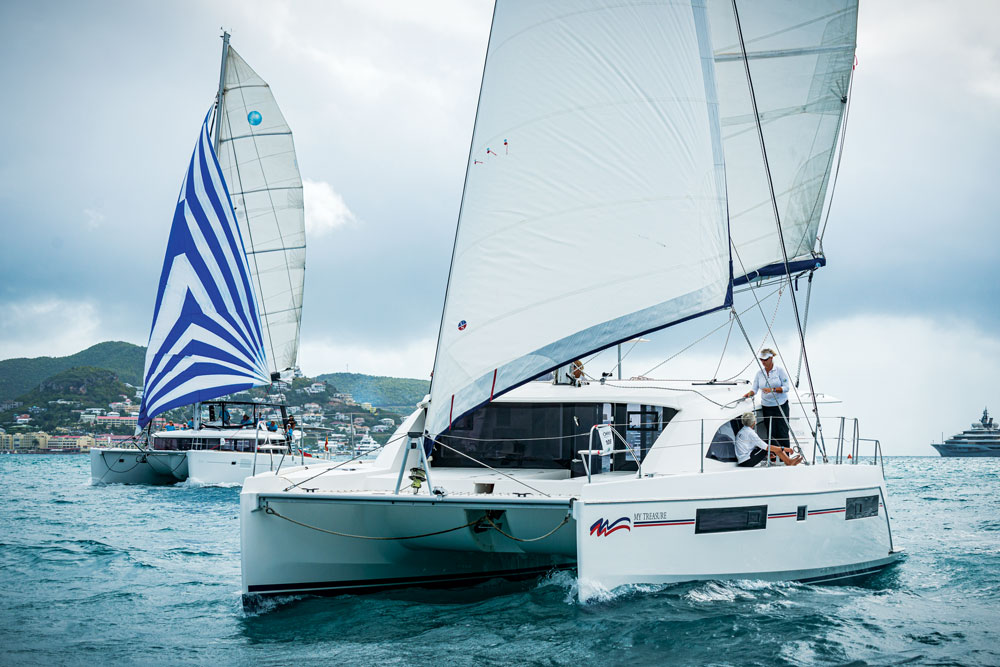 Laurens Morel photo