The dawn of the affordable 50
New production technology and out-of-the-box thinking brings big boats within reach
Fifty-foot sailboats used to be the something most average sailors could only dream about owning. Although popular with charter companies and their clients, cruisers in the 50-foot range were out of reach for many boatbuyers. Now, however, several large sailboat manufacturers are bringing the dream closer to reality. Never before has it been more affordable to own a 50-footer.
Advances in production technologies as well as a heavy dose of out-of-the-box thinking has led to a new generation of boats in the 50-foot range that offer all the amenities expected on a large boat at a price not seen in decades, all without sacrificing quality.
The secret is all in streamlining the process of building a boat you know will be a success, said Jeff Jorgensen of Jeanneau Yachts.
The new Jeanneau 53, which will be formally introduced at the United States Sailboat Show in Annapolis, is one of several new 50s made more realistic for owners because of a price more than $150,000 lower than similar models of the past.
The Jeanneau 53 has all the amenities expected in a boat of its size, but by using production techniques typically reserved for much smaller boats, the boats are able to be built much faster and at a lower cost, Jorgensen said.
For Jeanneau, the 53 made sense from a financial point because of the success of its predecessors.
"When you look at production boats of this size, you are getting into rarefied air," Jorgensen said. "We built about 400 of the Jeanneau 54, so we knew this boat should do similar numbers, if not better, because of the price. Knowing that, you can look at a commitment to some technology previously only used for smaller boats."
Building a mold for any boat is an expensive proposition, but it's one that large manufacturers can commit to if their market information tells them the boat will be a success, allowing the price of the mold to be amortized over large quantities of boats built.
In the case of the 53, Jeanneau opted to use an injection-molded process in which structural ingredients are laid in a mold and resin is injected. Not only does this create a lighter, stronger boat, it saves about 80 man hours of building time per boat, Jorgensen said.
Beneteau uses similar technology in producing its new Beneteau Oceanis 50.
"Doing the injection-molded deck ensures that every part will weight exactly the same," said Romain Lucat, a Beneteau engineer. "We consume the same amount of resin per deck, which is economically wise for us."
The Oceanis 50 and its new big sister, the Oceanis 58, were both designed with efficient production techniques in mind. One of the concepts naval architect Berret Racoupeau, who designed both boats, started with was the desire to have long cockpits. The difficulty when designing a cockpit, however, is the mainsheet, which can break up a cockpit both physically and visually. The solution was a deck-mounted arch, which is also built with a resin infusion process that uses a balloon. The arches can withstand a great deal of force, Lucat said, although a safety cord is attached to the boom to reduce the impact in the case of a crash jibe.
"The arch wasn't meant to be high-tech, but to reduce the labor involved in creating it," he said. "We have a lot of boats to produce."
Design innovations and a refined production process have greatly decreased the amount of time it takes to build a boat. It takes about four weeks for an Oceanis 58 to be completed and one leaves the Beneteau factory about every five days, Lucat said.
The Jeanneau 53 follows a similar production schedule, Jorgensen said.
"From a manufacturing point of view, compared to a 40-foot boat, it's really just bigger pieces being put together," he said.
The Hunter 50 capitalized on the success of the Hunter 49 by using the same hull and rig while focusing on giving customers the upgraded luxury and convenience options they would expect in a boat of this size. The company launched its 50CC center cockpit model in 2008 and will be introducing the 50 aft cockpit model at this fall's Annapolis boat show. The boat is produced using a modular-type production process where the interior is built in separate modules so that 80% to 90% of the interior is completed in an automated wood production unit and then inserted into receivers molded into the hull and frame, then bonded in place for strength, said Hunter's James Bohart. All of the electronic, electrical and mechanical components are installed before the deck, which is completely rigged with hardware, ports and deadlights, is through-bolted to the hull. A comprehensive power-management system allows such creature comforts as a flat-screen television, built-in coffee maker and entertainment system.
Adding amenities that might have previously been unheard of appeals to a new kind of customer, said Jonathan Banks, executive director of the sailing industry group
Sail America.
"I think there are some people who look at a boats like these as second homes," Banks said. "For the price of a condo or less they can buy a boat that has the same space as a condo, have waterfront property but without the taxes or condo service fees.
"These boats are opening up the market to people who are using boats differently."
Banks said another demographic for this new series of production 50-footers is sailors who are interested in long-distance cruising but may not be ready or interested in serious bluewater sailing. The boats are comfortable and capable, and now affordable.
"By bringing the price down and providing value and creature comforts, it opens up the market to people who might not have otherwise considered buying a new boat," Banks said. "These boats are examples of something all manufacturers are looking to do: build boats more efficiently, and hopefully that will open up sailing to a new consumer."
And consumers are excited about this new generation of 50s. Many of the Jeanneau 53s have been ordered sight unseen, Jorgensen said. More than 100 53s have been ordered-60 built-and seven of those are destined for the United States, where some owners will lay eyes on the boat for the first time when they take delivery of them.
"We're bracing ourselves for the reaction that we're going to see in Annapolis," he said.
There's plenty to like in these models. The Beneteau Oceanis 50 feels like an even bigger boat thanks to the extended cockpit. Down below, towering headroom, a spacious galley and saloon that feels more like a living room than a boat add to the appeal. Large wraparound windows with opening ports and six hatches forward of the cockpit lead to an extremely well-ventilated interior filled with natural light. The Oceanis 58 has a similar feel, with stainless and leather-wrapped handholds, companionway steps that feel more like a regular, albeit short, staircase and convenient touches like LED lights and a bench that can double as a cocktail table. Both models are available in two layouts, a nod to additional cost savings.
"We only propose two layouts because choices always factor into prices," said Beneteau's Yves Mandin. "We have better predictability and can control the cost because we have fewer options."
The Jeanneau 53 offers a wide and brightly lit saloon thanks to overhead hatches and windshield-style windows on the front of the cabinhouse. A U-shaped settee and table with two chairs, with another settee opposite, takes advantage of the wide interior and creates a homey atmosphere. The saloon area stays consistent among several different layouts, but all the layouts use the same model, so cabins and heads can be "plugged in" to the area.
"Since we have it all modularized, we just plug it into the computer and go from there," Jorgensen said. "The most complicated parts are the wiring harness and the plumbing."
The Hunter 50 features granite countertops, a walk-in cedar closet and even an optional jet-spa tub. Two different cabin configurations
are offered.
All this luxury comes at a price and balancing that out requires out-of-the-box thinking. For Beneteau, that was demonstrated by the mainsheet arch. For Jeanneau, it was being open to nontraditional sources for such things as the boat's wiring harness.
"We ended up going with the leading bus manufacturer in Europe, Jorgensen said. "They can produce a higher quality product for a lower cost."
The wiring harness is just one example of the benefits unique to large production-boat manufacturers.
"Smaller boatbuilders don't have the capability to do something like that," he said. "The economy of scale comes with a commitment that we're going to build a certain number of boats."
Larger manufacturers have larger buying power and the ability for quicker delivery. Hunter's Bohart pointed out that the ability to quickly deliver boats prevents storage costs from accumulating in the warehouse.
Another benefit large manufacturers have is a loyal clientele. With such a large range of boats, Hunter, Beneteau and Jeanneau are often the first boats a sailor may buy and they might just move up through the line. With more affordable flagships in each line, many will buy boats they only dreamed about years ago.
"Many of our buyers are already in the family," Beneteau's Mandin said. "With smaller models sometimes it's different, but with the bigger boats they are loyal customers."
Loyal or not, the bottom line often comes down to price, a barrier that is shrinking for many buyers.
"I've seen over the past five years that as production builders bring out new boats and larger boats, the value continues to improve," Sail America's Banks said. "The consumer gets a larger, better equipped boat for a better price than they would have paid for a smaller boat just a few years ago."
---
Beneteau Oceanis 50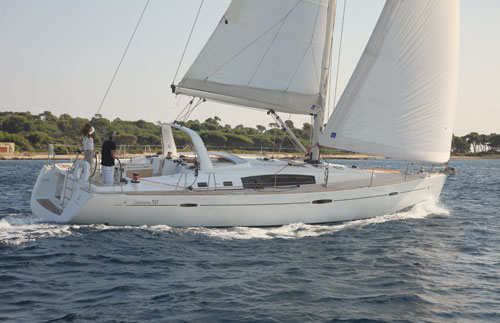 LOA 49' 6"
LWL 43' 8"
Beam 14' 9"
Draft (deep keel) 6'10"
Draft (standard keel) 5'9"
Displ. 28,660 lbs.
Fuel 62 gal.
Water 149 gal.
Engine 110-hp
Sailaway price: $425,000
---
Hunter 50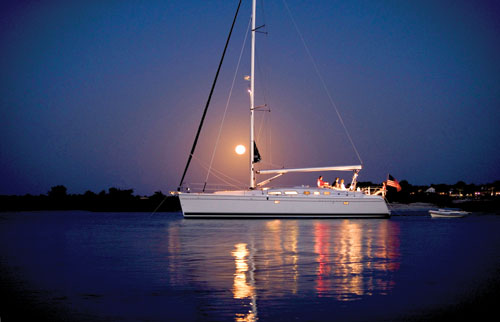 LOA 49' 11"
LWL 43' 10"
Beam 14' 9"
Draft (shoal) 5' 6"
Draft (deep) 7'
Displ. 32,813 lbs.
Fuel 150 gal. (standard), 222 gal. (optional)
Water 222 gal.
Engine (standard) 75-hp, (optional) 110-hp
Sailaway price: $399,990
---
Jeanneau 53

LOA 52' 8"
LWL 45' 9"
Beam 15' 7"
Draft (standard) 7' 5"
Draft (shoal) 5' 10"
Displ. 32,926 lbs.
Fuel 63 gal.
Water 251 gal.
Engine 110-hp
Sailaway price: $500,000
---
Beneteau 58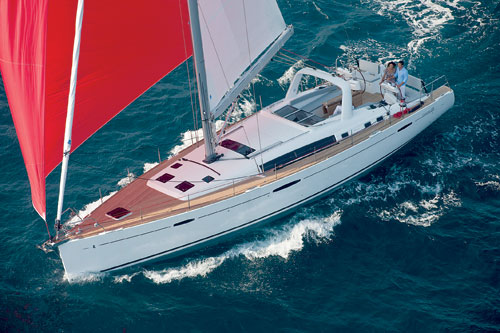 LOA 59' 10"
LWL 53' 11"
Beam 16' 4"
Draft (deep) 8' 6"
Draft (shoal) 6' 11"
Displ. 47,747 lbs.
Fuel 285 Gal.
Water 269 gal.
Engine 140-hp
Sailaway price: $795,000