After an extensive restoration, this classic Herreshoff 12½ is daysailing and racing again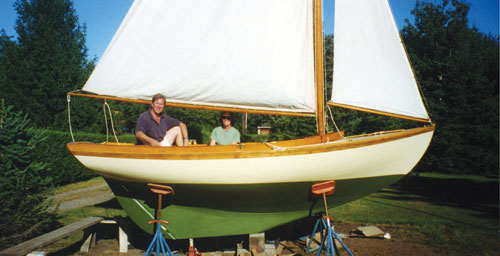 Reaching across the bay in a 16- to 18-knot southerly, the bow dips into a passing powerboat wake and we take some spray onboard, soaking the three of us in the cockpit. But we are beyond caring; the water actually feels refreshing on a steamy, hot August day. I'm taking a couple of friends out for a sail; destination Newport, for the usual "harbor burn." Though given that we are only in a 15-foot boat, "burn" is a bit of a stretch. Then again, it's all relative given our diminutive size, and it's intriguing to see the pure joy on the helmsman's face, someone used to racing in the big boat, grand prix classes.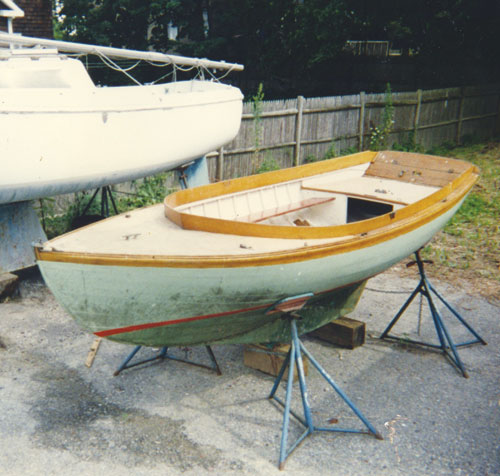 We're not in any sort of speed machine. Hardly. Instead, just the perfectly well-designed Herreshoff 12½, a compact daysailer with a big open bench-seated cockpit, 135 square feet of sail area and 1,500 pounds of displacement (with half that in the lead keel). It's a stout, seaworthy boat that's a joy to sail and turns heads with its classic lines. The class was enjoyed by legions of young sailors and has still managed to entertain plenty of older ones over its 95-year history.

Our boat Grace, launched in 1927, has since been rebuilt and is now perfectly suited to the breezy and choppy conditions of Narragansett Bay. Fifteen miles up the bay in Bristol, Rhode Island, the Herreshoff Manufacturing Co. established itself as the premier yacht-building company shortly before the turn of the 19th century. Nathanael Herreshoff was known as the Wizard of Bristol for his prowess as a naval architect, engineer and helmsman. Capt. Nat designed and built successful America's Cup defenders six times, with Vigilant (1893), Defender (1895), Columbia (1899 and 1901), Reliance (1903), and Resolute (1920), and built two more Cup winners, Enterprise and Rainbow, to boot. Meanwhile, he also designed more than 2,000 crafts, both power and sail, including some of the most timeless wooden one-design classes to date.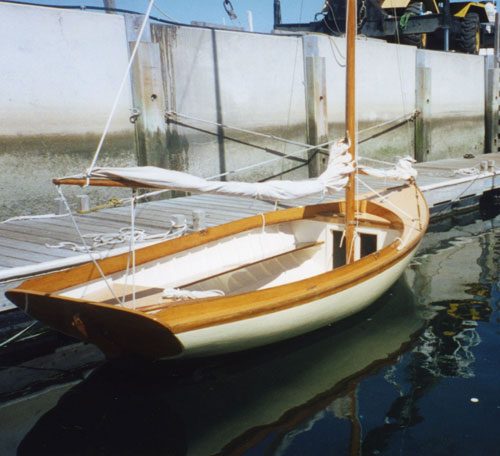 Herreshoff designed the 12½ in 1914, and the first 20 boats were built for members of the Marion Yacht Club as a training sailboat for their children. Building of the class continued at HMC through 1943, and a total of 364 boats were produced. Of the approximately 1,100 sailboats that Herreshoff built in its 50-year span, one-third were 12½s, making this venerable daysailer HMC's most popular product.

The original Herreshoff 12½ was known by several different names: 12½-footer, Buzzards Bay Boys Boat, Doughdish and Bullseye. Following the closing of Herreshoff production, the Quincy Adams Yacht Yard was licensed by HMC and built 51 boats from 1943 through 1948. Cape Cod Shipbuilding next acquired the rights and built about 35 wooden hulls between 1948 and 1950, when it switched to fiberglass, which are still produced. Doughdish, Inc. also builds a fiberglass version of the boat, called the Doughdish (to avoid a trademark dispute), which was drawn by taking the lines from three of the originals. Owner Bill Harding went to great pains to make the Doughdish faithful to the original in shape and weight, and as a result these boats race level with the wooden 12½s in regattas. Finally, since 2006, the Artisan Boatworks of Rockport, Maine, has been building a version of the 12½ in wood. Amazingly, the boat has been in continuous production in some form since 1914.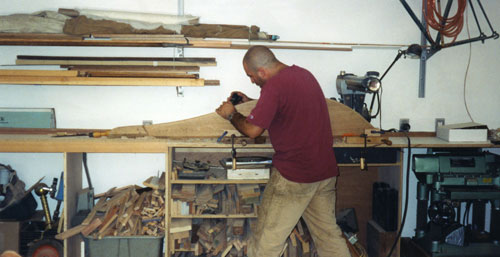 Grace (formerly Matrose) had been stored deep inside a Civil War-era textile mill in Wickford, Rhode Island, and a friend had tipped off my husband that Andy Reisert, the owner, needed to sell it as he was renovating the building. The boat had been in the Reisert family since the mid-1950s and his daughter had a fun time sailing it on upper Narragansett Bay and racing out of East Greenwich Y. C. for almost 10 years. Around the mid-1960s it went into storage for what would be 30 years. Longtime owners such as the Reiserts are not uncommon in this class; in fact, there are about 20 boats still belonging to the families of original owners.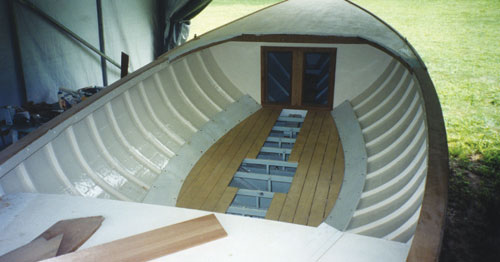 Once the boat was extricated from the mill and cleaned of years of bird droppings, it seemed to be in pretty good shape. Well, good enough to sail if you didn't mind pumping the bilge often. With a few repairs and a little cosmetic work we could have sailed for a season, but as keen as we were to sail the boat, we decided it would be better to put the effort into a refit while we had the enthusiasm.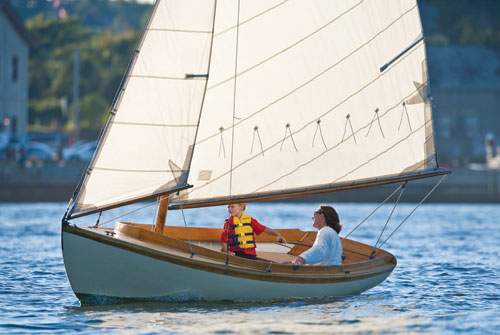 My husband is a furniture maker, and has all the tools and talent of the trade, but we're also fortunate to have as a friend Clark Poston, program director of the International Yacht Restoration School in Newport. Clark and I both worked at Mystic Seaport Museum in the mid-1970s, and he was now in Newport heading up IYRS' comprehensive two-year boatbuilding program. With assistance from a few very capable students-Seth, Patrick, Simon and Dave-on an occasional weekday after work and weekends, John and the team were able to do a very thorough refit over an eight-month period. They set up a temporary tented shed in our driveway, along with a steam box for the frames.

The hardware was stripped off and the boat was carefully gone over. The garboard planks and all of the oak ribs and floors had deteriorated and had to be replaced. Keeping the hull shape is critical, so the team cross-braced the sheer from inside and then screwed bracing into the floor to support the stem and stern. They replaced the oak transom first and then every other floor (and rib) as they went to further ensure they retained the shape. In addition, they replaced the mahogany toerail, bulkheads, cockpit sole, fore and aft decks, and tiller (carved from angelique), as well as the standing and running rigging. A new set of Oceanus sails from Nat Wilson, the classic boat sail-making maestro in East Boothbay, Maine, were also added.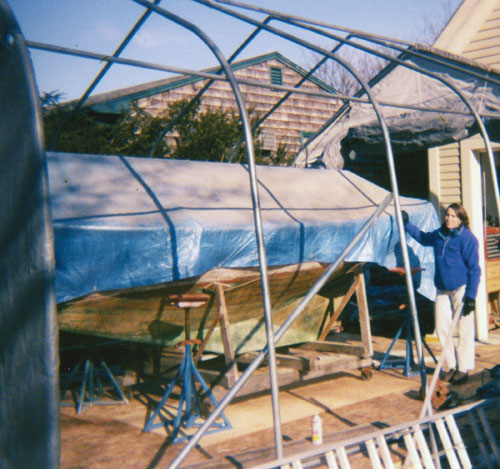 With all that was replaced, there was still quite a bit of the boat that remained original: planking (excluding garboards), keel, sheer strake, covering boards, cockpit coaming, mahogany seats, spruce mast and spars. Most of the hardware is original, though there are several new parts from J.M. Reineck & Son of Hull, Massachusetts, which casts high-quality reproductions from original Herreshoff parts or from Herreshoff engineering drawings in the Hart Nautical Collections at the MIT Museum. They are a testament to how devoted some boatbuilders are to matching the quality of the original. Owner Jim Reineck was rebuilding his Herreshoff Buzzards Bay 15 and was disappointed in the bronze hardware available at the time. So he decided to fabricate his own, and subsequently started an impressive niche marine hardware business.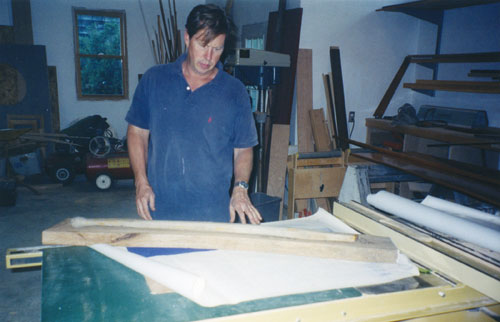 With several weeks devoted to fairing, sanding and otherwise prepping, painting and varnishing, the boat was ready to launch. Unable to decipher the faint outline of the original brass letters on the transom, we renamed her Grace, a family name that also seemed an apt embodiment of the boat. We launched the boat in August 2001, and managed to enjoy two and a half months of sailing-and swelling the hull-before hauling for the winter.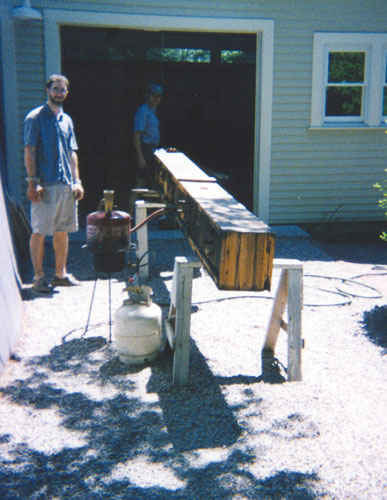 The Herreshoff 12½ class has some impressive statistics: Of the original 20 boats built in 1914, almost 100 years ago, 14 are still in existence, nearly all of which are still sailing. The unofficial class secretary, Steve Nagy, deserves heaps of praise for diligently working to update the archives and track the whereabouts of as many of the 364 original boats as he can. Quite a few were either destroyed in the hurricane of 1938 or were damaged and their hull plates lost, which significantly hampers efforts to identify a boat. To date, he has tracked down 199 of the boats (though 42 without a hull plate), identified 10 that have been destroyed, which still leaves 155 unaccounted. But Steve's not done searching and has created a vast and informative online archive to help find more boats:
www.herreshoffregistry.org.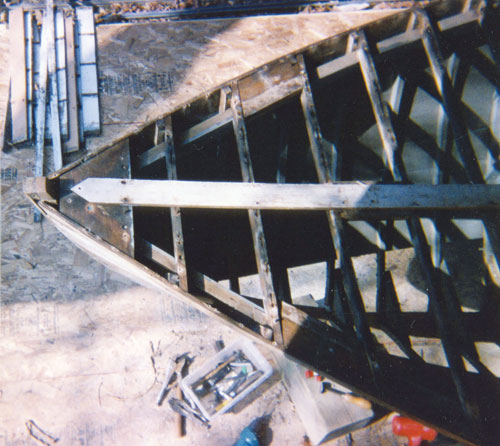 While there are still active fleets in Narragansett Bay, Buzzards Bay and Fisher's Island Sound, one venue where they are certainly found each summer is the Herreshoff Rendezvous, held in late August in Bristol, Rhode Island. The regatta features 30 to 40 Herreshoff designs, including the NY40, P-class, Buzzards Bay 25 and Newport 29, as well as 12½ and S-boat one-design classes. Shore-side after racing there is a lobster bake and awards party on the docks of the Herreshoff Marine Museum for all to mingle and reconstruct the days' racing or talk wooden boats.

In 2002, fresh off the restoration, we decided to enter the rendezvous and, to make the trek easier, we trailered Grace the 20 miles by road to Bristol. The launch on the town boat ramp proved more eventful than planned when the trailer extension came undone and the boat freewheeled down the ramp, essentially launching itself, much to the amusement of some electricians on coffee break. I'm pretty sure the ghost of my grandmother, the boat's namesake, saw us through that one.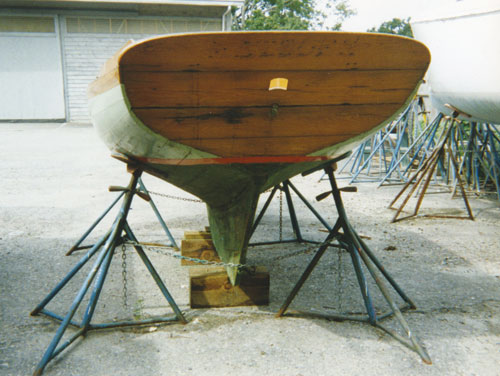 We fared better on the water and enjoyed a great day of racing with a dozen other 12½s, most of the same vintage and several of them owned by the Herreshoff Marine Museum, which uses them in its sought-after junior sailing program. Grace took second in class overall and was also awarded an honorable mention for best restoration. Up against the likes of the winning P-class Joyant, a 58-foot stunner that had undergone a meticulous and expensive refit, we felt pretty good.

We returned to the Rendezvous in 2004, but with memories of the express launching in our heads, I opted to sail Grace up the Bay with a friend. With a 20-knot southerly and fair tide pushing us along it was a rollicking ride, and with the nonself-bailing cockpit and no flotation to speak of, we were constantly aware that putting the rail under was not without dire consequences. Being so small and without an engine, we likewise needed to be sure we were out of the way of the tanker traffic that frequents the bay.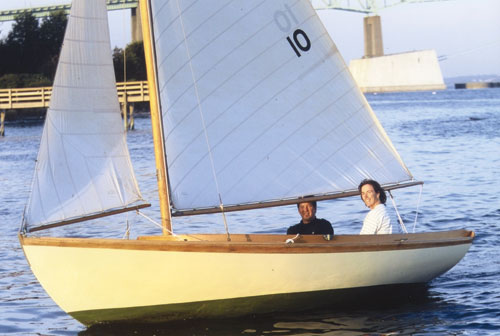 The breeze held for the regatta and we raced around Hog Island in a gusty 15- to 20-knot southwester. A last minute rule change allowed spinnakers, which we didn't have nor the hardware in place. Halsey Herreshoff kindly loaned us an Etchells chute, and, with a boat hook improvised as a spinnaker pole, we managed to piece it all together. After the day's racing we ended up first overall. With more than 30 of Herreshoff's elegant designs on the water, it made for a memorable day, with sailing in our own fleet of one-designs well worth the trip.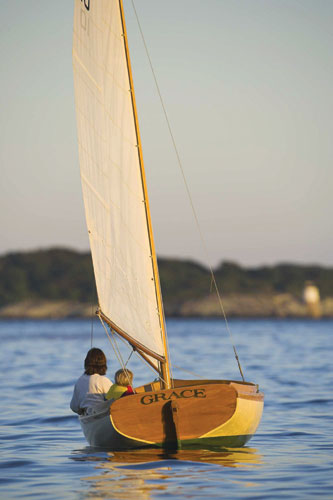 Many sailors start out in sailing programs in one-designs, from Optis, 420s and Lasers, to the more high-tech and speed-seeking rides on 49ers and 29ers. But while the tradeoff in a heavy, classic one-design may be the thrill of speed, this boat is a sweet ride. The prep each season takes about five days. Each year the boat gets a new coat of paint on the topsides and about three coats of varnish on all brightwork and spars. While it takes a bit of work, the boat is only 15 feet, which works in your favor for maintenance.

Maybe it was the time and energy that went into Grace, but it is really a blast to sail in the right conditions-15 to 20 knots, flat water preferred. In light breeze and chop, or against a foul tide, the rounded stem and full keel causes the boat to hobbyhorse a bit. It really needs some breeze to get up and go. Then, with breeze on and a smile plastered on our faces, we spend countless afternoons sailing nowhere, fast enough.
Sailing pictures by Onne van der Wal