CAPSIZE 'In the blink of an eye'
When Gunboat Marketing Director Rachel Jaspersen and photographer Richard Langdon left the dock aboard a chartered dive boat on August 15, the pair had no idea that hours later they would be pulling five sailors from the sea. Working as Team Phaedo Media, they headed out in heavy seas toward Fastnet Rock-a spiny outcropping with a lighthouse just off the southernmost tip of Ireland-planning to await the arrival of the company's lightning-fast catamaran. Their goal: to photograph the 66-foot orange-hulled Phaedo sailing hard with Fastnet Rock in the background. Instead, they found themselves at the right time and place to pluck the crew of the capsized Rambler 100 from the icy Celtic Sea in a dramatic rescue.

"We left the dock early so that we could get to The Rock and be in position as Phaedo approached," said Jaspersen, noting Phaedo's estimated time of arrival was 8 to 9 p.m. "Richard and I were aboard Wave Chieftain, a chartered dive boat. The wind speeds were atrocious. It was pouring rain and the swells were cresting at 15 feet. No other boats were going out in that sea. But you have to be in the right position to get the money shot."

As Wave Chieftain pushed through the short, steep chop, visibility dropped to about 600 feet. Suddenly the radio crackled with a bulletin from the Irish coast guard in Valencia, notifying mariners that a personal emergency radio beacon was signaling distress in the vicinity. The rescue device was registered to GiGi Bertrand. The coast guard asked if anyone listening on their marine radios recognized the name. Nobody did.

Wave Chieftain replied to the coast guard, as did ICAP Leopard, one of several maxiboats stretched along the Rolex Fastnet Race route.

"Leopard answered that all was well aboard their boat. Everybody was a bit like, we've never heard of this person, but the coast guard was persistent and said they were launching a lifeboat because the emergency signal was still going off," Jaspersen said.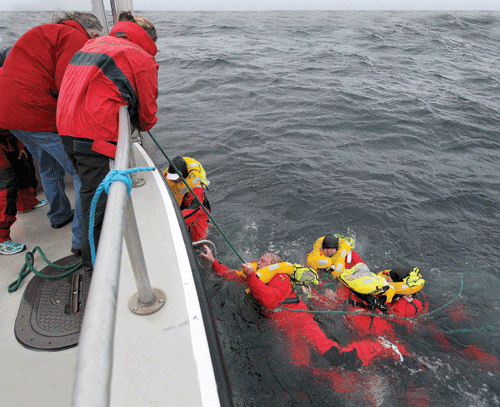 Through more investigation it was learned GiGi Bertrand was safe on land, but the emergency signal registered in her name was emitting from a personal rescue beacon aboard another yacht in the race, Rambler 100, the Juan Kouyoumdjian-designed 100-foot supermaxi owned by retired corporate executive George David. As David's personal secretary, Bertrand was the emergency contact.

The world would soon see that Rambler 100 had lost her keel and was floating upside down a few miles from the lighthouse. The Irish coast guard was asking all boats nearby to assist in the rescue. Early reports indicated people were drifting from the wreckage.

A Royal National Lifeboat Institution vessel training in the area was the first to come upon the stricken Rambler. Sixteen sailors were sitting on the upturned hull, but five were missing, having drifted away after the capsize. The position was five miles south of the lighthouse and twilight was fast approaching.

"At that point, we were still listening to the radio," Jaspersen said. "We dropped everything and joined the search."

Just hours earlier, the mighty Rambler had done the unthinkable: capsized and turned turtle, throwing 21 sailors into the rough sea. Among them were Americans Jerry Kirby and Mick Harvey of Newport, Rhode Island, both offshore racing campaign veterans.
"We had just gone past The Rock and had finished a sail change, so a lot of us were on deck. Most of the guys wanted to see The Rock as we went by," said Kirby, 51. "I had my full gear on with my life vest. It happened very fast. In three to four seconds we were healing to 90 degrees."

As Kirby recalled, five crew had just come off watch and were in their bunks below, as well as navigator Peter Isler and engineer Duncan Maitland. "Duncan was doing a structural examination because we had been through some pounding seas," he said.

Rambler 100 completed the Transatlantic Race from Newport, Rhode Island, to Lizard Point at the southern tip of England on July 10, barely a month earlier. Although some have speculated the rigors of that ocean crossing may have stressed the boat, David remains convinced the vessel was strong and able. "The conditions we experienced in the Fastnet should not have tested this boat. It had far more capability than we needed. The wind was only 25 knots and the waves 8 feet. We had more challenging conditions and had the boat going faster in the Transatlantic," he told the Irish press.

No matter David's faith in the boat, the undisputed fact is a broken keel now rests in 60 meters of water on the bottom of a dark sea, somewhere near Fastnet Light. Its precise whereabouts are unknown because Rambler's electronics were fried in the mishap.

When the boat began to go over, three of the crew were able to dry roll, scrambling up the pitched deck, grabbed hold the lifelines and hauled themselves onto what in seconds would become an upside down hull, all without getting wet. From there, they were able to help those floundering in the sea gain a foothold and climb aboard.

Kirby and Harvey were among those in the water. Harvey had been lying in his bunk, PFD and jacket off, boots on, trousers pushed down around his ankles. He had come off watch and planned to rest briefly before the anticipated maneuvers because Rambler had rounded Fastnet Rock.

Tim Dawson, Aubie Van Buren, Scott Beavis and Nathan Hislap were in their bunks. Justin "Juggy" Clougher was stowing a camera.

"I was dozing, but I had had plenty of sleep that day. All of a sudden there was this loud bang. I got everyone awake. I yelled out, told everyone to get their life jackets," said Harvey, who runs operations for Rambler 100. "By then we were kneeling on the wall, looking down at the saloon. There was no way we were going to cross over that to get our life jackets, so we decided to head aft, me and another guy. We decided that was the right way to go."
During those adrenaline-fueled moments, Clougher was temporarily pinned against a bulkhead by a sail bag but was able to wriggle free. Harvey came out on the port side and surfaced. "The boat was still moving forward. Sewage and all sorts of stuff were coming up the back of the boat, which was still moving forward even after it capsized. There was this big surge so it was hard to stay with the boat," he said. "I worked my way aft and found Jerry, who had a life jacket on and he was holding on to a line attached to the boat. It wasn't easy to hang on. I told Jerry, 'I think I'm in a bit of trouble here.' I was hanging on to Jerry but a wave would come through so I would try to stay stationary, but my boots were acting like a drogue, bringing me down."

Without a PFD, Harvey began to sink. "I dragged Jerry down with me. I don't know how deep I went but it was a long way. Then he and Jan Dekker got me and we made our way to the transom. I didn't even try to get my boots off. It would have been a waste of energy," Harvey said. "At the time, I didn't realize I was actually sinking, but I was. Maybe only four or five minutes went by before I got on the hull. It seemed longer. But it all happened in the blink of an eye."

Back aboard Wave Chieftain, with skipper Jerry Smith at the helm and two crewman to assist the dive boat plunged head-on toward Rambler. "We knew the lifeboat was getting the 16 sailors off Rambler's hull, and we knew the others were still missing, but nobody was certain which direction they had drifted," she said. "None of those who'd drifted away were in sight."

Judging by the prevailing current, the way Rambler's rig went under and how the hull lay in the water, the rescue organizers gave Wave Chieftain new search coordinates. Nearly three hours elapsed and darkness began settling over the sea. The word was out: David, his girlfriend Wendy Touton and three crew were definitely missing.

Everyone aboard Wave Chieftain kept their eyes on the surface of the frigid Celtic Sea. They came across floating sail bags, sails and other gear from Rambler. The finds gave hope they were on the right track.

At approximately 8:30 p.m., Jaspersen spotted a red blob floating atop a wave and then disappearing in its trough. "We had eyes on every swell and they were a good 15 feet tall," Jaspersen said. "All of a sudden they were there, David and his crew, in the water, all tied together."

Jaspersen credited Smith, an RNLI deputy mechanic, with artistically maneuvering the dive boat until it was near the victims. Jaspersen and the others tossed lines overboard. "Jerry did an amazing job at the wheel, considering the rough conditions, because the whole time there is still this huge swell and chop. In a very few minutes we literally started pulling them aboard. And because we were a dive charter boat, we had this little old-fashioned lift that goes into the water, so we could get them aboard one by one."

All five survivors were wearing inflatable PFDs with integrated harnesses and they had fashioned themselves into a pod by threading a single tether line through all the lifevests. Although they were afloat, the water temperature was about 57 degrees.

"All they had on were oilers and life jackets, no drysuits," Jaspersen said. "George's partner, Wendy, is very slender, so she was most affected by the cold. By then they'd been in the water about three hours. One of the guys, a beefy American named Joe, wasn't able to get his crotch strap fastened, so he had been holding on to his lifejacket. He was very cold."

The 69-year-old David insisted Touton and the three younger men get into the dive boat ahead of him. The others were Mike Mottle, Stu Wilson and Joe Fanelli.

Since Wave Chieftain was more than an hour from port, the skipper hailed a coast guard rescue helicopter, which was dispatched from Shannon Airport. Everyone aboard the dive boat breathed a sigh of relief when the helicopter's thwap-thwap-thwap cut through the thick night air. A rescue swimmer landed squarely on the dive boat's deck and whisked Touton up to the hovering Sikorsky chopper. Touton was clearly suffering from hypothermia.

"It was quite a sight to see that big helicopter right over the top of this miniature dive boat," said Jaspersen, noting the next hour was spent trying to make the others comfortable. "We made tea, rubbed legs and rubbed arms. By the time we got back to shore, they were all alive and well. I couldn't help but think if they hadn't been all together in the water, there would have been no way to spot just one person. Even together they were just a tiny red blob and the sun was about to set. We would have never found them."

Rambler was leading the monohull race fleet and had just rounded Fastnet Rock. She was beating toward the wing mark at 12 knots under reefed main and small jib when the strap holding the 33,000-pound bulb broke, and the boat capsized. It took only 45 seconds for the boat to completely turtle, with the weight of a full windward water-ballast tank pulling the boat over. It was determined later the mast had stuck in the bottom, keeping the boat in place until it broke. With the boat stationary, the five sailors drifted away too quickly to stay with the boat. The 16 rescued crew were taken by lifeboat to Baltimore, in County Cork, where they were later joined by David and the three other men who had been adrift.

"It was by sheer coincidence that we were out there," said Jaspersen, a yacht designer and former collegiate racer has worked working with Peter Johnstone at Gunboat for 10 years. "If we hadn't had a boat like Phaedo out there pushing the limits, we wouldn't have been there to get the money shot. Of course we missed that, but we did get some fantastic shots of Rambler."

David, who retired in late 2009 as chairman of Hartford, Connectitcut-based United Technologies, told the press immediately after the incident that injuries were avoided because the experienced crew acted professionally and calmly.

"Two-thirds of the crew had Fastnet or other ocean racing experience, or they'd done the America' Cup," he said. "Everybody on board did the right thing."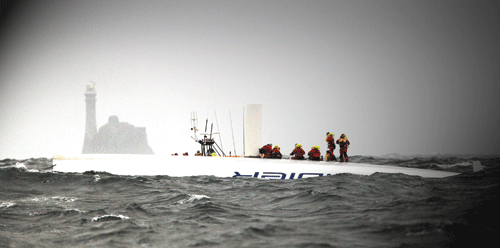 Some of the sailors headed for the transom, sensing the rudders might provide a platform on which to start their climb to the overturned hull. Back at the pub in Baltimore, grateful survivors shared tales of adventure over pints of Irish beer. Kirby brushed off statements he had saved Harvey's life.

"We've all been sailing together for years. The only reason nobody died is because everybody did everything right. Cool heads prevailed," Kirby said. "I've seen some super scary stuff that happened on the Volvo races and been aboard big boats when the rig came down. I was on the Cup boat Young America when it split in half. I've been in a lot of disasters at sea, but nothing like this one. We dodged a bullet."

The five sailors rescued by Wave Chieftain might not have survived the night. After floating five hours in water of less than 60 degrees Fahrenheit, the body begins to fail. David's girlfriend was stabilized at a regional hospital where she remained for three days. "She had some water in her lungs and her core temperature was in the 80s. She had a very close brush," Kirby said.

Hours after the capsize, a diver attempted to retrieve the sailors' personal belongings, but the sea state was too rough. As Phaedo headed for the finish line, Jaspersen and Langdon boarded a RIB that took them close to the action, and the slim possibility of finally getting that photo of the catamaran.

A salvage team was hired to right Rambler and pump her out. Harvey stayed with the boat, helping to make arrangements to have the vessel towed to a shipyard and analyzed. Kirby and several other crew flew home to Newport just in time to hop aboard Ranger and participate in the classic J-boat regatta.

"Luckily that guy in Valencia said he still had a blip on his screen showing a P-epirb beacon and he called for a rescue," said Harvey. "He's the hero. He's the one who told people to go out and find it so that he could put an end to it because the beacon kept updating its position."