Grace and speed joined in wood
A collaboration among designer Bob Perry, owner Kim Bottles and the Northwest School of Wooden Boat Building results in a one-of-kind 62-foot double-ender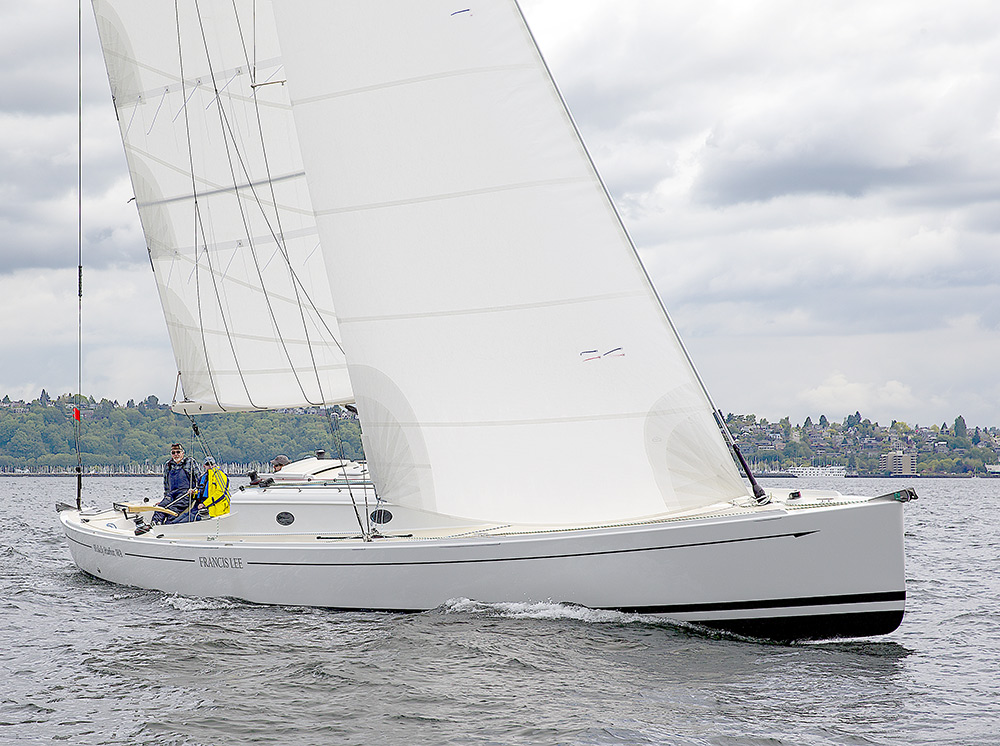 Neil Rabinowitz photo
Francis Lee
was named in honor of a father's boating lineage, but everyone knows her as
Sliver
. To the dockside crowd of sailors who reveled in the champagne-soaked launching,
Sliver
was celebrated as a hometown wonder designed and built in the Pacific Northwest. The wood composite 62-foot double-ender was designed by Bob Perry and built at Northwest School of Wooden Boat Building.
Perry, a bearded, pipe-smoking, kilt-clad fixture from Puget Sound, is known for his creative designs steeped in tradition that push the envelope for speed and beauty.
"It's a design that haunts most naval architect's dreams," said Tim Nolan, an engineer where Sliver was built. "A client asking for a long, skinny, go-fast boat with little under the water—that's a big temptation for any yacht designer."
The aesthetic quest for a narrow-beamed, high-aspect-ratio, performance daysailer that forms long overhangs into canoe-shaped ends was the kind of mission-driven project that propelled naval architects like L. Francis Herreshoff and William Garden to create elegant sailboats.
"Normally when a client comes to you for a design, the project is immediately a question of compromise," Perry said. "Sliver was different. It was to be a lean, go-fast daysailer, of high-tech construction with minimal cruising concerns, to be first to finish while being pleasing to the eye, made for a guy who shared my love of classic designs."
Perry shared a common vision with the owner for something streamlined that would be clean, uncluttered and lightweight, and both were under no illusion they would build an old-fashioned boat.
"My dad was a big fan of L. Francis," said Sliver's owner Kim Bottles. "Double-ended boats, and the concept of wood was a small tribute to him, while also a decidedly practical choice."
The Bottles family moved from Southern California to Seattle, Washington, in the late 1970s and assembled a diverse fleet of boats that included a strip-planked Rhodes Evergreen 36, a Joel White Sakonnet 23, a Seabird Yawl, a Dragon, a Folkboat, a 30-square meter and the famed Aage Nielsen 50-foot yawl Tioga, which was made of double-planked cedar and mahogany. The fleet also included a smattering of powerboats and fiberglass sailboats like a Swede 55, all with one thing in common: classic design aesthetic.
"I like to go fast and wanted to build a boat someday—it's that simple," Bottles said. "I talked about it for years, something I could keep at the dock and conceivably singlehand, with maybe a flush deck, no headroom, no engine, low maintenance without accoutrements to distract from simple sailing pleasure."
The challenge was to blend the concept with the practicality without undermining the seductive lines of a sleek daysailer. Bottles found the perfect man for the job. Always a little out of the mainstream, Perry had progressed from his Valiant 40, to the two-tonner Heather, the 70-foot ultralight racer Meridian, and the 42-foot Night Runner, which had a contemporary fin keel underbody with throwback traditional brightwork topside.
The Northwest School of Wooden Boat Building was chosen to build the boat not just because of its expertise in composite wood construction, but also because it was close enough to Bottles's home that he could look in on the construction. What was conceived as a foam-cored hull evolved into western red cedar composite, monocoque strip planked form with tri-axial vector ply in a sheathed WEST epoxy. Supervising a squadron of up to 35 talented students and graduates, Bruce Blatchley monitored every half step of the process.
Nolan completed the structural analysis and came up with a plan for an inch of strip-planked red cedar and a layer of knitted E glass. The strip planking provided a structural shape and eliminated the need for a mold while the cedar contributed to longitudinal strength. The deck is Corecell composite while the 10-foot, 1,700-pound foil shaped keel is of steel weldment with a 7,400-pound lead bulb, all bolted to the hull with stainless steel I-beams that disperse the load to the bunk faces and stringers.
The 62-footer pushed the envelope of what would be considered a wooden build and represented the limit of the boatbuilding school's charter for wood construction.
"Wood composite using various plywood and epoxy laminates, done right, is state of the art among cored structures," explained the school's Russel Brown, who developed Sliver's laminate schedules and did the same for America's Cup Northwest Oracle build.
Known as a hotbed of local boatbuilding talent and a region famed for the development of composite construction for the megayacht industry, the Pacific Northwest is home to Perry, Nolan and Brown, who teamed up with Jim Franken to complete the computer lofting and 3D modeling that produced jigs and cutting files. This modeling program allowed all the components of the one-off wooden hull, with its shapely form, to be constructed separately and then the bulkheads, deck, frames and cabinhouse were joined without a glitch. The ability of workers to walk straight up to the part, move around and work on all facets of the component instead of an installed piece requiring contortions and scrambling around, resulted in tremendous labor savings.
The project was a testimony to labor efficiency. Momentarily they considered a wooden deck but decided it was too complicated a form for what already resulted in a monocoque structure comprised of longitudinal stringers, bunk fronts, tops and side stringers of foam, then glassed and computer-controlled cut by Turn Point Design. The hull, deck and interior were built outside the boat and installed independently. For this process a jig was set up outside the boat representing station lines. They rotated the hull, built the components outside and dropped them inside the shell without the skin, tabbing it all together. The deck and cockpit mold was one piece with stations every 2 to 3 feet and went together like a Lego set constructed on a strong back. Perry brought a fullness to the ends to keep the boat from squatting, building the transom after wrapping the last four feet into the stern to get the ideal shape.
"Bill Garden's Oceanus was one of my favorite designs," Perry said. "Not so much in hull shape, but a gorgeous image on the water."
Oceanus, along with two other Northwest double-enders, Sparkle and Twinkle, inspired Perry, who gave credit to Aage Neilson for pushing shape into the ends to handle quarter waves. But the concept originated with Herreshoff's Fiery Cross that morphed overhangs into canoe ends, and progressed through the more contemporary 1980's 55-foot double-ender Red Herring speedster with its slender 8-foot beam and canting keel, to finally Bruce King's Nantucket Splinter.
"Of course, we considered those designs," Bottles said. "The name Nantucket Splinter inspired the nickname Sliver, but ultimately, our design is a lot like a large, less slab-sided 210. In the end I care little about rating rules—it is all about the pleasure of sailing."
The original concept showed a bendy mast with fuller sails, but Sliver, which has no lifelines, has a standard Farr 40 rig that seems slightly undersized yet when combined with the long waterline, keeps the slender bow from riding under. CSR Marine installed the rig, keel, rudder, deck hardware, wiring and fuel systems and painted the hull. The project took three years from lofting to launch.
"The beauty of this project was that the owner and I were on the same design page almost instantly," Perry said. "That said, we bantered back and forth, and I'm still not sure he was serious when he argued against putting a head on board."
Sliver is all about going fast with style and grace. A distant third is comfort for cruising. While Nolan engineered the boat with the strength to handle anything offshore, the layout features an oversized cockpit with low cut coamings aft for grasping the tiller on a heel from the side decks. There are no overlapping sails, facilitating shorthanded sailing, and both asymmetrical spinnakers are set with ATN socks. The jib is set on a belowdecks Harken furler, creating an uncluttered foredeck area. Winch placement is also laid out for singlehanded operation.
The small, spartan cabin is accented in cherry, with a nicely finished cabin sole and stylish details. The shelves are structural foam-cored composite for added strength. There is a forward double berth and a basic head. The saloon features a dropleaf table, settee berths and a simple galley. The Yanmar engine with saildrive and four-blade Max Prop pushes the boat along at 10 knots.
Under power or sail Sliver has the softer feel of wooden hull, a quieter, more insulated sound when moving through a seaway. While the material is slightly heavier than foam-core composite, it simultaneously provides longitudinal stiffness and compression resistance in areas. Lacking any sort of wood trim, Sliver's only visible wood topside is the custom ash tiller. The result is a unique racing daysailer with low maintenance needs.
"I have no plans to take it offshore, but a cruise up the Inside Passage while island hopping around the Pacific Northwest is on the table," Bottles said.
Under sail Sliver leaps to life in the light breeze, striking a distinctive profile. The slender speedster leaves an almost imperceptible wake. In her first race, Sliver sprinted to the front of the fleet leaving the Puget Sound fleet in the dust.
Said Perry: "Well, I got that one right."