Exploring the native beauty of Tahiti is even better on the stable platform of the twin hulls of a catamaran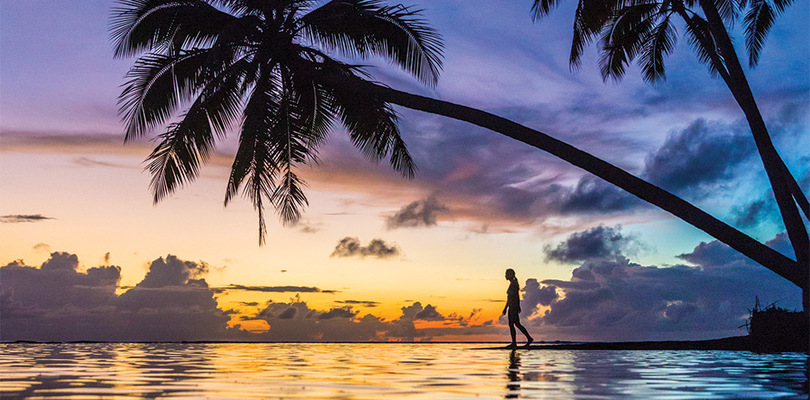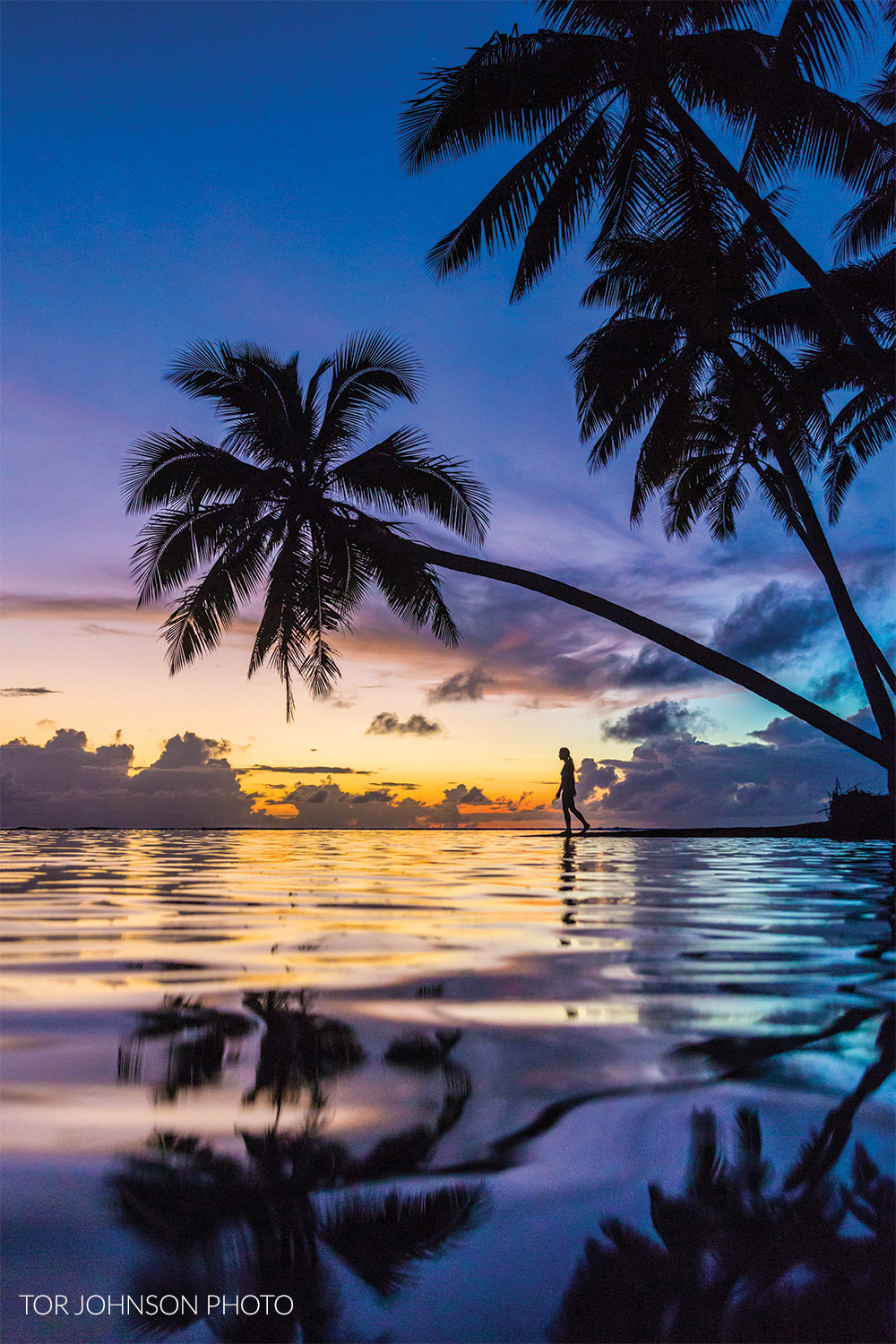 It started as an April Fools' joke.
I never would have thought of Kyle Ryan as particularly gullible. He's an experienced sailor, a big wave surfer and a divemaster. He has spent years at sea as an officer with NOAA. And he recently proved to be sound crew on a rough crossing from Fiji to New Zealand aboard my Beneteau 473. Which is why I was surprised when he believed the ridiculous story my wife and I concocted in the early morning hours of April 1.
Kyoko and I were headed to the annual Tahiti Pearl Regatta to photograph the event, and we knew Kyle wanted to join us. So we gleefully concocted a tale about how we had arranged for him to crew aboard a 90-foot Wally Yacht staffed by scantily clad Tahitian girls and named You Wish.
Despite the boat's name, Kyle seemed to believe the story, so we heaped on more: I'd arranged a luxurious 75-foot charter cat for after the regatta. Finally beginning to feel sorry for Kyle, we searched for an obvious tip off, and named this boat Poisson d'Avril, which was as close as we could come to "April Fools" in French. We texted Kyle the name of the boat, and told him to look it up on the web. By the time Kyle finally did look up Poisson d'Avril, he was already in the process of booking flights. When he realized it was a hoax, he sent an unprintable text response.
Kyle is far from the first to be taken in by the exotic allure of Tahiti. Since its successive discovery by Wallis, Bouganville and Cook, the voluptuous nature of Tahiti has enticed generations of sailors to great folly, most notorious of them being one of Cook's own officers, William Bligh, who later lost his ship, the Bounty, when his crew seized the vessel, refusing to leave this earthly paradise.
And we are just as enchanted as the next sailors. Our April Fools' joke got us thinking: Kyle could surely get a crew position if he showed up at the regatta (although perhaps not on a 90-foot Wally). And maybe we really could charter a boat afterward. Kyle's girlfriend Kari, an avid diver who had just passed her exams as a surgical nurse at the University of Hawaii, could come down to join us, replacing the scantily clad Tahitan girls.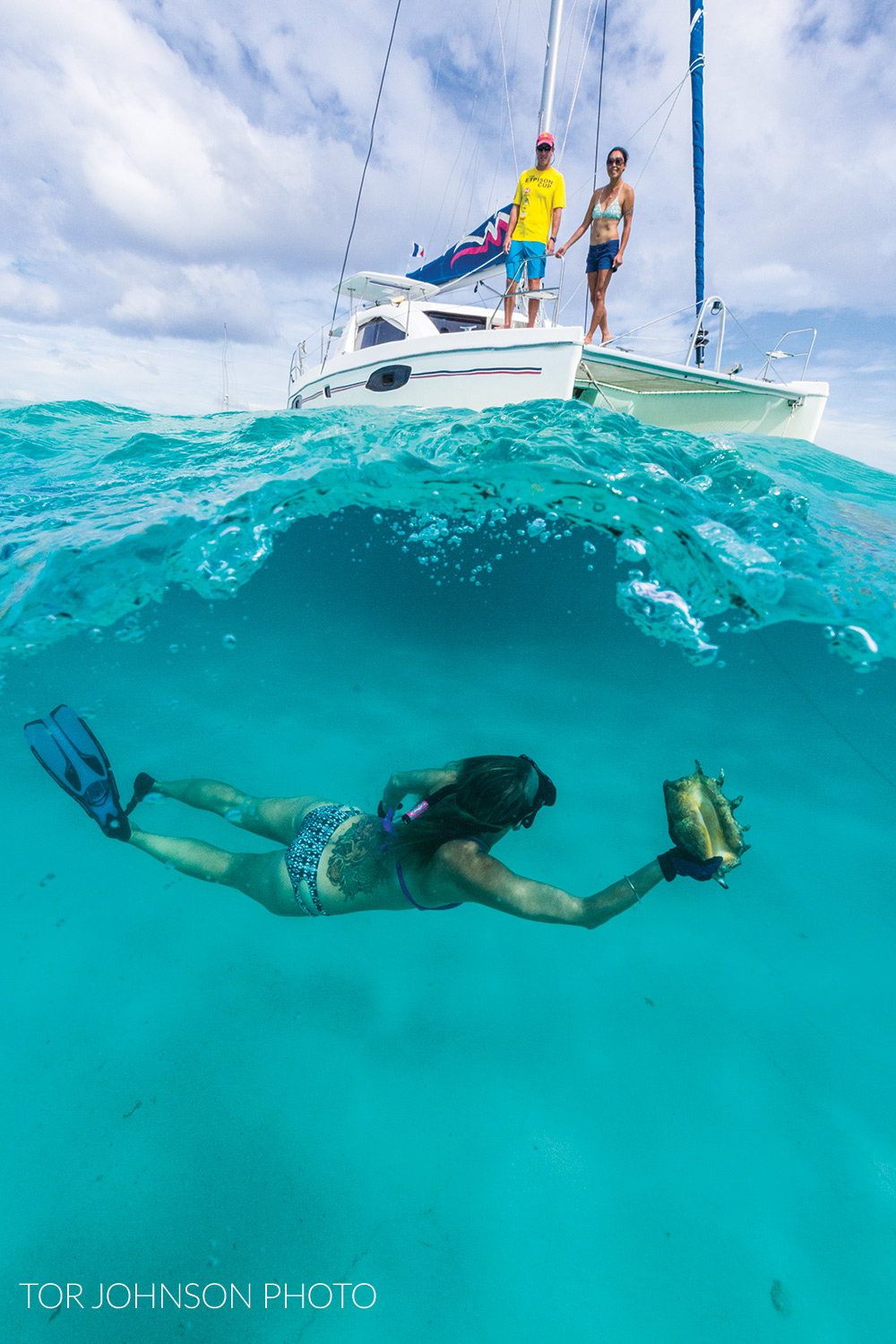 As luck would have it, Sunsail has a base in Raiatea, where the Tahiti Pearl Regatta took place, and we were able to charter a Sunsail 384 catamaran.
Raiatea is the center of charter sailing for French Polynesia, and for good reason. An extensive, pristine reef system joins and encloses Raiatea and its sister island of Taha'a, so that except for a small section on Raiatea's leeward southwest coast, it's possible to sail around both islands without ever leaving their crystal clear, calm lagoons. Tahiti is located on what is called an "amphidromic point," or tidal node, so that although tides propagate from that point, there is virtually no lunar tide. There are solar tides, but they are weaker, so that Tahiti has a very slight tidal range of less than one foot.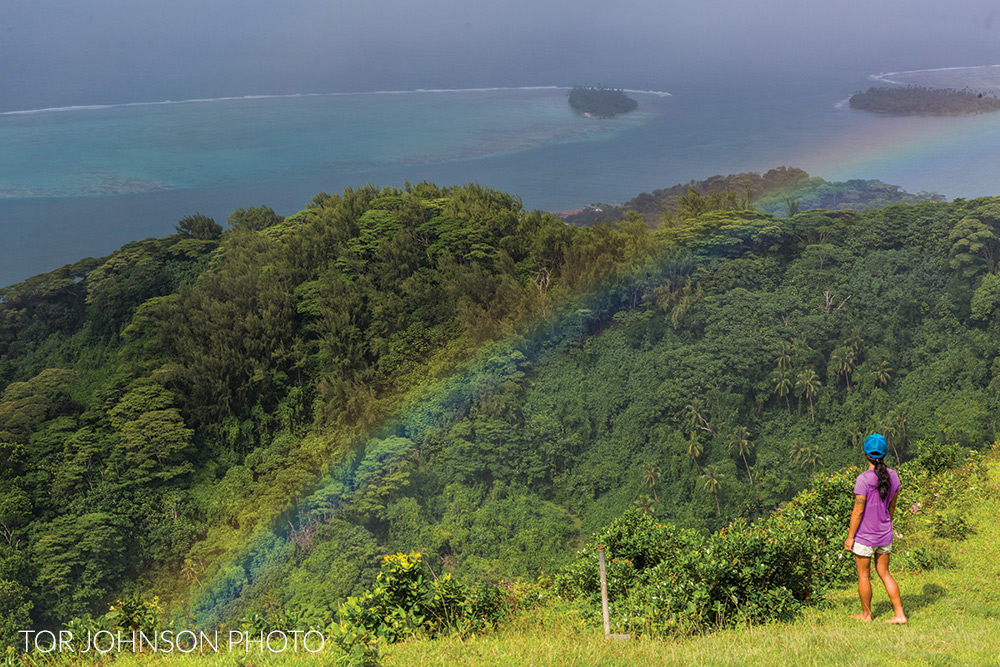 With the leeward islands' protecting barrier reefs, slight tidal changes and minimal currents, we found the best anchorages in shallow water over sand out near the passes, rather than in protected bays out of the wind, sea and currents. These were often the best places to swim and see outrageous marine life. Navigation was a pleasure.
For those who want an "ocean crossing lite," the iconic neighbor island of Bora Bora lies just to leeward (20 miles northwest), and wild untamed Huahine lies just to windward (20 miles east). Channels are clearly marked with the French system (red left return), although it's essential to travel in good light through the lagoons, as GPS is not completely accurate, and coral sometimes grows to encroach on narrow reef channels. Weather is relatively benign year round, hurricanes are rare, and trade winds are generally light easterlies, with the occasional weather front that brings gustier, shifty wind and rain.
It was our luck to set sail just as one of these fronts approached Raiatea. We reached down the leeward coast of Raiatea just outside of the reefs in perfect sailing conditions: 15- to 20-knot trade winds but no chop, only the ever present long southwest swell from the Southern Ocean, crashing on the reef in clouds of sea spray. Grateful to be on the lee side for most of the trip around the island, we nonetheless took the opportunity to duck back into the reef at Toamaro Pass, and continued on inside the lagoon. Rainsqualls increased as we motored into the wind around the island, becoming fairly heavy when we reached Faaroa, on the windward side.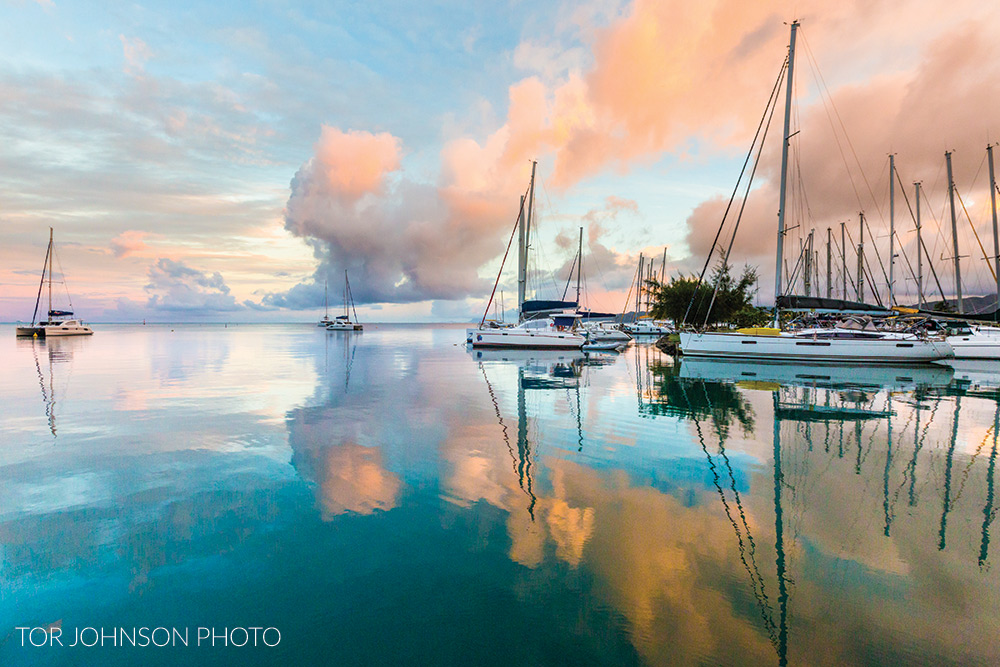 While searching for a protected anchorage in easterly trades
gusting to 25 knots, I recalled one of the charter skippers mentioning that he sometimes stern-ties to palm trees against a certain "motu," or islet. Ile Tipaemau has deep water right up to shore on its well-protected leeward side. With the Sunsail 384's twin Yanmar engines, backing up to the beach was ridiculously easy. Suddenly we found
ourselves in our own calm, windless, completely private mooring with a palm tree plantation right outside the sliding glass doors.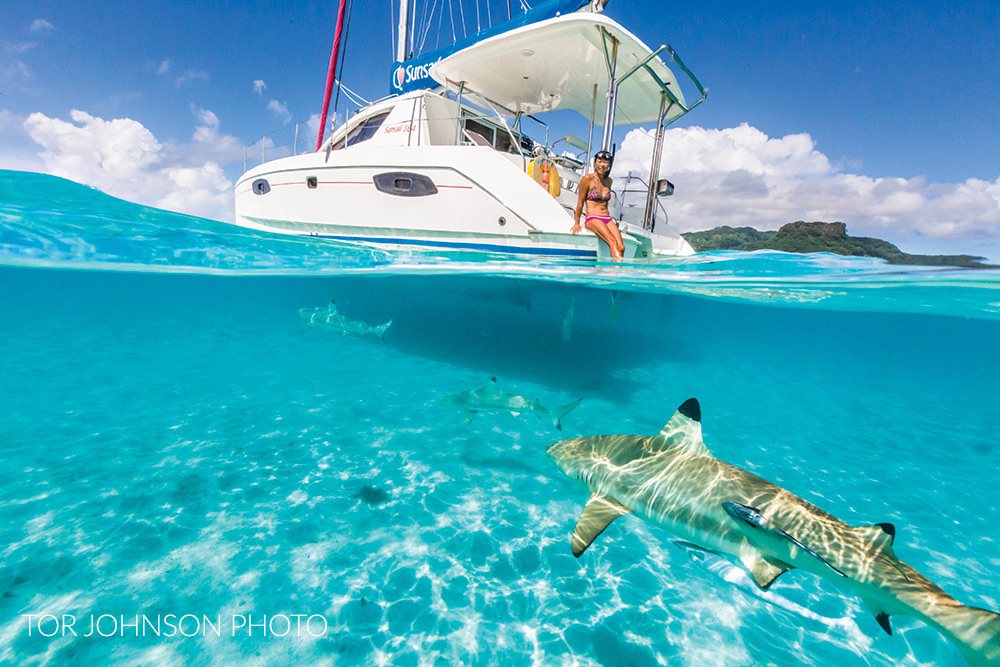 Te Avamoa pass, once a sacred pass where passage was forbidden, is now a lovely spot where the government actively promotes mooring near the marae. In fact, there is a new system of "Tourisme Nautique" mooring buoys in the deeper bays around the leeward islands (or "Raromatai" as they are locally known). The idea is that locals will manage the moorings, and provide local knowledge for sailors new to the area. Although the moorings can be hard to locate, many of the bays that deeply indent the lush shores of Raiatea and Taha'a are too deep for a cruising boat to safely anchor, so it's a pleasure to simply pick up a mooring and head ashore.
Unlike Bora Bora, which caters to massive numbers of tourists, Raiatea retains a certain slow, timeless Polynesian vibe. In Faaroa Bay, we picked up a public mooring, popped into the dinghy and headed out to explore the only navigable river in French Polynesia. Of course we soon ran into a local character, James, whose family lives on the river. James led us in his kayak, showing us the family vanilla plantation, as well as endless crops of banana, rambutan, coconut, papaya, orange, lime, taro, noni and pineapple. We stepped ashore, and into a time warp. In a roadside park, seniors played boules, while kids kicked a ball at a dog.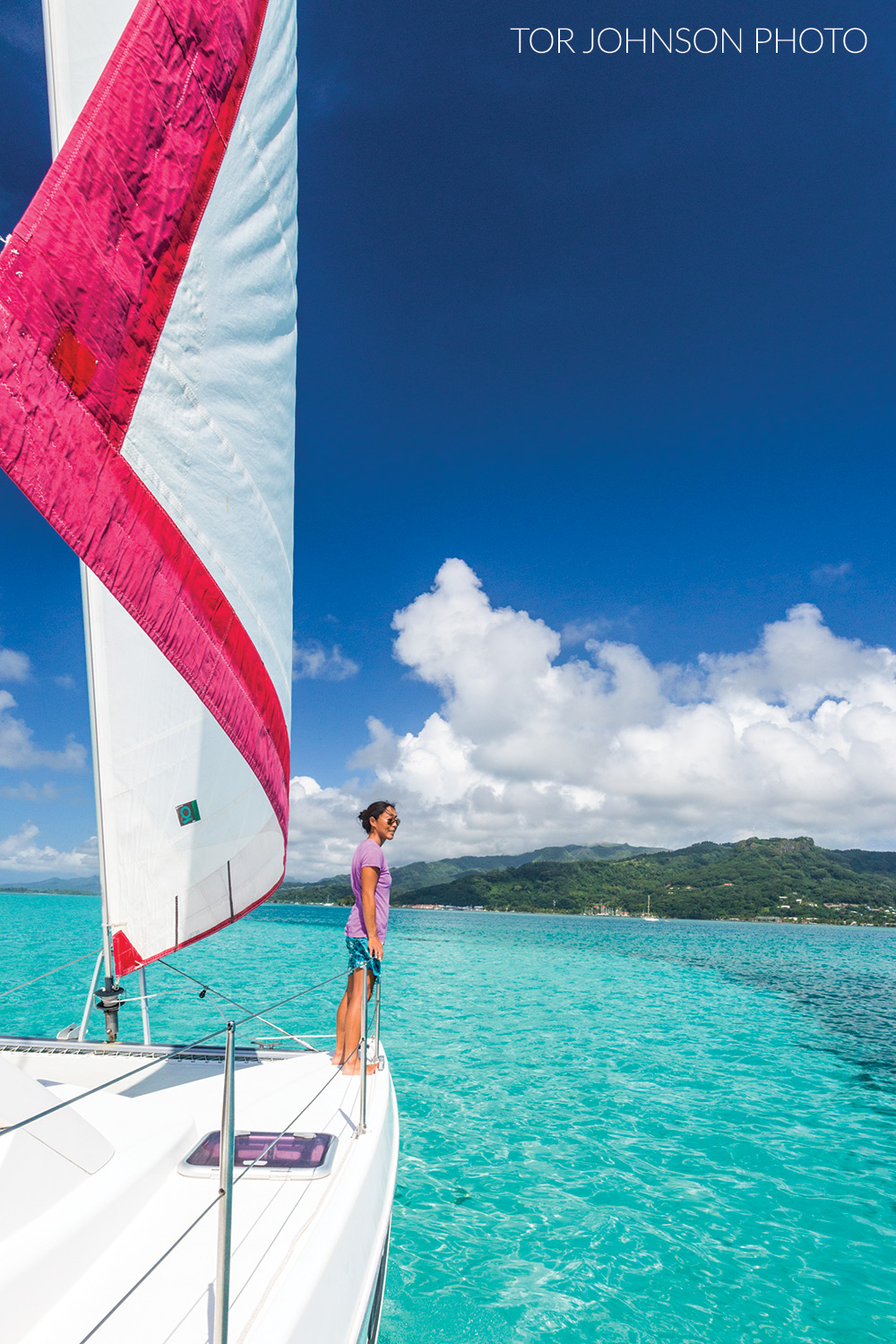 After a trip to a pearl farm that ended in new jewelry for one crewmember, it was time to move onto our next destination. The strong and squally trades continued as we sailed around Raiatea's northern side, and our South African-built Leopard 38 turned out an impressive 8.5 knots on a beam reach. One gust of just over 20 knots lifted the windward hull slightly, and I realized it was time to reef. I've sailed monohulls all of my life, crossing both the Atlantic and Pacific a handful of times, but the experience of skippering a multihull larger than a beach cat was new to me. I took note of a diagram prominently displayed in the saloon, showing the vessel under shortened sail configurations, with prescribed wind forces at which to reef. As multihull sailors will attest, it's essential to follow the guidelines. Unlike a monohull, on which heeling and weather helm are unmistakable, it's not as obvious when a multihull is overpowered so it's important to reef early.
One of the charter skippers we met had mentioned that there were a number of blacktip reef sharks and rays that frequent a sandbar anchorage inside the reef near the main town of Uturoa, so we found a spot in gin clear water over that sandbar that felt as though we were anchoring in a swimming pool. Indeed, at a mere 4 to 5 feet, diving straight down could be just as dangerous as the shallow end of a pool. As if on cue, several sharks came to check out the new arrivals, swimming in a perfectly sinuous, almost casual way that belies their power. Kari felt it was a bit disconcerting to be circled by several sharks, but despite the presence of numerous species such as the large tiger shark in French Polynesia, there hasn't been a fatal shark attack in the last 100 years. This is, after all. Tahiti, where even the sharks are friendly.
In the end, Kyle took our April Fools' joke with good grace. He did find a crew position aboard a race boat for the Tahiti Pearl Regatta, and the charter boat we sailed afterward turned out to be the ideal boat for the task: stable, easy to sail, and supremely comfortable. It was named Mahana or "Sun" in Tahitian, rather than Poisson d'Avril.
On the plane home to Hawaii, Kyoko and I were already planning our return to Raiatea. I thought back with a little more sympathy to the mutinous crew of the Bounty. I had a fairly good idea why they would risk their lives and freedom by throwing their captain into a longboat and turning their ship back to Tahiti. Like us, they just really wanted to go back to Tahiti.
---
Tahiti's chartering treasures
Although it's second to Papeete in size, Raiatea has only 12,500 people, most of whom are supported by government posts and agriculture. While tourism isn't the mainstay, it is an important industry, and several yacht charter companies give large numbers of Raiateans opportunities they wouldn't otherwise have.
Probably due to their comfort and space, cats are apparently the boat of choice for chartering these days. Sunsail and Moorings, now operating together under the gracious and efficient care of Patricia and Sophie at Apoiti Marina, five minutes outside of the main town of Uturoa, have a fleet of 20 cats and just two monohulls, both 44-foot Jeanneaus. Their neighbors at Apoiti, Tahiti Yacht Charter, have 30 cats ranging up to 60 feet with their partners Tradewinds, and only one monohull. Sunsail recently took delivery of several new Leopard 48 cats which have an interesting layout incorporating a second entry forward in the main saloon, giving direct access to the foredeck and a forward second "cockpit" area. Like all good ideas, it seems obvious once you see it. The new boats have a very modern, "chic" interior, and they're palatial in size.
At Dream Yacht Charters' base at Marina Uturoa we met Jerry Sham-Koua, a young sailor who has been with the charter company for three years, and is hoping to become a captain. He recently crewed on the delivery of Dream Yacht Charters' immense brand new 62-foot Lagoon catamarans from Bordeaux, France to Raiatea.
While Jerry showed us how nearly every system on the immense, luxurious cat could be operated from an iPad, I asked him: "So, how was the trip?"
"Lots of fish!" he replied with a huge grin. Spoken like a true islander.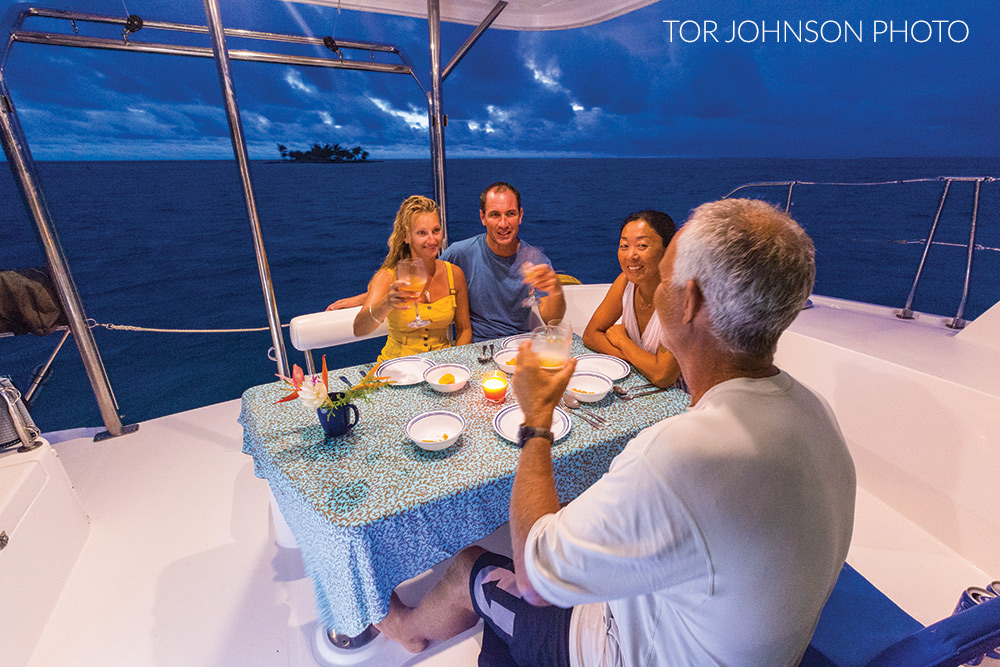 Jerome Touze, Dream Yachts' Raiatea base manager, feels it's important to work with locals as much as possible, and not just for the local's sake.
"If you travel halfway around the world to visit an exotic location like this, you will want the very different experience of local crew and captain. They are connected to the land in a way that a foreign captain may not be."
Dream Yacht Charters has 22 boats, five of which are monohulls. A recent addition is a popular "by the cabin" charter system on their larger yachts. Although the itinerary is more fixed, clients get access to a very luxurious crewed yacht at a lower price than bareboat, and are not required to handle things like navigation on their own. It may be a bit less adventurous, but it's far more accessible to the masses, and judging from those numbers, it may play a growing role in the future of yacht charter. --T.J.
Save
Save