'He made the sport better'
Ardent sailing supporter and former owner of North Sails Terry Kohler dies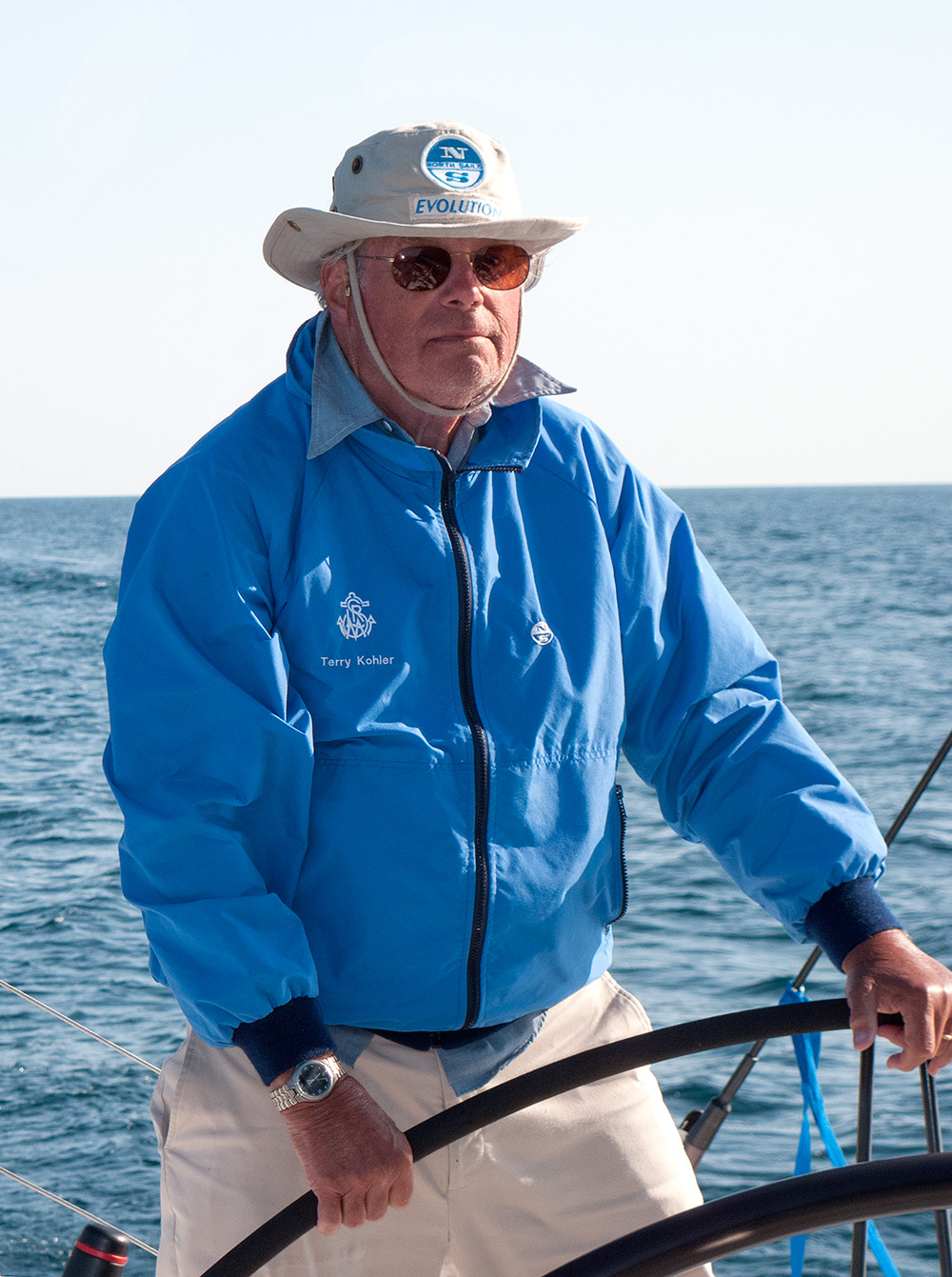 Terry Kohler, who discovered a love for sailing as a boy aboard his mother's Alden-desigend schooner Venturer, dedicated himself to making the sport more technologically advanced as well as more accessible to sailors of all abilities, all from a sleepy blue-collar town on the shore of Lake Michigan.
He died Tuesday, September 20, at his home in Sheboygan, Wisconsin. He was 82.
Kohler bought North Sails from its founder, Lowell North, in 1984, and immediately set about advancing the technology of sailmaking. Under his guidance, North Sails created the 3D molded sailmaking system that is the standard in high-performance sails today, helping make the company the preferred sailmaker of boats in most premiere events including the America's Cup and Volvo Ocean Race. He added additional marine companies under the North Marine Group umbrella, including Southern Spars and Edgewater Powerboats. He sold North Sails in 2014.
"When Peter Barrett approached Terry and asked if he wanted to buy North Sails, he said 'But I already have a boatload of North Sails,'" recalled Tom Whidden, CEO of North Technology Group. "When Barrett said he meant the company, Terry said, 'Now that's a different story.'
"His passion for sailing is what made him a wonderful owner to work for," Whidden said. "He was never egocentric about any of the decisions, and was a great motivator, everyone always worked very hard for him. And ultimately, he turned into a fantastic friend."
Kohler was the CEO of Windway Capital Corp., which also owns Vollrath Co., one of the country's largest manufacturers of commercial cookware, located in Sheboygan, Wisconsin.
The son of Walter Kohler, a three-term Wisconsin governor, and Marie Celeste McVoy, Kohler spent much of his life on the water, frequently sailing with his mother in the Caribbean.
"He led a charmed life, having grown up in Florida, sailing in the Keys and the Caribbean, where he developed a love for sailing," said his daughter Leslie Kohler, chairman of Sailing Education Association of Sheboygan (SEAS). "He went on to share that passion with young sailors throughout his lifetime."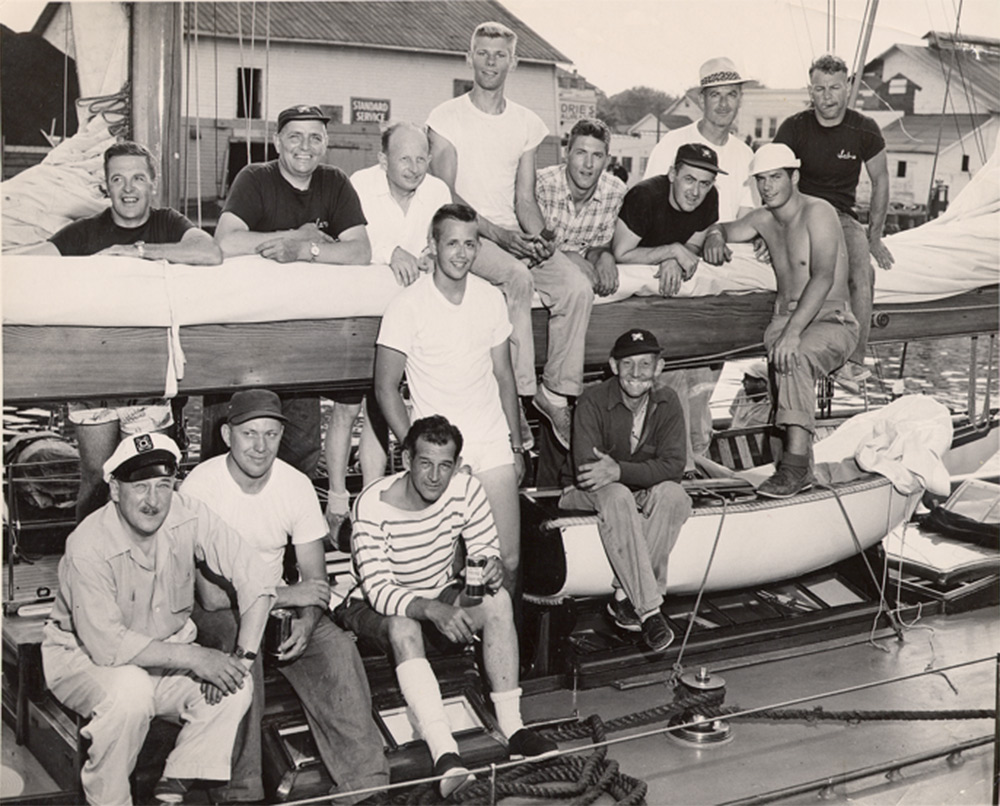 After his parents divorced, he lived with his father, not far from the Sheboygan waterfront he would consider his home waters. There he joined the Sea Scouts and, as a teenager, joined the crew of Sheboygan businessman Romy Brotz's 87-foot M-Class Sabre, one of the most exciting boats on the lake at that time.
In 1973, he bought his first boat, a Cal 40 named Agápe, which he campaigned on the Great Lakes. A Tartan 44, also named Agápe, followed in 1975 to race the Two-Ton World Championship on Lake St. Clair. By 1978, Kohler had set his sights on the Canada's Cup and sailed his Holland-design Two-Tonner Agápe for Bayview Yacht Club, losing the match to Don Green's Evergreen sailing for the Royal Hamilton Yacht Club. Kohler competed in the Southern Ocean Racing Conference in 1984 with Ted Hood's Robin Too II, renamed Agápe Too II.
In 1991 he bought the Santa Cruz 70 Drumbeat, renamed her Cynosure and brought her to Lake Michigan, joining Dick Jennings' Pied Piper and Bill Martin's Stripes in what would be become the Great Lakes 70 class, which lead to a resurgence for the Bill Lee design on freshwater. Kohler could have filled the crew of the big boat with some of the best professional sailors in the world. Instead he was adamant that the crew be made up of skilled local sailors, a rag-tag group of mostly 20-somethings, some of whom had sailed their first offshore races on Kohler's other boats. In 1992, on their second try at the Chicago-Mackinac race aboard the sled, the young crew sailed to a first place overall and, more importantly, were first to finish, winning the Royono Trophy as he had done in the 1950s aboard Sabre.
"Terry was very competitive," said SAILING Magazine Executive Director Greta Schanen, who was a regular member of Kohler's crews. "He loved sailing against the other sleds, and had a particular rivalry with Dick Jennings' Pied Piper. He always listened to us kids, but when he made up his mind to go a certain way, off we went. He never took credit for a win if it worked out, but if it didn't, he was the first to admit he should have listened to us."
As the Great Lakes 70 fleet continued to flourish, Kohler bought another 70, Evolution, in 2001. The boat won the 2016 Bayview Mackinac Race sailing with many of the same crewmembers who raced the early years on Cynosure. The crew won numerous Great Lakes 70 Class season championships as well as dozens of other races. Although he wasn't well enough to sail in recent years, Kohler continued to fund the program to allow the crew to sail.
"He always said how proud he was of us," Schanen said. "The standing toast he'd make at every crew dinner, was to the 'best crew in the sport,' and he really meant it," Schanen said. "I think that's why he kept the Evo program running years after he couldn't sail with us."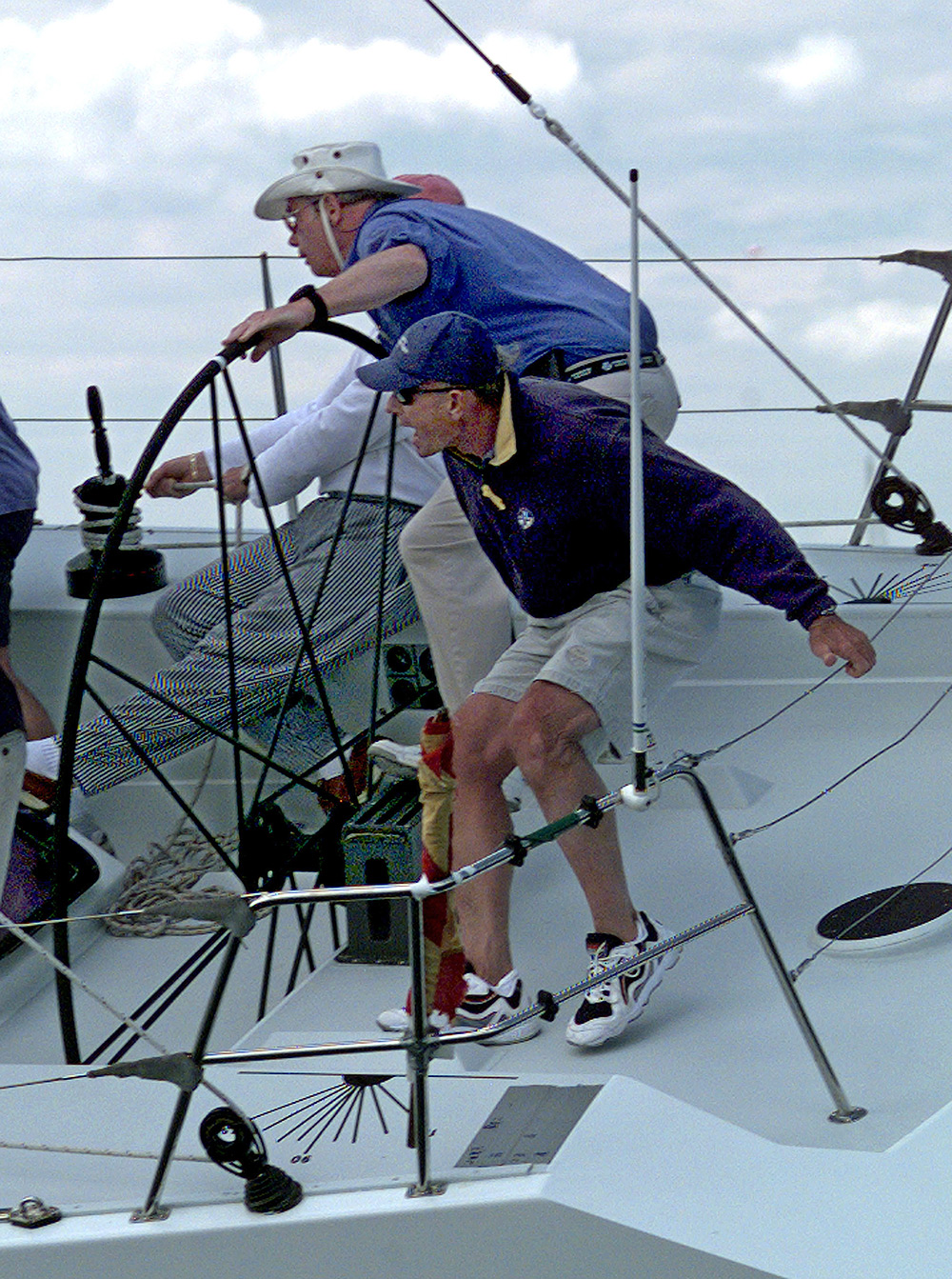 Peter Reichelsdorfer met Kohler in 1953 in Sea Scouts and was also invited to sail on
Sabre
as a teenager along with Kohler. That set the stage for a lifelong friendship during which they were crewmates on hundreds of races and later became co-skippers.
"While we always raced as co-skippers, he was the skipper and I was the navigator," Reichelsdorfer said. "We sailed our first race aboard the M-Class Sabre in 1953 and sailed together ever since. For a few years we raced my C&C 35 Arktos, and in the middle of the Chicago-Mac when down below was a mess with sails and duffel bags, Terry said, 'We need a bigger boat.' The next year we had Cynosure."
Kohler and his wife Mary were fixtures at the 1999-2000, 2003 and 2007 America's Cups, where they invited guests on their private 75-foot power catamaran NorthStar to view the races. The boat also served as a commentary platform for ESPN and TVNZ.
"I first got to know Terry when we were partners in Sunfish Laser together," said Gary Jobson, ESPN commentator and America's Cup tactician. "I had a small percentage and Terry the majority. It was then I got to see his brilliance, every time he spoke he had good ideas, but then he'd let us run with it. He wasn't a micromanager. I got to know him in a different light when we were all aboard his NorthStar in Auckland, covering the America's Cup."
In recent decades, Kohler turned his attention to supporting women's and community sailing efforts. He founded the Women's International Match Racing Association (WIMRA) in 2007 and was instrumental in getting women's match racing included in the 2012 Olympics. Sail Sheboygan, a nonprofit organization supported by Kohler, provided a fleet of Elliot 6M sailboats and the staff and equipment to maintain them for the event and the run up to the Olympics.
"Women's Match Racing wouldn't be where it is today without Terry," said Liz Baylis, executive director of WIMRA. "He shared his vision that women's match racing would be the star of the Olympics, which it was in 2012. When asked why he supported the sport, he would say 'I love match racing and I love women.'"
Kohler was also generous to individual sailors striving to make it to the top of a sport.
"He meant so much to my sailing career," said Baylis, a women's match racing world champion and past Rolex Yachtswoman of the Year. "I wouldn't have been a world champion without him. He believed in me and he believed in women's match racing."
His generosity extended to local sailing organizations, including the Sheboygan Yacht Club, which he always listed as his home club despite belonging to such prestigious clubs as New York, Chicago and Bayview yacht clubs and the Royal New Zealand Yacht Squadron. In recent years Kohler founded the Sailing Education Association of Sheboygan to promote community boating and access to the waterfront.
In addition to being a successful businessman and a key player in the Republican Party of Wisconsin, Kohler was an avid conservationist who played a crucial role in reintroducing whooping cranes in Wisconsin, using his private plane to transport chicks from Maryland to Wisconsin. Kohler was also an accomplished pilot.
He was among the most lauded sailors on the Great Lakes. He was awarded US Sailing's Nathanael G. Herreshoff Trophy, ISAF's Long Service Medal, the Island Goats Sailing Society's Freshwater Award and was named to the Lake Michigan Sail Racing Federation's Hall of Fame and honored as the Milwaukee Community Sailing Center's Sailor of the Year, among other awards.
"Over the years, Terry became one of a handful of people I could call for advice when I had questions about my career or I was working on something in the sport," Jobson said. "I never got the sense he was in it to promote himself, he was always working on behalf of someone else or a new idea or technology that would make the sport better. Whether it was wildlife or the environment, or aviation or sailing, he was always working to make our world a better place."
Kohler is survived by his wife Mary, daughters Leslie, Michelle and Danielle, four stepsons and 12 grandchildren.