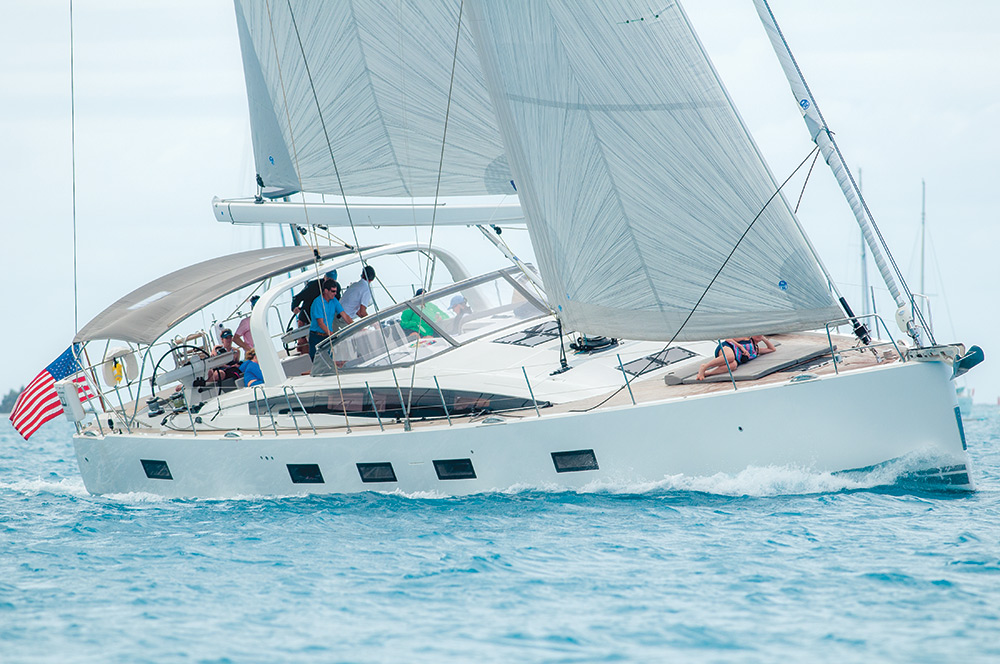 The Jeanneau 64—the French builder's new flagship built in its state-of-the-art facility—and I go way back. I happened to be visiting the plant in late 2013 when the very first 64 was making its way down the production line. Erik Stromberg, Jeanneau's sailboat marketing director and the driving force behind the project, explained how the company's new flagship was the result of its partnership with well-known superyacht designers Philippe Briand and Andrew Winch. The boat was built on a brand-new production line, which allowed the company to produce a boat with the size and functionality of a superyacht, but still provide significant value by keeping the costs down by taking advantage of Jeanneau's sophisticated production materials and techniques.
I jumped at the invitation to do a proper offshore test during a delivery from Annapolis to Bermuda on a new 64 last October because I wanted to see how the boat would perform in the conditions it was designed for. Since then I've been lucky enough to spend quite a bit of time sailing the 64 Serenity. In addition to helping sail her to Bermuda after the Annapolis Boat Show last fall, I also jumped aboard for a rocking, 90-mile downwind passage from St. Maarten to Tortola in April. And I learned quite a few things after all those offshore miles.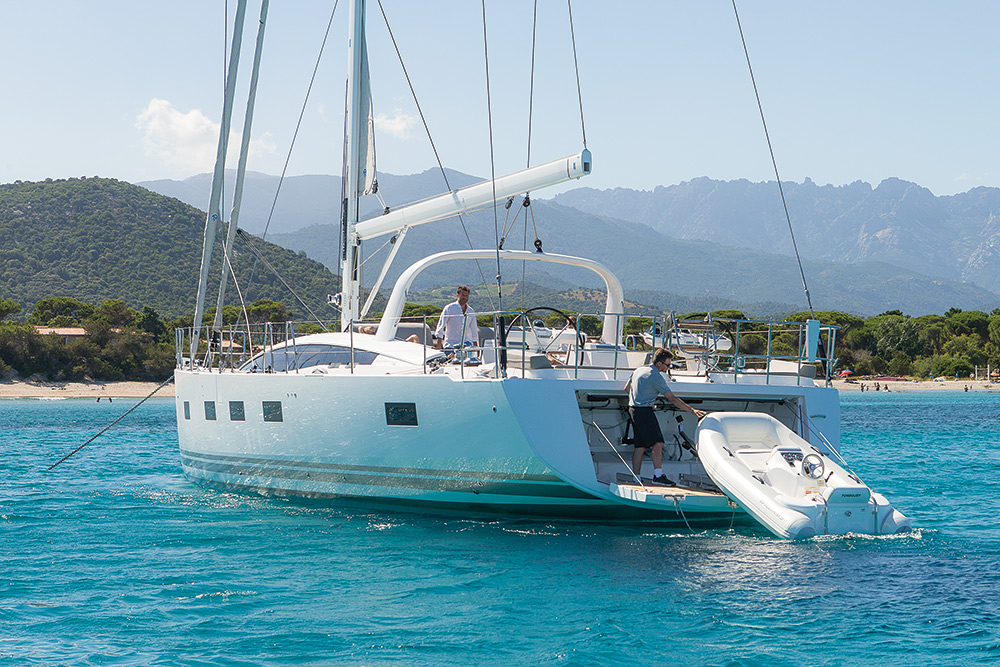 On deck
Philippe Briand's lines and proportions are spot on, and the 64 turned heads and generated compliments in every harbor we entered. The boat's teak decks, tinted coachroof windows, flush-deck hatches, companionway arch, fully powered transom garage and even folding cleats bring this production boat into superyacht range. The cockpit was spacious to the point of being vast. In fact, it's divided into zones, with bedlike seats and a drop-down settee table. And since I spent more than a few nights offshore, I can attest to the cozy comfort and safety of the settee seats when the spray dodger is up.
Nearly every aspect of the boat is powered, and from dropping the anchor to trimming the single-line mainsheet, most tasks can be controlled from dual helm stations aft. Other features I appreciated while sailing offshore in winds that ranged from light to the low 30s included the easy-to-handle self-tacking staysail, the smoothness of the powered mainsheet that's controlled by Harken's sophisticated captive-reel winch system mounted belowdecks and the overall helm station layout that made it easy for one or two people to set, trim and reef the sails. And that was no accident. Stromberg said the systems-heavy 64 was designed to be big, but not so big that an average cruising couple couldn't handle it.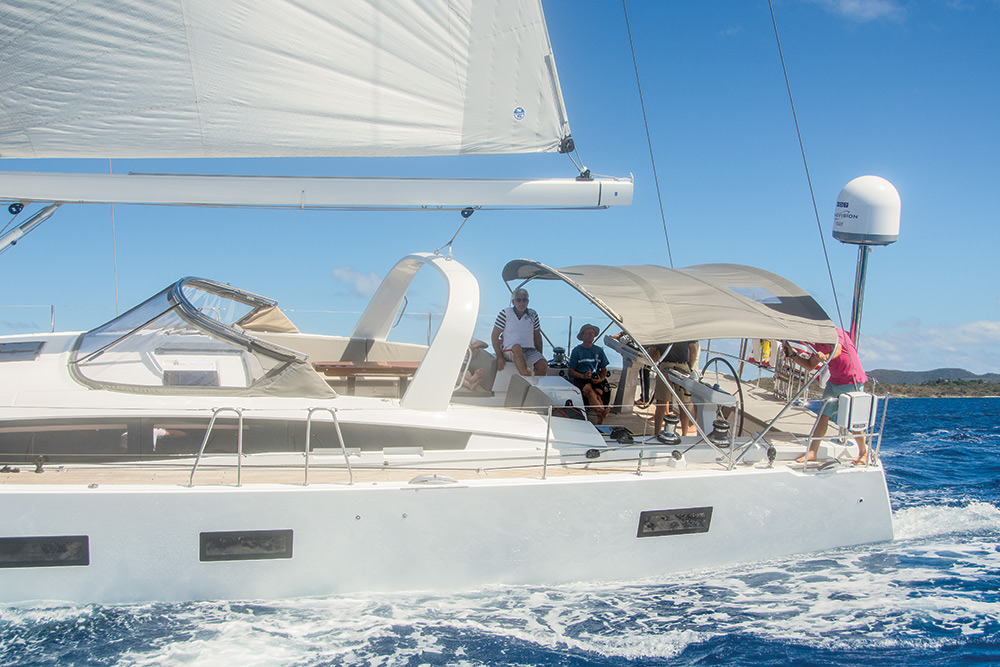 There wasn't a chance to put
Serenity
through her paces until we'd made our way the length of a nearly windless Chesapeake Bay under power. That all changed when we dodged a few Navy warships near Hampton Roads, set sail and pointed (as close as we could) to Bermuda. The building breeze was on the nose, so we hunkered down with the staysail and reefed main.
The Jeanneau 64's standard sailplan is a 861-square-foot 95% self-tacking headsail and a 968-square-foot in-mast furling main. The boat comes standard with North Sails, and optional sails include a 1,098-square-foot 110% genoa, a classic 1,151-square-foot full-batten main and a 3,328-square-foot conventional or asymmetrical spinnaker. Serenity was fitted with the optional inner forestay.
The boat performed well on our trip to Bermuda, with powerful, push-button winches, making tacking, trimming, and reefing single-handed easy. The cockpit was relatively spray-free and the boat's autopilot, chartplotter, AIS, generator and engine worked beautifully. And most importantly, the boat was stable while sailing upwind with boat speeds hovering in the 6- to 8-knot range. I did find myself looking for a few more handholds to help span the relative openness of the deck. Beating to Bermuda may not be always comfortable, but it is a fantastic way to test the seaworthiness of a boat, and the 64 passed with flying colors.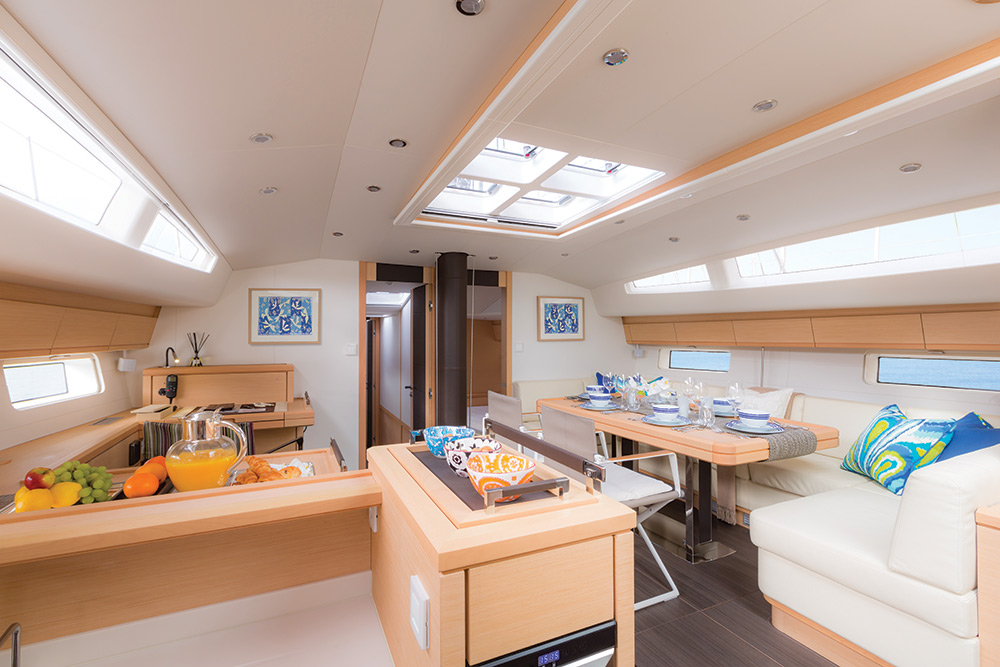 Down below
Unlike most production models that follow a pretty conventional design formula, the 64's interior, designed by Andrew Winch, who's best known for his superyacht and large private jet interiors, is spacious, bright and functional, while offering a high level of fit and style. It's obvious the moment you step down the companionway steps, from the clean lines of the joinerwork, and ample light from the eye-level hull ports, windows and hatches. Cream-colored upholstery, warm, light colored woodwork and dark floorboards combine for a powerful yet understated effect. Superior quality is also obvious on the leather-trimmed hardware and the overall fit and finish of the woodwork.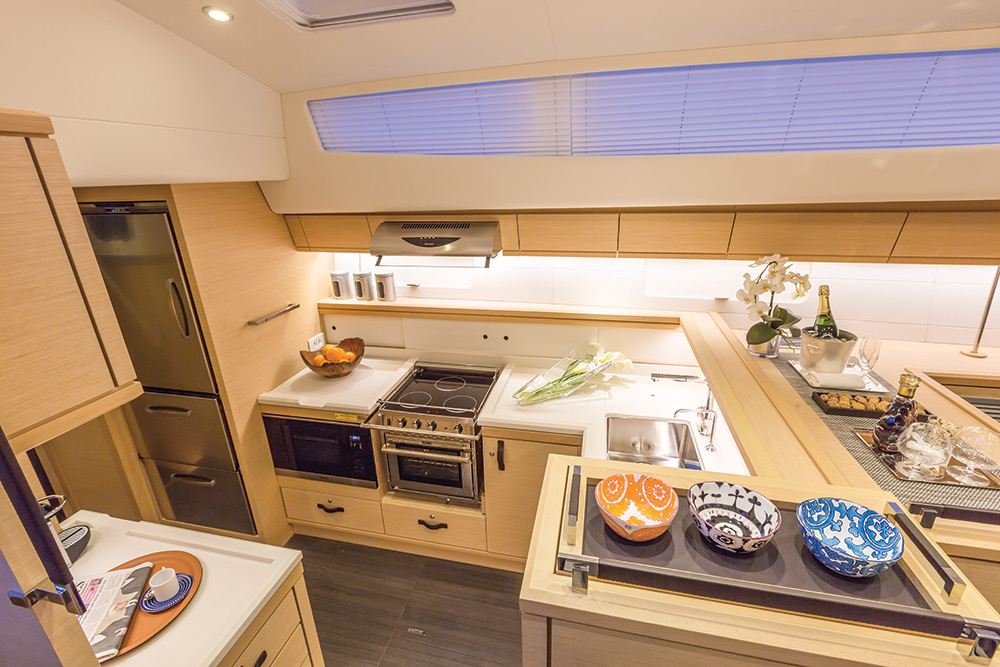 The wide open saloon can accommodate a crowd without feeling crowded. The settee is comfortable and there is plenty of storage space. The galley has a large, front-loading fridge and high-quality appliances, including a built-in dishwasher option. The superyacht side of the 64 really shows itself in the staterooms and the myriad choices of interior layouts. The aft master cabin with its full-size double bed, flat-screen TV, en suite head, large hanging lockers and private desk space, is fit for a king. The same can be said for the two guest suites forward with slightly smaller, non-island bunks and en suite heads. The crew cabin in the forepeak is well sized and even the single bunk I used in the small optional cabin at the base of the companionway stairs was bigger and more comfortable (and wonderfully air conditioned) than many cabins on smaller boats I've been on.
The 64's 180-horsepower Volvo engine also gets its own room to keep the noise and vibration underneath the cockpit, making for a quiet ride under power. Most onboard systems, from batteries to tankage, can be controlled and monitored with a touch-screen display mounted beside the companionway.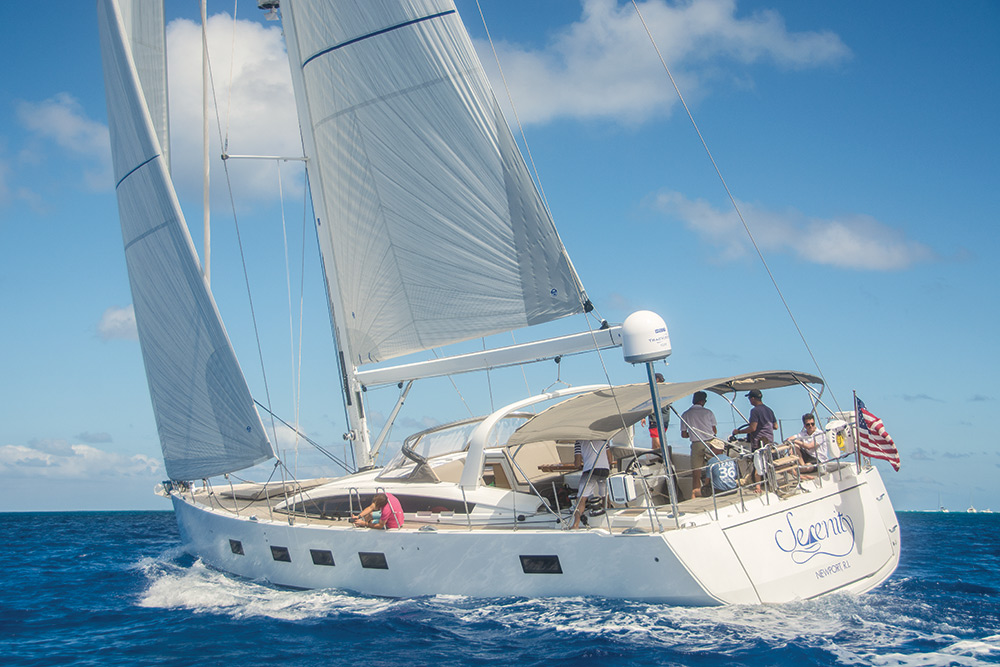 Under sail
It's not often that I get to test the same boat in opposite offshore conditions, but that is exactly what happened when I returned to Serenity for a 90-mile downwind blast from St. Maarten to Tortola. And a blast it was. Almost as soon as we exited St. Maarten's Simpson Bay Lagoon, boat speeds easily hit above 10 knots as we reached in 20-knot breezes all the way to the BVI. The helm felt balanced and our fast passage allowed us to get a couple hours of sleep anchored in Gorda Sound before the sun rose.
After we cleared customs in Tortola we met up with a very special crewmember. Gary Jobson, the veteran America's Cup winner and long time broadcaster, came aboard to help us sail Serenity from Norman Island to the Bitter End Yacht Club on Virgin Gorda as part of Jeanneau's biannual rendezvous. With Gary at the helm in the 25-knot wind, we sailed with a reefed main, full staysail and apparent wind between 35 and 40 degrees. The boat speed was pegged in the 7- to 8-knot range. As you'd expect, we were the fastest boat in the more than 20-boat-strong rendezvous fleet that made the passage with us. One fellow rendezvous cruiser made the trip at full-throttle, motorsailing to keep up. Gary later brought the house down when he shared the tale at dinner that evening.
"That was the first time I ever beat a boat in a race that was running its engine," Gary said.
The Jeanneau 64 is sexy and fast and fully capable of extended offshore cruising in stylish comfort for an experienced couple or shorthanded crew. It's cruising in comfort with it spacious deck and dinghy garage that accommodates a jet-drive RIB and still has storage space for lines and water toys. It's a perfect boat for sailors who want to own a superyacht at a production boat price. And for those who want to test sail a Jeanneau 64 during a weeklong cruise, Serenity is available for charter (www.serenityseas.com). Jeanneau's Erik Stromberg was absolutely right when he said that when it comes down to value for money, the Jeanneau 64 is off the charts.
---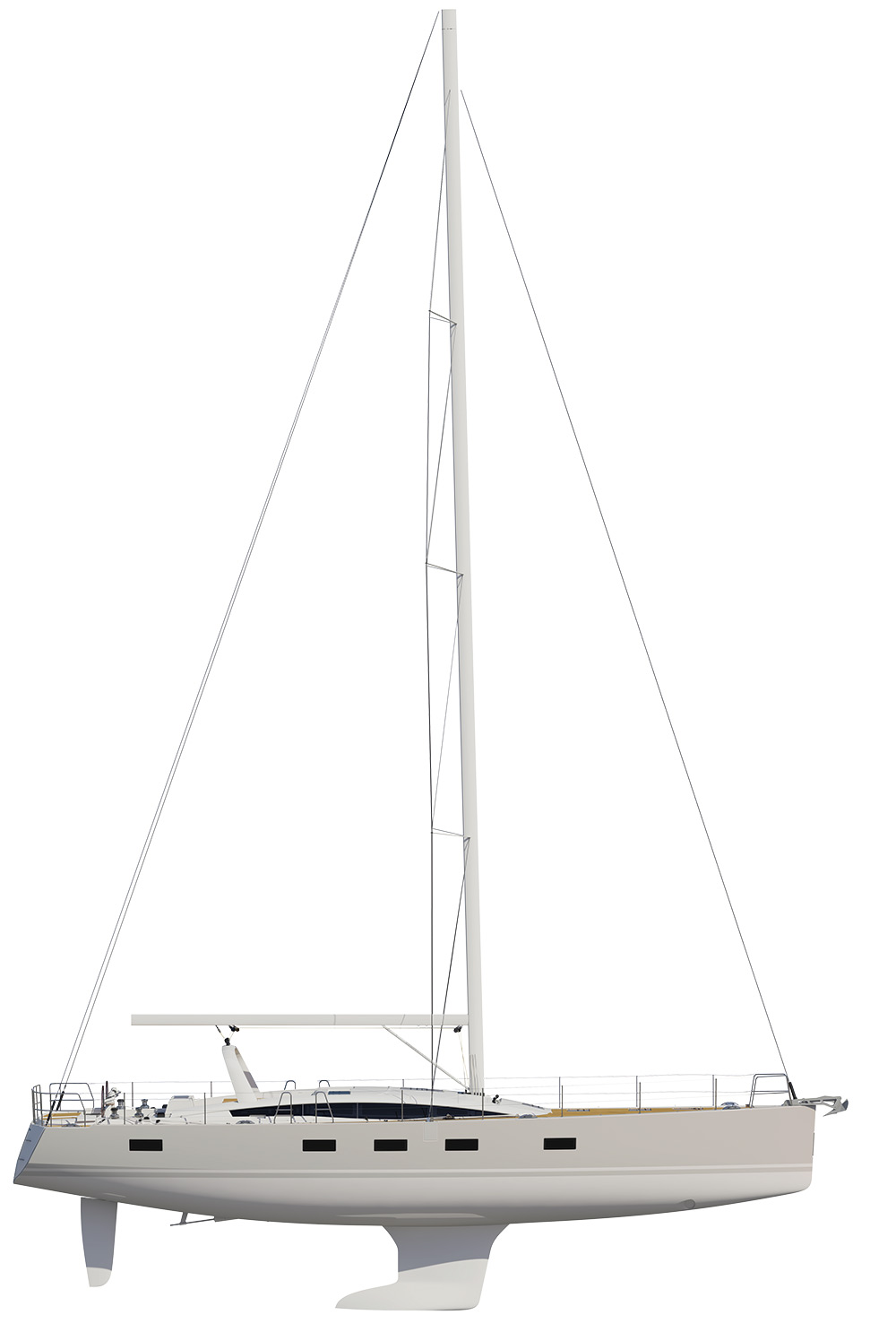 LOA 65'11"; LWL 59'; Beam 17'8"; Standard draft 9'8"; Shoal draft 7'2"; Standard ballast 20,613 lbs.; Shoal-keel ballast 23,259 lbs.; Displacement 68,343 lbs.; Sail area 1,829 sq. ft.
Base Boat Price: $1,171,200
Jeanneau America
105 Eastern Avenue, Suite 203,
Annapolis MD, 21403
410-280-9400