Flotillas offer support and camaraderie to cruisers, and never more so than when a hurricane is bearing down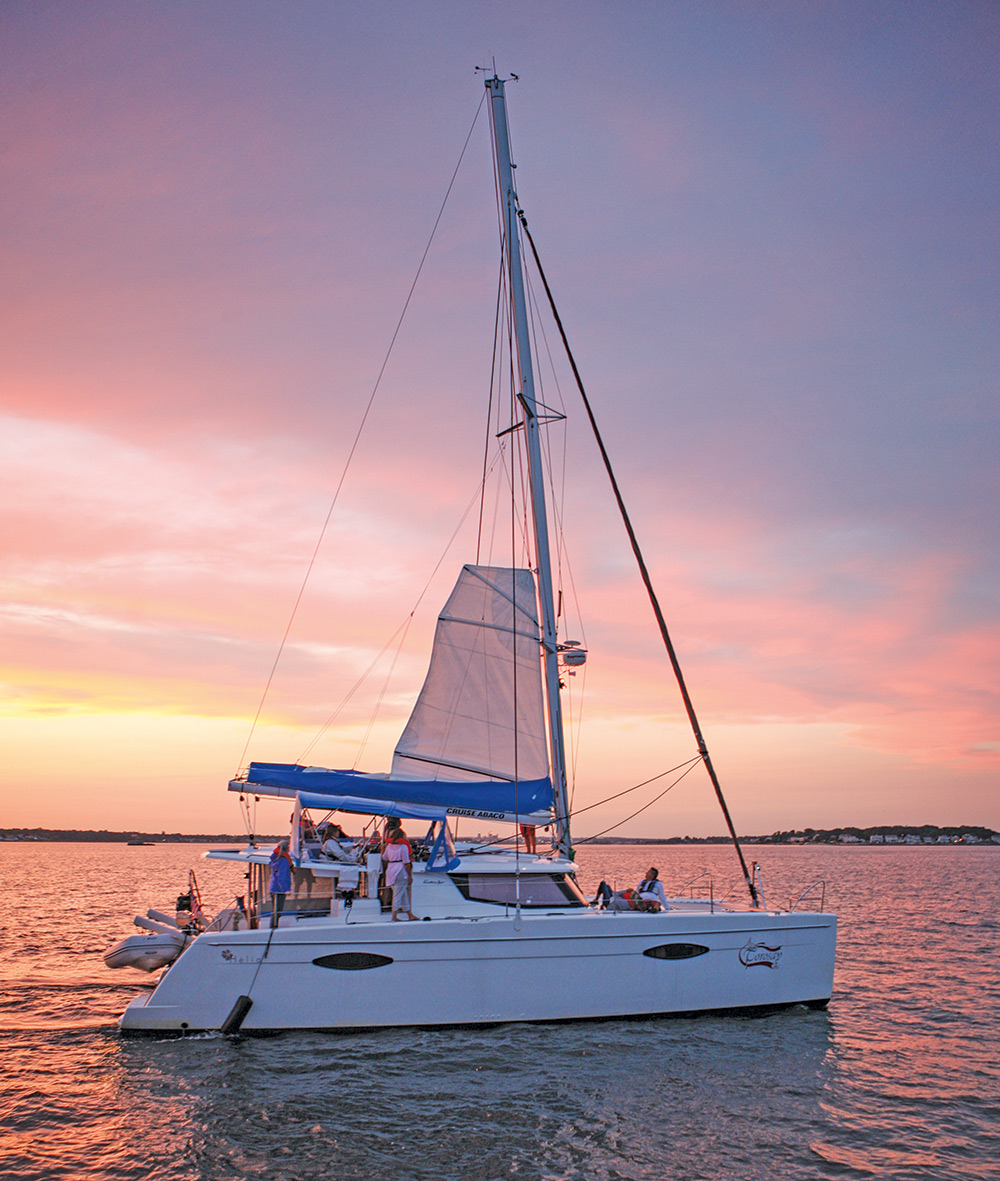 The plan was to sail from Rhode Island's picturesque Narragansett Bay to Cape Cod's idyllic islands, but Mother Nature had a different itinerary in mind.
As part of a September American Sailing Association school flotilla, sailors from Virginia, Georgia, Tennessee, Florida, Iowa, California, and as far away as Washington state, arrived raring to sail unfamiliar waters, guided by Rob Lawnsby and instructors from his Narragansett Sailing School.
For most of the visitors, this was a bucket-list event, a weeklong adventure marked on their calendars months in advance. But tropical storm Hermine didn't much care. Lawnsby drew the gloomy weather picture at a skippers' meeting shortly before the official reception and lobster bake on the lawn of the sailing school at the Brewer Cove Haven Marina in Barrington, Rhode Island. The forecast included winds gusting to 50 knots and waves topping 12 feet outside the bay. It was the Saturday before Labor Day and it looked as though the five-boat flotilla wouldn't be leaving the dock.
"Once you leave the bay, you are in open ocean," said Lawnsby, who reminded the sailors that weather is always the most uncertain factor in any cruise. In a laudable effort to salvage the weather-disturbed trip, he hired two vans to take the visitors the following day to nearby nautical attractions: Battleship Cove and the New Bedford Whaling Museum in Massachusetts and the Herreshoff Marine Museum with its America's Cup Hall of Fame in Rhode Island.
Despite the gesture, there were plenty of glum faces in the audience. After all, these folks came to sail.
Determined to make the best of the situation, Lawnsby arranged for a night sail after the lobster bake. The more intrepid sailors boarded a 1991 Hunter 43 sloop and a 2015 Helia 44 Fontaine Pajot catamaran. Somebody cracked a joke about being fortunate one of the sailors was also a pastor. It was a warm summer night and Hermine was still in the distance, so the sailors learned a bit about how to read lighted red, green and white buoys in the darkness under a sliver moon. These AToNs—aids to navigation—ranged from fixed illumination lights to quick flashing, occulting and isophase designs. Lawnsby explained how some AToNs could be lined up with a skyscraper in downtown Providence, the building distinguished by a thick band of orange lights near its upper floors.
By morning, the NOAA forecast was still doomsday, but after the vans returned from the land excursions, Lawnsby again gathered the sailors aboard the boats. His goal was to introduce them to reefing, heaving to, and other heavy-weather tactics.
This was a first-time sailing experience for Jim and Deanna Burnham of Knoxville, Tennessee, who eagerly donned their inflatable life jackets. For others, like Paul Marsden of Iowa and Chris Jones of Washington, sailing with family and friends in Narragansett Bay was a chance to revive their passion for salt water. Ten years earlier, Marsden and Jones joined a crew that sailed Oregon's Hood River 100 miles to the sea and later traversed Alaska's Inside Passage to Juneau. Jones also sailed the San Juan Islands.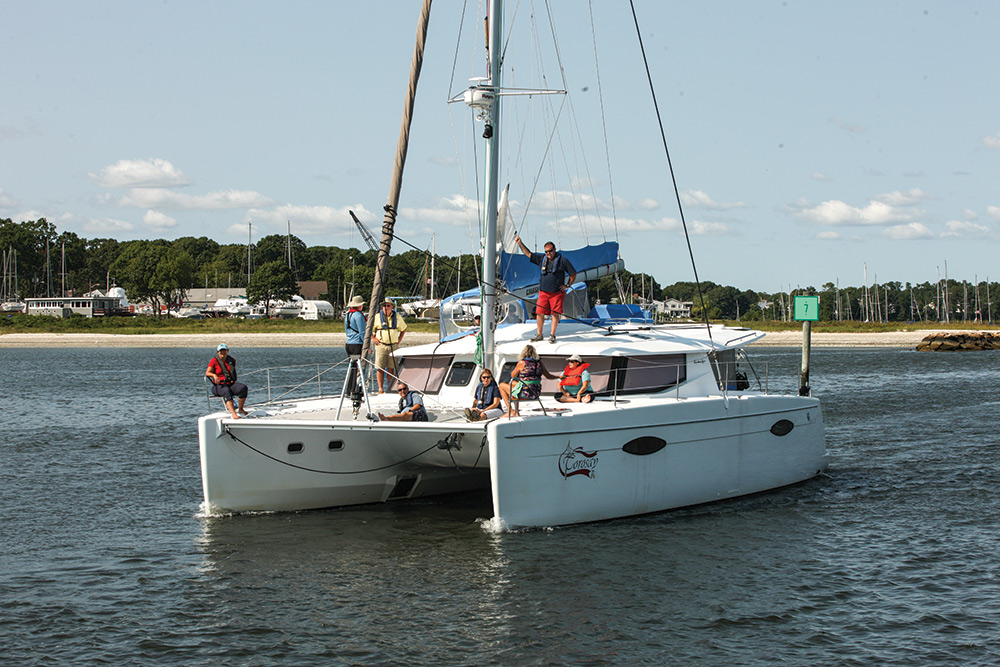 John Magyar and companion Jennifer Thompson of Fresno, California, boarded Magyar's Sabre 30 Pretty Slick, which was already in charter with Lawnsby's fleet. An experienced sailor, Magyar's goal was to get Thompson to appreciate his love of harnessing the wind.
Virginia residents Craig and Robyn Trump were hoping to hone their skills, having chartered in the BVI, Mexico's Sea of Cortez and Sicily. Tom and Lori Sydes, also from Virginia, had similar aspirations and were eager to explore Martha's Vineyard. Bob and Susan Frost of Georgia had done some small boat lake sailing. This was their first saltwater sojourn.
And so it went, a like-minded group with vastly different sailing resumes prepared to tackle whatever Narragansett Bay, Cape Cod and the islands would throw at them.
Lawnsby often has been asked what draws sailors to a flotilla. Among the reasons: It's more comfortable to sail with a knowledgeable guide, especially in regions like Cape Cod with tricky currents and potentially dramatic wave action. Sailors who gravitate to flotillas contend it seems safer to travel as a group and is certainly more social than sailing solo. It's a chance to make new sailing friends, share an adventure, see an unfamiliar part of the country, build confidence in your skills, cruise challenging waters, try out different boats for their performance and general layout, and perhaps introduce a spouse to the sport.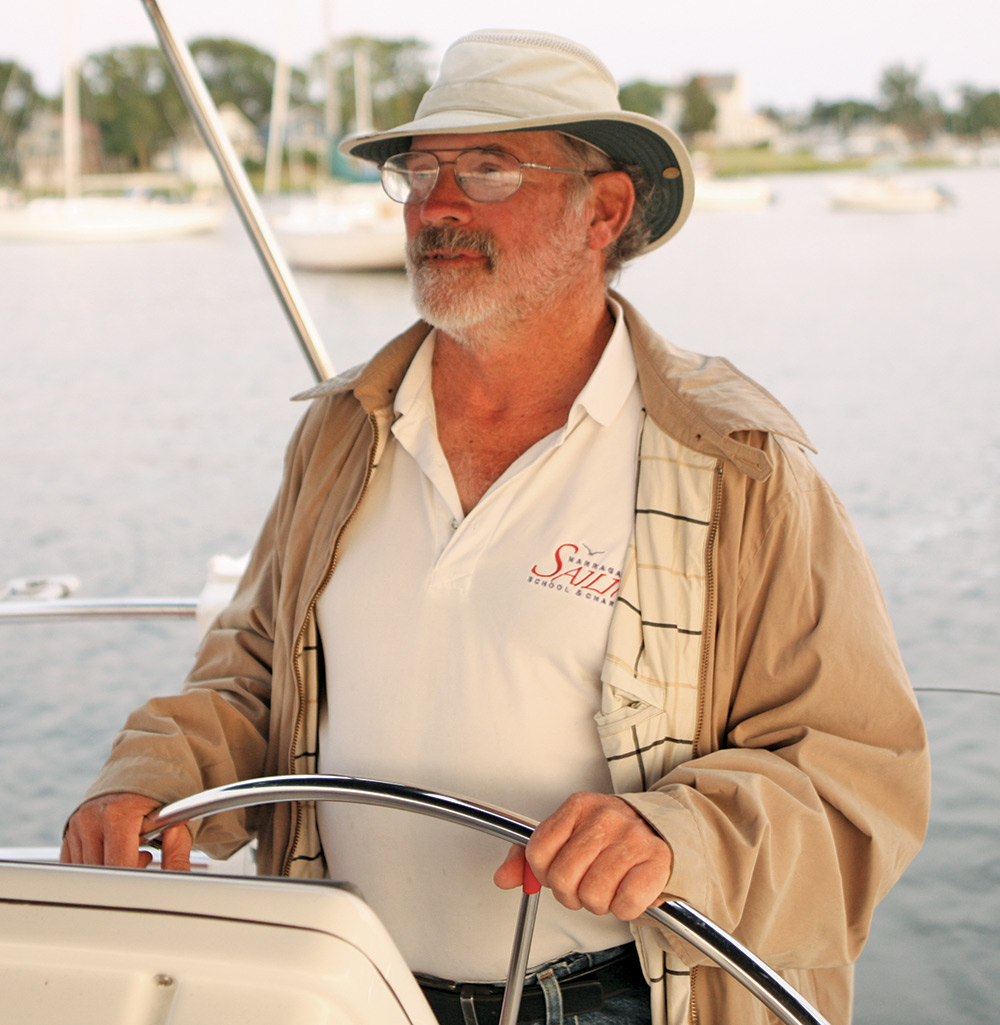 The original itinerary was to depart Barrington for Cuttyhunk, a 600-acre isle in the Elizabeth Islands archipelago, then visit Vineyard Haven, the main port of entry to Martha's Vineyard, before returning home via the coastal towns of Newport and Bristol.
Martha's Vineyard is an affluent colony and tourist mecca, where sailors can take the bus or rent mopeds or bicycles to visit the communities of Edgartown and Oak Bluffs, the dramatic Gay Head lighthouse and cliffs, and the tiny, picturesque fishing village of Menemsha.
Instead, a four-boat flotilla comprised of the 44-foot catamaran, the Sabre 30, a Hunter 41 and an Ericson 38, set out for Bristol and later Newport, the region's premier sailing town. Determined to push on for Martha's Vineyard, the catamaran crew with two of Lawnsby's instructors aboard, crossed Vineyard Sound at midweek while one of the boats headed for coastal Wickford via Beavertail Point and another joined friends in Allen Harbor.
"Everyone got to do some heavy-weather sailing," said Lawnsby, recalling the ocean swells off the point. "That's part of the reason they came, for the challenge."
Frost was psyched to reach Martha's Vineyard aboard the catamaran. "We had a great time and best of all, my wife Susan, who had never been on a boat for more than a daysail, exceeded her expectations and she could go for two weeks next time," he said. "She was a little nervous about the bathroom issues, sailing with strangers and seasickness, but with the cat's stability and space, she was fine. We not only met nice people, but I expect we will sail again soon."
Although the weather could have been more cooperative, the first two days gave everyone a chance to assess each other's sailing needs. During the cruise, Frost worked toward obtaining his ASA 114 certification (catamaran cruising) and so spent much of the time learning from the two instructors aboard. "I have 100% confidence that we could do this on our own," he said later.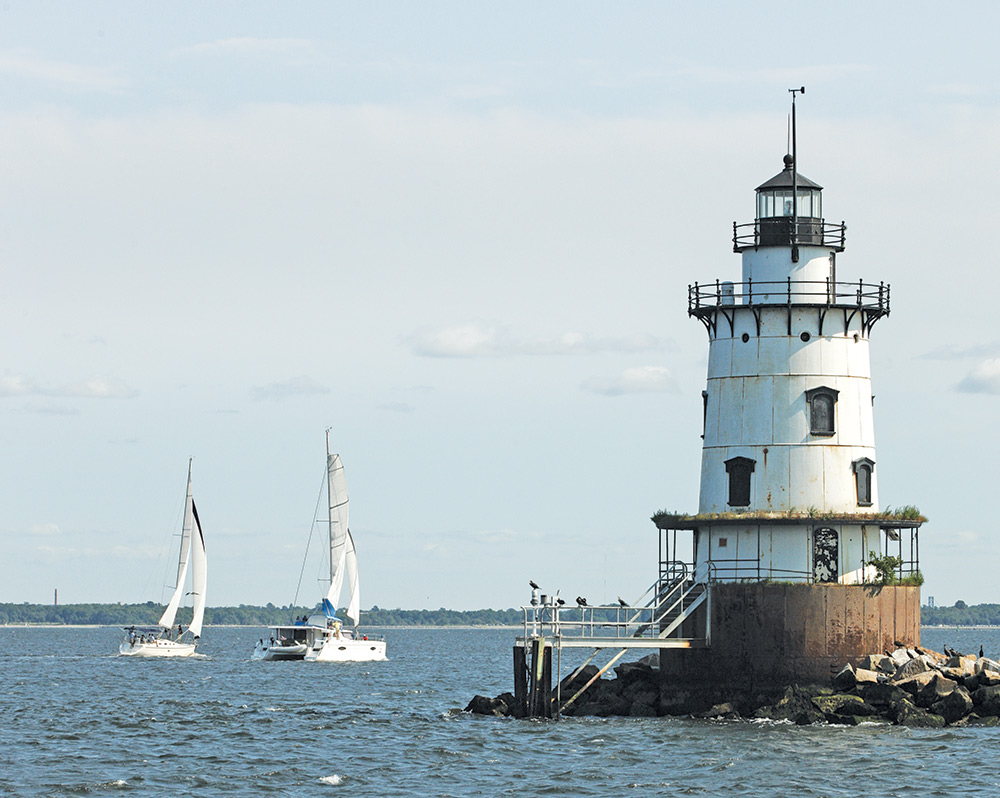 An enthusiastic Cherry Marsden said she and husband Paul, who sailed aboard the larger monohull, are ready for another flotilla. "We had a great time and can't wait to do it again. In spite of the weather, we were able to spend quality time on the water and work on our sailing skills," she said. "Thankfully, Rob sailed with us the first two days, as we ran into some pretty rough waves at times. In fact, there were times on Monday when we may have questioned our sanity a bit for sailing while the bay was under a small-craft warning, but we did it. We made it to Bristol and felt pretty proud of our accomplishment."
After spending a rain-drenched day on a mooring in Newport Harbor, eating seafood and playing cards inside the 41-foot Hunter, the crew bid goodbye to Lawnsby and sailed on as a bareboat, taking turns at the helm.
"Rob must have felt we did OK because by the end of the day, he told us he would be leaving the boat and letting us handle the rest of the journey on our own," Cherry Marsden said. "That made us feel pretty good, knowing he trusted us enough to go on without him. Capt. Paul took the helm the majority of the time, but we all had a chance to try our skills. Novice Jim was at the helm when we got out into the swells, and he was almost giddy with excitement."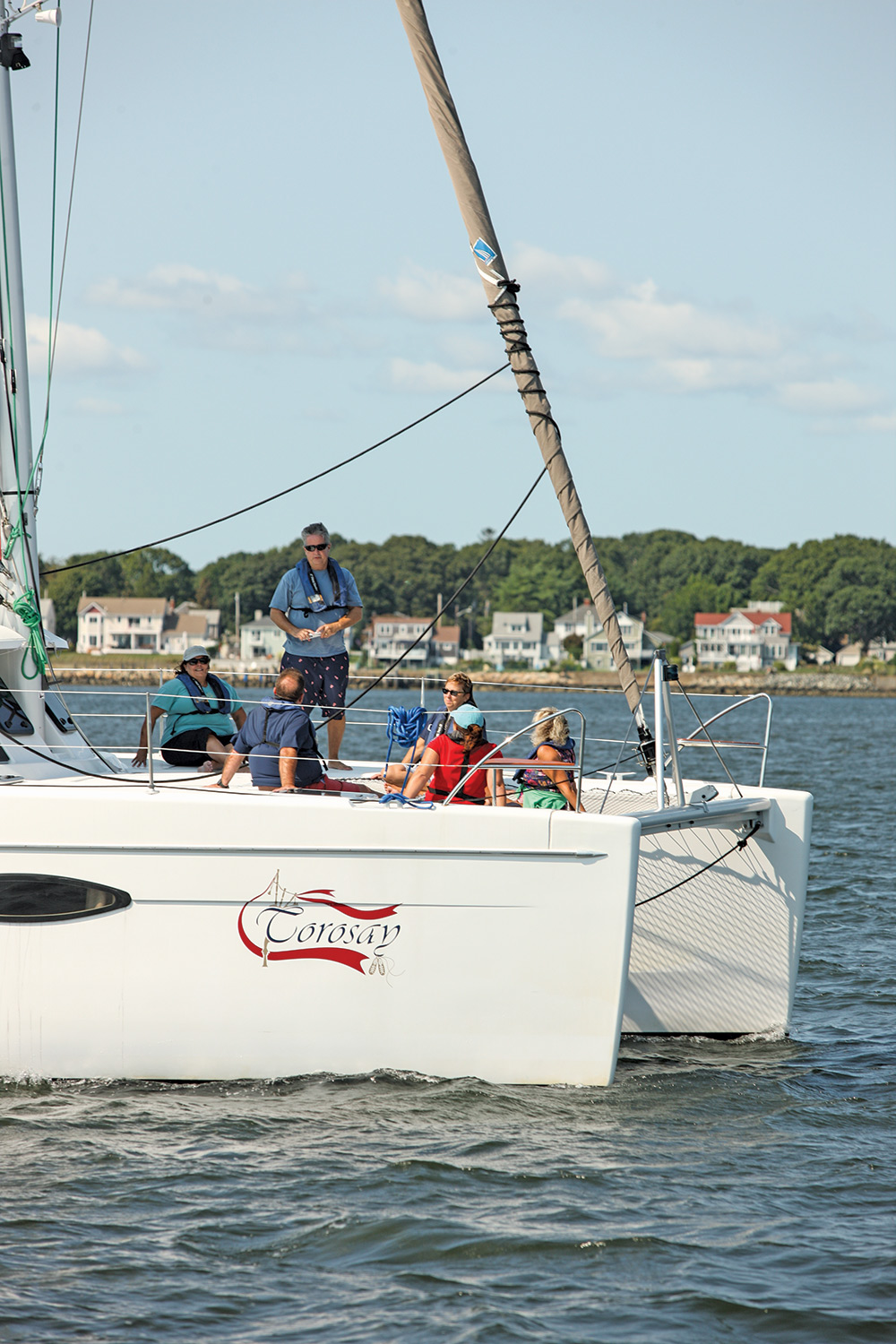 David Liscio photo
Cherry Marsden, Jim Burnham and Deanna Jones are siblings, so there was plenty of family bonding. On the return leg, they dropped a hook at Potter's Cove, one of Lawnsby's favorite spots, where they swam, hiked and enjoyed a last supper aboard. Disappointed at not having sailed to Martha's Vineyard, they boarded a car ferry on Friday and explored the island. "We enjoyed it, but it made us a bit sad to see the quiet little coves we should have been sailing into," she said. On the positive side, the foul weather provided opportunity to practice their boat-handling skills and gain confidence. "It made us all even more anxious to sign up for another charter or flotilla, or better yet, to finally buy our own boat," she said.
Everyone left Rhode Island with a feeling they'd achieved what they'd come for. Frost got his wife Susan aboard a sailboat with positive results. The Marsdens' plan to retire and buy a boat was rekindled. The Burnhams were introduced to the world of sailing. Chris and Deena Jones enjoyed their best-ever cruising experience. The Sydes toured The Breakers, the Vanderbilt "cottage" in Newport, and took a bus to Menemsha after arriving in Vineyard Haven aboard the catamaran. Magyar took his Sabre 30 for an exhilarating romp with Thompson happily aboard and, after leaving the flotilla, sailed to Allen Harbor near Wickford for a rendezvous with old friends.
Although the weather presented a challenge, Lawnsby knocked off each problem as it arose. "As my mother used to say, 'When you're given lemons, you make lemonade,'" he said.
Lawnsby, who began sailing at age 26 when he left the Air Force, is accustomed to making the best of the situation at hand. In 1975, he had $11,000 in savings from real estate investments, which would be about $50,000 today. "I bought a wooden boat in New Jersey," he said. "My wife and I moved aboard with two preschool kids and a book entitled How to Sail. We sailed a lot on Barnegat Bay, then sailed to New York City and Long Island before we took the ICW to Georgia. Living on a boat was a life-changing experience."
To make ends meet, Lawnsby and his wife docked at places along the waterway, staying several months at each to work part-time jobs. Eventually, they sailed to the Bahamas.
"I knew I loved sailing so I decided to start my own business," he said. "My kids learned so many important life lessons from living on a boat. So I made it my mission to bring people into sailing. Now, it's no longer a mission, it's a ministry."
Flotillas organized by ASA schools can be found on www.asa.com.