From beginner to boat owner in 9 months
By the end of her first sail, Natalie Smith knew she loved sailing and didn't waste time jumping in with both feet
Mears Point Marina in Grasonville, Maryland, on the Chesapeake's Eastern Shore is a friendly place, particularly on O-dock, where David and Penny Renoll keep the boats they use in their charter and sailing school business. Which is why David wasted no time introducing himself to a new dock neighbor who had sailed in while the Renolls were out for a rare pleasure sail by themselves.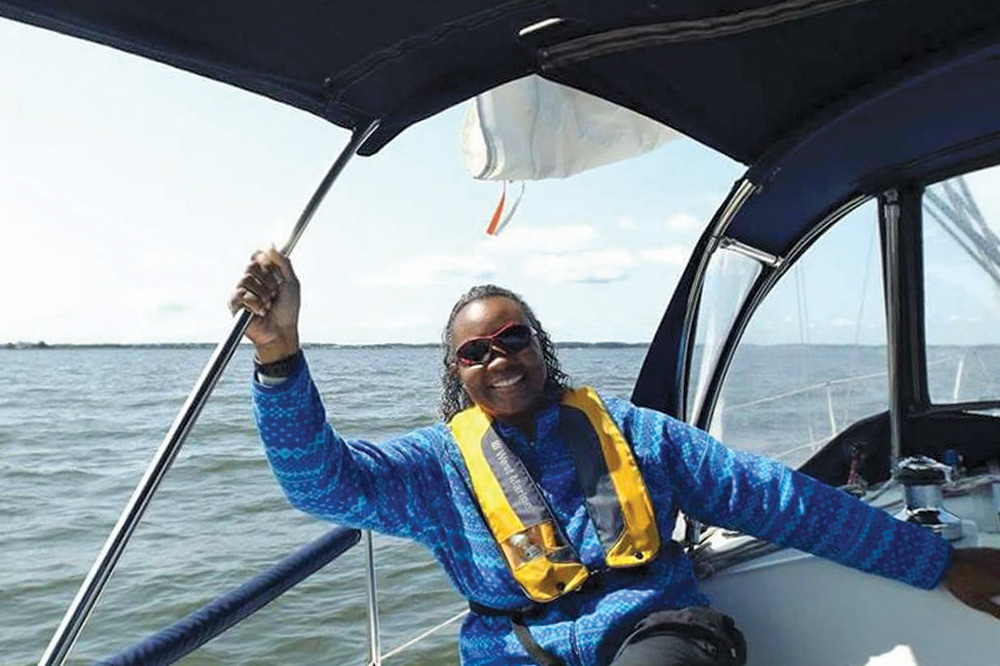 Little did Renoll know, his new neighbor, standing on the foredeck of an O'day 34, was no stranger at all. Natalie Smith was a student of the Renolls' R&R Charters and Sail School.
"I was thinking, that's a nice boat. I'll have to get over there to meet them," said Renoll, who was busy docking when he spotted the new addition to O-dock. "I walked over there and my mouth just dropped."
Renoll's shock was caused partly by the fact that it was less than a year earlier that he had met Smith when she came for an introductory sailing lesson.
"I was looking for a hobby and they were offering a Wednesday night cruise where they take you out to see if sailing is something you like," Smith recalled. She researched Renoll's ASA school and took the unusual step of asking him if she could pay up front for all the ASA courses from 101 through 105.
"I'm a person who does a lot of research and then I go full tilt," she said.
Which might explain why Smith went from beginning sailor to boat owner so quickly it made her instructor's head spin.
Smith, 48, credits Renoll with helping her fall in love with sailing.
"Right from the beginning I had a great time," she said. "I got lucky and had all of Capt. David's attention one on one so I was able to ask all the questions I could think of. He never yelled or made me feel stupid."
Although learning to sail was a process, loving sailing came naturally to Smith.
"You get out there on the water, put up the sails, turn the engine off and it's just so peaceful," she said. "It's amazing. I love it."
By the time Smith, who has a stressful job and a long commute to Washington D.C., was taking ASA 104, she was already looking for a boat to buy.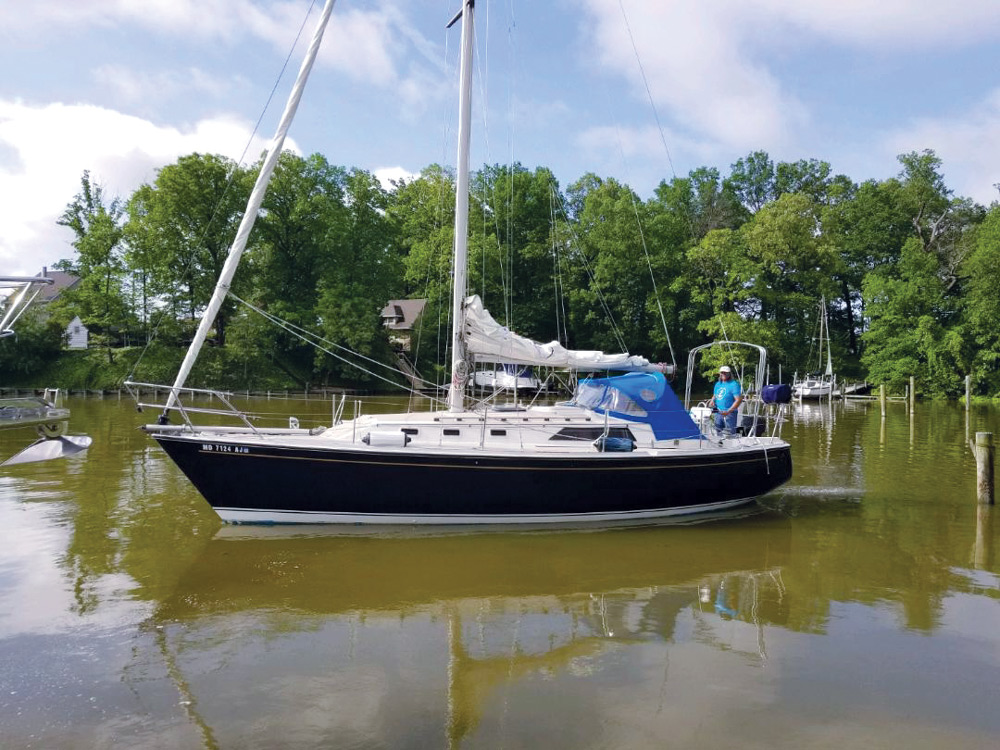 Initially she was looking for a boat in the 27- to 30-foot range that was in relatively good shape so she didn't have to take on a big project. But she found many boats to be just too small for comfort.
"I'm 5'10" and a lot of boats were just too small," she said. "I didn't want to go too big because I know I'm going to be doing a lot of singlehanding, but I found I was more comfortable on boats in the 28- to 34-foot range. I didn't want to buy a boat and end up not spending any time on it because it was uncomfortable."
The buying process wasn't entirely smooth. She estimates she looked at about 100 boats, and found many of them to be nothing like the description or photos led her to believe. A few times she felt brokers, perhaps identifying her as a new sailor who might not know better, pointed her to a different boat than the one she was inquiring about.
She found the right boat—a 1983 O'Day 34—at the seller's private dock and said she knew almost immediately that it was the one.
"I got this warm, fuzzy feeling," she said. "I told the seller I had only had that feeling one other time."
The deal closed within a week and a few weeks later she solo motorsailed it to the slip next to the Renolls' boat.
"I plotted out a course like Capt. David taught me and just did it," she said. "It took me four hours to motorsail to the marina. I was a little scared to be out there by myself but at the same time I had enough confidence to know I could do it."
Smith kept the fact that she had bought a boat a secret from Renoll, so he was particularly surprised when she showed up docked next door.
"When he came over I told him I did everything he taught me to do and now I'm here, safe and sound," she said. "He said, 'I'm so proud of you' and I was like 'Me too.'"
Renoll remembers that moment well.
She had this big smile on her face and she just told me, 'I bought this boat and I brought it over myself. And I purposely got the slip next to you,'" he said. "And my heart was just like: Wow."
Smith spent much of the sailing season doing work on the boat in hopes of having it fully ready to go next year. She added an autopilot and instruments, had repairs done to the keel and had the bottom redone.
She's not afraid to do work herself when possible, often starting with a Google search or YouTube video to guide her through the process. She spent a lot of time working on the boat's Universal m25 engine, learning how to flush it, prime the fuel, change the oil and rebuild the exhaust elbow.
But Renoll, who now has the role of friend, fellow sailor and dock neighbor, has advised Smith on maintenance frequently and helped her winterize the boat Thanksgiving weekend.
"She's very much into taking care of her boat and getting it just the way she wants," Renoll said. "She's a special person."
Smith said the blue boat, which she renamed Sapphire Charm, will be ready for a full season of sailing next year, and she has big plans.
"My plan is that for the next couple seasons I'll sail on the bay, at first daysails and weekends and then some weeklong trips," she said. "Eventually I'd like to try to sail down to the Bahamas, but I'm going to use the next two years to build my skills and confidence."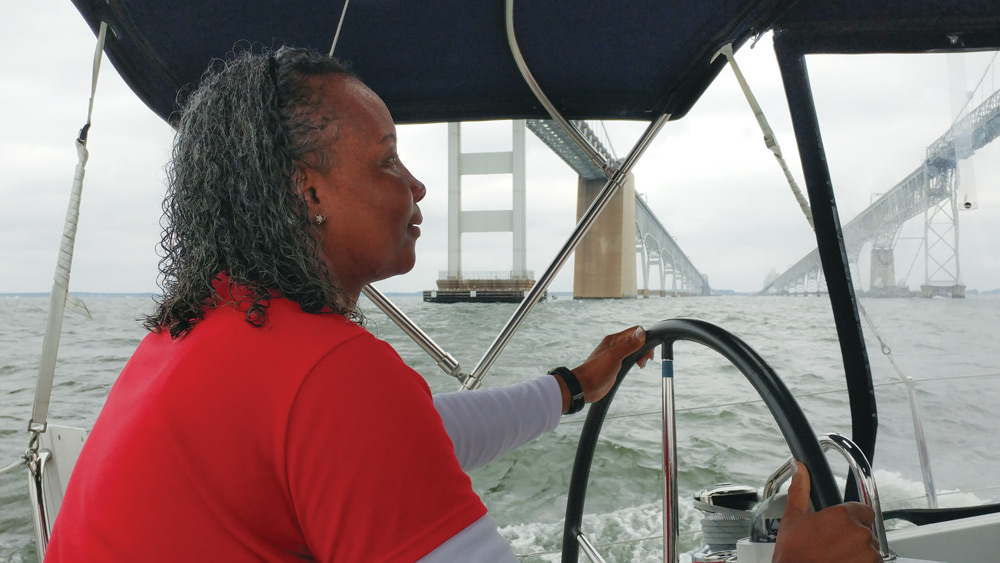 She also plans to introduce people to sailing.
"Some of my friends and family think I'm a little crazy, but I've told them, 'You are going to have to come out and go sailing with me. It's so much fun; you are going to be hooked.'"
Smith is speaking from experience, because there's no doubt she's hooked.
"This is a part of my life now; I'll always be a sailor," she said.
Smith knows that going from a beginning sailor to a boat owner in nine months is unusual, but she admits she's the kind of person who likes to jump into things with both feet. (She once bought an RV and put 15,000 miles on it in the first year.)
"I'm going to check stuff off my bucket list now," she said. "I just decided I'm going to go for it. We're not promised tomorrow. I'm not going to regret doing these things."