A big-boat cruising sailor heads to St. Thomas and the North U clinic to learn the racing ropes
The forecast was for 83 degrees with a 12-knot wind. The water was a stunning aqua blue off the St. Thomas Yacht Club on Cowpet Bay, U.S. Virgin Islands, the site of North U's midwinter racing clinic. It was a perfect place to race IC24s, but the question was why was a cruising sailor, who is not competitive by nature, here to race and not cruise?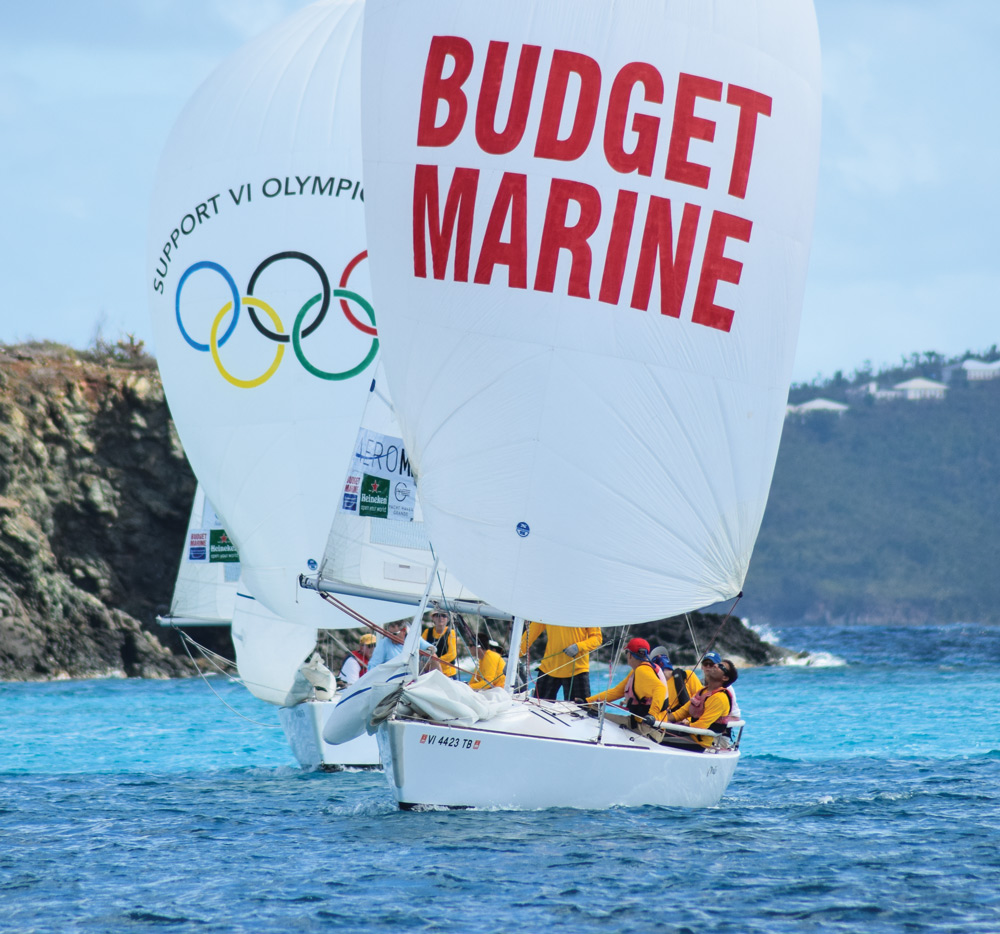 It helps that I'm a sailing nut who's owned boats of various shapes and sizes for 30 years. I've done a lot of solo coastal sailing and have racked up 4,000 miles offshore, mostly on pay-to-crew adventures with John and Amanda Neal, and Andy Schell and Mia Karlsson. I consider myself a good sailor, but like a lot of fellow cruisers, boat speed isn't my strong suit. I sail a Blue Jacket 40, a modern performance cruiser with lots of go-fast potential, but judging from the transom views of passing boats, I felt I was missing something.
I waded through stacks of sail trim books in search of the holy grail, but I became frustrated by my inability to translate theory into real results. What I needed was a program of hands-on coaching from go-fast experts. I was also looking to expand the social aspect of my sailing life. There's an active fleet in my home waters of Greenport, New York, and racing seemed like a sure-fire way to connect with other sailing enthusiasts.
At the Wednesday evening meet and greet, Bill Gladstone, the director of North U, introduced me to my coach Dave Franze and fellow crewmates Traci and Ashley. We picked our IC24 Desperado out of a hat. Considering the experience level of our crew in comparison to the other 25 participants, some of whom were seasoned racers, this moniker seemed a tad ironic. Traci and Ashley race together off Nantucket in the Rhodes 19 fleet. They had no pretense about their need for improvement and had come to St. Thomas to learn from the water up.
I was the most desperate of the Desperado crew, having never experienced the close quarter tactics of a start line and never set a spinnaker, let alone jibed one. Hot shot racers we were not. This fact fueled Dave's calling as a veteran instructor. Back in 1977, he founded the Boston Sailing Center and currently directs the St. Thomas Sailing Center, the co-sponsor of the clinic. As a past Sonar world champion he had the credentials to back up his every word. We would soon find his guidance to be relentlessly focused. Lesson No. 1 was that winning races requires the utmost concentration.
The first day of our four-day odyssey started at 8 a.m. with three hours on the water, followed by lunch and classroom discussion led by Bill, and then rinse and repeat in the afternoon. We spent the day working on mainsail and jib trim and boat handling. Tacking and jibing was practiced and practiced again. I found the choreography at the helm challenging. It was like an intricate dance step, if performed out of rhythm, resulted in a tangled tango with the tiller extension and many a self-inflicted expletive. Our day ended at 5 p.m. Given the rigors of the first day, I had a sneaking suspicion that the word clinic was a subtle euphemism for bootcamp.
The second day brought the revelation that weather helm has no place on a small racing boat.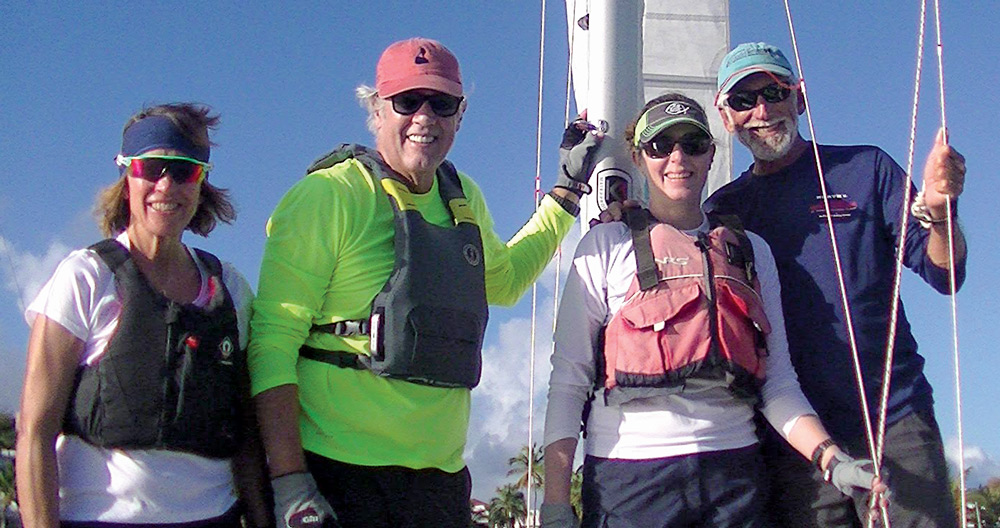 "No weather helm. Sail flat. This isn't a cruising boat," Dave said, prompting the helmsperson to feather up and the mainsheet trimmer to ease sheets to eliminate the speed-sapping imbalance.
This interplay, along with backstay tension and jib trim were the essential components of upwind sailing. No amount of reading would come close to Dave's tenacious tutelage. Not one stalled taletell, not one degree of heel, not one millimeter of loose luff tension went unnoticed. With the cunning of a waterborne jedi knight, Coach Dave bent us to his will.
Next, we tackled downwind sailing. Or better put, it tackled us. Throughout the clinic, each crewmember rotated at the helm, mainsheet and bow. For the uninitiated, the latter position became the most athletic once the unwieldy spinnaker entered the equation. Our first attempts were not a pretty sight. I watched every move Dave made on the foredeck and rehearsed them over and over in my head. By day's end I was aching in places that I never knew existed. Laying in bed that night I thought this sailboat racing stuff is hard work, and then I recalled the adage, "The difference between adventure and ordeal is attitude." I chose adventure and easily succumbed to exhaustion as I dreamt of spinnaker jibes and breaking telltales. The racing bug was hovering over my head ready to bite.
By the afternoon of the third day we had made progress with pole sets, trimming, jibing and dousing the chute. Bill's daily video debriefs showed that we were sailing fast upwind. The pieces of the puzzle were coming together except one. As a racing newbie I found the mix of tactics, boat handling and mental fortitude at the starting line mystifying.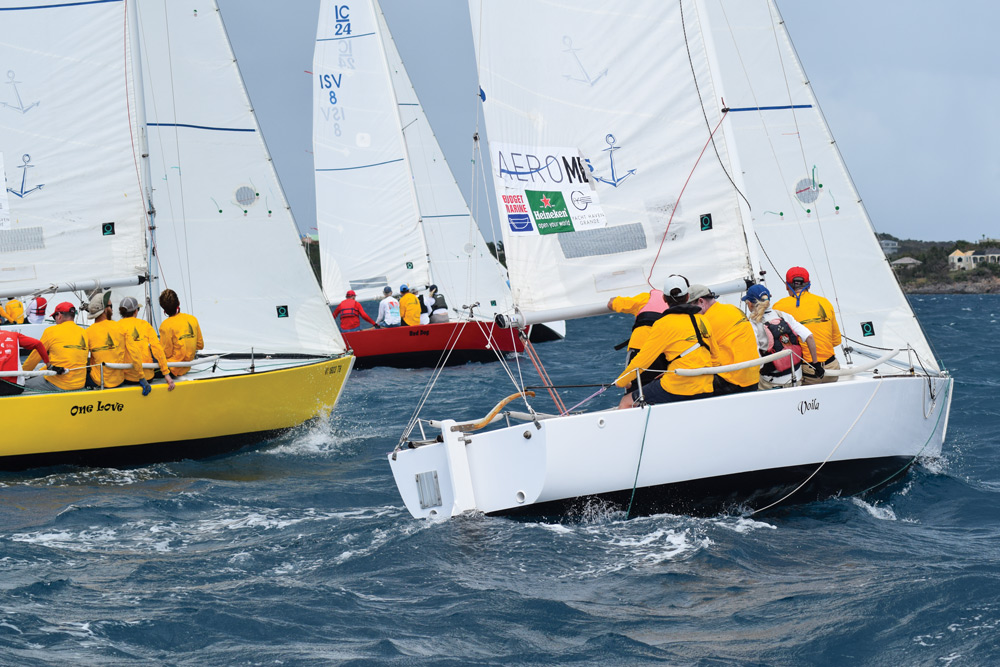 Dave stressed the importance of a pre-race routine. During the start sequence of each race we methodically found a geographic site line for the starting line, luffed sails to find the windward, thus favored side of the line. We discussed our approach to the line and with the magical calculus of speed, distance and time we crossed the starting line with uncanny accuracy, well, kinda sometimes. At first, it was unsettling for this cruising sailor to zig zag at full speed within arms reach of our competitors, but after a couple races apprehension turned to an adrenaline rush. This was getting to be a whole lot of fun.
The final day featured a six-race regatta that would give us the opportunity to put our learning into practice. As the teams boarded the launch for the short trip to our boats, I scanned the faces of my fellow sailors. I sensed an electricity in the air. Everyone was vying for a spot on the podium, but all of us had come to learn and be a part of something bigger. As we shoved off, I looked back to shore, and realized it takes more than two boats to make a sailboat race. North U and St. Thomas Sailing Center provided excellent support and the clinic's value exceed my expectations. My boatspeed questions were answered and social aspects of my sailing experience widened. I made new friends onboard Desperado and connected with others over a common interest. I also learned that I had a lot more to learn. Sailing, like many worthwhile pursuits, is a neverending journey. I was snapped out of my introspection as we pulled along side Desperado. It was time to race.
The morning series comprised of two windward-leeward races and a clockwise rounding of Great St. James Island. We placed near the back of the fleet in the first race. We finished second in race two and won race three. We exuberantly high-fived each other but remained subdued about our standings once on shore. During our break for lunch, there was an unspoken "Is this for real?" among the crew of Desperado. By the start of the afternoon series, my not-so-competitive-by-nature had transformed into "let's win this thing!" The last three races were a rollercoaster ride. At times we sailed like a seasoned crew, other times we lost ground with a poorly executed maneuver or a navigational misstep. At one point I had to dig deep to overcome breathlessness after a quick series of spinnaker jibes. Tack after tack, jibe after jibe, Traci and Ashley gave 110% while Dave guided our every move. Team Desperado sailed to the best of our abilities, but alas, we weren't able to muster a win that afternoon. However, our hard work and great coaching led us to finish 2-2-3.
The sail back to our mooring was as satisfying as it gets. Upon our return to the club we were proud of how far we had come and after the results were tallied, we were even prouder. Desperado had won the 2019 Mid-Winter Racing Clinic Regatta.
For more info on North U events go to www.northu.com and find out more about the St. Thomas Sailing Center at stsc.styc.club.