A learn-to-sail offshore charter through the Baltic Sea more than made up for a canceled transatlantic
Ever since I caught the offshore sailing bug some 15 years ago, I've aspired to sail across the North Atlantic. Plenty of people have done it, many of them multiple times. I bet, as I write, there's someone, somewhere in the middle of its vast expanse doing what sailors do on a long passage, sleeping, eating, tucking in a reef, navigating, trimming sails, fixing a broken whatever, praying for a low pressure to pass them by. I'm game for all of it, including the existential awe that comes with being a small speck in the ocean. That's why, in late 2019, I reserved a berth with Sweden-based 59 North to cross the pond.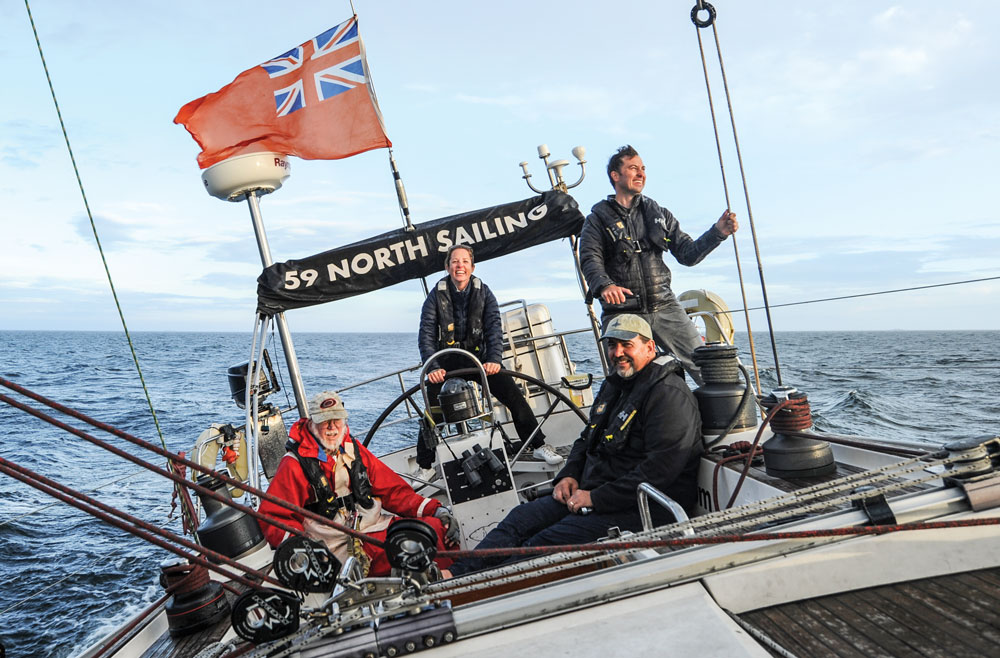 Karl Westman photo

The company is owned by Andy and Mia Schell, who operate the sail-training expedition business and a growing media platform. I've followed the enterprise's beginnings though their "On the Wind" podcast, by taking their land-based celestial navigation course and by becoming a member of their informative "Quarterdeck" seamanship education site. I had also joined them on their Swan 48 Isbjorn in 2017 on a memorable trip from Oban, Scotland, to Marstrand, Sweden, via the Outer Hebrides, Fair Isle and Shetland. If I were to make my Atlantic crossing dream come true, I was going to do it with Andy and Mia on their newly acquired Swan 59 Icebear. The plan was to sail from St. John's, Newfoundland, to Ireland in July 2020. I excitedly awaited as the months passed, then early that year, the world came to a halt when Covid-19 caused 59 North to postpone all sailing until further notice.




Although the Atlantic crossing was rescheduled for a year later and the pandemic made travel unpredictable, I shelved that plan and joined 59 North in September for a coastal passage to the Baltic Sea from Marstrand.




Marstrand, situated on the country's west coast, is Sweden's sailing capital. When I last visited four years ago in mid-July, the tiny island was a mass of sailing activity. In September the contrast couldn't have been more stark with Icebear being one of just a handful of boats at the town dock. 59 North's business model is simple: They take six paying crew aboard, with food, safety gear, bedding, a fresh towel and a wealth of knowledge included. The crew is responsible for standing watch and keeping things shipshape.




The notion that the crew are strangers at the beginning adds to the anticipation of the first day. It was apparent within the first hour that we wouldn't be strangers for long. Andy and first mate Emma put us all at ease. After our gear was stowed, Andy led us on a winding path to a secluded swimming spot where the bravest of the crew hurdled themselves of a rocky cliff into the shiver inducing water below. I was happy to be the designated photographer. This was the first hint of Andy's adventurous leanings.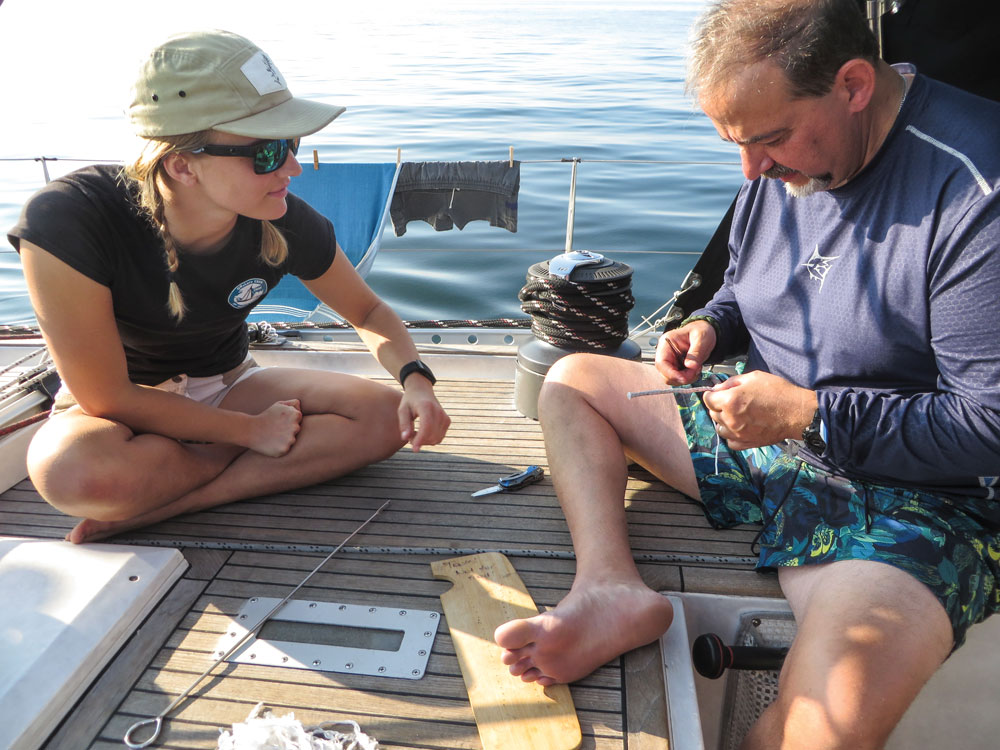 Karl Westman photo
We spent the first night dockside and shoved off the next afternoon after a morning safety briefing. We learned onboard protocols and most importantly how to stay onboard. The fear of going overboard was instilled in us in vivid terms. Our shakedown trip took us 10 miles north to a protected miniature bay. We entered the narrow cut, deployed a stern anchor and nestled Icebear, with it 12-foot draft bow into the rocky coast where we picnicked ashore on the first of Emma's wonderful galley creations. I knew then that the days ahead were going to be anything but the usual.
The next morning we started our planned route in earnest. The plan was to sail south through the narrows between Sweden and Denmark, enter the Baltic, turn north and depending on the wind and weather, head toward Aaland (pronounced oh-land), an island near Finland, or to Stockholm via its archipelago. Andy reminded us that it's bad luck to say we were "going to" a destination. "Head toward" is preferred because it's best to remain open to change. The first couple days we encountered moderate winds, warm weather and starry skies. We rotated through our four-on, six-off watch schedule and ticked off the miles. It was a great way for the crew to find our groove and get to know each other better.
The six of us had different degrees of sailing experience. Jim had sailed the Chesapeake and surrounding waters for decades on his own boat. Lee owned a Catalina 30 in northern New Jersey and looked forward to upping his game in the future. Brian, from Minnesota, was a cruising newbie having only racing experience. Mike and Michelle, from Seattle, had a share in a boat on the Puget Sound. I had accumulated more offshore miles than my mates, but that made me no less eager to learn. Offshore sailing provides new opportunities to apply what we know and to bank lessons learned for the future. This is the essence of 59 North's mission statement, to share the wisdom of the high seas to those wise enough to seek it out.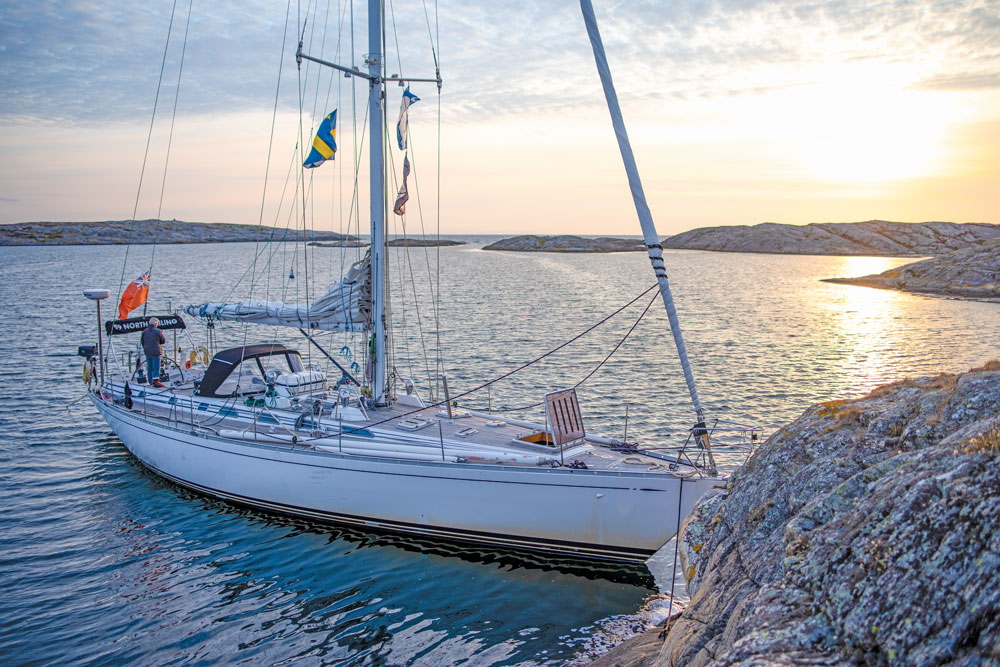 Karl Westman photo