Shifting gears into cruising mode
When the Golden Rock Regatta was cancelled, this crew of racers changed plans and switched to charter cruising in the Leeward Islands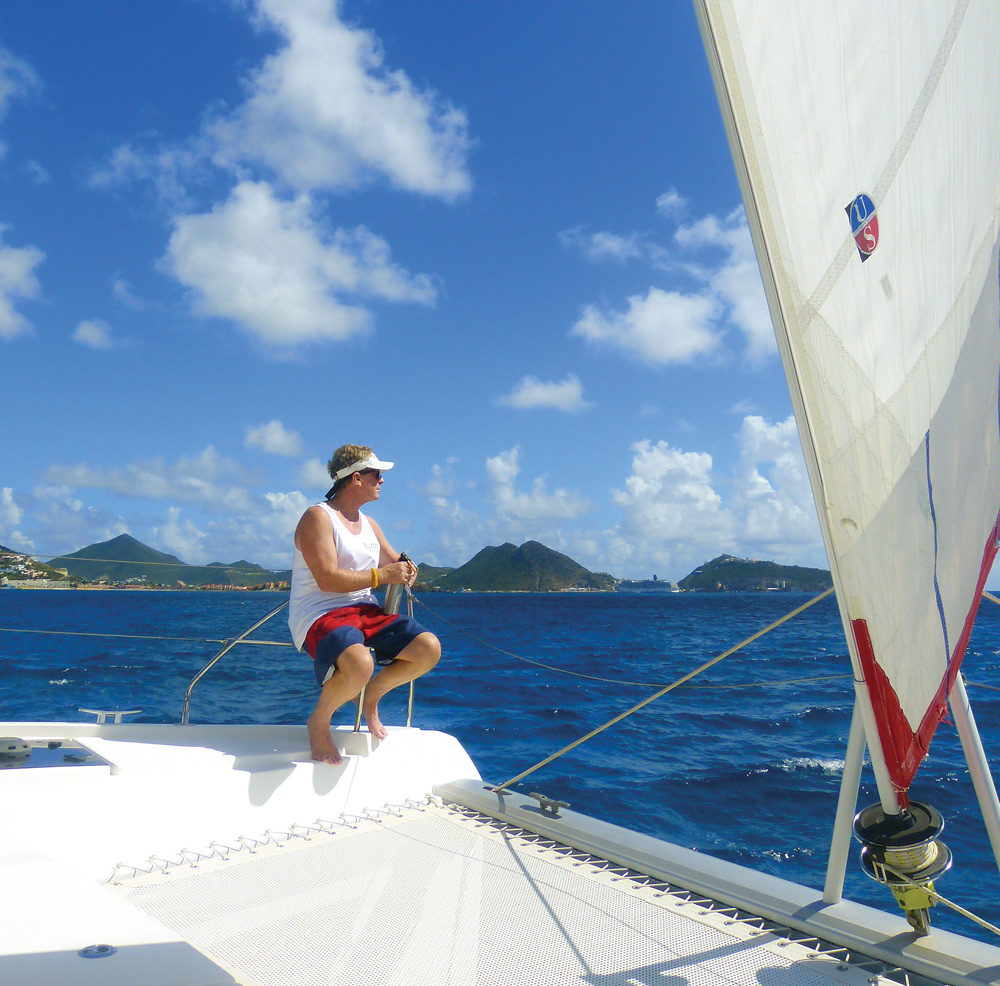 Betsy Senescu photo
I never intended to pull a bait and switch. When my husband Barry and I invited avid racing friends to join us in the Caribbean, our intent was to compete in the Golden Rock Regatta­—a weeklong event that combines buoy racing with lively courses from island to island in mid-November.
We enlisted Terri and Tom Manok from Oceanside, California, who successfully campaign the J/120 Pole Dancer on the SoCal circuit and distance races. And we had Kaci and Matt Gibbs from Coeur d'Alene, Idaho, who are such J/24 fanatics that they own three of them.
On the agenda was a week of serious fun racing around St. Maarten, with exhilarating courses to St. Eustatius, St. Barts and Anguilla. But as the race dates approached, with sponsorship money dwindling in post-hurricane St. Maarten, the field fizzled. The Golden Rock Regatta had hit rock bottom, and the races were scrapped.
"I haven't done any racing in the Caribbean, and it's been on our bucket list. So we were a little disappointed we wouldn't be able to race," Kaci said. "But knowing there wasn't anyone to race against made it easy to change gears."
There was no sense in being on our ear all week on a monohull, so the Sunsail charter base was able to switch us to a Sunsail 454 Premier catamaran: a 45-foot, four-cabin boat with plenty of space to shift into cruising mode. I'm a big fan of cats, but wasn't sure how my racing friends would feel about the somewhat diminished performance of a beamy multihull. Over time they would come to love the spacious quarters a cat affords, and the stability. It offered a big party platform, with no spilled drinks, and plenty of room for us all.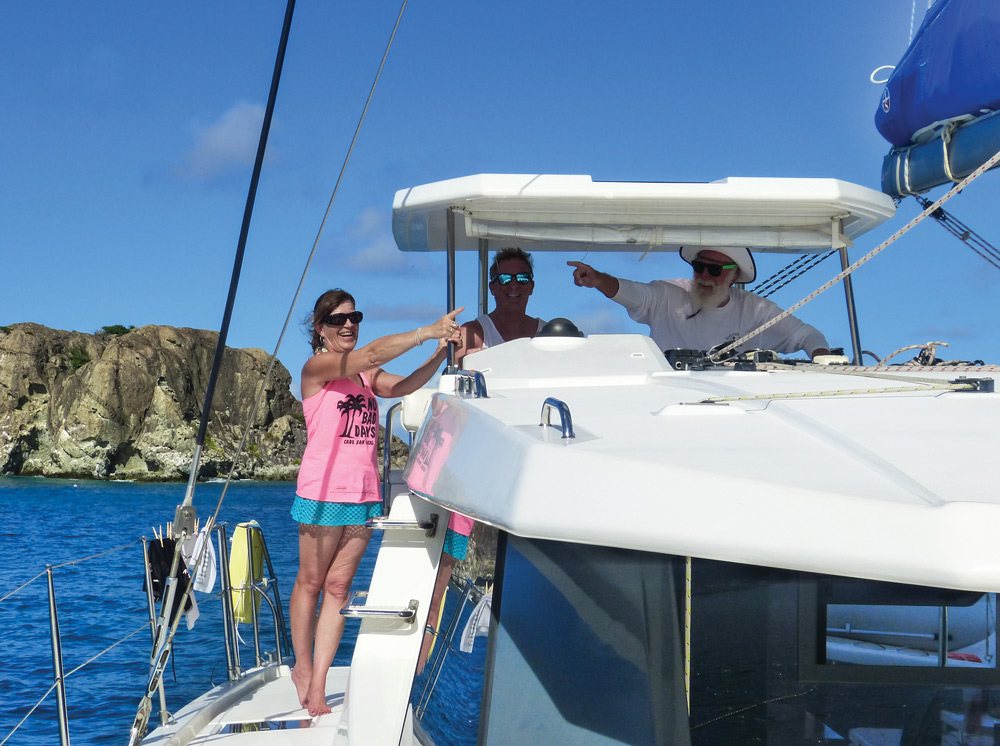 Betsy Senescu photo
We loaded up with provisions from the nearby market and had a final dinner at one of the French bistros adjacent the base. After a quick chart briefing and boat check-out with Sebastian from Sunsail, we were underway. The base is located in Marigot in the northwest of the island—a great jumping off point to Anguilla. Once out of the lee of St. Maarten we braced for the gusty breeze in the Anguillan channel. Although the crossing was barely 6 nautical miles, we hoisted the sails, adjusted the jib leads and actively trimmed, fancying ourselves intrepid offshore racers before rounding the west end and beating toward Road Bay. Conditions had been delicious, and we were encouraged by a delightful forecast of 12 to 18 knots the entire week.
Approaching Road Bay in the late afternoon we set about choosing a spot to anchor. The funny thing about sailboat racers is that we excel at making the boat go fast, but might not be particularly finessed in the stopping department. Typically we leave the dock, race around the buoys, return, tie up and go home. As a result, we spent a lot of time over-thinking our choice of a spot to drop anchor and diving in to ensure it was set. With the boat's sturdy tackle and windlass, anchoring proved a piece of cake, and throughout the week we'd polished our rusty anchoring skills to a shine.
Anguilla is a favorite spot of Terri's for the beautiful crescent of sandy beach and chic shops. Kaci and Matt loved that they could swim through the gentle surf back to the boat. But Barry's favorite part is Elvis' Beach Bar. It's the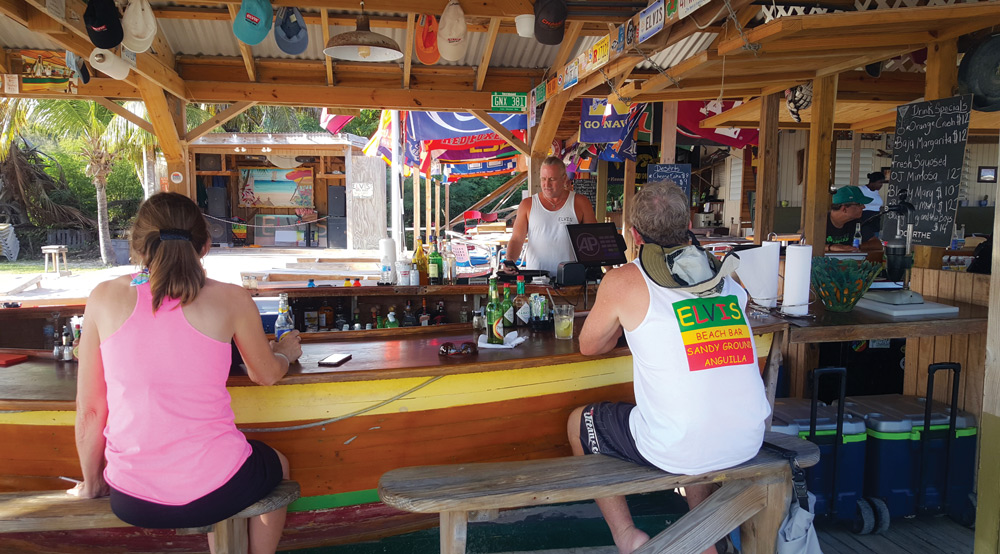 Betsy Senescu photo
quintessential beach bar, with a 15-foot traditional Anguillan sailboat converted into a bar and counter set just 20 yards from the surfline. Wiggle your toes in the sand while you drink a cold Carib beer, swing in the hammock or play ring toss. It's a great spot for chilling out, with good Mexican fare too. After happy hour we strolled to the open-
"My favorite place, bar none, is Anguilla," Barry said. "I love getting away from the mainstream and touristy spots, plus soaking up the atmosphere on a barstool at Elvis'. When you're anchored in Anguilla it's so relaxing to just sit on the swim step and gaze out into the wide open ocean to the west. What a view."
Our only disappointment with our visit to Anguilla was the outrageous fee charged by customs and immigration. Anguilla, part of the British West Indies, charged a whopping $140 for our one night stay. By contrast it cost $38 to check in and out of St. Barts for two nights and $47 for St. Maarten that was good for the entire week. With each island being a separate municipality (and French St. Martin/Dutch St. Maarten being two) checking in and out is mandatory. It's a chore cruisers must plan around, orchestrating comings and goings around office hours and allowing time to fill out paperwork and pay fees.