The little stitch-and-glue home-built Frosty won over sailors with its good performance and affordability
Winter weather on Massachusetts's Cape Cod can force competitive sailors indoors with little to do but wait out the long months until they can sail again. More than 40 years ago, Harwich Harbormaster Tom Leach decided to take things into his own hands, and built a plywood boat in his basement. He liked the result so much that he named the design the Cape Cod Frosty and he invited interested sailors and residents to join in the fun.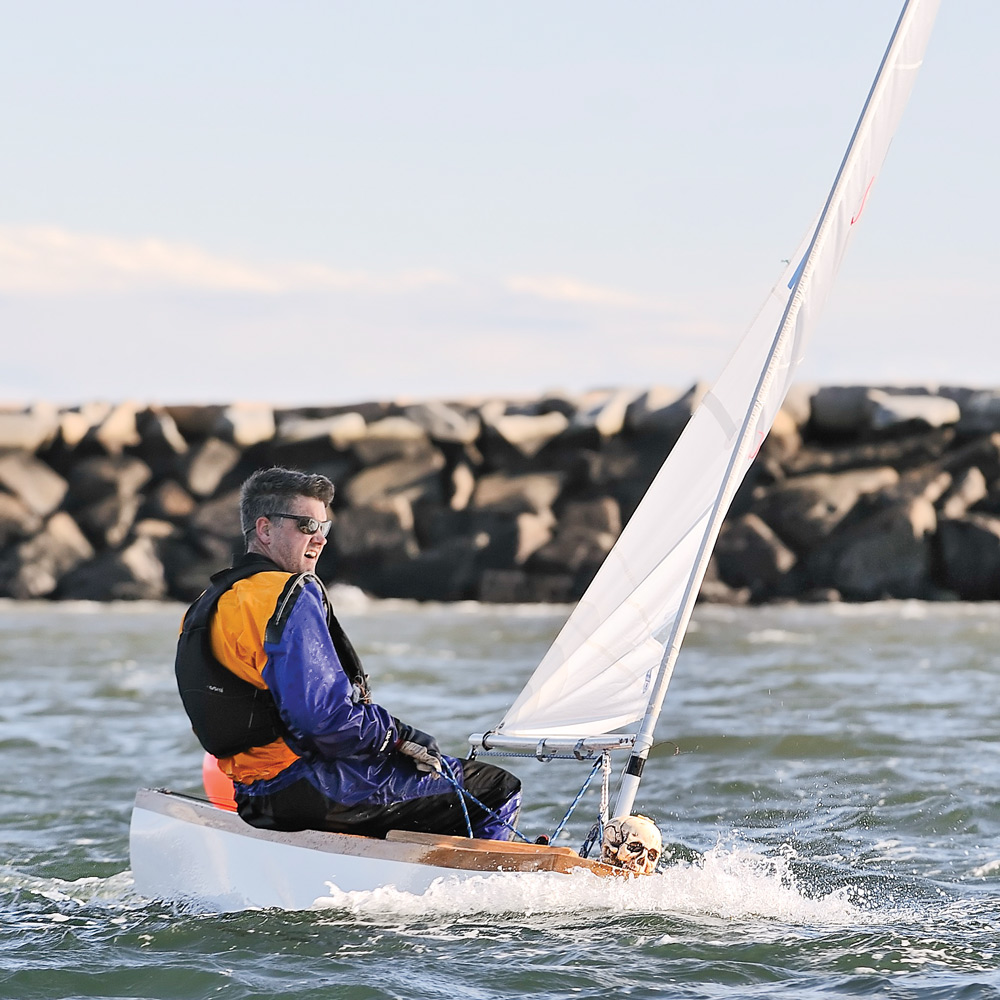 "Back in the early 1980s, my next-door neighbor Tom held a workshop over a weekend in February and we built about a half dozen of the boats in his basement," said former Frosty sailor and septuagenarian Ken Simpson. "They were made of plywood and built using the stitch-and-glue method. We rigged them up with a closet broom for a mast and bed sheets for sails. The inner harbor in Harwich happened to be clear of ice, so we launched them and tried sailing them, but of course that turned into a race."
The 36-pound, 6-foot pram dinghy would go on to become not only a great winter diversion on Cape Cod, but it also drew college-aged sailors and young talent from throughout southern New England, with regattas held in different venues along the south shore of Cape Cod. The fleet enjoyed popularity for a decade from the early 1980s to the 1990s.
"Each winter the fleet got more and more serious, and hotshot college sailors would come to the Cape with their Frosty prams sometimes borrowing gear or hardware from the family boat to make their boats more competitive," Simpson said. "A local sailmaker got us fitted out with real sails, and although we had no drysuits, people sailed them hard on the rail, sometimes capsizing.
"We had a lot of young women sailing them too and the collegiate women sailors racing were very good," he said. "To balance out the weight differences, the lighter sailors had to bungee cord a gallon jug or two of water near the centerboard. We reached more than 80 boats racing on a given weekend at its peak."
The Cape Codders also hosted a national event each spring and one of their biggest rivals came from Lake Erie, a competitive fleet of young sailors from Ohio.
"They traveled from Ohio to race against us and I think they thought they were going to clobber us. They soon learned what a depth of talent we had in our sailors," Simpson said.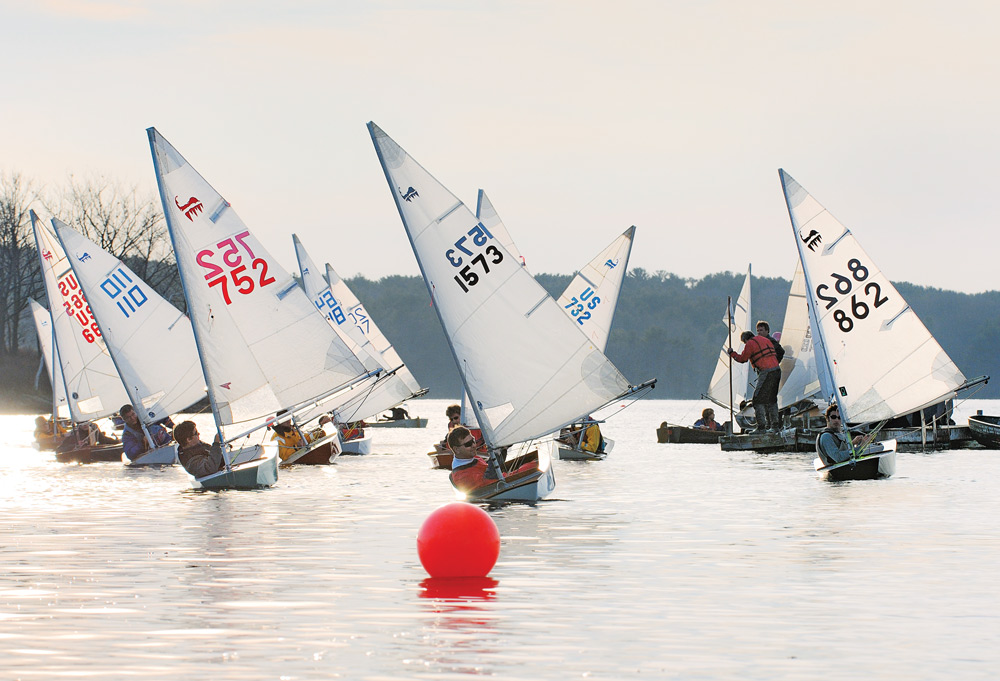 Another Harwich native, Peter Eastman, who is the owner of Howard Boats and Alerion Yachts, got his start racing in the Frosty fleet at age 15 when the first Frosty boats appeared. He raced a Frosty while he was on the sailing team at the University of Connecticut and is a lifelong competitive sailor. Eastman said it was the camaraderie of the Frosty fleet in those days, including the annual trip to Nantucket where Nat Philbrick hosted the Scallop Cup, that made the memories stand out.
"The Frosty didn't necessarily make these individuals great sailors but great sailors of the day were coming to the Cape to race Frosty prams," Eastman said. "Although the birth of the Frosty came about because of winter boredom on Cape Cod, at one time every sailor I knew was racing a Frosty, including Kenny Read, Peter Shope and author Nat Philbrick, who was sailing a Frosty before he started publishing books.
"For about a decade or more on the Cape, the Frosty was quite a phenomenon as well as a really hot boat," he said.
Although the Cape Cod Frosty is no longer an active fleet on the cape, Frosty sailors remain a devoted group, and one fleet still races each winter out of Kittery Point, Maine.
"What makes the Frosty sustainable as a fleet is that they are really great boats," said Ross Weene, a yacht designer and engineer at Rodger Martin Design in Bristol, Rhode Island, who is credited with designing the VXOne among other racing, sport boats.
Weene was 14 years old when he started sailing a Frosty.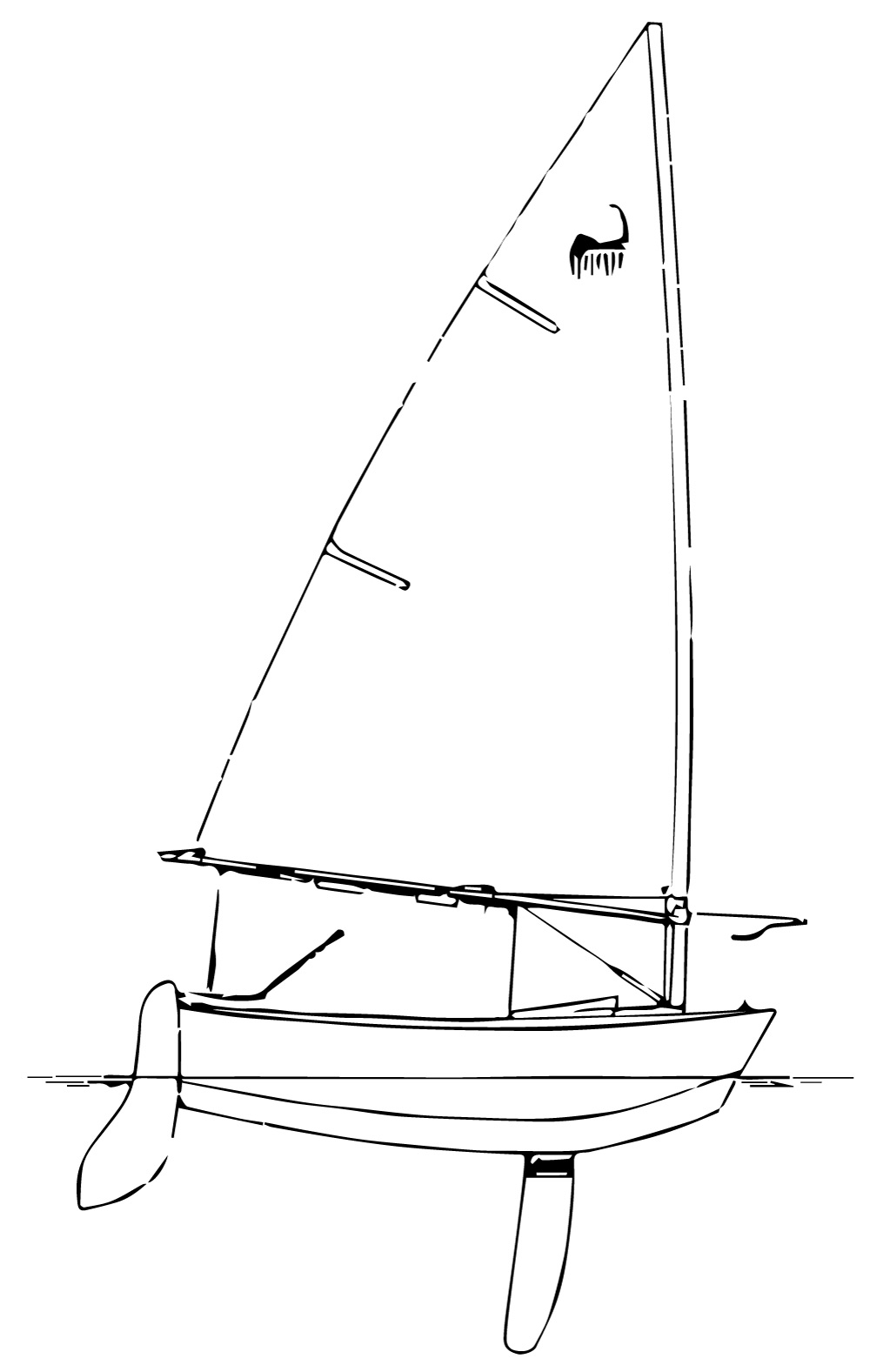 "I was looking for an affordable boat and I had sailed a Frosty at summer camp," Weene said. "You could build a really good, competitive boat for $150."
The Frosty was Weene's introduction to competitive racing and he went on to compete as a collegiate sailor at Brown University.
"The Frosty is extremely competitive but it can fit into or on top of your car and you can carry it on your shoulder and sail it anywhere," Weene said. "It has an incredible power-to-weight ratio and you can get it to plane upwind in 20 knots."
As a testament to its simple yet effective design, Weene said that each fall the Maine Frosty fleet races on the Charles River with the Massachusetts Institute of Technology teams.
"It can literally sail in up to 30 knots and hold its own," he said.
Weene still travels to Kittery Point on winter weekends to race in his Frosty.
"I would like to see more people out there sailing the Frosty in the competitive Maine and New Hampshire fleet," he said. "With the Frosty, you are rewarded for sailing the boat well."
For more information, visit www.capecodfrosty.org.