Every spring the waters off St. Thomas bustle as some of the world's best sailors duke it out under the Caribbean sun. Among the 62 boats and eight fleets at this year's St. Thomas International Regatta were a group of young sailors who are fast becoming the island's best export.
Ranging in age from 13 to 18, young sailors from the Antilles School made up the better part of the crews in the 20-boat strong IC24 fleet. For them, this is their opportunity to impress sailing coaches from top U.S. colleges, who often recruit St. Thomas students for their teams.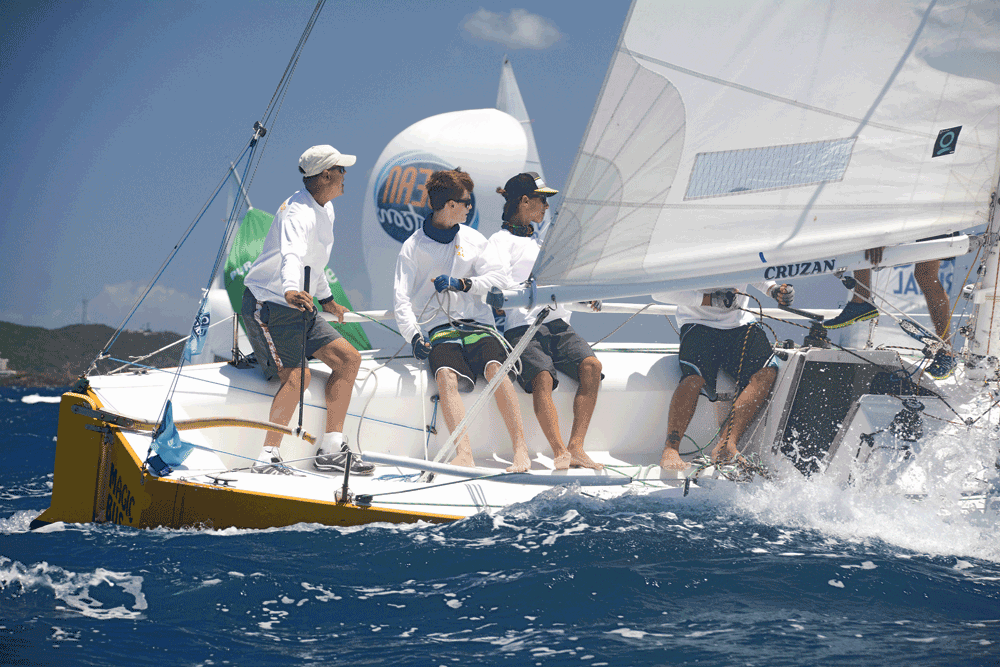 STIR/Dean Barnes photos
"We have had coaches who come here from Dartmouth, Harvard, Yale, the Coast Guard Academy and St. Mary's to name a few," said Nicholas Gartner, 18, captain of the Antilles School sailing team, who raced on an IC24 called Magic Bus.
"The coaches come down here and run clinics. If they like us, they let us know."
Like many students here, Gartner started sailing as a child and watched the older Antilles School graduates, like match racing world champion Taylor Canfield, and Olympians Thomas Barrows and Cy Thompson, reach the top in sailing.
"We have kids to look up to and we have younger kids looking up to us," Gartner said. "The kids see that we have this great sailing going on and they want to do it too. The yacht club is small, and is not really a wealthy club but we work with what we have got."
College sailing is more recognized as a sport than it used to be, said regatta director Bill Canfield, Taylor's father.
"Through our success we have become a feeding ground and when colleges set out looking for recruits for their U.S. teams, they come to our club first," he said. "Our kids are at Yale and Harvard and may not have gotten in there if not for the strength of our sailing. So, it has been a real godsend."
Recent Brown University graduate and 2014 ICSA All-Conference All-Academic Sailing Team member Tyler Rice, 24, just returned to St. Thomas to work in the energy industry and coach students in his spare time. His IC24 team finished in third place with students from the Antilles high school as crew.
"I am not surprised that Virgin Islands' kids have done so well in U.S. colleges. My generation grew up sailing and having fun doing it," Rice said. "While sailing at Brown, I may have been more competitive than necessary, but I still think college sailing is the best and most fun thing you can do as a sailor. Now that I am back here, I want to show the youngsters how to really have fun and try and keep the love and joy of sailing in it."
According to Margo Lynch, the youth sailing director at St. Thomas Yacht Club, plans are underway to develop an international sailing center.
"Our kids need to be exposed to different sailors. A sailing center is a way to bring high school and college sailors and coaches from the states and show them what we have here. It offers more opportunity and more exposure for all involved," Lynch said.
The yacht club's program moves young sailors from prams to keelboats to keep improving skills.
"We think the access to keelboats here after they age out of Optis is a huge advantage to young sailors," said Henry Menin, former chairman of ISAF match racing and a St. Thomas resident. "The combination of coaching, sailing year round and seeing their friends out there doing well keeps the program growing more and more each year."