Fresh out of college, a young couple found the boat they didn't know they were looking for and set about on a major refit
Head remodel
A boat with a dedicated stall shower was important to us. Having to wipe down the entire head compartment after every shower seemed unsustainable in a liveaboard situation. We figured that given the space of our head, we could easily remodel the entire thing to include a stall shower. Unfortunately, once we ripped out the entire head we realized that we could not accommodate a shower stall, but could still redesign the head so we wouldn't have to wipe down the toilet and sink after each use.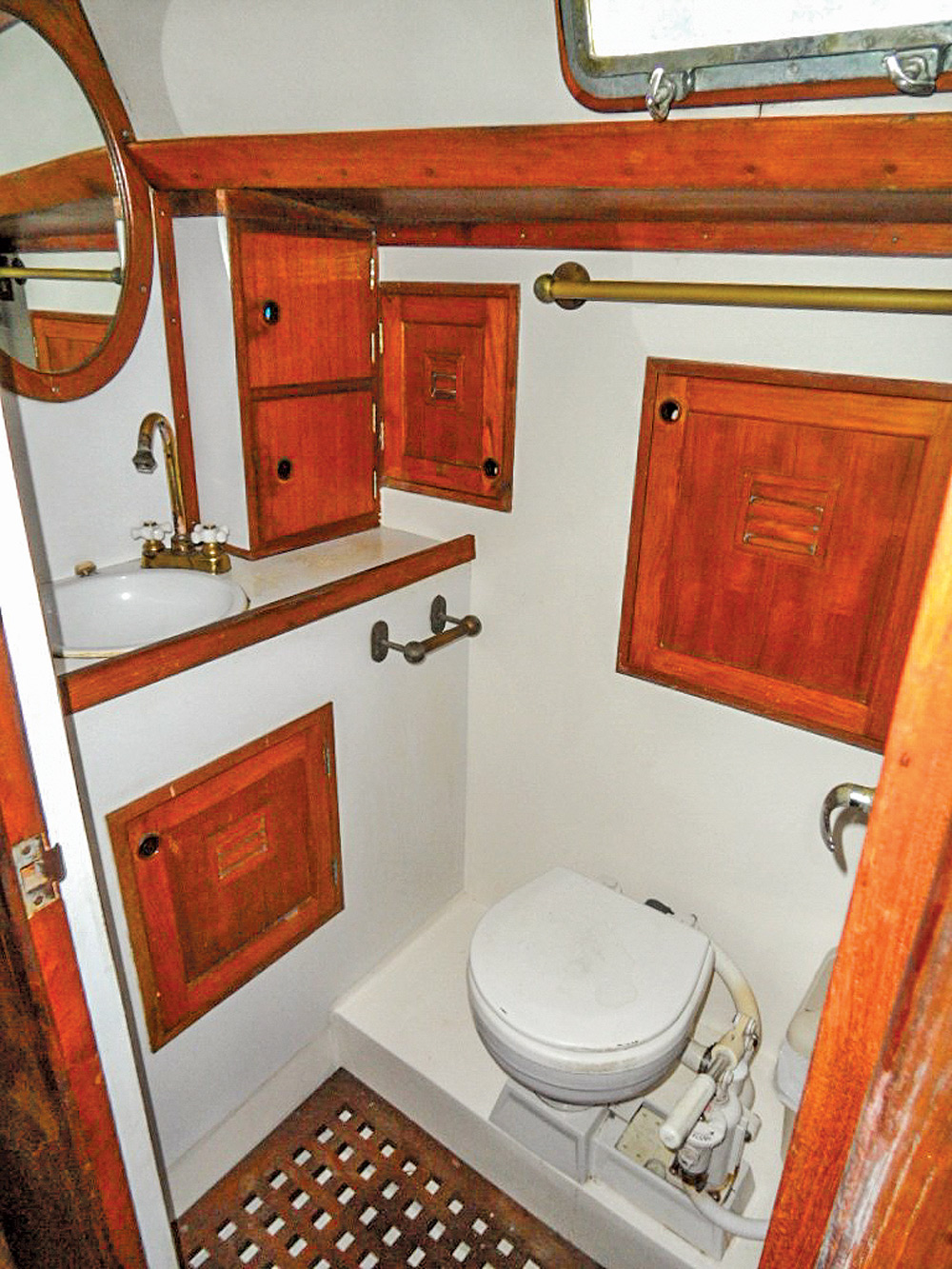 Chris Neely photo
The process was pretty similar to a regular home remodel where you start with basic destruction and then begin creating with a fresh canvas, however, on a much smaller scale with the marine environment in mind. We spent a day and a half removing our old vanity, toilet, headliner and part of a wall so we would have a clean canvas to begin our thought mapping and construction. But once all the pieces were removed we realized a separate shower stall wouldn't be possible. We could, however, reconfigure the head to allow for a curtain that would create a barrier.
We designed a much smaller vanity that utilized the space in an efficient manner and found a vessel sink that could work with the odd shapes of a boat. We used an old, solid teak door that was shockingly being thrown away to construct the vanity countertop. With a pounded copper sink and new faucet in hand we could then focus on the surrounding area building the cabinetry around the hardware. After Chris built the structure of the vanity and new storage cubby, he moved on to building the platform for the toilet to sit on.
By removing part of a nonstructural wall and cabinet, we were able to tuck the toilet in against the hull, turning it to face fore and aft, versus its original athwartships position. This gave us a larger showering area. The next step, after countless dry fits, was to install a slatted floor where the toilet used to sit so the water would easily run off the tile and into the sump. The toilet platform was glassed in to prevent water intrusion and after hours of filling holes and fairing the walls and floor the head was finally prepped for paint, we chose an off-white oil-based Sherwin-Williams brand.
We choose to tile the shower floor and walls up to hip-height due to the durability and traction it provides. Instead of using concrete to set the tile, Chris used thickened epoxy. The thought was that it would adhere better in a marine environment and offer a bit of flex. Two years later we've had no issues with it. We also added teak veneer that we then varnished behind the toilet and on the vanity.
Although we don't technically have a dedicated shower stall, this new design allowed us to snap a shower curtain into place to section off the sink and toilet and protect them from getting wet, essentially giving us the benefit of a dedicated stall. The head project was one of the first projects we worked on together, and the process taught us a lot about patience and flexibility, especially since we went nearly three months without a functioning head. To this day it is one of our crowning achievements and we love sharing the hard work we did.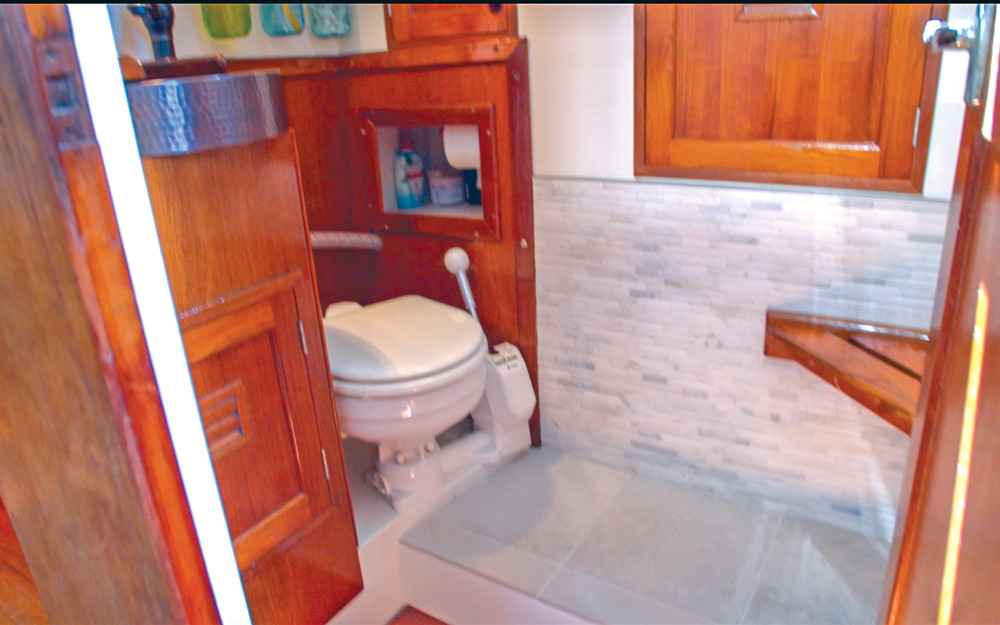 Chris Neely photo
---
About the author: Marissa Neely and her husband share their retrofit journey on Avocet on their website www.svavocet.com and their YouTube channel. With a dwindling project list, the couple plan to set sail for West Coast cruising in the new future.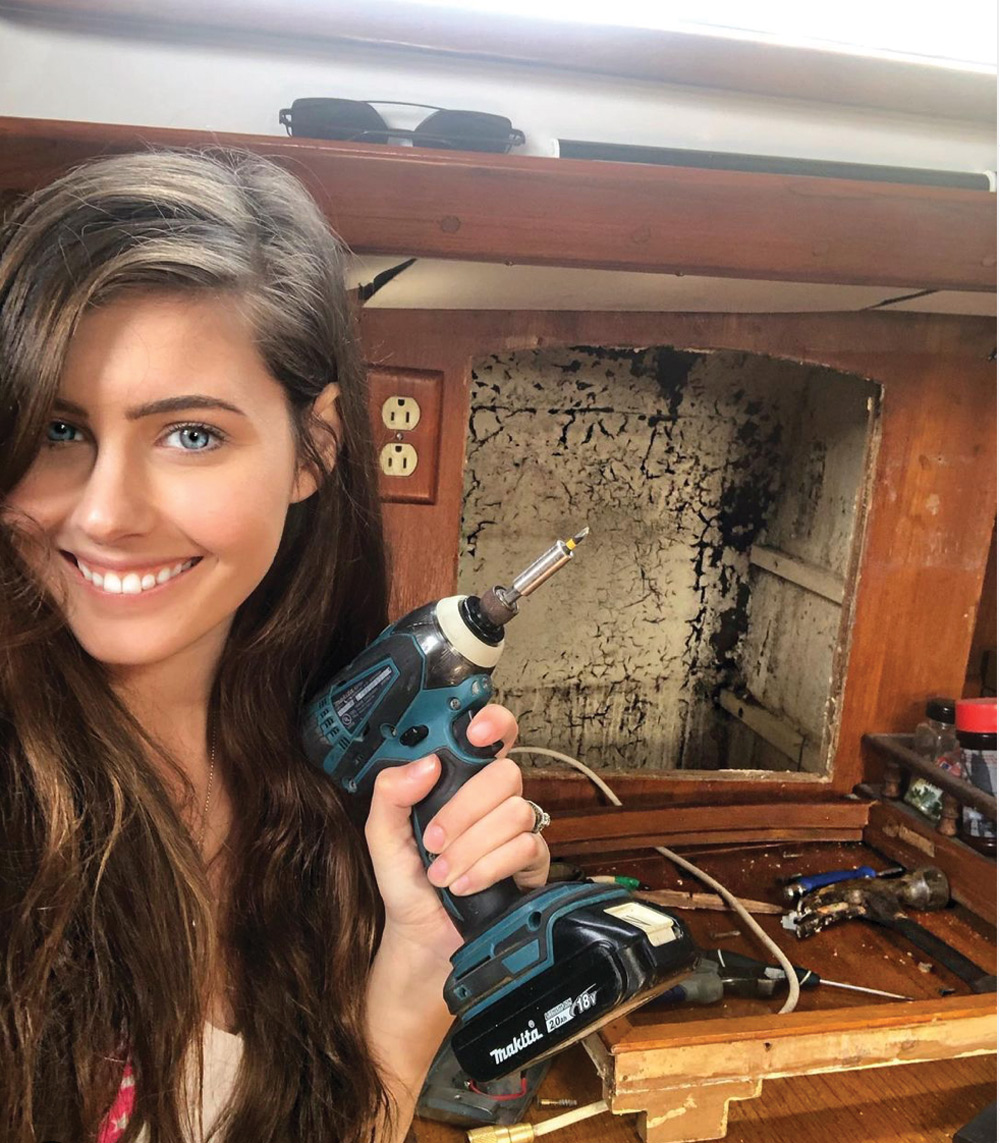 Chris Neely photo