Paradise Bound, Sanctuary Found
At first this liveboard couple feared the isolation of a pandemic lockdown, and then they embraced a new way of life and found the cruising lifestyle they dreamed of
Hundreds of miles from anything resembling a western city, in the lagoon of an uninhabited atoll in the South Pacific, our floating home, Agape, sat quietly in crystal clear turquoise water. As the reports came in from country after country of hundreds dead and thousands more sick, it seemed strange that we would be in such a paradise while others suffered. It seemed that we had found ourselves in an ideal place to ride out the first wave and ensuing chaos of the COVID-19 virus.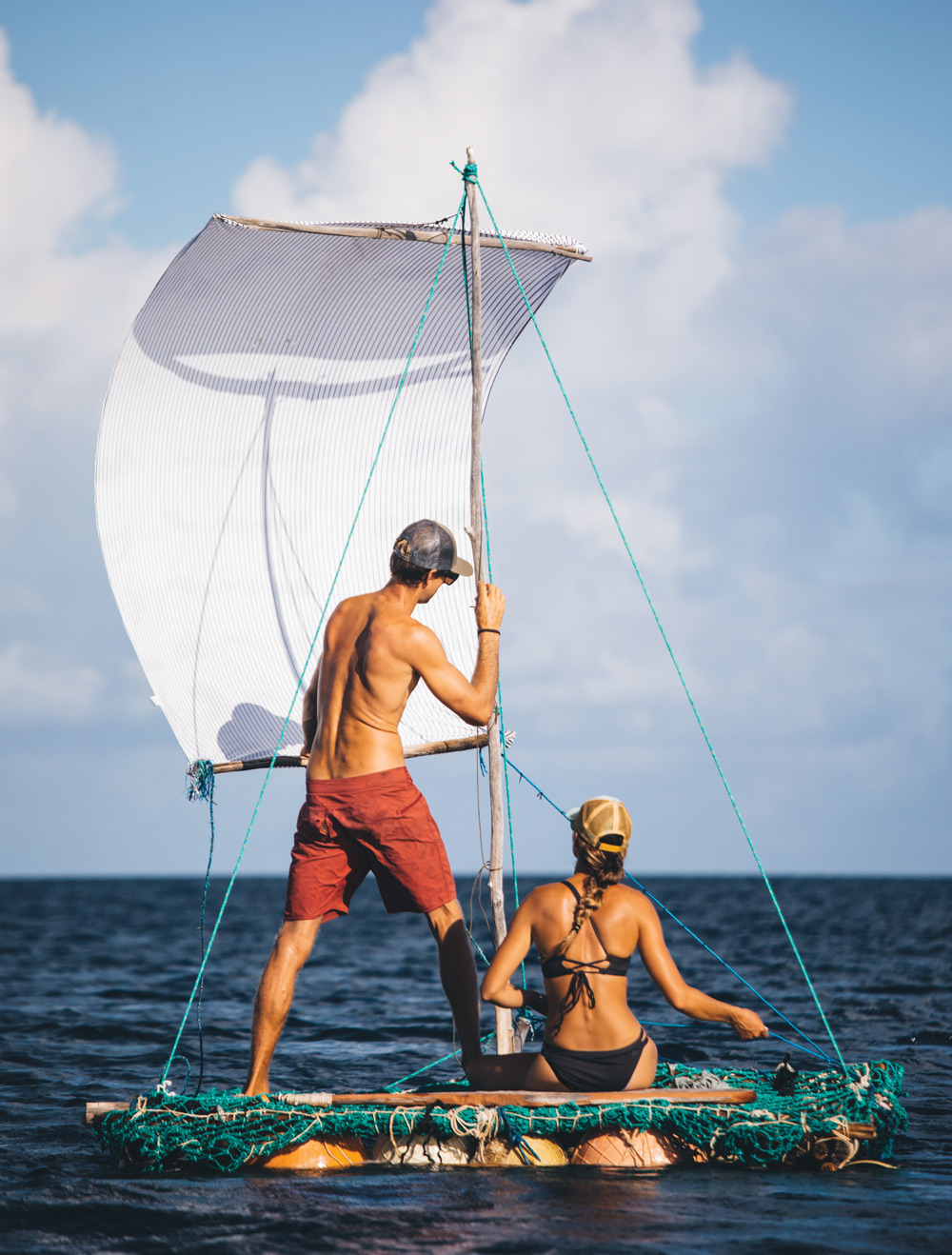 Agape is our 42-foot floating sanctuary. As long as everything works, she is nearly self-sufficient, and the few items that we do depend on from the outside world we usually carry in bulk. This virus caught us, like most, very much off guard, unaware and unprepared. Over the last four years of cruising we've become more and more detached from the outside world. When a breaking news story was sweeping the world about a possible viral epidemic, my wife and I were snorkeling on a barrier reef. As stores were being cleared out of everything from toilet paper to pasta, we were scouring the beach for shells. As everyone else was being asked to stay home and schools, restaurants and non-essential businesses shut down, we were on a passage, sailing to a small atoll long ago abandoned by the Paumotu people. We were completely and blissfully unaware that the World Health Organization was declaring a global pandemic.
As we entered the small pass, into the lagoon of this remote and uninhabited atoll, we had no idea that we would soon be confined to this island, or that it would become our home for the next three months. Fortunately, we would not be completely alone, as we had planned to meet up with our friends on two other sailing vessels. Within the first few days of reaching our island paradise we began to receive news of the virus sweeping the world, and the rapidly increasing death toll. Even here, in the remote islands of French Polynesia, the local government implemented social distancing, masks, curfews and closed all non-essential businesses. They also banned all inter-island travel in an attempt to contain and slow the spread of the virus, consequently confining us to our isolated atoll.
It would take a week or more before the reality of the situation would sink in. For the first few days I naively believed this virus would not affect us. Agape is the perfect floating refuge, and we had fortuitously landed in a deserted island where we could fish, dive, swim and play at our leisure. But the astute realization of just how far we were from civilization slowly set in.
Imagine yourself for a moment being completely isolated from the outside world. No internet, no services, no grocery stores, no help. What thoughts would race through your mind? What worries would keep you up at night?
For me, it was: did we have enough food and butane for cooking, and enough gasoline for the dinghy? What about our 6-year-old, failing batteries? Is being so remote really best? We were so far from any medical help, what if we got injured? What if they decided that we'd have to leave the country? How long would the confinement last? The questions began to overwhelm my mind, fear and negativity seeped into every thought, and my usually calm and confident demeanor slowly began to crack. In addition to all my insecurities, we had several catastrophic failures on board.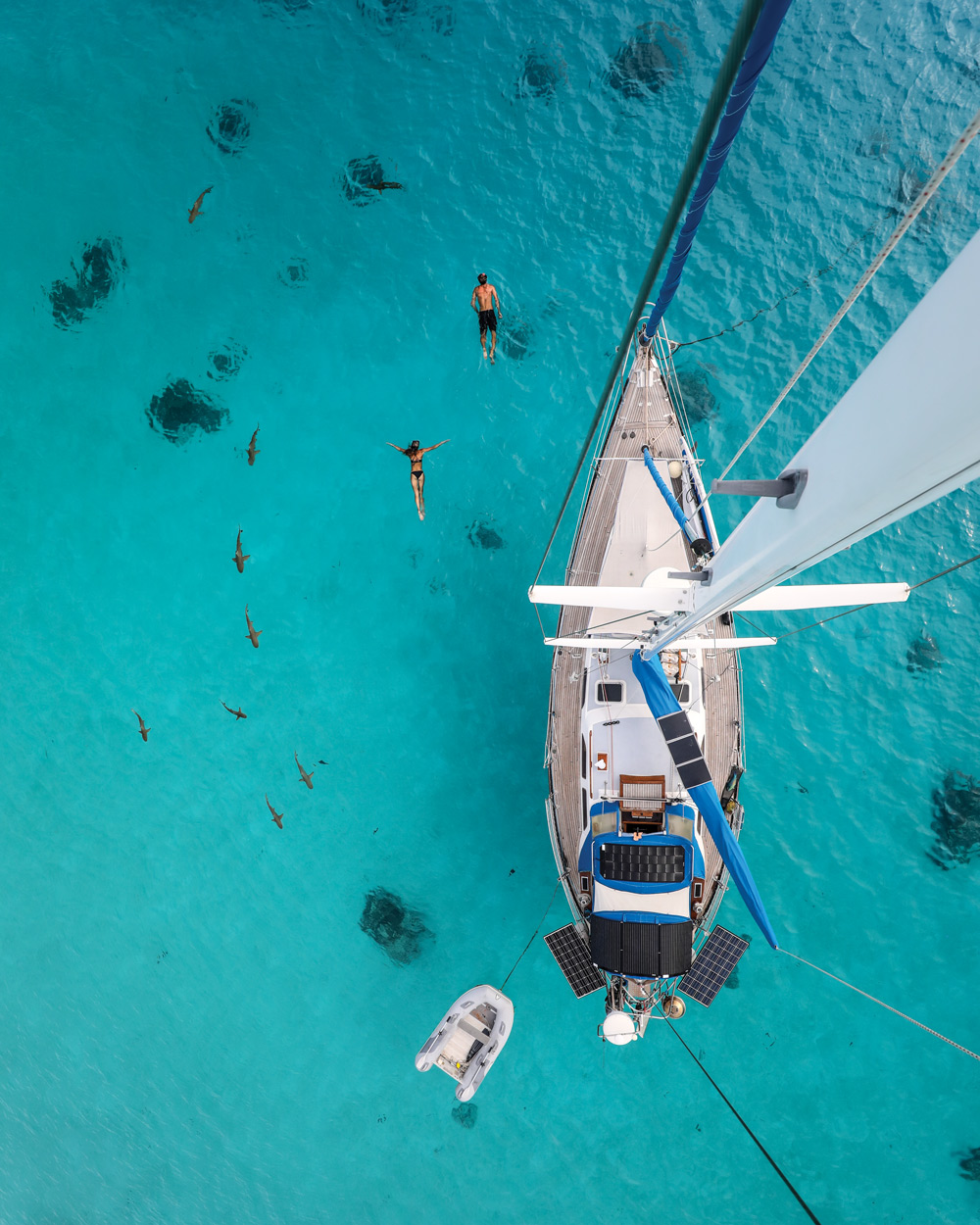 Rachel Moore photo
All boat owners know that maintenance is constantly needed. The harsh marine environment, combined with the constant use and abuse of the cruising lifestyle takes its toll on the systems aboard. After four years of few failures and minimal required maintenance, Agape had stored up a few surprises for us. First, a seal blew on our faithful outboard motor, and then a fitting on our watermaker cracked. Finally, the most concerning, although we had seen the signs coming, was the death of our batteries. After six good years they decisively refused to hold a charge. They became so inefficient that when the sun dipped low on the horizon and the solar quit for the night, Agape's lights would start to flicker.
As the days turned into weeks, I continued to fret over what to do and where Agape should ride out this pandemic. We had no idea how long this would last, and if it got worse how the island nation of French Polynesia would fare being so isolated. After much discussion, we decided that the best decision would be to sit tight and see how the situation unfolded. In the worst case, we could always sail back to Tahiti to resupply and make repairs, but once there we might not be able to leave again.
Once the decision to stay was made, I could feel a huge weight lift from my shoulders, and rather quickly I began to thrive. My wife reassured me that the Paumotu people lived in these islands for hundreds of years with no electricity, let alone an outboard or watermaker. We didn't go cruising expecting things to be easy or comfortable. We left our home to have unique and authentic experiences, and this was going to be one heck of an experience.
As we slowly fell into our confinement routine, I could feel my inner child, and the dreamer inside of me starting to push his way up. I shrugged the schedules and responsibilities imposed by the outside world. I could take the time to enjoy the day, the place and the people around me with intent. My creative side flourished. With nowhere to rush off to, and no social media to spend hour after hour on I was able to turn my newfound time toward some creative projects.