The US Sailing Olympic team heads to Tokyo looking to win gold
It's been five years since the U.S. Olympic sailing team left Brazil with single medal, Caleb Paine's bronze in the Finn class. It was a disappointing result for the once dominant team, which was coming off a disastrous 2012 Olympics where it picked up no medals.
Now with new coach Sally Barkow joining Luther Carpenter, head coach of the US Sailing Team for 30 years, and a fleet of fresh faces backed by new training methods, the Americans are hoping to right the ship and bring home the gold at the Olympics in Tokyo this month. After being postponed last year due to the Covid-19 global pandemic, the symbolic 2020 Olympic rings are again afloat on a barge and illuminating Tokyo Bay.
Nearly 350 sailors from around the world will hit the racecourses at Enoshima Yacht Harbour in Fijisawa City, about 30 miles southeast of the Tokyo where most of the competition is held. The sailing facility was built for the Tokyo 1964 Olympic Games and has a capacity of 3,600 spectators. The pandemic led to the cancellation of last year's games and has continued to disrupt the proceedings throughout the spring.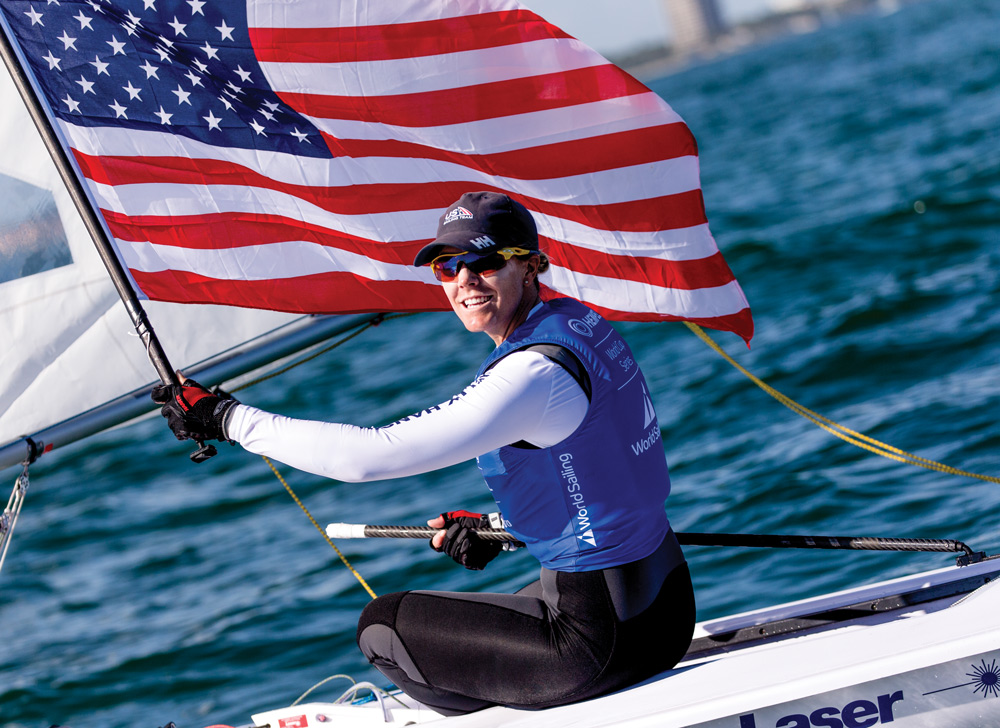 "For sure it's not easy to manage the high expectations of an Olympic games event but at the same time most of the athletes took the delay as a chance to get better at the sport, work on their weaknesses and continue to improve their strengths," said Barkow, a match race world champion, Volvo Ocean Race sailor and former Olympian. "I try to keep them focused on the goal everyday, make a plan to follow that guides us toward the results we want."
As for the impact of Covid-19, Barkow said stringent safety protocols are in place to keep the athletes safe.
"The logistics in Japan will follow a new normal, really different from the Olympic games that we were used to," she said. "The athletes will have to get tested a lot to make sure to be safe and healthy, and as a coach, it's my responsibility to facilitate that. Both US Sailing and the USOPC are doing an amazing job in creating guidelines and make the athletes feel comfortable in an uncomfortable situation."
With the games starting July 31, controversy has arisen over how many spectators would be allowed and whether international visitors can enter the Olympic grounds. During previous Olympics, athletes with children were allowed to bring them along, but that's not the case in Japan. Olympic organizers have imposed a ban on family members traveling to Japan causing consternation and concern among some of the athletes.
Discussion by the International Olympic Committee was underway in May to determine if these situations might be handled on a case-by-case basis. Athletes also have been warned by the IOC against making political protests during competitions at the games. Those protests include acts like taking a knee, holding up a fist, or making signs and statements. The phrase "Black Lives Matter" was cited as an example. Doing so would violate Rule 50, which will be enforced by the IOC and likely result in punishment of athletes who violate it.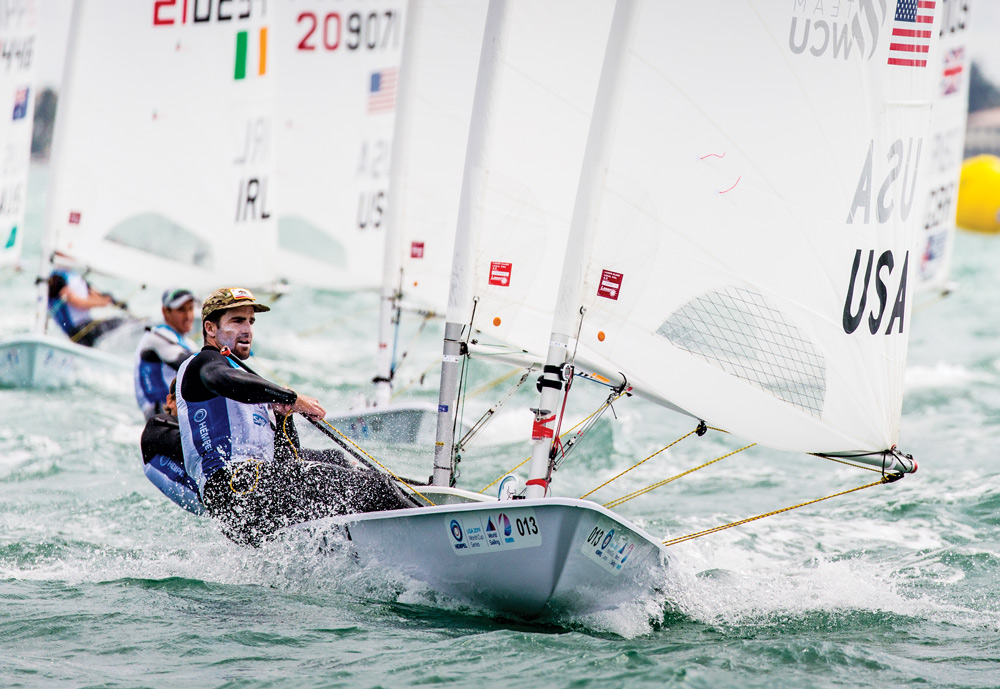 Former Olympic swimmer Kirsty Coventry, chairman of the IOC's Athletes' Commission, led the Rule 50 review. According to Coventry, 70% of athletes interviewed agreed with the ban on political protests at the events. Coventry said athletes have ample opportunity to express their views at press conferences and interviews, but not during competition. If they violate the rule, they will be punished, she said.
The 10 sailing events are a mix of singlehanded classes such as men's and women's RS:X boardsailing, Men's Laser men and Women's Laser Radial and the Finn, a men's class making its final Olympic competition. Doublehanded events include the Men's 49er and Women's 49erFX, the 470 in both men and women classes; and Nacra 17 foiling catamaran with a mixed crew. Each event starts with either 10 or 12 heats held over the course of four or five racing days.
The winner of a heat scores one point, second place two, and so on, with each sailor or crew able to drop their worst score. The top 10 will move on to the medal race, which carries double points and cannot be dropped from the overall total.
Laser and Laser Radial Class
Charlie Buckingham of Newport Beach, California will represent the US Sailing Team in the men's Laser competition, while Paige Railey of Clearwater, Florida, does the same in the women's Laser Radial event. Railey has won more world champion medals than any other women's Laser Radial athlete in history.
"Both Charlie and Paige are experienced sailors that have already been at the Games. Charlie is racing in one of the most (if not thee most) competitive classes, with tight racing and tight points," Barkow said.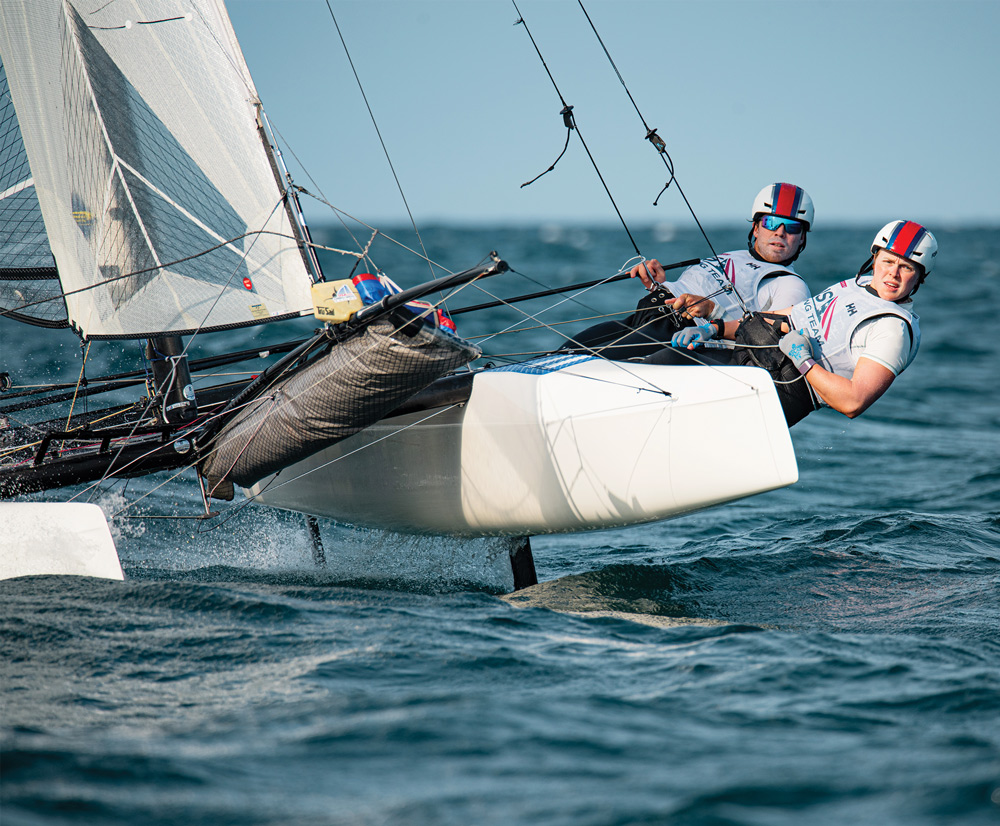 Nacra 17
Attention is already riveted on the Nacra 17 class where the two-person catamaran is now outfitted with hydrofoils, a change that's expected to present a challenge to the Nacra-winning Argentines and the rest of the fleet. Six-time Argentine Olympian Santiago Lange and Cecilia Carranza will defend their Nacra 17 crown. Lange, 59, a naval architect, was a Tornado bronze medalist at Athens 2004 and Beijing 2008. He was diagnosed with cancer in 2014 and had part of a lung removed. In full recovery, he and Carranza won gold at Rio 2016.
The Nacra 17 racecourse will also be where US Sailing Team skipper Riley Gibbs of Long Beach, California, and crew Anna Weis of Fort Lauderdale, Florida, get to test their skills. The Gibbs-Weis team won gold at the 2019 Pan American Games in Peru and again in 2020 at the Oceania Championship in Australia.
"The change to the foiling Nacra made a massive difference in the preparation of the athletes and the skills needed," Barkow said. "In terms of safety, we also had a few challenges especially at the beginning."
There have been several serious injuries during Nacra regattas, with sailors suffering deep cuts and amputated fingers after striking the foils during capsizes. As coach, Barkow is available to give medical aid after accidents during training or racing.
"When the boat capsizes the risk of hitting the foils is pretty high," she said. "At the same time we had to work on a totally different racing and boat handling skill set. Maneuvers are key, being able to foil through the gybes and spend as little time as possible in displacement mode is making a huge difference in the overall performance."
Barkow said the Nacra 17 is hard to handle in big waves and strong breeze but at the same time difficult to sail fast in light wind.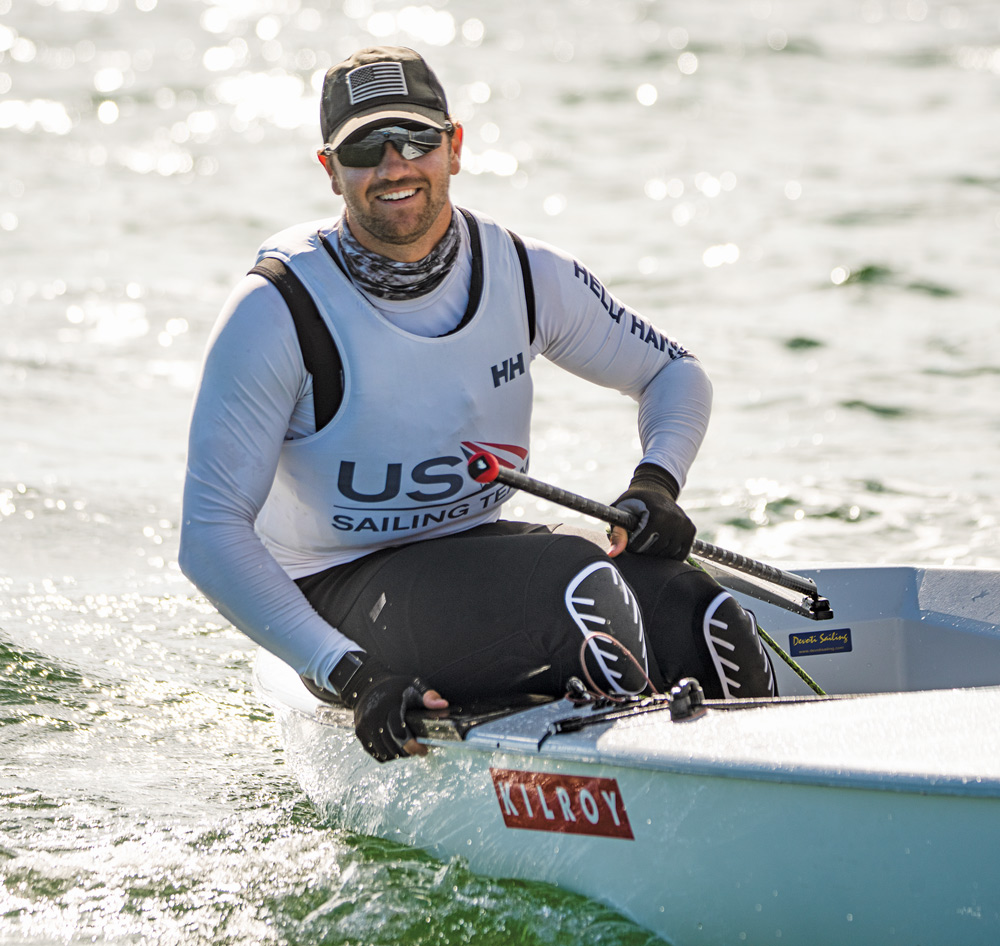 "Overall, it's a massive challenge for the athletes," she said. "Anna is a really strong athlete, working on her fitness everyday and Riley is a really talented foiling sailor, having experience in the SailGp, Moth and A-cat. The combination of their skills make them a really good team."
RS:X
US Sailing Team member Pedro Pascual of Miami, Florida, will represent the United States in the RS:X boardsailing men's division, while Farrah Hall of Annapolis, Maryland, takes on the challenge in the women's event. Olympic athletes like 32-year-old Dutch sailor Dorian van Rijsselberghe, an RS:X boardsailing champion who won seven of 11 heats in Rio, has been advocating that the RS:X be replaced by foiling craft at future games to make the sport more fun and attractive to newcomers. He claimed his second RS:X world title in 2018.
Finn
Luke Muller, 25, from Ft. Pierce, Florida, will represent the United States in the Finn event, where sailors singlehand a heavyweight, cat-rigged dinghy. Former captain of the Standford University sailing team from 2016 to 2017, Muller previously raced Lasers, and took third in the Finn event at the Hempel World Cup Series Miami in 2019. A three-time World Cup medalist and two-time national champion, Muller has been ranked among the world's top 20 Finn sailors.
470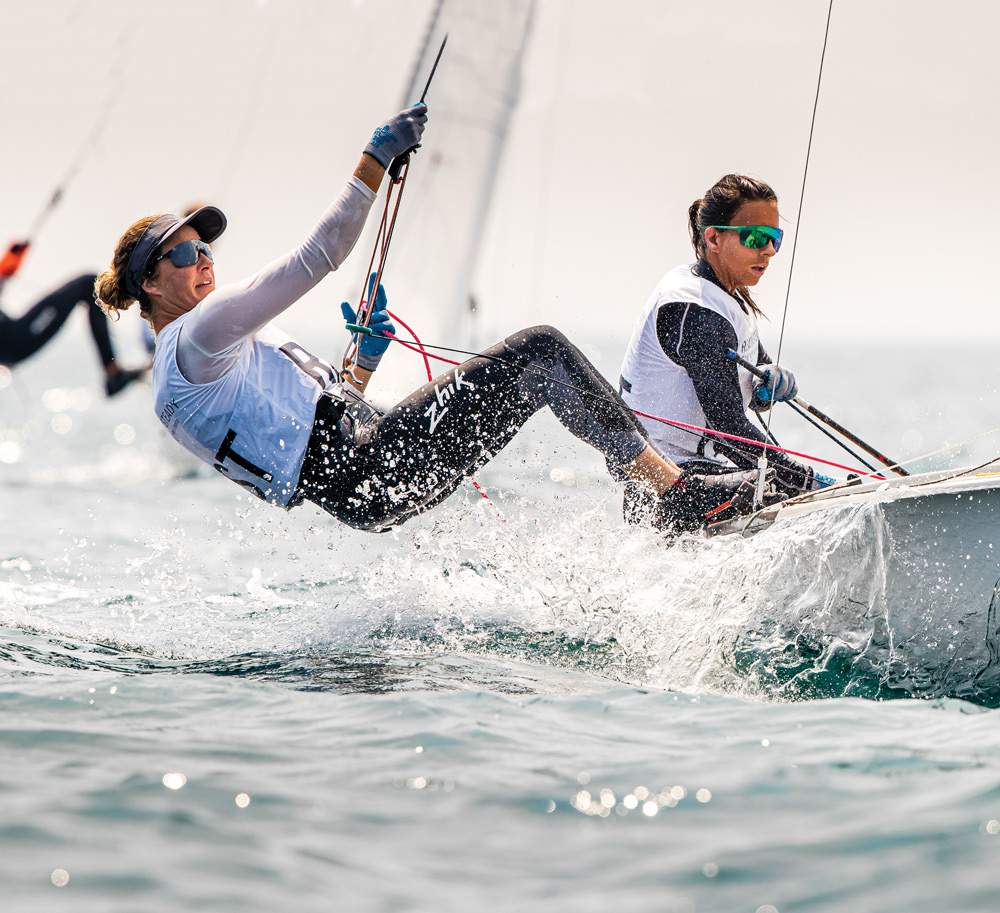 In the 470 competition, international eyes are on Hannah Mills from Great Britain. She and Saskia Clark won 470 silver in London in 2012 and again in Rio in 2016. Mills has positioned herself to become the first woman to win two Olympic golds with new partner Eilidh McIntyre, whose father, Mike, won gold in the Star gold at in 1988.
US Sailing Team skipper Nikki Barnes and crew Lara Dallman-Weiss will take to the water in the women's 470 event. The pair met at a 2018 crew clinic in Miami hosted by the US Sailing Team and Olympic Development Program. Barnes grew up in the islands and attended the Coast Guard Academy, while Dallman-Weiss was a high school athlete and sailed at Eckerd College on Florida's Gulf Coast. Both women had previous dance training, which helped them find their rhythm in the boat. Since meeting and finding it easy to sail together, they've focused on capturing a win in Japan.
US Sailing Team members Stuart McNay of Providence, Rhode Island and David Hughes of Ithaca, New York, will take on the competition in the men's 470 event.
49er and 49erFX
US Sailing Team member Stephanie Roble of East Troy, Wisconsin, will skipper the women's 49erFX with Maggie Shea of Wilmette, Illinois, as crew. The pair won a spot on the US Sailing Team following their silver medal at the Pan Am Games in Lima 2019 and their world championship win in Australia 2020.
In the men's division, as of mid-May, no members of the US Sailing Team had qualified for the 49er event. Currently, the US team remains first in line to claim a spot forfeited by
another country.
"The 49er squad is a pretty young squad and they have been sailing really well in the last year. Unfortunately, it's never easy to qualify the country at the Olympics and the men's 49er in particular is filled with deep talent across many countries," Barkow said. "Our 49er squad is recognized for working so hard this last year and keeping the motivation high even when they knew it was hard to get the spot. It's important to also recognize that all the gains made now by our 49 men have the strong potential to pay off huge in 2024."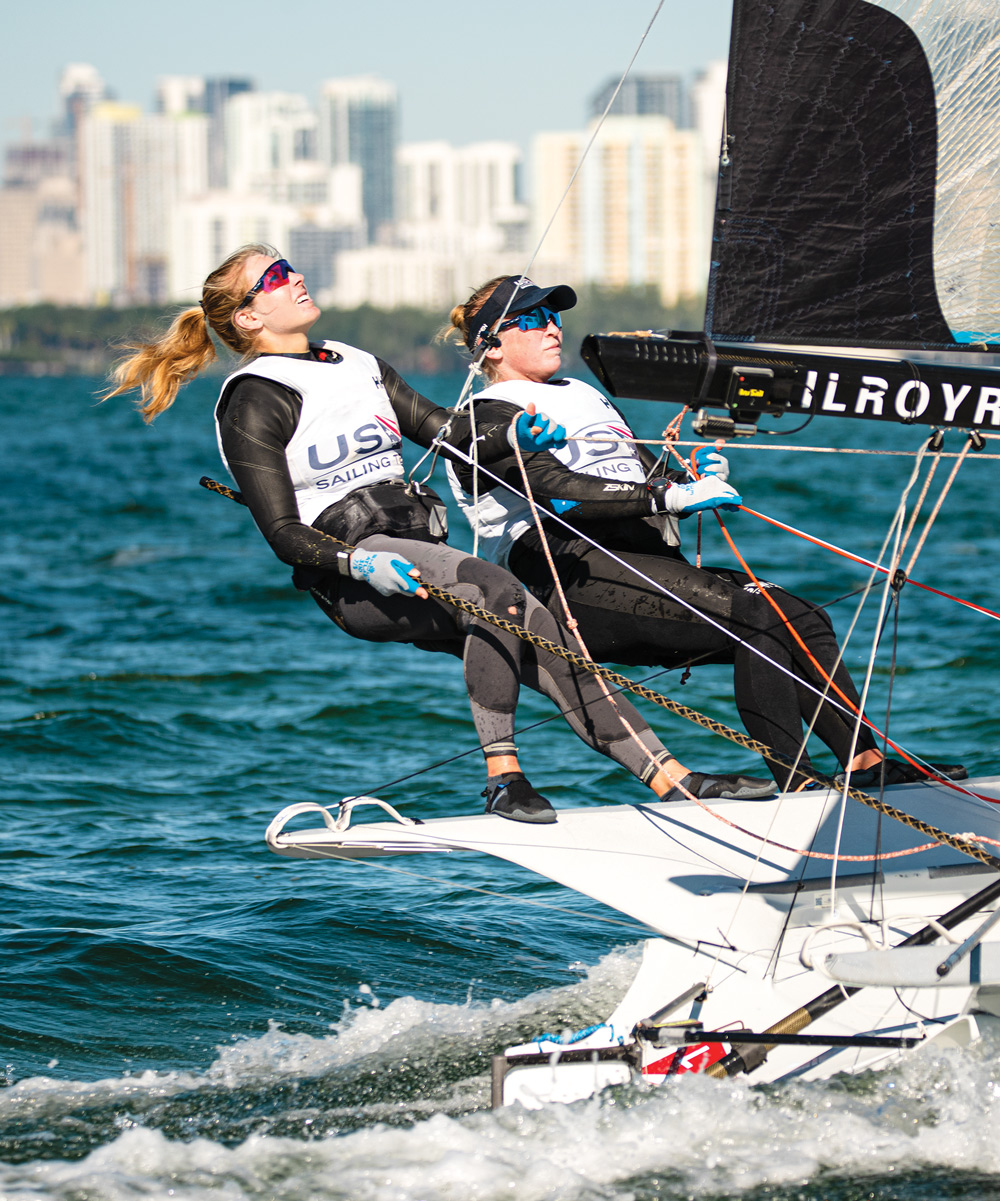 New Zealand's reigning 49er Olympic champions and recent America's Cup winners Peter Burling and Blair Tuke, and Brazil's victorious 49er duo from Rio 2016 — Martine Grael and Kahena Kunze — were among the World Cup winners in late August 2019 in Japan. The 49er and 49erFX are doublehanded, skiff-type, high-performance sailing dinghies. Both skipper and crew are equipped with their own trapeze and sailing is done while cantilevered over the wall to the fullest extent to balance against the sails.




Looking back




Sailing, previously also known as yachting, was part of the first Summer Olympic Games in 1896, but the event was canceled due to inclement weather. With the exception of 1904, the sailing competition in some form another has been held at every games.




Boat specifications have changed significantly over the years, with the Finn the current oldest class having first been contested in 1952. Over the past few years, Great Britain and Australia have dominated the sailing events, with New Zealand, the Netherlands, and Brazil all winning gold. Great Britain heads the all-time medal table with 28 gold, 19 silver, and 11 bronze. The United States has won more medals (60 to 58), comprising 19 gold, 23 silver and 18 bronze, but their last gold came back at Beijing 2008.




Britain's Ben Ainslie is the most successful sailor in Olympic history's with four golds and one silver. Ainslie lost out in an epic duel for gold in the Laser class to Brazilian Robert Scheidt at Atlanta 1996 before turning the tables four years later in Sydney. He then switched to the Finn, where he won three consecutive titles, ending with success on his home water at London 2012.




Looking ahead




The 2024 Olympic Games will be held in Paris, France. A mixed doublehanded offshore keelboat competition was to be added to the event list, but was not approved Other pending changes include making the 470 a mixed event, rather than separate men's and women's divisions.




Kiteboarding, which made inroads as an Olympic sport at Rio 2018, will officially be among the events at Paris 2024.




The Olympic Games run July 31, followed by a closing ceremony on August 8. The Tokyo games will be broadcast on NBC Sports in the U.S. and updates will be posted on www.ussailing.org.