An elegant and powerful bluewater cruising catamaran with high-tech systems that make it comfortable for doublehanded sailing
When Bob Hayward, a successful American real estate developer, film studio co-founder and farmer, couldn't find the perfect cruising catamaran, he had one built at Phil Harvey's South African boatbuilding yard, the builder of Gunboat catamarans among others. The yard was for sale when Hayward decided to jump into business with yard manager Leon Scheepers, and the pair retained the yard's skilled boatbuilders and staff. Hayward's Simonis Voogd Yacht Design was launched as the Kinetic Catamaran 62 in 2019.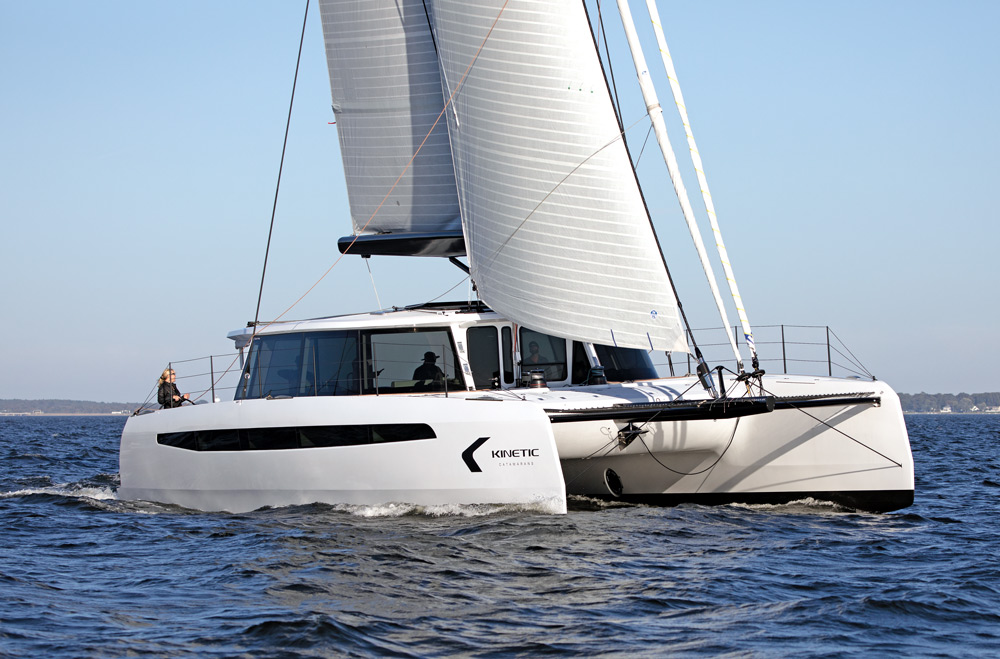 "The whole idea for the next cat was to include everything you charter a cruising cat for, a bigger saloon, a large aft deck and a smaller forward sailing cockpit, creating three zones that connect up brilliantly for beautiful indoor-outdoor living spaces," said Bob Hayward, who now adds owner of Kinetic Catamarans to his list of descriptives. "The key is that it can be sailed solely by a couple."
Kinetic Catamarans again turned to Simonis Voogd Yacht Design for a 54-foot catamaran that could be easily sailed doublehanded. The KC54 Hull No. 1 made its debut at the U.S. Sailboat Show in Annapolis to much fanfare, and I couldn't wait to take this performance cat for a test sail.
The details
It's evident at first glance that this svelte cat, with narrow hulls and a high bridgedeck clearance, it is not your usual bloated floating condo with two hulls. Built entirely of epoxy vacuum-infused carbon fiber and corecell construction, the KC54 displaces 35,825 pounds, and 49,500 pounds fully loaded for cruising. That's about 20,000 pounds lighter than most other cruising cats of its size, and that weight savings translates into speed.
Buyers have the option of different interior layouts, and for sailors looking to race, a larger sailplan and high-performance C-boards that can fly the windward hull improve the already good performance. The test boat was set up with the cruising rig and furling boom, with cap shrouds that eliminate the need for a backstay. The mast is stepped on the coachroof and
compression post.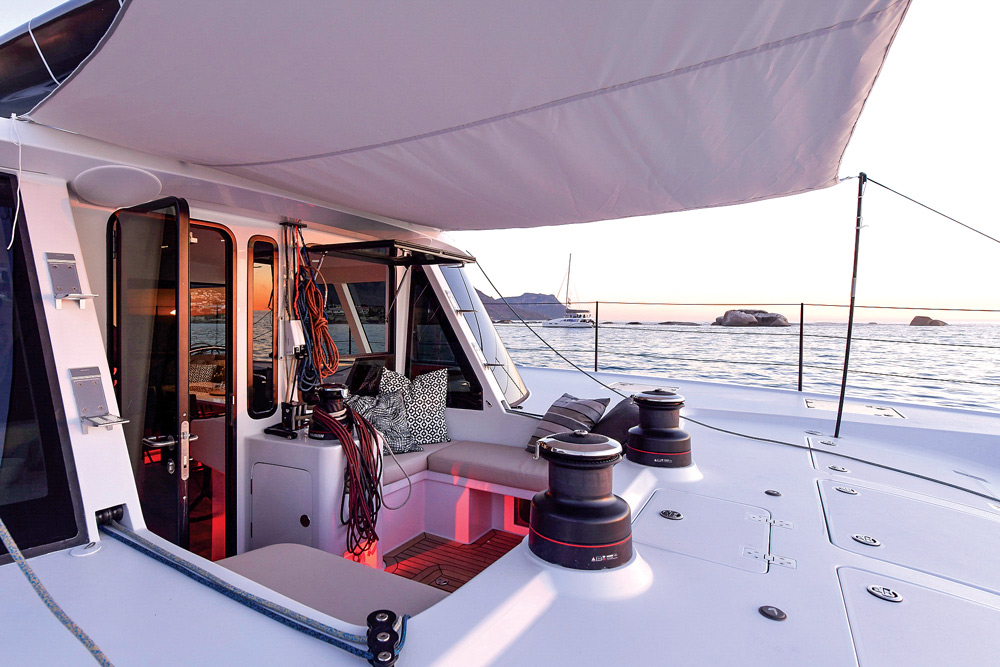 Employing one of the few low-tech systems on the boat, the daggerboards are controlled by a line-drive system, but that is by design.
"This boat is made for bluewater cruising, so if you hit something, the line breaks not the board," Hayward said. "It's a simple fix to re-rig and get sailing again."
Many features come standard, including the North 3Di Endurance sails, which Hayward said stand up best to the higher loads.
On deck
The forward cockpit is all about efficiency when sailing, and it is just a step away from the inside steering station, making this area the command center. All halyards and sheets are led to this cockpit, with two electric Harken winches and the mainsheet on a captive winch.
"Having this setup is key for doublehanded sailing," Hayward said. "You can trim any sail from any of the three helms."
With all sail controls located in the forward cockpit and the traveler on the coachroof, the aft cockpit is all about living space. The L-shaped dinette can seat eight people in comfort. Built into the aft rail are an electric grill and drink refrigerator. A dropdown swim platform bridges the two transom steps, which have lazarettes for gear and a wet locker.
"I have this all set up for fishing on my boat, including a live well," Hayward, who owns KC54 hull No. 3, said.