Make the most of a charter briefing
Tap into charter staff knowledge to turn a good charter into a great one
Charter briefings—those meetings with charter base staff that help familiarize you with the boat and the cruising grounds—can feel like a hurdle that has to be overcome to get underway, but it's worth making the most of them.
Base staff typically have a checklist that they are required to go through in each briefing, but beyond that charterers have the opportunity to maximize the information they get.
Sailors can save time for questions that go beyond the basics by doing some homework before the briefing. Do a thorough walk-through of the boat and get a general understanding of all areas. Take note of the deck layout and where lines are led to so you'll be able to hoist and trim the mainsail and roller-furling genoa. Figure out where winch handles are stored and make sure there is an adequate number onboard.
Without hoisting the sails, double check whatever you can, including examining sheets for excessive wear and, if possible, making sure the mainsail has all its battens. If you discover an issue with the sails shortly after leaving the base (a good reason to get sailing as soon as you can), call the base and have the problem rectified right way.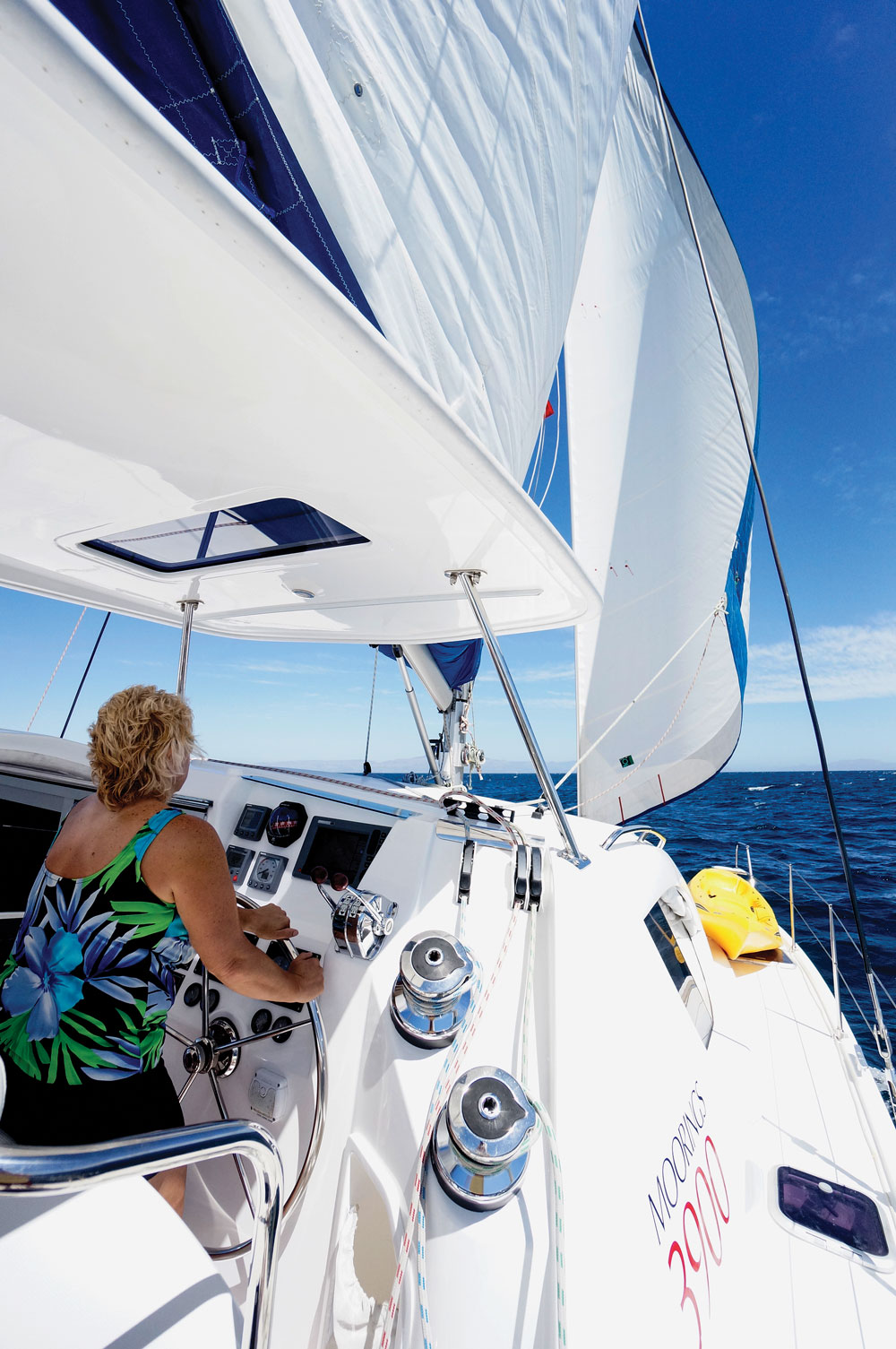 Bob Grieser photo
Check out the helm station and make sure you understand the steering and throttle, as well as the electronics mounted there.
Down below, the most critical area to spend time studying is the electrical panel. Familiarize yourself with what each switch controls so you'll know when you need it. It's amazing how the anchor light switch can hide when you're looking for it at dusk. Also look for battery switches and gas valves, although it's best to wait for a briefing on stove operation before doing anything with them.
Take a look at the nav station and check for paper charts and cruising guides (although it's a good idea to bring your own, complete with your pre-charter notes). Fire up the electronics and make sure you're familiar with operation of the chartplotter.
It's a good idea to peek in all the drawers in the galley as well, not just to familiarize yourself with where gear is located but also to make sure that everything that should be there is. Sometimes this happens naturally as you stow provisions, but don't forget to look for the basic galley gear.
Look around for the location of light switches and fans so you'll know how to use them when you need them.
As you go through these pre-briefing checks, make notes of anything that might be missing or questions you have. That way, you can skip straight to the questions and leave more time for taking advantage of the base staff's knowledge.
Learn the systems
During the briefing, the base staff member will go over the boat's major systems. This is a good time to be paying close attention.
Engine operation is obviously important to understand. You should learn about any daily engine checks you should do, and check the oil if the briefer doesn't do it in front of you. If there is anything you feel hesitant about, ask more questions, and feel free to ask to go through the process yourself while the briefer watches to make sure you're doing it correctly.
The briefer will also go through the boat's safety gear. Sailors capable of bareboat chartering will already know how to use the equipment, but it's important to know where it is stored and to make sure it is in good working order.