Discovering the joy of learning at sea
Thirty-one days into to what would be an 11,500-nautical-mile voyage, I found myself standing in front of Neptune and his court and chopped off my hair to chin length, tossing it in the wake of the 115-foot schooner Vela, and sailed across the equator at 8 knots.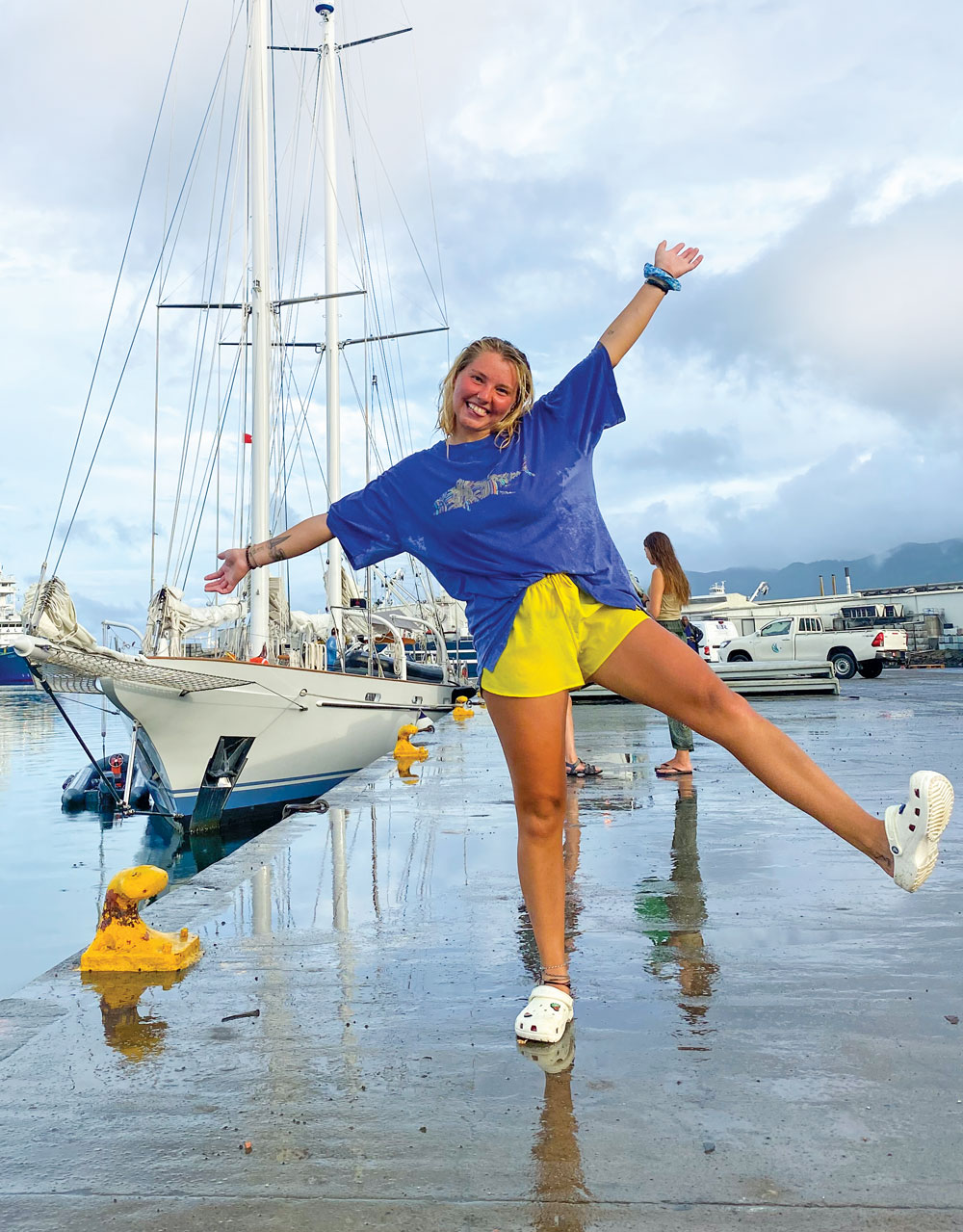 Noah Solt photo
It was a milestone that I couldn't have foreseen as a kid growing up sailing on Lake Superior where my passion for sailing was born, but one of the high points of an adventure far from my Duluth, Minnesota, home. I'd been accepted to the Seamester study aboard program to cross the Indian Ocean during my junior year of college, an opportunity only slightly complicated by the Covid-19 pandemic.
Seamester takes students aboard their vessels for study abroad trips for up to 90 days. They teach students not only to sail and scuba dive, but also to teach classes such as seamanship, leadership, oceanography, marine biology, and in some cases, a Professional Skipper and Crew Training course through International Yacht Training.
The first month of my 90-day program aboard Vela with 30 other students and instructors was spent in the Maldives. The pandemic prevented us from stepping ashore, so we spent our time learning to scuba dive, starting classes, getting to know each other and our new home, Vela. We only had a few daysails to nearby atolls before our first overnight sail to Rasdhoo Atoll. This was the first of many nights keeping watch in teams. These small trips helped students learn about sailing, keeping watch, and overall just becoming more comfortable underway. Rasdhoo Atoll, being fairly protected and healthy, served as an amazing spot for many of us to do our first real dive. The reef we dove on was probably the healthiest reef that many of us will ever get the chance to see.
After an arduous provisioning process that lasted longer than expected, we sailed out of the Maldives at sunset. The next two weeks would be spent on the open water of the Indian Ocean.
Day one came and the majority of us were reminded of the strength of the waves with a brutal, but short, blast of seasickness. Settling in, hoisting the sails, and turning off the engine is easily one of the best feelings in the world, to me. As a group, there was almost a collective sigh as the engine shut off and the bubbles and burbles of Vela gliding through the water filled our ears and our hearts.
Passage life is simple: wake up for watch, eat a large bowl of oatmeal, go to sleep, class, sail, or do daily chores. Phones became cameras, journals and speakers as we drifted away from all contact with our former reality. We all became comfortable with what our life looked like day to day.
As we neared the equator, the instructors donned their best Neptune looks and the students prepared their sacrifices. It turned out that Vela was about to make a sacrifice of her own as the propeller stopped functioning. The quiet sounds of the sea were now deafening and we realized we would need to start rationing our provisions. Luckily, our generators kept Vela powered up enough to get weather reports and keep contact with the office and we looked at it as an opportunity for us to sail at a more intense level.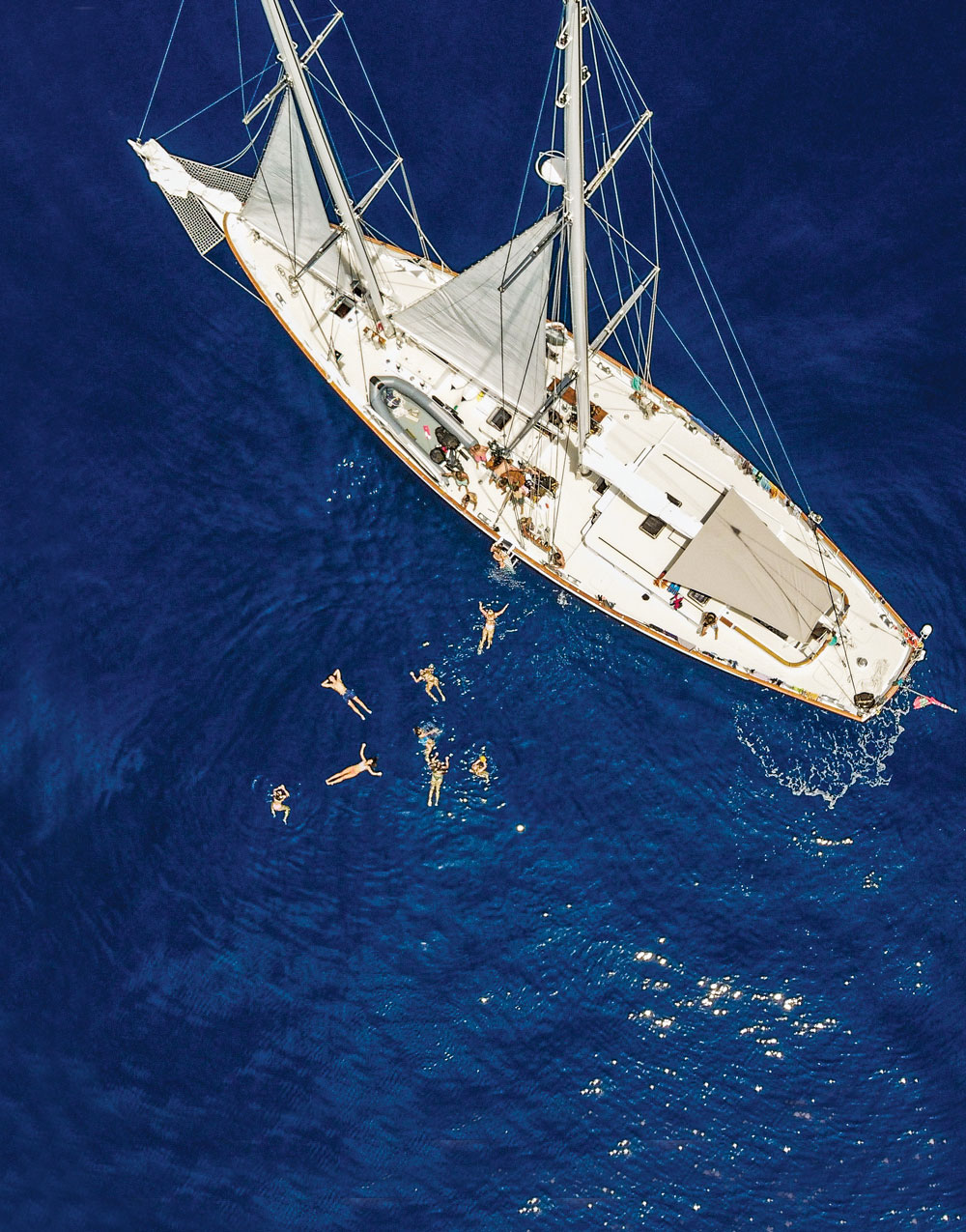 Dylan Hardt photo
We learned to squeeze every tenth of a knot out of Vela's sails. Sometimes this meant waking up two hours before my watch to help the current watch team hoist or douse sails. Sometimes, when there was no wind at all and very little swell, we got to take turns jumping off the boat to swim with our floating home. Looking up at Vela, looking down at the insane amount of water beneath us, looking at my new family, I found peace and pure joy within myself. I found a different kind of peace a couple days later as we flew all six of Vela's sails for the first time and our propeller magically fixed itself. With six sails and a crew of generally inexperienced students, Vela, and her sistership, Argo, hardly ever fly all of their sails at once. Given our circumstances, it was easy to try out different sail combinations, and a great opportunity to learn about and use the fisherman and flying jib.
After 19 days at sea, we spotted the Seychelles. We pulled into the harbor, anchored and got cleared into the country. With no community spread of Covid-19, the Seychelles were an absolute dream. We touched real land for the first time in a month and a half, just in time for Halloween and my 22nd birthday. Before our new adventures in the Seychelles took over our lives, we needed to give Vela some love and attention. As a freshwater sailor, I never knew how much the salt water and a long passage could dirty up a boat. We spent a whole day, as a group, cleaning every inch of the Vela, inside and out. Cleaning up rust spots, really, truly scrubbing the decks, and getting to every nook and cranny below decks, including four heads, was no easy task. With this group, some good music, a stable boat and a love for our home, it ended up being a really refreshing task to finish off our long journey.
The rest of our time in the Seychelles was spent swimming, finishing our diving courses, learning to surf and shopping for watch snacks or clothes we forgot to pack. The Seychelles was the first time I had a cell signal and actually talked with anyone from home. Although refreshing to be away from it all, a few short phone calls reminded me how grateful I am to have the support and love from those at home. I never knew that a passion for sailing with my family would lead to the greatest adventure of my life. That adventure would be even more than I expected.