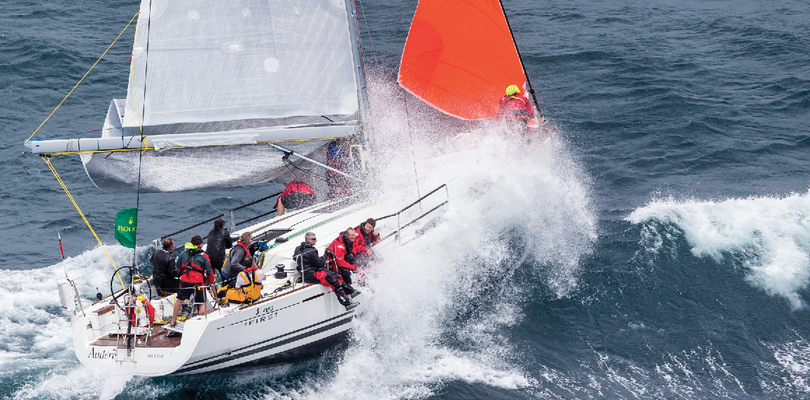 Carlo Borlenghi/Rolex photo
The yearly 628-mile jaunt down the coast from Sydney, Australia, across the Bass Strait to Hobart, Tasmania, has a nasty reputation as a heavy-air battle, often storm-tossed and sometimes deadly. The 70th running of the Rolex Sydney Hobart Yacht Race, which set sail Boxing Day, December 26, was no exception, but what began as a bone-jarring beat into 25-knot headwinds and steep seas, finished with a barn-burner sleigh ride for the 117 racers who blasted out of Sydney Harbour under spinnakers and the watchful eyes of hundreds of spectators.
Leading the fleet to the turning mark at Sydney Heads was a five-boat class of 100-foot speedsters, including Rio 100, with American Peter Isler aboard, and the rebuilt Ragamuffin 100, skippered by 80-year-old Syd Fischer, who was sailing his 47th Hobart race. But the battle for line honors set up early in the race between the brand-new 100-foot speed machine Comanche, owned by Jim and Kristy Clark, and seven-time line-honors winner Wild Oats XI, owned by Robert Oatley and skippered by Mark Richards. In 2012, she broke her own race record, which now stands at 1 day, 18 hours, 23 minutes, and won the race overall.

"We're not exactly sure what happened. We were coming off some big waves, but we also could have hit something during the night when we were falling off these waves," said crewmember Tom Slingsby. As the fleet battled into the first night in the building southerly, Comanche took a slight early lead and held on to it, with Wild Oats XI on her heels. The weather began to take its toll on the fleet, with several boats retiring. Anthony Bell's 100-footer Perpetual Loyal, was forced to abandon the race with a delaminated hull.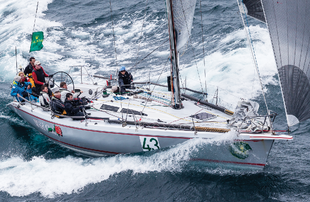 Carlo Borlenghi/Rolex photo
Isler said the conditions were a test for Rio 100, the big American super maxi.
"It's very rough, sailing upwind in 25 to 27 knots of wind and pounding hard into short steep waves," said Isler from aboard Rio 100 the first night. "It's like riding a bucking bronco. These are boat-breaking conditions, though we expect the wind to ease by midnight."