The Golden Globe Race is taking solo sailors nonstop around the world using the same technology that was available when Robin Knox-Johnston sailed the first one in 1968
Some of Amra's supporters come from an unlikely group. He is renaming his ketch Liberty II after the USS Liberty, one of the most decorated ships in Navy history. Amra accidentally connected via Facebook with the veterans who sailed on the ship.
"My most loyal fans are the vets who sailed on Liberty, and they have been really supportive," Amra said. "Some are even coming to France to see me off."
Amra is in the final stages of packing up, and pulling all the pieces together. He recently finalized his ham radio license, a process he described as tedious. Racers are only allowed to communicate via SSB, and are forbidden from asking for routing information. The boats will be equipped with a satellite phone with the GPS disabled. It may only be used to contact race headquarters.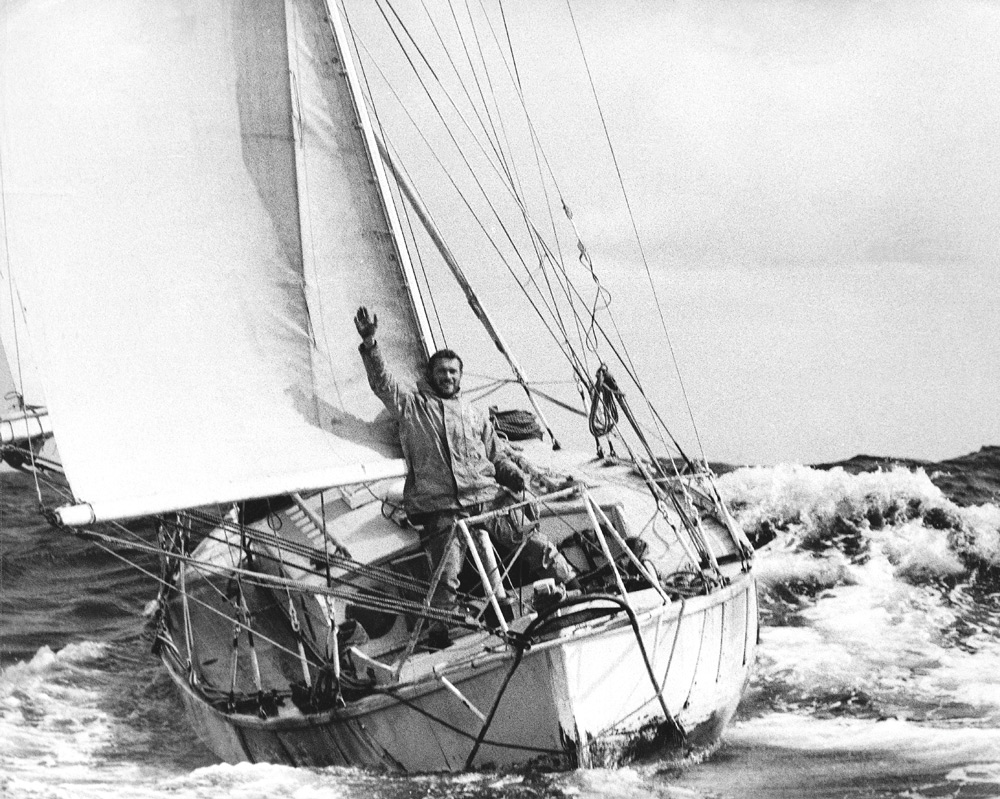 Bill Rowntree/PPL photo
The boats will also be outfitted with YB3 trackers that will allow race officials to track the boats and be used to send text messages between the boats and headquarters or in case of an emergency. By monitoring the sailors, race officials will alert the racers of severe weather systems or ice conditions so sailors won't be sailing completely blind. Each boat will also be outfitted with a GPS safety pack issued by the race that, once opened and the seal broken, will disqualify the sailor from the race. The boat will then be moved to the Chichester class, which allows the boat to continue sailing but not be eligible for the Golden Globe trophies.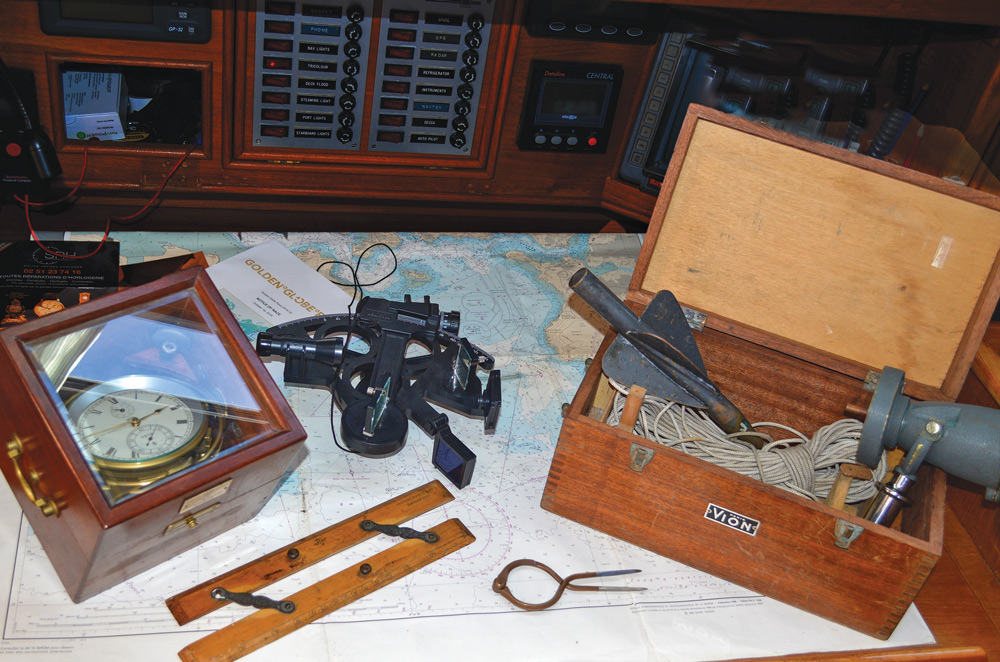 Barry Pickthall/PPL/GGR photo
The race was the brainchild of Don McIntyre, an Australian sailor who competed in the BOC Challenge around the world race and most recently ran expedition charters to Antarctica. His goal for the race was to give sailors of all ages an opportunity to race solo around the world safely, in a fleet of similar and affordable yachts in the spirit of Knox-Johnston's Suhaili. In fact, the race rules state that the only equipment that may be used in the race must have been available to Knox-Johnston in 1968 and described in his book A World of My Own. The only navigational equipment allowed is a sextant and a radio directional finder. Sailors aren't even allowed to bring a digital watch; they will have to keep their chronometers wound.
"I found a radio directional finder on eBay, it's caveman technology, but it works," said Amra, who has used RDF navigation as a recreational pilot. "I've been practicing my celestial everyday going to different lakes around the area and taking sights. I feel very confident that I can find myself anywhere in the world. That has been the most rewarding trick to learn, much better than ham radio."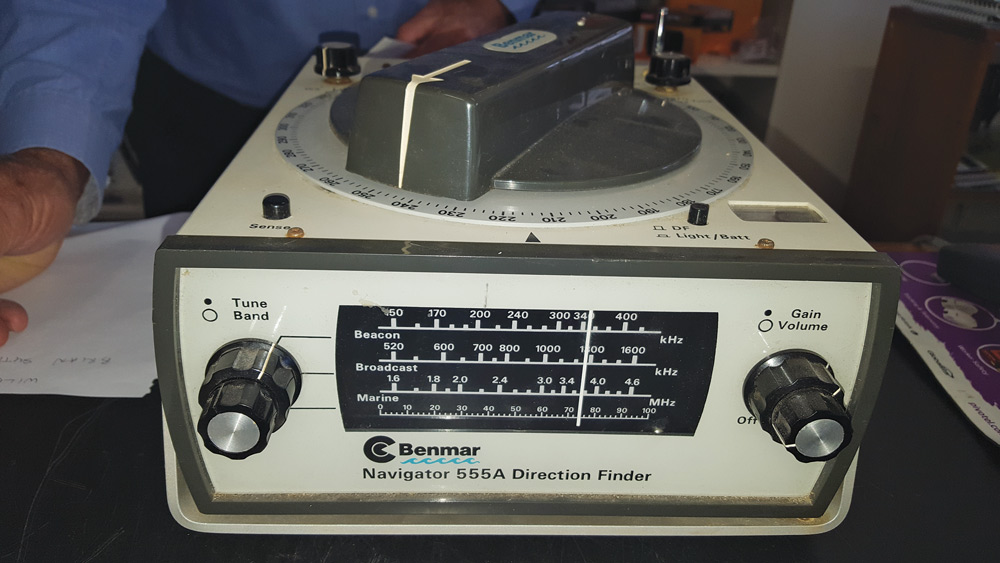 Mark Sinclair/GGR/PPL photo
While sailors can master the navigation, it will be the water and food management that may be more difficult. Sailors will only be allowed 40 gallons of fuel and solar panels for charging batteries, and it will be a trick to keep the batteries topped enough to run the power hungry SSB. But they don't have to worry about running a watermaker, as they are against the rules.
"I've made a rain chute and will keep my 80-gallon water tank topped off," Amra said. "I've already made nine months of freeze-dried food. I'll add to that some can goods."
Some equipment is considered safety gear, allowing sailors to use an AIS transponder that allows other ships to see them, an epirb, LED lights, headsail furling, rope clutches and self-tailing winches. Sailors can bring a typewriter and an "automobile cassette player." The sailors may only bring a film camera, and there are two designated waypoints in the race in which race officials will retrieve mail and film that will be developed and shared on the internet.
Compared to the solo Vendée Globe, in which the record stands at 74 days with an average speed of almost 14 knots, the Golden Globe sailors expect to make the circumnavigation in about 275 days, with an average speed of about 6 knots. Still better than Knox-Johnston's 313 days at 4 knots. Amra has yet to sail his Biscay 36, which is being refit in England.
"I bought the boat sight unseen, and I hate to say it, but I chose it because it's a pretty boat. I like the fact that it's a ketch, with a smaller more manageable main and more flexible sailplan," Amra said.
It was set to launch in mid-May, when Amra will first complete the required jury rig sail in which competitors must erect a jury rig and sail 10 miles. The plan is to do some shakedown sails before the Suhaili Parade of Sail in Falmouth on June 14. Then Amra is set to sail for the start in France. "I'll hopefully have enough time to find out any problems and make some changes before the start," he said.
"There's a masochistic element to this kind of solo sailing, and I feel that hardship that ends up well completes the soul, otherwise I wouldn't do it."
For more information and to follow the racers on the tracker visit, www.goldengloberace.com.
---