High adventure in low water
Old friends journey by catboat into the heart of the Everglades
A lot can happen when a band of geriatric sailors try to defy the elements and logic by sailing their 15-foot Marshall catboats from one Florida coast to the other in water so shallow they could have walked most of the way. Our first clue came a year earlier on a sail in the shallow body of water known as Florida Bay.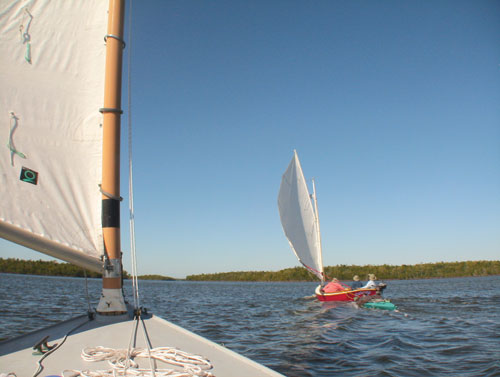 We were just outside the channel leading to the aptly named Dump Key, about 20 miles due west of Key Largo, Florida. Our trusty catboat Catsup was hard aground, with the wind pushing us farther onto the mud flats. Our cantankerous outboard motor had long since given up the ghost. As the youngest member of our crew at the tender age of 61, I was delegated to go over the side and lend muscle to the extraction process.
Glomp. I sank up to my waist in the quicksand-like muck. As I had come to find out, this marine quagmire has been 4,000 years in the making, as various strains of calcium-containing algae formed a unique blend of primordial ooze. I didn't want to add my own bones to this slurpy soup.
I hung onto Catsup's bow with all my strength, and inch by painstaking inch, I nudged our craft into the channel.
"We've got one shot at this, boys," I told my friends. "If you raise the sails and leave me here, I'll sink like a rock and you'll never see me again."
While some onboard thought this a stellar idea, Catsup's owner John Silver tightened the sheet just as I clambered aboard and we began crabbing our way through the narrow cut. All we could see was dirt ahead for the next 200 yards. The guidebooks tell you that when you see mangrove seedlings, you are looking at water less than six inches deep. In actuality, Florida Bay is a series of relatively deep three- to four-foot-deep lakes connected by zig-zagging channels that can be as shallow as 12 inches. If you're lucky, PVC pipes mark the approaches, but more often, tiny shore birds wading on the sides of the mud flats are your only guideposts.
We continued to sail a little, push a little and pray a lot. Eventually, we found ourselves in a comfortable piece of water that, while still skinny, at least let us make headway under a full sail and a retracted centerboard. Our jaunt across Florida Bay whetted our appetites to spend more time in this unspoiled part of our home state. And so we planned to return the following year with the full resources of the Useppa Yacht Club's Expeditionary Force pressed into action.
Our group's credo is to take our little catboats where few sailors have gone before and to have as much fun as a bunch of 60- to 70-somethings can. Over the past four years, we have sailed our trailerable craft up the 110-mile-long north-flowing Ocklawaha River, where the resident alligators were larger than our boats, and down the Sewanee River, where 100-pound sturgeon threatened to jump into our cockpits.
As with all Useppa Y.C.
endeavors, this trip was long on planning and short on common sense. When we queried Everglades National Park rangers about the likelihood of taking our boats from Everglades City to Flamingo, we were greeted with blank stares and admonitions. "Good luck, boys. There's not much water down there." Not to be deterred, we loaded up on Google Earth Images, NOAA charts, rum, vodka and beer (both as scurvy preventatives as well as snake bite remedies), and headed south one crisp day in early April.
Marshall Sandpipers are the ideal shoal-water voyaging craft with a 15.6-foot-long LOA and a beam that is about half as wide as their length. Their gaff-rigged sails sport 166 square feet of sail. There is ample stowage area in the cuddy cabin forward. When their centerboards are up, they draw 16 inches. The best part is the hinged mast, which makes rigging simple. Our Useppa Island home boasts the Southeast's largest catboat fleet. Around 20 cats grace our palm-lined shores.
Our hearty band of adventurers included John Coyle, a longtime Useppa resident who, along with his wife Gretchen, is credited with introducing catboats to Useppa almost 25 years ago; John Silver, the unflappable owner of Catsup and a practicing Cape Coral architect; Walt Corbin-Useppa's Forrest Gump, he's either been everywhere and done everything, or he knows someone who has; Paul Swigert, who swore last year not to shave until he had won a catboat race; and Jim Doherty, Useppa Y.C. Commodore and a former Navy captain with the war stories and dress uniform to prove it.
Corbin and Silver were in charge of routing. Coyle was our logistics officer. Doherty was our safety officer. Swigert was our communications officer. I served as seagoing chef. We staged our adventure at Everglades City's Rod and Gun Club, a century-old facility that has played host to five presidents and a flock of luminaries, including John Wayne, Gypsy Rose Lee, Ernest Hemingway and Mick Jagger.
We had more gear than Eisenhower on D-Day. Four tents, camp chairs, tables and sleeping equipment for six were just the start. Two camp stoves, four food coolers, two beer coolers, GPS chartplotters, outboard motors with fuel, 20 gallons of water, medical kits, a satellite phone, cameras, and oars with oarlocks also were crammed on board. And of course we needed a machete. The catboats howled in protest.
The Everglades National Park encompasses 2,354 square miles of diverse ecosystems, from the sandy beaches of the Gulf of Mexico, to the mangrove-filled spits of land that comprise the Ten Thousand Islands, to the endless "river of grass" that stretches as far as the eye can see, to the backwater rivers and bays that are home to the nation's largest population of alligators. This is airboat country. Larger powerboats and sailboats sometimes frequent the deeper Shark River anchorage. Few sailboats attempt the 100-mile-plus trip from Everglades City to
Flamingo. We soon learned why.
Our first day was to be an easy one. A lazy jaunt down the
Barron River, across
Chokoloskee Bay, out
Chokoloskee Pass, past unnamed mangrove islands and out into the Gulf for a four-mile sail to Pavilion Key. It sounded good on paper, until the wind picked up to 20 knots, stirring up the gulf. Soon we found ourselves with more sail than prudent surfing down two-foot seas as our little over-loaded boats ran with the wind.
"This may not sound like much of a challenge, but let me assure you that sailing cats in this much wind can best be described as a controlled crash," John Coyle said. "Once the boom starts to seesaw from the tops of the waves to a couple of feet above the deck, we call it a 'death roll.' Jibing, dismasting or worse are possible consequence if you lose concentration for even an instant."
Although we could have taken a reef as we scudded down the gulf, we decided that the intricacies of that maneuver could cause more problems than they would solve.
We sailed about a mile offshore, afraid to stay too close for fear of running aground while traveling as fast as we were. The north wind made our destination of Pavilion Key untenable, but as luck would have it we were only a mile from the entrance to the Chatham River, a wide and deep body of water with a nefarious past. It was on the river's banks that Edwin Watson ran a 40-acre sugarcane plantation in the early 1900s. Rumor has it that many of his employees met a watery grave before they could collect their paychecks. Watson met his own demise in a hail of bullets as the residents of nearby Chokoloskee opened fire on the outlaw as he came ashore one day in early 1910. Watson's life was popularized by novelist Peter Matthiesson's trilogy of books, the most famous of which is Killing Mr. Watson.
We pulled into the Watson's Place campground, tied our boats up to the well-maintained dock, unloaded our gear and explored the area. Not much remains of Watson's sugarcane empire. We ventured a little ways into the overgrown brush, almost expecting to see the ghost of Big Hanna, a 300-pound lady friend of Watson's who was found floating in the river with some rocks sewn into the hem of her dress.
Night fell early, and while the embers of our small fire burned low, the sky above was ablaze with hundreds of thousands of brilliant stars. We had anticipated being visited by the raccoons that frequent the area, and had secured our food to prevent them from becoming a midnight snack. Maybe it was our perfectly-pitched snoring that kept these nocturnal visitors away. Or maybe it was too cold for them to venture out.
After a hearty breakfast of bacon, eggs and coffee, we repacked the catboats for the 10-mile sail to Lostman's River. Guided by our chartplotter, we made our way back out to the mouth of the river, and in 15-knot winds, let out our mainsheets for the run down the coast to our next destination. The seas were building, and the overloaded boats struggled as they once again surfed down waves with a scant few inches of freeboard above the waterline.
We continued on to Lostman's River and picked our way across a group of sandbars that guarded the entrance to the river. After we offloaded our gear, we raised the American flag in a scene reminiscent of Iwo Jima. We spent two glorious days at Lostman's River campground, fishing, kayaking, reading and swimming. We ate like kings-my wife Colleen had prepared a number of frozen meals that heated with no muss or fuss over the fire-feasting on pasta bolognaise, smoked pork tenderloin, and jalapeño and cheddar cheese spicy sausage from Cooper's BBQ in Llano, Texas.
Because of low tide, we moved our catboats around to the gulf side to facilitate an early morning departure. The wind had quieted while we were at Lostman's, but it threatened to kick up again once we headed out. Discretion prevailed, and we took a single reef to make the downwind passage more manageable.
Our trip to the Shark River was unforgetable. True to form, the wind picked up to more 15 knots right over our transom. We left a trail of mud as we plowed out of the Lostman's River entrance as the catboats' rudders carved grooves across the sandbars. But once out in the gulf, the little boats flew as they ran ahead of the wind.
The Shark River is a deep and wide body of water that is a popular anchorage for larger boats making their way north or south. In the summer, hordes of mosquitoes make the anchorage untenable. We, on the other hand, were enjoying a relatively insect-free trip. It was at Shark River that we were to meet up with friends of ours, Joe and Sue, who had offered to host us for the night in the comfort of their classic 50-foot Hatteras Christina.
The next two days we pushed deeper into the Everglades. The first day, we had to motor six miles down an unnamed mangrove river to reach the Joe River chickee. The park service maintains a number of these raised platforms, and the Joe River chickee was one of the larger. Two covered platforms, each 15 feet square, with a walkway to a clean porta potty, greeted us at the edge of the mangroves. Corbin and I tried in vain to coax some fish onto our artificial lures, while Doherty and Silver explored Oyster Bay.
The next day dawned clear and still, and we headed out into Whitewater Bay toward our next stop at South Joe River chickee, a scant 10 miles distant. We had not planned to stay at this shelter, and thus had called Colleen on the satellite phone so she could make suitable arrangements with the park service. Whitewater Bay is aptly named. It is a 50-square-mile body of water that averages only four feet deep. The Wilderness Waterway is a marked channel that cuts the bay in half, and any kind of breeze produces a frothy chop. For once the wind was off our bow, and we routinely took spray over the side as we beat our way southeast through the maze of mangrove islands that dotted the bay. John Silver kept a steady hand on the tiller while we navigated without aid of the GPS just to prove we could do it. We glided into the wide mouth of the Joe River just as the wind picked up once again.
The South Joe River chickee was tucked in a little mangrove-lined bay, and it was quite exposed to the gusting southeast wind. We off-loaded our gear, quickly set up a windbreak and settled in for a blustery night.
Just then, a canoe we had passed some time ago appeared on the horizon, and made its way to "our" chickee.
"Bonjour. C'est Chickee Joe?" asked a couple. "Oui, Oui," we replied. And we busied ourselves helping the French couple hoist their canoe onto their side of the chickee to provide them with relief from the howling wind.
Around sundown the park rangers paid us a social call, with a canoeist and his son in tow. It seems that the "reservation" for our half of the chickee had gotten lost somewhere between Colleen's call to Everglades City and the ranger station at Flamingo. If it had been earlier, the rangers said they would have asked us to make our way down to Flamingo, leaving the chickee to its rightful occupants. Since it was dark, with a hefty wind blowing, they took pity on us and made arrangements for the French couple and the father and son to share one half of the chickee while we were allowed to stay on our half.
To make up for the inconvenience, we fed both groups dinner, a meal that turned into one of the highlights of the trip as we traded stories with an international flavor all the while feasting on the leftovers and plenty of red wine. That night, I squeezed into the sole of the catboat and enjoyed my best sleep of the trip pressed like a sardine between the centerboard and the seat in a space no more than 18 inches in width.
On the final day we headed out under power to the man-made canal that connects Coot Bay to the Gulf of Mexico. Soon we were at the dock in Flamingo. After a short ride back to Everglades City, we had a great lunch of stone crabs, gator bites, fried oysters and fresh grouper. It should be noted that these deep-fried gator strips were the only reptiles we encountered during our seven days in the Everglades.
All told, we had sailed more than 100 miles. We had both wine and water left over, but no food. We hadn't seen much wildlife, but we had met some great people. We vowed to convene the Useppa Yacht Club's Expeditionary Force the coming year to add to our dubious portfolio of "going places where catboats haven't gone before." Apalachicola Bay, anyone?