The 'Fast is Fun' legacy continues in this racer-cruiser
Forget for a moment that the new Santa Cruz 37 is built in Green Cove, Florida, just outside of Jacksonville. This 37-foot rocketship is an intriguing mix of speed and innovation. It's pure Santa Cruz, just the kind of boat Bill Lee and his crew would have designed and built in their ramshackle facility overlooking Monterrey Bay back in the not so long ago "old days." It's an East Coast boat with a West Coast pedigree, or maybe I should say, a West Coast attitude. Naturally it flat out flies, and yes, in keeping with the Santa Cruz spirit, it's a lot of fun to sail.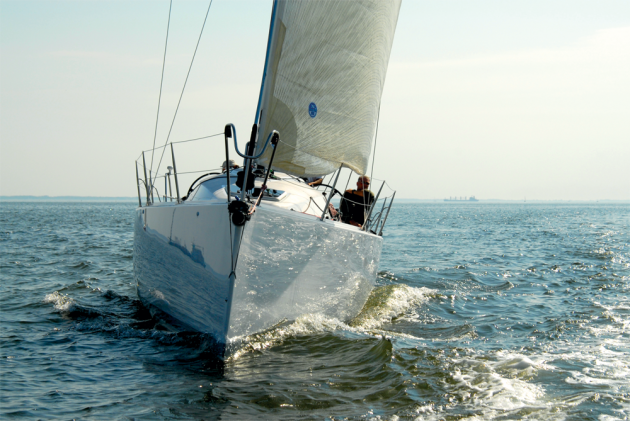 The 37 is designed by Tim Kernan, whose portfolio includes the handsome Outbound 52 performance cruiser and a slew of race boats ranging from the 14-foot Stealth dinghy to big sleds. He joined us for a boat test last fall conducted right after the United States Sailboat Show in Annapolis. The fickle fall weather always keeps you guessing in the Chesapeake Bay. The bay was glassy as we motored out of Annapolis Harbor, "slick cam" as the watermen used to call it. Luckily a breeze emerged out of nowhere and built to 10 to 15 knots right after we raised sail. We were able to get a feel for the boat's performance and an appreciation for its potential before the wind melted away into the haze.
The details
I don't use the word innovative casually. Kernan has included a host of fresh ideas in the 37, not the least of which is a retractable keel and rudder, making the boat, in effect, trailerable. There are not many boats that upon return from a TransPac or Bermuda race can be hauled out at your local boat ramp. You'll need to unstep the carbon rig at a yard, of course, but once on a trailer, the 8,700-pound SC 37 can be pulled by a muscular pickup. However, even if you have no intention of trailering the boat-and I suspect that's the case with most SC 37 owners-the retractable keel and rudder allow access to thin-water anchorages that other deep draft performance boats would not even dream of entering. They also provide the practical option of finding a less expensive and more protected shallow-water slip or mooring. This is truly a go-anywhere boat.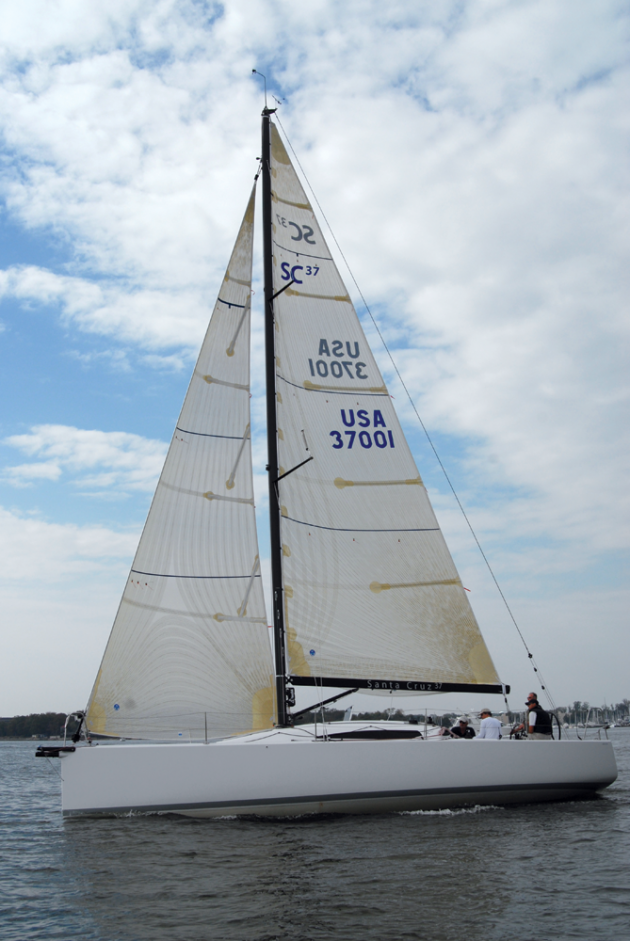 Kernan emphasized that the 37's hull shape, while slippery in light air, was designed for stellar performance through a range of conditions.
"This boat will be fast upwind, but the heeling angles will feel more like you're blast reaching. The hull is stiff, the ballast-to-displacement ratio is 46 percent; it's meant for ocean sailing."
We were sailing hull No. 1, so there wasn't a track record to consider, but Kernan was confident that with the right conditions and crew, speeds in excess of 20 knots could be expected.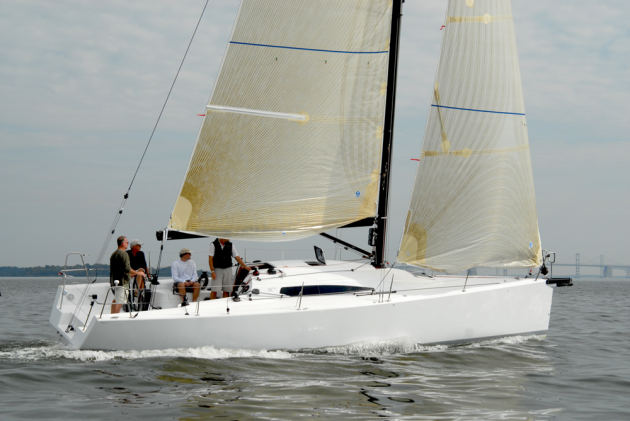 To sail at 20 knots you need to keep the hull light. To stand up to the rigors of serious offshore work, you need to make the hull strong. That's just what Santa Cruz has done. In fact, that's what it has always done, using cutting-edge technology to achieve a sailing philosophy. The hull and deck are vacuum bagged, carbon and epoxy resin with PVC foam cores of varying densities. The main hull structure is laminated with E-glass, using unidirectional carbon fiber reinforcements to create a strong but lightweight hull. The main bulkhead is also carbon fiber, perimeter bonded to the hull and deck. The SC 37 carries a CE category A certificate for offshore use.
The engineering that permits the rudder and keel to retract is clever. The rudder slides into a barrel cassette rimmed with bearings. This cassette not only reduces friction while sailing but also allows the rudder blade to be pulled up into the barrel. The keel, located beneath the table down below, is raised by loosening the stainless steel bolts that secure it to the trunk and then attaching a simple lifting strap to the optional hydraulic lift system.
On deck
The cockpit includes two composite helms and pedestals that are finger light and rakishly angled. The mainsheet is a double-ended Harken system led under deck to the helm stations. There are no actual seat backs in the cockpit, which can get a bit uncomfortable after a long day on the water, but this design makes for easy access to the deck. There are nice molded foot chocks in the sole for the trimmers and the leg support behind either helm is excellent. The primary winches are Harken 40.2s, and there are a pair of 32s mounted near the aft end of the coachroof on small molded coamings. These winches may seem small at first glance but the fractional sailplan calls for small headsails that don't generate huge loads. There's also a dedicated life raft locker beneath the sole just before the transom.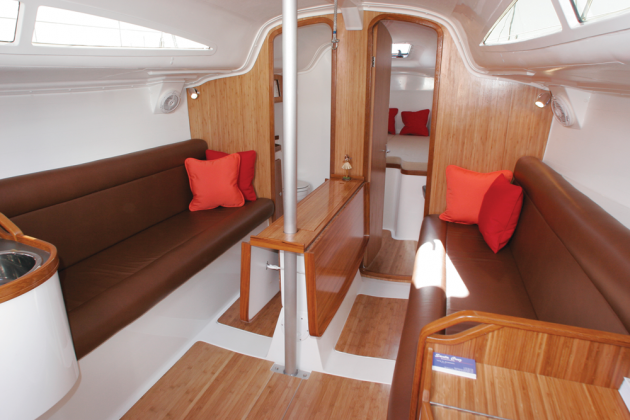 The deck gear is first rate and very well thought out. I like the Harken adjustable headsail leads and dedicated jib-hauling system that is led aft to the cockpit. Both features make sailing more efficient but also add an important element of safety. Our boat was rigged with a Selden carbon fiber spar and an aluminum boom. Although a fractional rig, it's set up to carry masthead chutes and a Code 0 headsail. There's a fixed short sprit for the Code 0 and a retractable carbon bow pole. All leads are led aft, making the boat more user-friendly than a first glance might suggest.
Down below
The interior is surprising. You don't expect it to find an inviting and comfortable cabin on a boat like this, but that is just what you find. Dropping below I was impressed with the sense of spaciousness; there's 6 feet, 3 inches of headroom and plenty of elbowroom. There are two double bunks aft and a V-berth forward. Yes, do the math, that's three very nice sleeping areas in a 37-foot boat displacing less than 9,000 pounds. The galley is to port and includes a two-burner stove and oven, a decent-sized stainless sink, and enough counter and storage space to make a nice meal underway. Hot and cold pressure water and refrigeration are options. The navigation station is opposite with a good-sized chart table and a comfortable chair. The electrical panel is mounted here as well.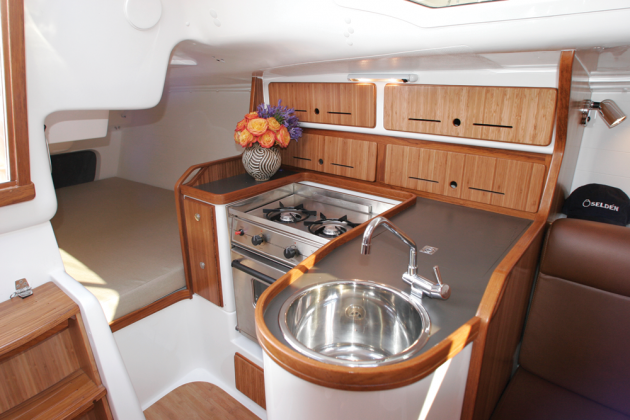 The saloon includes two settees and a drop-leaf table on centerline that also covers the keel lifting apparatus. There is storage behind and below the settees. Of course, you should resist the urge to load too much gear aboard. The head is off to port, and is accessible from the saloon and the V-berth. The light-colored wood veneers on the bulkheads and trim pieces contrast nicely with white gelcoat finish on the composite deck and hull liners and moldings. There is also an optional interior plan that allows for one of the two aft cabins to be converted into a huge sail locker and storage space with canvas pipe berths.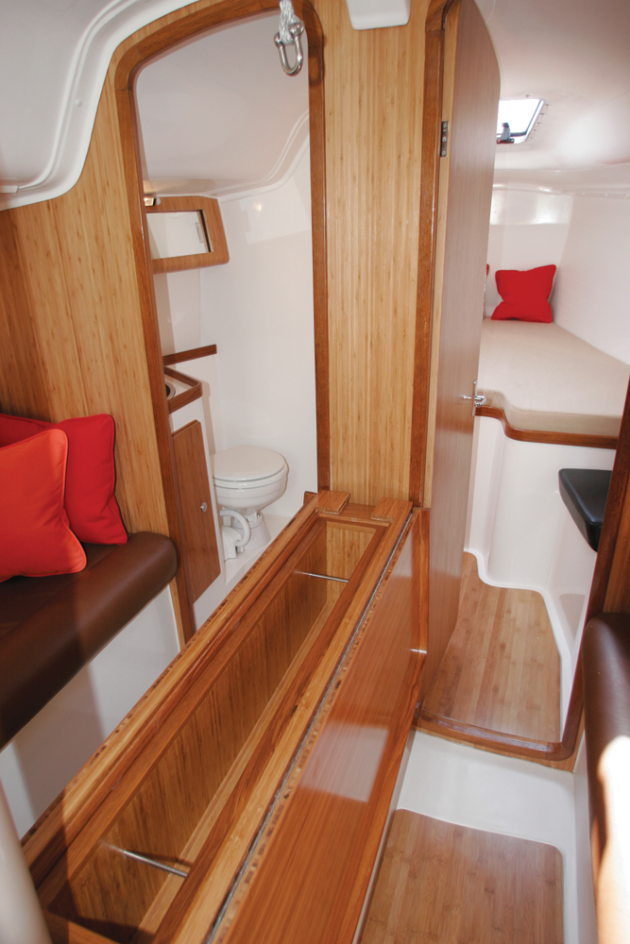 The standard engine is a 29-horsepower Yanmar diesel with a sail drive transmission and two-blade folding prop. The rotomolded fuel tank holds 19 gallons. I suspect that you'll fill the tank once a season at most. There's a single-lever throttle control in the cockpit. Access is also through the cockpit, a feature that makes the engine easy to work on as long as you're not in big seas.
Under sail
Once the breeze emerged we cut the engine and maneuvered through the many anchored boats under main, tacking effortlessly. With a little sea room we hauled the 105-percent up the Harken Carbo Foil, sheeted it in and took off. The helm was very responsive and we eased up over 6 knots in the light airs. And we were sailing close. Working our way into deep water we made several tacks and tracked through less than 80 degrees; it was impressive. With room to run finally, we popped the asymmetrical and boat speed topped 8 knots. Luckily we found a few puff as we pulled away from land and for few fleeting moments we flirted with double digits. Despite the dying breeze, we had a lovely reach back into the harbor. Gliding along you could see the satisfaction on Tim Keran's face. Sailing hull No. 1 is always an iffy proposition, especially right after a boat show when there is very little time to properly set up a boat, but Santa Cruz seems to have nailed this exciting new design on the first try.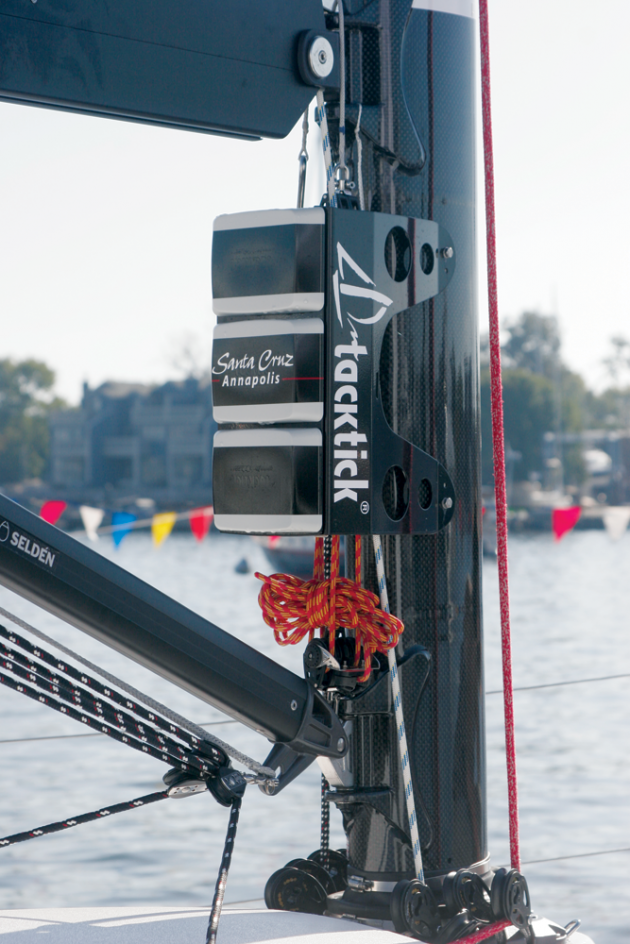 As the new face of Santa Cruz Yachts, the 37 has big shoes to fill, and I can report that it does just that. With a slippery and versatile hull shape, light and strong construction, and appealing interior, this new flyer continues a proud tradition. I wouldn't be surprised if years from now this Kernan-designed 37 is included in the Santa Cruz Yachts' hall of fame.
---
Santa Cruz 37
LOA 37'; LWL 34 9" Beam 10'8";
Draft standard 7'6"; Draft shoal 6';
Displacement 8,662 lbs.;
Ballast 3,730 lbs;
Sail Area 725 sq. ft.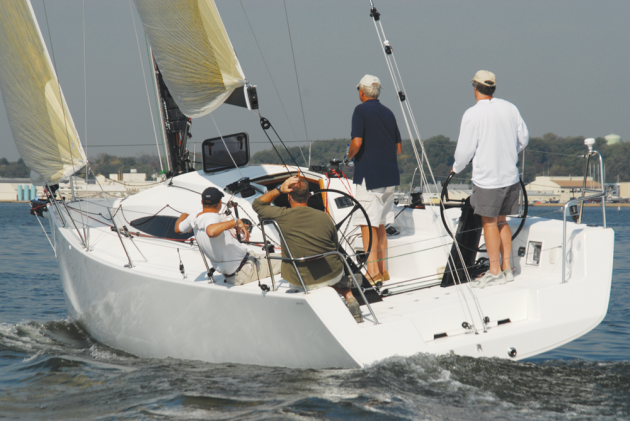 Base Boat Price: $330,750
Santa Cruz Yachts
965A Bunker Avenue
Green Cove Springs, FL 32043
(888) 723-2781
www.santacruzyachts.com