Fitting out for penny-pinchers
We break down the budget to get your boat sailing this spring and tell you what can be put off until next year
More than ever, sailing is a crucial part of a sound mental health plan. At the same time, many boat owners find themselves with a significantly reduced budget for the sailing season. The good news is that there are some corners that can be cut at fitting out time, but the trick is know what they are and how long you can put them off.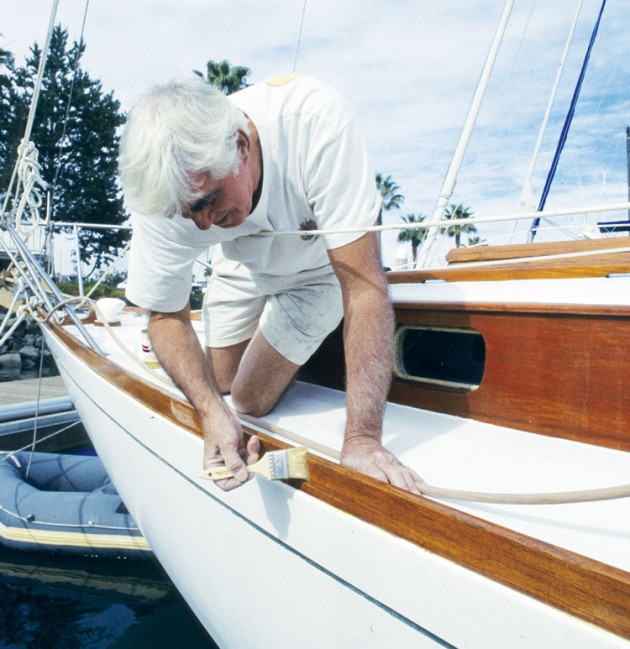 A good place to start is with the engine and running gear. I recommend that the engine oil be changed, so just do a quick check to see that the oil is topped off. It is a good idea to consider changing the raw water impeller every season as good insurance, but impellers are expensive. This year, it would be OK to just remove the impeller and check that it is in good shape, with the intention to replace it next season. Finish off the engine by giving a quick inspection to look for any loose bolts, linkages or wires, and do a check on all the hoses. I like to clean up the engine and engine room with a little spray cleaner, it makes the engine look nice and helps find any leaks and belt wear as the season progresses.

Next, give a quick inspection to the transmission coupling, packing gland, cutlass bearing and prop. I found very loose coupling bolts a few years back on my boat, so I always check those very carefully. PYI PSS dripless shaft seals require that the rubber boot be replaced every few years. Assuming it hasn't been replaced for a while, give it a thorough inspection and if it looks OK put it on the list for next year. I do a simple check for wear on the cutlass by wiggling the shaft and looking for excess play. A simple prop inspection will identify any blade damage or wear to the feathering mechanisms. If you sail in salt water you'll likely need to replace the zinc arodes each year. If you sail in fresh water or have minimal zinc wear, you can replace them every couple years, and just do a quick cleanup with a wire brush between changes.

A diesel engine requires clean, dry fuel, and fuel quality starts in the tank. I like to pump off the bottom of my fuel tank with my oil change pump, pumping out maybe a quart of fuel or more if it looks dirty. Filters are the next step in the process. I change the engine-mounted filter every two years and the Racors every season. I will not scrimp on the engine-mounted filter change, but you can extend Racor element changes if they look good upon inspection. I recommend that you add a vacuum gauge to your Racor system to monitor how clogged the filters get. This allows you to only change elements when you need to and to monitor the filter state between changes.

I will typically put on a coat of bottom paint every other year. I use ablative paint, so I just scuff the paint a little and roll on a coat. To save time and paint, you can just scuff the areas that are worn and paint those. My boat takes two gallons for a full recoat but I use just a quart of paint for a patch job. While under the boat assessing the state of the paint, carefully check over the rudder, transducers and keel.

Most boats, especially if they haven't been given a lot of love, will need a full bottom job at some point. This is not a trivial amount of work, nor inexpensive, so this will be an item to put off until the finances improve. The job starts by stripping the bottom, either by sanding, soda blasting or with chemicals. Most yards request that you allow them to do this work, as it can get really messing and bottom paint is pretty toxic stuff. From there you build an epoxy barrier coat and cover with a few coats of paint. The majority of the work is in the stripping and prep, but the material cost is not small either.

It is critical to inspect all of the sea cocks and hoses. If I find any sea cocks that are tough to operate I'll open them up for service. I inspect all the hoses and clamps as I am working my way through the bilge. This is a subjective suggestion, but head hoses tend to get stinky after a while, and good head hose can cost $10 to $15 a foot. You can put this task off for a season or two depending on your tolerance for the smell.

The freshwater system needs to be commissioned every year; the system is winterized with RV antifreeze and needs a thorough cleaning to ensure safe drinking water. This is a lot of tedious work, but involves very little expense. I start by pumping out all the antifreeze and rinsing the system with fresh water. I like to shock the entire system with some bleach water and then rinse everything again.

My next stop is the electrical system. I like to start at the batteries and work outward. The first check is the condition of the batteries and cables, I inspect the terminals for corrosion and snug them up. A good overnight charge on shore power will make sure there is enough power to start up the engine. Battery replacement is somewhat dependent on your usage style: Soft batteries are tolerable on a daysailer, but a true cruiser needs a good battery system. A good quick check of battery health is to see if the batteries will charge to and hold 12.6 volts DC.

One of the most critical fit out items is a good rig inspection. If you store with the mast down, take this opportunity to check things very thoroughly. Starting with the standing rigging, I inspect each terminal and the wire adjacent to it. I am looking for cracks, broken strands, etc. I then inspect the chainplates and mast tangs, again looking for cracks or anything out of place. I inspect the furling gear to make sure it operates smoothly and easily. Finally, look over the mast, boom and rigid vang to make sure everything looks correct.

The running rig comes next. I give a quick check to all of the cordage, looking for any chafe, damage or age-related stiffness. It is particularly important to take a look at the eye splices, the splice will sometimes chafe on the sheaves of the blocks and the eye itself can chafe on the hardware it is attached to. If you see any chafe or damage, you'll likely need to replace the rigging, but old stiff cordage can likely make it another season or two. A good trick to stretch the life of rope is to wash it with fabric softener, which lubricates the fibers. But, be sure to avoid chlorine bleach as it is very destructive to rope fibers.

When it comes time to replace running rigging, especially halyards, do your research and spend some money to get high-performance rope. A cheaper rope that is fairly elastic makes little sense for halyards; the rope will stretch in the puffs and make for a fuller sail shape at precisely the time that you want it board flat. Unfortunately this rope can get expensive, especially on bigger boats, so this purchase will need to go on the future dream list.

Friction will build in a rig over time, things work but continue to get harder to do. A little dirt here and there will eventually seize up blocks or winches. I wash all the blocks with hot soapy water, flush them with lots of fresh water, and apply a liberal coat of Sailkote. I service my winches every season. This takes a few hours but just a couple bucks in mineral spirits, oil and winch grease.

I like to inspect all my safety gear each spring. I check all the PFDs for wear and make sure the firing mechanism is in good shape on my inflatables. The harnesses and tethers get the same treatment. I finish up by checking all the expiring items-life raft, epirbs, fire extinguishers, flares.
Finally, spring is a great time to make sure all my documentation is up to date and on the boat. Federal documents expire every year, and state registrations every few years. My captain's license and FCC documents make it on the list, too. It is also a great time to review insurance coverage. I like to place all these documents in a binder so I check everything quickly and have them ready for inspection by authorities.

Your boat should be ready for spring and the yard bill should consist of just the launch and mast stepping. The bright spot to a soft economy is that it forces you to examine your lifestyle and prioritize your expenses. Doing work yourself saves a ton of cash and improves your connection with your boat. Making the right decisions now will make that wind and spray a reality very soon, all within budget.
---
DREAM LIST
" Complete bottom job
" Replace running rigging
" Paint topsides and deck
" Varnish teak
" Professionally clean interior cushions
---
MUST-DO LIST
" Check oil
" Inspect impeller
" Engine inspection
" Engine clean up
" Inspect running gear
" Clean up zincs
" Pump off fuel tank sump
" Change fuel filters on schedule
" Inspect hoses and seacocks
" Paint worn bottom paint spots
" Commission water system
" Inspect and charge batteries
" Inspect rig
" Clean up blocks
" Service winches
" Inspect safety gear
" Inspect and update documentation
---
PUT-OFF UNTIL NEXT YEAR
" Replace impeller
" Replace dripless shaft seal boot
" Replace zincs
" Recoat of bottom paint
" Replace stinky head hoses
" Proactively replace Racor filter element
" Inspect and potentially replace batteries
" Replace stiff halyards