Hard to believe summer is coming to a close. It seems just yesterday we were prepping and launching our boats for a long, lazy summer of sailing, and now it's time to start thinking about hauling out, winterizing or sailing south for warmer climes.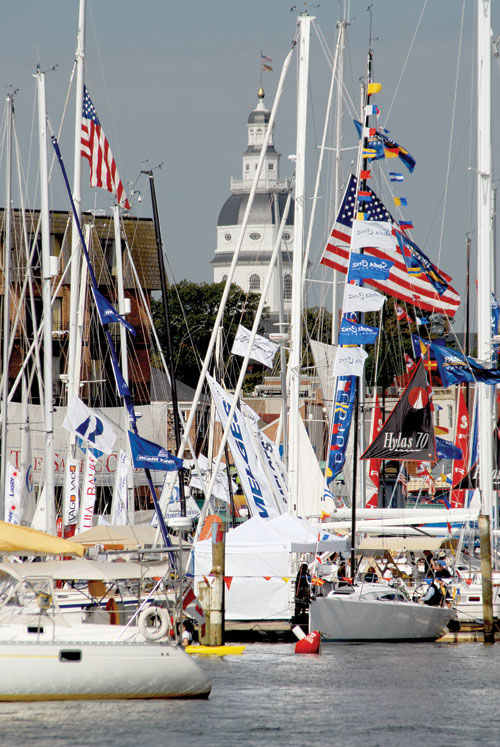 Yet there is one bright spot to look forward to with the coming of the fall: It's boat show season. Time to find all those little things you were missing on the boat this past season, gawk at the latest carbon fiber rocket ships and kick the keels of a few new production cruisers. And of course boat shows are a great way to catch up with old friends, meet a few new ones and learn some new sailing tricks.

For many, the kickoff to the season is the Newport International Boat Show, which this year runs September 16 to 19 in Newport, Rhode Island. Fans of the America's Cup 12-Meters will be in for a treat for this year's 40th anniversary show, as a panel of some of that era's legends will be speaking at an open-to-the-public forum during the show. A few of those expected to attend the discussion, moderated by Gary Jobson, include Ted Turner, Buddy Melges, Halsey Herreshoff and Ted Hood.

Then there are the popular Strictly Sail shows held across the country, starting with Strictly Sail St. Petersburg, December 2 to 5, followed by shows in Chicago, January 27 to 30; Miami, February 17 to 21; and ending with Strictly Sail Pacific, held April 15 to 18 at the Jack London Square in Oakland, California. Strictly Sail is known for its excellent seminars, led by expert sailors, and the shows offer a welcome respite from the cold winter months for those of us living in the snowy north.

But for many sailors the big show is the United States Sailboat Show, held every year in October in historic Annapolis, Maryland. The show this year will run October 7 to 11 and, as always, will take over Annapolis' historical City Dock, with tents and open-air exhibits lining both sides of the dock channel, and row after row of shimmering new fiberglass tied up to floating piers stretching out into Spa Creek. Here you can find everything from boat loans to barbecues, chartplotters to charterers, foul weather gear to carbon fiber Gunboats.

But if you do come to the show, use your time wisely. There's a lot to see, so don't waste the day standing around listening to some slickster hooked up to a microphone pitch the latest Sham-Wow or cooking gadget. Yes, I'm sure "it really works," but we can wait until the state fair before we take advantage of that once in a lifetime deal.

To help you better navigate the Annapolis boat show, and give you an idea of what you'll see this fall, let's take a tour of the grounds, and the docks. Many of the exhibitors you'll see here also will be attending other boat shows, so even if you can't make it to Annapolis you may see many of these same exhibitors and products at a show near you.

The first thing you need to decide is whether you want to peruse the tents first or head straight to the docks to check out the main attraction-the boats. Sometimes the weather will make the choice for you. Passing rain will drive most visitors into the tents, or linger under a catamaran's hardtop bimini. All things being equal, however, you may want to check out the tents early before they get too crowded, and they can also get a bit hot in the afternoon sun. If, on the other hand, you're in the market for a new boat, head straight for the docks-do not pass go.

Speaking of crowds, anyone who has been to the show can tell you it can be difficult to move around on Saturday and Sunday. If you don't feel like fighting the show-going masses it may be worth it to pay the extra $18 for a ticket to Thursday's VIP day. "Thursday is much less hectic and crowded, we are all fresh and crowds are not an issue," said show veteran Marnie Read, public relations and marketing director for Morris Yachts.

Read also suggests coming on the Monday of the show, as it's always less crowded. "But come in the morning, well before the show ends," she warns. "Then you can catch the breakdown of the show, which is always a spectacle after the show closes."

Harken USA's CEO Bill Goggins said he has found the most insightful questions come either early or late in the day. "Typically, those already prepared to meet with the Harken team in advance stop by first thing in the morning; to plan out a refit of their boat or a system upgrade," he said. "But there is a group of folks who learn the latest and greatest in Harken rigging and systems while looking at the new boats for sale, and then come visit us toward the end of the day to talk about how they can modernize their current boat to make it safer, easier or higher performing."

Tents
As you enter the main gate to the show on Compromise Street, just to the left (south) of the Marriot Hotel, you'll find a circle of tents and booths showcasing a variety of products: foul weather gear, tools, canvas goods, electronics and more. There always seems to be something new and interesting here, and this year you'll find electronics company Garmin, synthetic cordage maker Colligo Marine, Sailor's Solutions and the software producer Ocens, which offers onboard weather and e-mail services as well as satellite communications. Those looking for free energy on their boat may want to stop by the Hotwire Enterprises booth to check out their available wind generators, solar panels and other energy-saving products. In the K tent you'll find Etienne of ATN demonstrating his Mastclimber bo'sun's chair, but if you're more interested in taming your headsails he'll be happy to tell you about ATN's spinnaker and the genoa sleeves.

From here you'll need to walk the docks up to the other side of the hotel to get to Tents D and H, which flank the famous Fawcett Boat Supplies chandlery. Stop by to say hello to the good folks at the American Sailing Association as you wind your way through this maze of stalls. Those looking to upgrade their safety equipment may want to check out the Mustang Survival booth, or, if getting a good night's rest on the boat is more important, visit Nickle Atlantic's booth and see a demonstration of the innovative Froli Sleep System, which uses interlocking plastic springs to support a mattress pad. You may also spot artist Laura Livermore of Nautical Silks. Laura first exhibited at the show last year and this year she'll again be showing her original hand-painted silk scarves with a nautical theme.

Next, stroll farther down the quay where you'll find the boats of Island Packet docked to the pier, including the popular SP Cruiser motorsailer. Continuing around the corner you'll come to Tent C, home of the SAILING Magazine booth. In Tent C you'll also find Forespar, which will be displaying the new TruPlug, a flexible foam emergency plug that conforms to the shape of the hole to stop leaks. Other notable exhibitors here include wind-meter maker Speedtech, Landfall Navigation, Pettit Marine Paint, Weems & Plath, Davis Instruments and PYI, maker of the Max-Prop feathering propeller. Head out the tent and hang an immediate left and you'll find the Parasailor booth, where you can see how this new spinnaker with a wing makes sailing with a chute easy.

Across the way, Scandinavian Cruisers is scheduled to have its beautiful new SC 20 daysailer and Dory 18 row and sailboat on display, while next door Hobie will be showing its line of kayaks and catamarans, including the fun new 12-foot Bravo rotomolded catamaran. A few booths down, across the way from The Moorings and Sunsail exhibits, is the Harken tent, where you can see the latest in winches, furlers, blocks and deck hardware, or just test your grinding skills at the "coffee grinder" pedestal winch. While around the corner, opposite of the Harken tent, you'll find West Marine offering deals on any number of sailing products.

Tent A is next, and inside marine supplier Defender will cover the space of three booths, while Horizon Reverse Osmosis watermakers can be found not far away. The new Core Blocks with their exclusive two-stage bearing system can be seen at the Ronstan booth next door in Tent B, as can the new Fiberglass Bottomkote NT antifouling paint from Interlux. Also check out the Gobius 4 tank monitor, which can be installed in minutes to measure the level of any tank liquid: water, fuel or waste. You'll find it at the AB Marine booth in the B tent.

Outside and adjacent to these tents, Scandia Marine Products will be showcasing its Up-n-Out Ladder and colorful wheel covers, while Yachting Vacations will be happy to discuss chartering opportunities in Florida.

A little farther down the way you'll find hardware fabricator Wichard, whose new stainless steel MX Shackles are featured on page 28 of this issue. C. Sherman Johnson, another maker of stainless steel marine hardware, also has a booth nearby, as does Euro Marine Trading, which distributes high-performance European equipment such as Antal, Karver and NKE. Fans of small, classic looking boats, meanwhile, will enjoy checking out the Chesapeake Light Craft and Norseboat exhibits located in this corner of the show.

Two other small-boat exhibitors worth checking out are Whitehall Rowing & Sail and Triak. The traditionally designed rowing and sailing boats of Whitehall are always a delight to see, and the Spirit Expedition 17 will spark dreams of adventure sailing. This will be the first year the Triak sailing kayak will be at the show, and it will be interesting to see how the sleek, fun-looking trimaran is received.

Docks
Now to the main attraction-the big boats. Nowhere else will you see such an array of custom and production sailboats, in the water, available to step aboard and scrutinize inside and out. Certainly one of the highlights will be the new Jeanneau 53 located on Dock F. Part of Jeanneau's new Yacht line, the 53 is the little sister to the Jeanneau 57, which debuted at last year's show, and is just as comfortable below and on deck. Jeanneau will also have on hand its new Sun Odyssey 409, which just may be some of designer Phillipe Briand's best work yet.

Just down the dock, Beneteau will be showcasing its bold new Sense 50, with its wide, airy saloon and terrace-like cockpit. While the Sense is certainly made for easy living, more performance-minded sailors can check out the new Beneteau First 30, whose designer, Juan Kouyoumdjian, is well known in the world of high-performance racing.

Those more interested in refined daysailing may want to head over to Dock H to check out the e33 from e Sailing Yachts. While sitting in the 33-footer's spacious cockpit, designer Jeremy Wurmfeld can give you an update of the building of the company's two new models, the smaller e27 and larger e44, scheduled to be launched next year.

Nearby you'll see W.D. Schock's classically styled Harbor 25 and Harbor 30. Sit in the cockpit of either model and imagine lazy days of summer sailing. Sport boat enthusiasts, meanwhile, will want to check out the new Melges 20 a few steps away. With a big, square-top main and simple open cockpit, this Reichel/Pugh design is made for fast, uncomplicated sailing.

Next, head all the way down Dock A to the K Dock to drool over the sweet lines of the M-series of yachts from Morris Yachts. On display will be the M29, M36 and M42, and while the boats are classical in appearance they are all business below the waterline, with high-aspect-ratio fin keels, carbon fiber spade rudders and slippery hull shapes.

Over on the middle docks, Dock B and C, are the multihulls. Here's where you'll see comfortable cruising platforms from Gunboat, Antares, Outremer, Matrix and others. You'll also see the Leopard 38, sistership to the Sunsail 384 catamaran reviewed by John Kretschmer in last month's issue of SAILING. Australian catamaran builder Seawind, meanwhile, will have its bluewater cruisers, the 35-foot 1000XL and 38-foot 1160, available for inspection. If you want to experience catamaran cruising but you're not ready to buy yet, stop by TMM Yacht Charters booth on Dock B and book a charter aboard one of its cats, such as the modern Salina 48 or Orana 44.

Take a swing around the outside to Dock D where you're likely to see some beautiful Swans and you're done. Congratulations! You've just completed a thorough tour of the Annapolis U.S. Sailboat Show. The only thing left to do now is head to Pusser's Caribbean Grille located behind the Marriot and order a Pain Killer. You've earned it.