Love SAILING Magazine? Well, come on down!
SAILING
Magazine and "The Price is Right" have teamed up to create the ultimate sailing showcase. The long-running CBS game show, hosted by Drew Carey, will feature a showcase selected by the editors of
SAILING
Magazine in an episode that airs on October 19.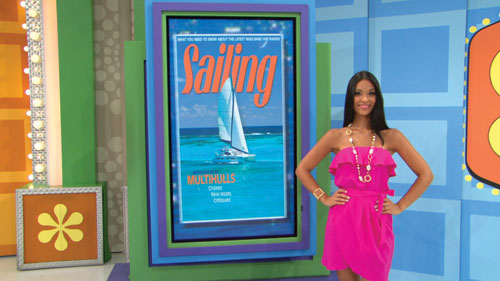 Our editors picked some of our favorite products to feature in the showcase, creating a package that any sailor or would-be sailor would be thrilled to have. In the show, two contestants guess the value of packages of prizes-showcases-and the player who is the closest without going over wins the price package.
The
SAILING
showcase starts with a his-and-hers collection of sailing gear from Harken Yacht Equipment featuring some of the gear manufacturer's latest high-tech clothing. Windblocker Fleece Jackets keep sailors warm and dry without inhibiting mobility. They are perfect to layer over the men's and women's Long Sleeve UPF50+ UV Shirt. Lightweight fabric wicks away moisture in the shirt made of recycled polyester and bamboo charcoal.
No sailor should be on the water on a sunny day without proper eye protection, and the Harken Grinder Sunglasses block 100% of ultraviolet light and 99.9% of reflected glare with polarized lenses and a close wrap-around fit to protect against wind and water. Harken's men's and women's Hydroflux Deck Shoes offer powerful gripping soles and one-way drainage holes.
All of that gear needs to go somewhere, and Harken's Squall Bags, with waterproof seams and a padded shoulder strap fit the bill perfectly.
Now that you're outfitted, you need a place to wear all that great gear, and the Spanish Virgin Islands are a perfect charter destination for new and experienced sailors to explore. The Passage Islands, as they are known, are just 15 miles from the U.S. Virgin Islands and six miles from Puerto Rico, making them convenient to get to without the crowds. Charters are available through Sail Caribe or through some companies that charter through the U.S. Virgin Islands.
The sailing bug has bitten hard and there is only one cure for it in a "The Price is Right" showcase: A new sailboat!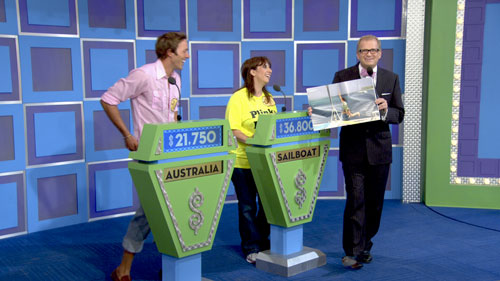 The Hunter 22 is the perfect boat to shore up your sailing skills while enjoying time on the water with friends and family. This new design features a huge cockpit that seats six people comfortably, a large cuddy cabin perfect for overnighting, screened ports, a roomy V-berth and space for portable head.
On top of that, it's easy to trailer and rig so this is a boat that will be used often.
SAILING
editors chose the Hunter 22 for all of these reasons, plus it's ability to offer good performance in a convenient package.
And of course, no ultimate
SAILING
Magazine showcase would be complete without a three-year subscription to
SAILING
Magazine.
Make sure to tune in (or set your DVR) for "The Price is Right" on October 19 to find out if a lucky contestant won the showcase. The show will also offer viewers a chance to win one of 10 subscriptions to
SAILING
Magazine through its website at
www.cbs.com/daytime/the_price_is_right
.
And watch
SAILING
's website at www.sailingmagazine.net or our Facebook page at
www.facebook.com/sailingmag
for information on how you can win some of the prizes featured on "The Price is Right."
For more information on the products featured in
SAILING
Magazine's ultimate showcase, visit
www.harken.com
,
www.huntermarine.com
and
www.sailcaribe.com
.