We offer up some of the best inland lakes in the country to trailersail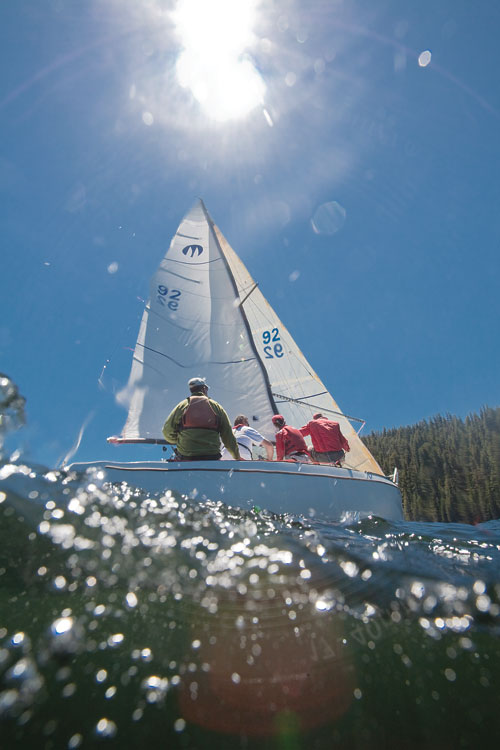 Sailors admittedly have a tendency to dream big. Imaginations catch fire at the thought of undertaking a circumnavigation, milk-running to distant tropical islands, Med-mooring in ancient ports. Yet we dreamers would be wise to remember what the trailersailors among us have known for a long time: You need not cross an ocean to find adventure, excitement, remoteness and even the spiritual. It's all right here, within our country's borders, if you know where to look.

That's the tricky bit. If you ask 10 sailors for their advice on the best trailersailing destinations, without question you're going to get 10 different answers. Everyone has a favorite spot, and reasons tend to be deeply personal.

So we decided to do two things. First, we opted to highlight just six trailersailing destinations, each of which represents a unique area of the country. Second, we chose to feature superb inland sailing lakes that, for one reason or another, fly underneath the mainstream radar.
You may never have heard of these lakes. If you have, it's possible you would never have considered hitching up your trailer and pointing your nose in their direction. Imagine sailing along the edge of a bustling Midwestern metropolis, through the heart of the Deep South, across the Dakota high prairie, in Rocky Mountain ski country and even atop the High Sierra.

Just imagine.

Your trailersailer actually gives you freedoms that cruising sailors don't have. You can hit the road and explore places that are off-limits to the marina-bound. So if you haven't thought about these things, think again. And keep dreaming, because we still have some surprises left in our own backyard.

Finger Lakes, New York
Hanging like tears beneath Lake Ontario's eye in north-central New York, the Finger Lakes offer an interesting opportunity to trailersailors-sailing through American history, celebrated wine country and Native American legend all at the same time.

The region comprises 11 lakes that lie from north to south in an imaginary triangle between Syracuse, Rochester and Elmira-Corning. None are man-made. Rather, they were gouged from the earth by receding glaciers, although native peoples tell a slightly different story. According to legend, the Creator loved this land so much that he blessed it with an imprint of his hand. Hence, the Finger Lakes.

The lands surrounding this distinctive chain of lakes has been continuously settled for thousands of years, from the prehistoric, enigmatic creators of the Bluff Point Stoneworks, to the powerful Iroquois nation, to the 19th century immigration waves from New England and Pennsylvania, to the year-round residents, second-home owners and tourists of today.

The area's importance to the Iroquois can't be understated; the lakes lay at the center of their homeland, supporting the Seneca, Tuscarora, Onondoga, Oneida and Mohawk tribes. Over the years, other native peoples moved into the area seeking Iroquian protection, and the Iroquois themselves played a key role in the American Revolutionary War.

American history is truly alive here. The Finger Lakes saw Revolutionary War action and were home to Underground Railroad sites. New religions took shape in what was called the Burned-Over District during the "Second Great Awakening" Christian revival. The lakes were the birthplace of Memorial Day and the women's suffrage movement, and the Erie Canal is a stone's throw to the north, on the opposite side of Interstate 90.

Then there is the wine. More than 100 wineries and 11,000 acres of vineyards dot the landscape around Canandaigua, Cayuga, Keuka, Ontario, Seneca, Conesus and Hemlock lakes, and this is more significant than it appears at first glance. The deep lakes create a microclimate that supports the healthy growth of Chardonnay, Riesling, Gewürztraminer, Pinot Noir, Cabernet Franc, Vidal Blanc and Seyval Blanc grapes, as well as native American varietals. With a growing season that ranges from 180 to 200 days a year and its moderate weather, the Finger Lakes American Viticultural Area is renowned for being one of the most productive, and beautiful, wine-growing regions in the country.

In addition to the wineries, you may visit the homes of Harriet Tubman and Mark Twain, the celebrated Corning Glass Works and Corning Museum of Glass and a stunning array of historic buildings in the Federal, Greek Revival, Romanesque Revival, and Queen Anne styles. Most famous are the 1910 Geneva on the Lake villa, 1816 Granger Homestead, 1839 Richard DeZeng House, 1839 Rose Hill, 1838 Esperanza,1887 Sonnenberg Gardens and Belhurst Castle, a late 19th century residence now operating as an inn.

With so much to see and do, don't forget the sailing-with 11 Finger Lakes and nearby Oneida Lake, often called the thumb on the Finger Lakes hand, you have more than 134,000 acres of pristine waterways to explore. The two longest lakes, Cayuga and Seneca, are among the deepest in the country; at 435 feet and 618 feet respectively, their bottoms are well below sea level. Both are nearly 40 miles long and roughly 3 to 3.5 miles wide. Watkins Glen Village Marina, at Seneca Lake's southern end, is home to the Finger Lakes Yacht Club, which is known around the lakes for its busy social calendar and full array of competitive and noncompetitive events.

Sailors here are enthusiastic about their sport, and their lakes. The fact that the Finger Lakes region is popular for hot-air ballooning and hang-gliding works in sailors' favor-the calm, warm winds favored by airborne adventurers provide consistent sailing, and the trailer-cruising opportunities are outstanding with so many marinas and boat launch areas from which to choose.

When you're not on its waters, the Finger Lakes region offers countless opportunities for hiking, mountain biking, camping, rock climbing, canoeing, kayaking, whitewater rafting, fly-fishing, golf and even polo. Families won't want to miss the nearby amusement and water parks, such as Seabreeze, Raging Rivers, Roseland and the Splash Factory.

Just make sure you spend at least some of your visit on the hiking trails. The lakes are geologic anomalies in the region, and those ancient glaciers left them in a landscape riddled with dramatic gorges, soaring overlooks and thundering waterfalls. It'll be enough to make you believe in the creation legend more than the glaciers.

Lake Minnetonka, Minnesota
While the Midwest is understandably best known for the Great Lakes, thousands of inland lakes offer countless sailing opportunities for trailersailors. Although few have a name as recognizable as that of Minnesota's Lake Minnetonka, sailors may dismiss this destination as too urban or as a powerboater's lake.

Yet to skip it is to miss a sailing experience that provides an interesting study in contrasts. Just 20 miles west of Minneapolis-St. Paul, Lake Minnetonka is part of city life, yet it somehow still feels on the edge of wilderness with Minnesota's broad prairies to the west and the Northwoods above. It has supported glamorous Victorian holidays and modest Midwestern cottage culture. And while it has become a highly desirable 21st century address, the area somehow evokes Garrison Keillor's humble and beloved Lake Wobegone.

Dakota, Cheyenne, Iowa and Ojibwe people lived in this area for generations, and in 1852, Minnesota Territorial Gov. Alexander Ramsey christened the 14,000-acre glacial lake using the Dakota word Minn-ni-tanka, or "Big Water." Tourism took off in 1853 with the Minnetonka Hotel, and the trickle became a flood with Longfellow's famous 1855 poem "Song of Hiawatha." Holidaymakers flocked to see this "land of the Decotahs."

The lake became home to grand, genteel Victorian establishments like the 1879 Lake Park Hotel. The first U.S. inland steamboat to boast electric lights, the 160-foot sidewheeler City of St. Louis, began plying lake waters in 1881, and a year later came the 300-foot, 2,500-passenger steamer Belle of Minnetonka. The Minnetonka Yacht Club took shape within the decade.

A second golden age dawned with the Twin City Rapid Transit streetcars, which arrived in 1905. New resorts flourished, and the distinctive Express Boats carried visitors to more than 20 lakeside destinations, including TCRT's Big Island Amusement Park. Old-timers also remember the Excelsior Amusement Park and Big Reggie's Danceland, where the Rolling Stones played in 1964.

Today Lake Minnetonka is in the throes of a third golden age, thanks in part to its gracious lakefront cottages, cruise lines featuring antique boats and even a restored steamboat named Minnehaha. Although the lake is no longer an overnight resort destination, it is extremely trailersailer-friendly.

Sailors will find more than 10 public launch ramps as well as several full-service marinas. Waterfront communities have ample dockage for those who wish to come ashore for dining and shopping, and the lake's maximum 113-foot depth means pleasant swimming rather than the bone-chilling escapades one is likely to have in the Great Lakes. Watch for Lou, an elusive 10-foot-plus sturgeon who has become Lake Minnetonka's own Loch Ness monster.

Bring a good lake map with marked depths to assist as you navigate the lake's approximately 140 miles of shoreline, 30-plus bays and labyrinthine channels. Don't forget to have your boat inspected at the public-access launches or one of the marinas for zebra mussels, an invasive species that the Lake Minnetonka Association is trying to keep out.

One word of caution: This is Minnesota's busiest lake, and powerboats can quickly turn bays and coves into churning bathtubs. Consider a midweek sail or, at the very least, an off weekend. If you do, you'll find that the lake hosts an active local sailing community and welcomes visiting trailersailors with open arms.

Lake Lanier, Georgia
In recent years, Georgia's Lake Lanier has garnered national headlines for all the wrong reasons. A severe drought brought water levels to record lows, and newswire photos left viewers agog at the sight of high-and-dry launch ramps, empty marinas, abandoned docks and mudflats that didn't pretend to be even slightly damp anymore.

By November 2007, the lake was dropping by a staggering two and a half inches per day. Whole coves sat empty, as if the water had always been a mirage.

Recent reports, however, indicate that Mother Nature has been kind to Lake Lanier. Last year's above-average rainfall and flooding in metro Atlanta brought the reservoir back to full pool, with a maximum 160-foot depth. The lake is back, and since more than 7.5 million people visit in a good year, 2010 promises to be busy.

Many sailors consider the Chattahoochee River reservoir-filled behind the Buford Dam in the 1950s to provide hydroelectricity, flood control and, later, drinking water to thirsty Atlanta-to be yet another powerboating mecca. And they're right to a degree. The lake is home to two of the largest freshwater marinas in the world, Holiday Marina in Buford and Aqualand Marina near Flowery Branch, and it has always been wildly popular for powerboats, houseboats, pontoons and personal watercraft.

But like Lake Minnetonka, Lake Lanier also provides outstanding sailing opportunities for silent-sports aficionados who are willing to choose their moment. It hosted the rowing and sprint canoeing events during the 1996 Summer Olympics and the 2003 World Championships for sprint canoeing, it has an active canoe and kayak club-and it boasts a thriving sailing community, with the Lake Lanier Sailing Club at its heart.

The club was founded in 1959 near the Holiday Marina. Today it's located near Flowery Branch, and it has two paved boat ramps, five auxiliary sailboat docks, four docks for launching smaller boats, race committee facilities, a pavilion, a camping area and a swimming beach. Members and their families conduct club activities, which include regattas and a junior sailing program.

Visiting trailersailors will have almost too many options on Lake Lanier. The sprawling 37,000-acre reservoir has 10 marinas and roughly 50 public launch ramps providing access to the drowned valley's many verdant nooks and crannies. Plan each outing carefully, as you'll find countless choices for going ashore and enjoying the area's public day-use parks, upbeat shoreside restaurants and attractions like the Lake Lanier Islands Resort waterpark.

But when you leave all the distractions in your wake, you can almost feel the rise of the southern Appalachian foothills around you. This achingly ancient mountain range, which knew Pangaea and was already old when the Himalaya thrust skyward, is a palpable presence here. The air hangs thick with humidity on summer days, and each velvety breath of wind is pure Deep South.

Lake Oahe, South Dakota
Courtesy of the U.S. Army Corps of Engineers, trailersailors can have the unusual experience of gliding across the landlocked remnants of what was a prehistoric inland sea-South Dakota's high prairie. The Corps built a large dam just north of Pierre in the 1940s and '50s, taming the wild Missouri River and creating the country's fourth-largest reservoir.

Lake Oahe stretches 231 miles north from Pierre to Bismarck, North Dakota. While the dam generates electricity for a broad section of the north-central United States, provides navigation benefits for commercial shipping and aids in irrigation and flood control, the lake offers true adventure for trailersailors who seek an extended and often Zenlike sail-camping experience through the same remote country that challenged the Louis and Clark expedition. There will be few other boaters for company, regardless of season or holiday.

Heavy boating traffic-and serious tourism in general-on South Dakota's north-central grasslands is a problem the state can only dream of having. For many, this part of the Great Plains is indeed the Great American Desert, and they want to get through it as quickly as possible on their way to the Black Hills or Yellowstone. Something about the broad expanse of treeless plain simply unnerves people.
Others fall in love.
The unglaciated plateau known locally as West River is a startling landscape of undulating grasses, hidden coulees, glimmering prairie potholes and somber, windswept buttes. Towns are few and far between. The nearby Cheyenne River Sioux Reservation is the size of Connecticut but has a population of less than 9,000 people.

Lake Oahe is a longtime sportfishing destination, but enthusiasm among sailors is growing. Seventeen miles north of Pierre, at the new Spring Creek Resort & Deep Water Marina, you'll find more than 30 sailboats alongside recreational powerboats and fishing boats. The marina offers short-term slips for transients, and it has a well-protected launch ramp with two docks. Keep in mind that prevailing summer winds are stiff and can cause problems at exposed ramps.

If you decide not to launch at the marina, you'll have plenty of spots from which to choose. Boat ramps dot the lakeshore, and the U.S. Army Corps of Engineers has done a good job maintaining them, particularly during the low-water years.

Local sailor Scott Shephard, a teacher from Watertown, South Dakota, reports that Lake Oahe will likely be full for the 2010 sailing season-up to 150 feet in some places. At full pool, there are few navigational hazards, and you'll quickly discover the lake's forgiving nature. Just 10 or 15 feet offshore, you'll still find yourself in 30 to 40 feet of clear water, and you won't do much damage if you do bump into the muddy bottom. Be cautious, however, if lake levels should drop; consider seeking local knowledge before launching.

You can sail upriver on Lake Oahe for days, and myriad natural bays and inlets provide safe harbor. Just keep a weather eye on the west, where afternoon prairie storms blow up with surprising ferocity. And when they roar across the open grassland, Oahe can demonstrate a magnificent temper.

Go ashore and climb the lakeside bluffs, which will give you breathtaking views of a land that has changed little since the days of the early explorers-and you'll feel the enduring spirit of a First Nations homeland. While in central South Dakota, it's worth the time and gasoline to drive to the Cheyenne River and Standing Rock reservations to experience Lakota culture, especially during powwow season. The Lakota people's story, in all its beautiful and anguished complexity, is necessary for a deeper understanding of this place.

People come to these prairies and are profoundly changed. As Louis Toothman poignantly observed in 1961, "To love and appreciate the Rocky Mountains, you only open your eyes, but to love and appreciate the prairie, you must open your soul."

Lake Dillon, Colorado
And sailors certainly will open their eyes wide when they reach Lake Dillon, in the seat of a Rocky Mountain paradise that is better known for its four world-class ski resorts, trendy winter havens with names like Keystone, Copper, Breckenridge and A-Basin. Summit County means skiing, yes. But it also means sailing.

In the late 1800s, three rivers converged here, making it an ideal spot for a frontier townsite. Everything changed when Denver needed water storage and created the 3,300-acre Lake Dillon reservoir in 1963. The Mile High City got its water, and the town of Dillon found itself in the midst of a renaissance.

With so many lake-based recreational opportunities available, the town developed campgrounds, parks, hiking trails and paved bike paths to enhance the outdoor experience. And it boomed with restaurants, microbreweries, an active performing arts scene and tourist-friendly attractions like the Summit Historical Society museum, the impressive Lake Dillon Amphitheater, a farmer's market and much more.

Dillon Marina and Frisco Marina both have free public ramps for trailersailors ready to explore the lake's 25 miles of shoreline. Visiting sailors should note that all boats will require an invasive species inspection; check with the marina staff for inspection-station hours.
Because the reservoir provides Denver's drinking water, guidelines prohibit water-contact activities. The bad news: That includes swimming. The good news: You won't have to contend with waterskiers or, as it turns out, personal watercraft.

So get out there and enjoy what is truly world-class sailing. Lake Dillon is home to the Dillon Yacht Club, the highest in North America at 9,017 feet. Surrounded by soaring mountain vistas, you'll see regattas, sailing-school classes and recreational sailors of every stripe. The Dillon Marina hosts weekend regattas and other boating events, has a full-service maintenance department and provides short- and long-term slip rentals. The Frisco Marina also offers sailing instruction, and visitors will enjoy canoe and kayak rentals as well as the kid-friendly Marina Park.

Trailersailors visiting Lake Dillon will have the unique experience of, say, sailing in the morning, having a picnic along the lakeshore or at the buzzing Tiki Bar, and then heading into the surrounding national forest for hours of Rocky Mountain hiking, horseback riding or mountain biking. This is what John Denver was singing about.

According to the latest water-level updates, Lake Dillon is down just a few feet-good news for the 2010 sailing season, which will commence in early June and run through early to mid-September. Then the skiers come back.

Huntington Lake, California
More people may associate California's High Sierra with the unfortunate Donner Party than with sailing, but the mountain range is reputed to harbor one of the best sailing lakes in the state … and perhaps one of the best in the United States. Many call Huntington Lake, located 65 miles northeast of Fresno, the Sierra's best-kept secret.

The four-mile-long, two-and-a-half-mile-wide lake covers 1,435 acres and has 14 miles of shoreline. It sits just below alpine level at 7,000 feet, and although it's 2,000 feet lower than Colorado's Lake Dillon, it's off the beaten track. While Lake Dillon lies at the heart of a major tourist area, Huntington Lake requires a two-hour drive to the end of a state highway, after which you need to use Forest Service roads to access lake facilities.

For those who do make the trip, an outdoor bonanza awaits: hiking, biking, horseback riding, backpacking, camping and water sports such as canoeing, kayaking, fishing and waterskiing. And that's not all. Huntington Lake is one of the country's top inland sailing lakes due to the reliable prevailing westerlies, and its annual sailing regatta draws accomplished sailors from all over the West.

Trailersailors will likely want to spend more than a couple of days in the area. Accommodations range from resorts and private rental cottages to seven public campgrounds, which are primarily nestled along the north shore. The lake also has three marina facilities: the Lakeshore Resort Marina, the Huntington Lake Resort Marina and the Rancheria Marina.

The Lakeshore Resort hosts the annual summer sailing regattas and has a free boat launch. You may also use the public boat launching ramp located between College and Deer Creek campgrounds for a $3 launch fee and $5 fee for vehicle and trailer parking.

Don't miss opportunities to day hike to places like Rancheria Falls or Indian Pools, to experience the Sierra National Forest on horseback or to backpack in the Kaiser Wilderness Area. Perhaps you might even want to climb Kaiser Peak. Then you can go home and tell your buddies that you sailed and summited the High Sierra.

Not bad for a homegrown trailersailing adventure. Not bad at all.