On the eve of the biggest America's Cup race in history, SAILING takes a look back at Oracle Team USA Skipper Jimmy Spithill's first Cup campaign in this story originally published in January 2000.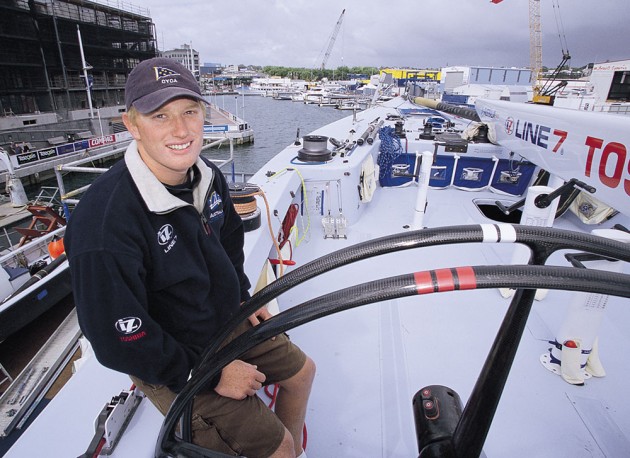 As two members of his crew huddled over a grossly delaminated mainsail, its Kevlar fibers threatening to completely unravel, James Spithill was still optimistic about the future of his Young Australia 2000 team. The 20-year-old Australian skipper, however, is looking much farther into the future than other America's Cup teams in Auckland.

Spithill's hopes, and those of his crew, are firmly focused not on the America's Cup going on now in Auckland, but the next one-when, even then, most of them will still be under 30 years old.
"This one's all about learning for us," the blond, freckle-faced Aussie said on a workday after the end of Round Robin One.

One of the things they've learned so far is that sponsors' stickers on sails help stop delamination, crewmembers joked. Such are the lessons learned by a syndicate in which the only thing young is the sailors. Their Round Robin One boat, AUS-29 formerly known as Sydney 95, is a generation behind its competitors-noticeably wider and looking like a yacht that's seen better days.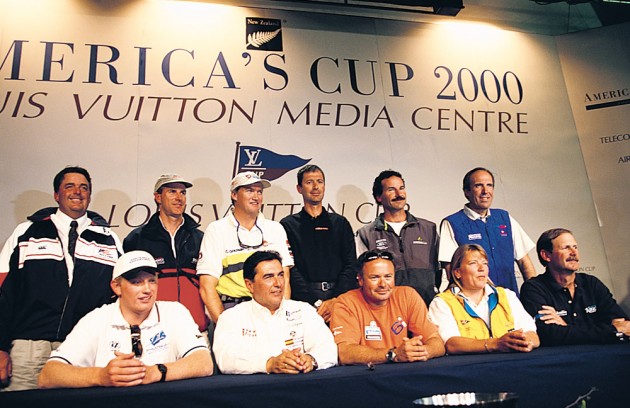 Though the Aussies' second boat, the former oneAustralia (picked up just a day before the start of Round Robin Two from AmericaOne), is considered a step up for the team, Young Australia is still plagued with old technology. But almost anything is better than what they'd had, team members reasoned.

"Yep. She's definitely an aircraft carrier," Spithill said of AUS-29.

Sydney 95, which sat unused and untouched after San Diego, was rescued by the Aussies, who fixed the boat up and stiffened the hull, with safety in mind.
"We've done all the work ourselves," Spithill said. "We know the boat back and front. If it wasn't for us, Australia wouldn't be here."

That "us" emphatically includes America's Cup fixture Syd Fischer, who created the concept of Young Australia 2000 and selected Spithill, who had been driving Fischer's Farr 50 Ragamuffin, to head the bunch of young Aussies that hail from every state in the country. The concept of a young team came not from divine inspiration or a hunch in the back of Fischer's mind. It came from necessity, he said.

"We started to build a boat, but then I realized we wouldn't raise enough money because of the Olympics, and there is a great shortage of sailors in Australia because so many of them are training for other things, so I thought, 'Why not get the youngsters to give it a go?'" he said.

In the compound, the crew talks about Fischer as though he were a favorite uncle. His motto for the team, "Trust is good, checking is better," is written in Fischer's hand in large block letters at the bottom of a dry-erase board where the team keeps a "to do" and "urgently needed" list. There is no doubt that the opportunity Fischer has given them is never far from their thoughts.

But Fischer dismisses the idea that he's anything more to the crew than "the one that made it all happen," in his words.

"I don't see myself as anything but a silly old bugger who really likes the sport," he said.

The disadvantages the team faces go far beyond old boats, though. It has only four new sails-paneled, not molded-in its inventory, and some sails have three America's Cup measurement stamps on them, having been used for the two Cups prior to this one, Spithill said.

Since it lacks a shore crew, the team spends nights after racing getting the boat ready for the next day's racing. The only on-the-course weather information it gets is from a single tender (almost named "The Baby Sitter" until some crewmembers vetoed the idea), which has served Australia in the last three America's Cups. "It does get new engines every once in awhile," Spithill said.
Despite all this, an amazing thing has happened in Auckland. The "kids," as some competitors have dubbed them, are doing okay. Their record after the first round robin showed only one win (against the Swiss), but hid the fact that they had won 90 percent of their starts, out-maneuvering and out-strategizing their older competitors.

"If the races went for the start and the first 100 meters, we'd be looking pretty good right now," Spithill said after Round Robin One. "It's just really hard to win a race. The boat finished last in '95, so it's obviously not a quick boat."

Thrown into its newer boat just a day before the first race of the second round, the team had no time to adjust to AUS-31. It had chartered the boat from AmericaOne, which had used it for practice until its second new boat was built. The Australians weren't faring much better in Round Robin Two, save for a brilliant start against the then-unbeaten Italians, which Spithill won by 19 seconds.

In its Round Robin Two race against the Spanish Challenge, Australia led for the first three legs, but lost when the crew flubbed two jibes-because of a communication problem, tactician Rob Brown said. Fischer, for one, was not happy with the mistake.

"They should have won," he said. "They should have been able to come out of that. I'm not a very forgiving person."

The newer boat has shown better speed, but Spithill and his crew time and time again fall victim to a slow boat with old technology. They are, however, confident that their chance is coming.

"It's frustrating, but you have to be realistic about what's going to happen," Spithill said. "It's good to know you can get 'em in the starts. One little mistake and we're going to go through them-and there's going to be one of those soon."

That kind of confidence is typical of Spithill, said his father, Arthur Spithill. It's confidence that's been buoyed by a successful run on the match-racing circuit, where the youngest skipper in America's Cup history has not only raced against the same skippers he's facing in the Louis Vuitton Cup, but has beaten them.

"I've always been the youngest," Spithill said. "I'm not fazed or psyched out by it."

His father isn't surprised by that attitude. "When James was 10 he was saying that he was going to sail in the America's Cup," the senior Spithill said. "I never doubted he would do that. He's quite single-minded. But I pictured him starting as crew and then maybe being a skipper when he was 25."

Spithill-Jimmy, to the crew-is also confident in the young men representing every state in Australia that make up Young Australia 2000. Regardless of age, the crew of young men, most of them between the ages of 18 and 25, bring with them a long list of sailing successes. Sailing experience, however, wasn't as important as a willingness to commit when it came to selecting a crew out of the 100 applications sent in, Arthur Spithill said.

"We wanted guys who were prepared to sell their soul to get on this boat," he said.

They also wanted a group of young men who could get along despite sailing together, working on the boat and living together, along with Fischer when he's in Auckland, at the converted railway campus on the University of Auckland grounds. "We all made lifelong friends right away," explained mainsheet grinder Mal Parker from Tasmania. "It's tough though, because if something breaks, you're the ones who've got to fix it by the next day, no matter how long it takes."

There are some older crewmembers who bring more experience in boatbuilding skills and more time on the water. One addition to the crew is three-time world 18-foot skiff champion Brown, who came on as coach but added tactician to his title. The Brown/Spithill combination is a natural, the two having grown up in the same boat-access-only community of Pittwater, north of Sydney. Brown made a spinnaker out of sail scraps for Spithill's first boat, a beat-up dinghy the neighbors were getting rid of, Arthur Spithill said.

While the crew is busy learning how to fix the boat and make it go fast, young Spithill has found himself learning about the event. "The sailing is such a tiny part of the whole thing," he said. "At the morning briefings, the other guys show up with lawyers and stuff and we're just there."

The Australians may not have the lawyers or shore crew that other syndicates boast, but they are convinced they are having more fun than any other crew in Auckland. The site for most of this fun is the Hikinui, the barge that is by far the most creative syndicate base in the America's Cup Village. By the time Young Australia 2000 committed to come to Auckland, all of the spaces on "syndicate row" had been rented at prices that were beyond the syndicate's shoe-string budget, so the team chartered a 100-ton barge, the Hikinui, and docked it across the viaduct from its competitors.

The barge has become a home away from home for the team, which has outfitted it with a giant crane, and built a work and storage area from donated containers. Despite quarters that are excruciatingly tight, especially when it rains and the crew huddles into the narrow spaces, the atmosphere is one usually found in a locker room, with friendly ribbing and talk of the previous nights' goings-on.

The Hikinui, docked outside the luxury apartments under construction along the waterfront, doesn't offer the security of the almost fortresslike compounds of the other syndicates, but that's how the team likes it.
"We're trying to be friendly," Spithill said. "We don't want to be snobbish about it. People come up and ask questions all the time and the other day a whole group of primary school students came and asked for our autographs."

The Hikinui is also good for entertaining, the crew said. Calling a party that included a massive barbecue, a live band and "heaps of girls" just "practice," the team seems determined to have a good time.

That kind of openness sits well with the locals, who've put aside their usual Aussie-Kiwi rivalry and taken the team, short on money and sponsors, under their collective wing. A complete set of mountain bikes was donated to the team, as were shoes for the bunch, lunch every day (as long as someone picks it up), and beer is drawn liberally at most local taverns. A couple of local butchers donated chicken and other meat for the crew mess. On top of that, messages, faxes and e-mails pour into the syndicate, most simply saying, "Good luck."

The team hopes that's a wish that continues to the next Cup, when it plans to have the sponsors and technology to bring Australia again to the forefront of America's Cup racing. It's this changing of the guard that Young Australia 2000 is counting on next time around.

"The guys who won in '83 have all got families, mortgages and grandchildren," Arthur Spithill said. "This is a whole new breed coming through."

That new breed is one that seems to recognize that the hard work it is putting in now, will pay off in the future. "We're doing the hard part now," grinder Parker said. "Next time, when we have the backing, if we put the same effort in that we are now, we're going to haul some ass."

Fischer is doing whatever he can to make sure the next America's Cup is a good one for Australia, including having the crew sign contracts that they'll sail in Fischer's syndicate next time around.

Despite the raggedy mainsail lying at his feet and the outdated boat sitting in its cradle on the other side of a barge, trimmer Nick Bice went about his work with a smile and definite idea of what he was doing there.

"Next time," he said. "We're going to give them a run for their money."