Inside 'All is Lost' From a trio of Cal 39s to teaching Redford to sail
It's a safe bet that viewers have never seen a movie like the survival-at-sea film "All is Lost." That's because there's never been a movie like it.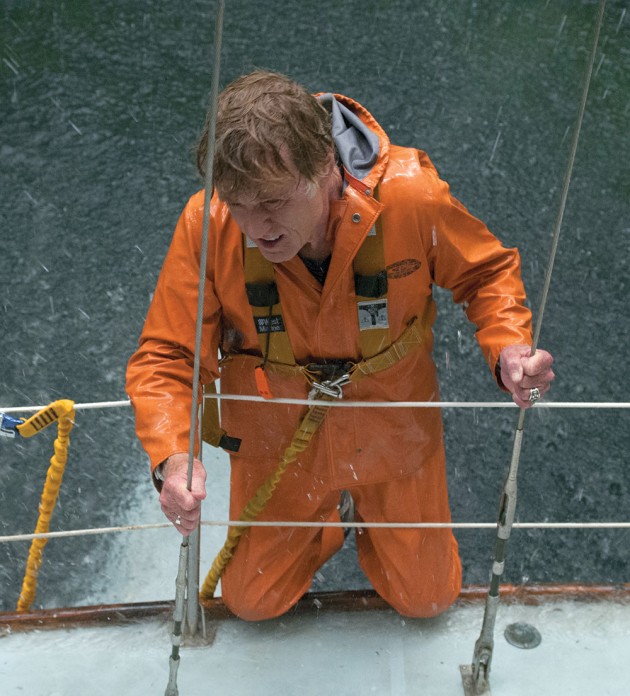 The movie takes place entirely on water over just eight days and has almost no dialogue. Its lone, nameless character is played by Robert Redford, who struggles to survive when the Cal 39 sailboat he is sailing solo around the world is holed by a floating container in the Indian Ocean.
Writer and director J.C. Chandor said sailors, especially, should like the movie. He should know: he is one.
Chandor, who was nominated for an Academy Award for the screenplay for the 2011 film "Margin Call," which he also directed, grew up sailing at Sakonnet Yacht Club in Little Compton, Rhode Island, where he later worked as a sailing instructor, and traveled with his family to Lightning regattas. Although he doesn't have the opportunity to sail much anymore, he joins his parents sailing when possible.
"I've done one big bluewater sail before, but I have a broad base-level understanding of sailing and had a fascination with why people choose to go off and challenge themselves and sail around the world," Chandor said. "I knew what was possible and had sailed on a similar sized boat growing up so I knew what you could get away with and what would happen."
Chandor said he had been looking to do a film in the survival genre for some time, but it was no certainty that such an unusual film would see the light of day. The screenplay was a mere 30 pages long, about a quarter the length of a typical movie, leaving potential producers to ask for the rest of it, and the success of the movie depended on an actor who could carry the movie. Redford, a champion of independent filmmakers through his Sundance Film Festival, was drawn to the uniqueness of the script.
With Redford on board, Chandor still had the herculean task of filming a movie set entirely on water. Three 1978 Cal 39s were purchased in Southern California to depict Redford's character's boat Virginia Jean. One was used for open-ocean sailing, another for tight interior shots and a third for special effects. The boats, formerly known as Tahoe, Tenacious and Orion, receive a special mention in the movie's credits.
"Three boats sacrificed their lives to make the movie," Chandor said. "Two of them were in poor condition and one was in great condition, but we chopped them up in different ways for various scenes."
Chandor had a specific backstory in mind for both Virginia Jean and Redford's character. He imagined that the man bought the boat a couple decades earlier, letting its upkeep slip a little before investing about $20,000 in updating the boat before he set off on his solo sail.
"This is really a movie about a guy coming to grips with his mortality," he said. "My backstory was that this adventure was something he always wanted to do, but he probably waited a little too long to do it."
Camera crews, including specialists in filming on the water with movies such as "Pirates of the Caribbean" and "The Life of Pi" to their credit, filmed in the Pacific Ocean and the Caribbean, as well as in the world's largest filming tanks, constructed for the movie "Titanic."
Redford, who is not a sailor but has spent some time on powerboats, became an adept sailor for the movie, Chandor said.
"He had three weeks of filming in the portion of the movie when the boat is in trouble and he was a little off balance like anyone new to sailboats is, but it worked because the character is extremely off balance at that point because his boat is about to sink," Chandor said. "But after a few weeks of spending every day on the boat he started to really get the hang of it so when we were filming the great sailing shots in the Pacific in a big, beautiful 20-knot wind with big rollers, he was sailing the boat by himself."
Redford, who was 76 during filming, did most of his own stunts for the film and is being praised for the acting tour de force, with some Hollywood insiders predicting the film could win him his first acting Academy Award.
Chandor said he knows that sailors will be watching the film closely to make sure it feels authentic.
"You have to remember you're making a movie and it takes place over eight days," he said. "You obviously have to break a ton of filmmaking rules not to mention sailing rules. You have to care about it being accurate and as a result I feel like the audience will go with you, so long as you don't insult their intelligence. You're seeing a person deal with situations from the opening scene that no sailor wants to ever be dealing with. But he is human and he makes mistakes. As a human you can't plan for every eventuality."
Chandor said sailors will notice that Redford's character does a few things incorrectly, but attributes that to the character as well the limitations of movie making.
"There are a couple little things that aren't correct, like his EPIRB is not functioning. So he's an idiot. There are one or two things where I ask your forgiveness as a specialized audience, but compared to 'Wind' or other sailing movies I think sailors will be pleasantly surprised.
"We had a huge team of specialists and we tried not to make too many mistakes. But you have to remember, this guy is not a professional sailor. In a weird way, any of the mistakes we might make, he's allowed to make as a character. He's not supposed to be the most experienced sailor on Earth."
Chandor said the movie delves into a basic human fear of being stranded on the water, one sailors can relate to perhaps better than anyone else.
"The ocean can be the most inhospitable place on Earth," he said. "It can be so calm and life giving and at a moment's notice it can be the most inhospitable place on the planet."