Deepwater sailors find delight in the shallow waters of the virtually untouched Exuma Cays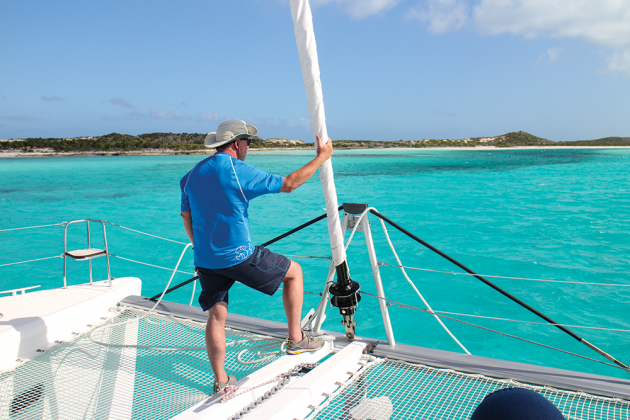 A January waxing gibbous moon illuminated the nighttime vistas at Warderick Wells, the epicenter of the Exuma Cays Land and Sea Park. We admired it from the bow of our catamaran, the dark blue water under our boat fading to gold on either side of us. Had we been so inclined, we could have taken a moonlit swim and, 100 feet to either side of us, we would have been standing in knee-deep water.
It was a mooring situation that would normally make for a sleepless night among a crew full of sailors accustomed to deep-draft boats, but instead we sat back and enjoyed a cocktail before setting off to a restful snooze below.
That's the joy of thin-water cruising.
Our stop at the beautiful Warderick Wells came two days into a weeklong charter of the Exuma Cays in the Bahamas. For four of us-SAILING Magazine Editor and Publisher Bill and his wife Jean along with me and my husband Richard- it was a desperately needed respite from a bitter winter that had already worn out its welcome by early January. Our other two crewmates-Al and Moira-were escaping the post-holiday hustle and bustle from their much warmer home in Florida.
We couldn't have asked for a better boat for our shallow-water adventures. We chartered a new Lagoon 450 from Navtours' base in Nassau. Halia, which had been recently sailed over from the factory in France, still had that new-boat smell. Expert advice on some of the boat's more complicated systems, not to mention those labeled in French, came from Navtours' charming French skipper Carol, who suggested we use her saved track on the GPS to aid us in navigating away from Nassau. Between Carol and the rest of the Navtours crew led by base manager Norm, it was easy to load up and shove off for a weeklong cruise.
While Nassau, with its traffic, imposing cruise ships and amusement park-type resorts, is a poor introduction to a charter of such fine cruising grounds as the Exumas, it has the advantage of being relatively close to the northernmost cays in the island chain.
The archipelago starts about 35 miles southeast of Nassau and extends to Great Exuma, with more than 360 cays in between. The northern stretch, which we covered at a comfortable pace over the course of our charter, offered nice marinas on some islands, handy moorings at others and beautiful anchorages at still others, but this is not a well-developed area, despite its proximity to Nassau. There is no abundance of grocery stores and most cays have a lone restaurant that we found was often closed for renovations, all of which creates a laid-back community of residents and cruisers refreshingly free of an agenda.
We did, however, have an agenda as we pulled out of Nassau: to get away from the city and into the unspoiled cays. With the twin engines purring, we faced a rather stiff 25-knot headwind and waves big enough to stop the big cat in its tracks. A pair of squalls packing 50-knot winds were accompanied by a vertical river of rain, but even this was not enough to deter us from getting to our first stop at Highborne Cay.
Navigating in the Exumas is not for the faint of heart. We used a combination of the boat's chartplotter, paper charts, a pair of iPads running a variety of navigation apps including iSailor, NavX and Navionics, and cruising guides to pick our way through the islands. After the six-hour slog to Highborne Cay, we followed the directions in the cruising guide to enter the marina: follow the range markers and make a 90-degree turn. A slip awaited us as did dinner at the restaurant. The only thing nicer after a long day on the water would have been to arrive early enough to savor the views from the hilltop dining area.
When we returned to the boat our neighbors from an elegant navy blue 80-foot sport-fishing boat were enjoying cold beers and freshly fried wahoo caught from their sizable tender earlier that day. With plans to do some fishing ourselves, Richard picked their brains for a few hints (follow the 300-foot depth contour in the Exuma Sound) and left with something even more valuable: a dozen frozen ballyhoos pre-rigged with hooks and leaders. Our ceviche appetizers and grilled fish dinners were all but guaranteed.
Cruising in the Exumas is unusual in that there are two options for getting to most places. On the west side of the islands, the Exuma Bank offers crystalline turquoise waters but can be a navigational challenge that requires constant vigilance. On the east side, the deep Exuma Sound, with its cobalt water is carefree for navigators but prone to large swells in some conditions.
After a bit of exploration, including a swim by Moira and Al with the friendly nurse sharks at the marina, we left Highborne Cay the following morning, powering on the Bank again for protection from the still-strong easterly breeze. Although we had called ahead to reserve a mooring at the Exuma Cays Land and Sea Park anchorage at Warderick Wells, there were plenty of mooring balls to be had.
There was also no mistaking how to get to our assigned mooring: Follow the dark blue line and avoid the shallows where the clear water offered an unobstructed view of the sandy bottom. Even though we moored in only about 8 feet, there was plenty of water under Halia's keel thanks to the boat's 4-foot 6-inch draft.
There is nothing but nature to explore at Warderick Wells Cay. The park's visitor center and a few buildings sit on the point, and a series of trails, including one to Boo Boo Hill. The hill is named for the souls of the crew of a missionary ship that went aground on the nearby reef and sank, taking the lives of all aboard, that are said to howl on windy nights.
Bill and Jean hiked the trail for a bit of exercise, but also for a trip down memory lane. They had last visited this spot years earlier, before there were park rangers or moorings. Still, not much had changed, although the addition of driftwood painted by visiting boaters and left on the hill as an offering to King Neptune was a new addition.
A group outing to the park's coral garden was less successful thanks to the strong current and persistent wind that made snorkeling difficult and getting back in the dinghy akin to an Olympic event. But plenty of other activity filled our time including a paddleboarding in the shallows with stingrays darting just a couple feet below.
There were only a handful of other boats at the cay, but at peak times, the park is full, and not always with a quiet, nature-loving crowd, according to the ranger. More than 5,000 boats a year come through the park, and increasing numbers of those are superyachts carrying vacationers from nearby mega-resorts anxious to spend the day buzzing around on jet skis, he said.
Now that we were in the heart of the Exumas, we had more of an opportunity to focus on exploring rather than just getting to the next anchorage. Our focus was on the northern half of the archipelago in a round-trip charter from Nassau, but a full exploration of the Exumas ending in the island chain's largest city of Georgetown on Great Exuma would require about two weeks one-way, an option Navtours provides.
We took advantage of the close proximity of our next stop to have lunch at Compass Cay. The relatively short trip was just long enough to get ready for our first swim of the day in a sheltered cove on the island's west side.
Even before the anchor was set (in about 6 feet of water), a Southern stingray came to check out the boat, the only one in the idyllic anchorage. To port, a foot-wide, bright orange starfish stood out from the rippled white-sand bottom. We knew interesting snorkeling awaited nearby. As usual, Al was the first in the water and the rest of us followed, spotting another (or perhaps the same) stingray, the tail end of an eel and some colorful coral.
With the breeze finally moderated, we opted to go around the top of Compass Cay to sail to Staniel Cay in the azure waters of the sound. We wanted a change of scenery, but our real reason was to catch a fish with the advice and bat our friends from Highborne Cay had given us. With two handlines and a fishing pole baited with the ballyhoo the fishermen had donated to our cause, we spent the next hour following the 300-foot depth contour. Our effort was rewarded with two nibbles that amounted to nothing but a bit less bait in our arsenal.
Our plan was to spend a night at the Staniel Cay marina so the crew could explore the island on their own schedules, but no sooner had we tied our lines to the pilings, than we realized the hot marina full of two-story tall superyachts (most of which seemed to be running their generators) would make us pine for the gentle breeze and quiet night we would spend on a nearby mooring.
As it turned out, the mooring we took not far from Thunderball Grotto, where parts of the James Bond film "Thunderball" were filmed, offered an excellent view of the sunset. We toasted our decision to leave the marina, where our view to the west would have been the side of a 120-foot powerboat. Our new location also offered the opportunity to take one of those long, dark dinghy rides that becomes an exercise in trying to stay dry on the way to dinner at the Staniel Cay Yacht Club.
Having made reservations and ordered (mahi mahi for all) for the one-seating-per-night dinner in the afternoon, we were surprised to find white tablecloths and several courses waiting for us. The dining room at the back of the yacht club, far enough from the bar that the NFL playoff game on the television didn't interrupt, was full of a mix of patrons, some clearly sailors like us, a few couples staying at the yacht club's cottages and one large local family. The mahi mahi that arrived after the carrot soup might not have been caught on our own lines, but we enjoyed it nonetheless.
After a brief provisioning trip in the morning, Richard took a dinghy full of our crew to the entrance of the nearby grotto-had it not been for the strong current we could have swam there-for our best snorkeling expedition of the trip. The tips of our snorkels just skimmed the rock entrance where a virtual aquarium awaited us. Small striped sergeant major fish schooled around us, swimming so close it seemed as though you could reach out and touch them, but of course they were always quicker. Purple and yellow coral dotted the grotto floor, but even that was trumped by the color of the brilliant turquoise water lit by the sun's rays at the entrance.
Officially at the southernmost point of our trip, it was time to head north again, and thankfully the east-southeast breezes we'd battled on the way down hadn't shifted. Our last two stops-Compass Cay and Norman's Cay-would prove to be memorable punctuation marks on our cruise, ones that were made more memorable by a favorable breeze that allowed us to enjoy beautiful sails to both.
A three-mile channel, including a 170-degree hairpin turn, to the entrance of the Compass Cay Marina, was probably the most challenging navigation of the trip, requiring as much attention to spotting coral heads as it did to the various electronic charts we were referencing.
The effort, however, was well worth it. We found the marina-filled with an eclectic group of cruisers, locals and fisherman stopping for lunch and covered in colorfully painted driftwood signs-to be a charming stop. It was even more beguiling for its crescent beach, just a 10-minute walk from the marina, where the white sand gave way to water in every shade of blue-green, from aquamarine to brilliant turquoise to teal. On our third trip there, we declared it among the most beautiful, albeit small, beaches we'd seen.
The attraction at Norman's Cay was found in the water, rather than on land, as we joined a group of snorkelers to check out the DC-3 airplane crashed years before in shallow water that had become a rusty reef. Years ago this island was infamous for being the headquarters for Columbian drug lord Carlos Lehder, but these days it has a decidedly laid-back vibe that's obviously attractive to cruisers. The 17 boats we counted in the anchorage were the most we had encountered anywhere on our cruise except for Highborne Cay's marina.
Macduff's restaurant, apparently known for having a good burger if you can make it across the island's airplane landing strip to get to it, was closed, leaving us to have dinner on board. With our provisions running low, Moira and Jean managed to create a dinner of splendid salmon cakes created from canned salmon. The result was delicious but perhaps a touch bittersweet for Richard, who realized this would be as close as we would get to eating fish onboard on this trip.
As we left the next morning bound for Nassau, we pulled out of the anchorage with less than two feet of water under our keels. While less than 7 feet of water would have been cause for alarm just a week earlier, our newfound love of thin-water cruising and the laid-back attitude that comes from a week enjoyed in a natural wonderland had given us a new perspective. It's all good.