The enduring charm of the Etchells
The world championship at Newport, Rhode Island, drew both pros and amateurs who love sailing this classic one-design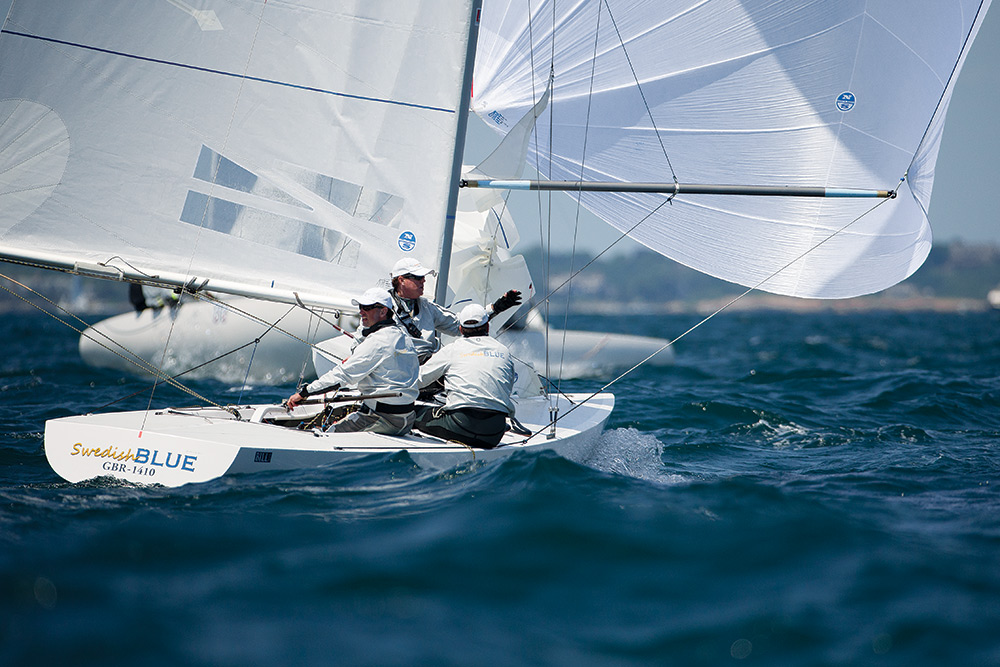 Sharon Green
Patricia Stadel sailed her fifth and self-proclaimed last Etchells World Championship in June where she had the distinction of being the most senior skipper competing in the 95-boat fleet. At 75, Stadel has by default become a goodwill ambassador for the International Etchells Class. She had plenty of wisdom to impart when asked why she and so many other competitive sailors, including legends like John Bertrand, 68, who won the America's Cup for Australia in 1983, gravitate to this particular sloop.
"It's a great boat and you just can't outgrow it," she said while rigging Crapshoot at the Fort Adams marina docks on the third day of the 46th Etchells World Championship in Newport, Rhode Island. "The Etchells is very forgiving to the amateur sailor but not to the expert. In the right hands, it's a challenge because it's so responsive."
The Etchells was designed to accommodate three or four sailors. Although the sleek hull can move in a breeze just over 6 knots, it has proven to be a fast and stable yacht in heavy wind. Stadel sailed her first Etchells World Championship in 1986.
"I used to win," she said. Over the years she has divided her sailing time between San Diego, California, and Greenwich, Connecticut, and Marblehead, Massachusetts on the East Coast. At one point she maintained a boat on each coast because, well, she just couldn't get enough Etchells time another way.
"She is extremely motivated. She likes to win," said Andrew Coldicutt, 33, who began crewing for Stadel in 2008. "She has absolutely no interest in cruising or just going out for a sail."
Stadel, Coldicutt and crew Ralph Carpenter placed 77th in the final results. For the crew of Bedrock, the world championship was a family affair. Skipper Richard Burrows was sailing his fifth Worlds, accompanied by his son David and daughter Samantha. A mix of sailing star power, family crews and enthusiastic amateurs lent the event a friendly atmosphere void of the strictly hired-gun feel that permeates many international racing venues. Clearly there was enough interest in the class to assemble a fleet of nearly 100 boats from the United States, Canada, Great Britain, Germany, Australia, Bermuda and New Zealand sailed by a mix of professionals and amateurs.
Marblehead, Massachusetts' Jud Smith, Etchells world champion in 2006, said that many Etchells owners are not professional sailors but they bring aboard pro crew. As a result, Etchells race fleets over the past two decades have been loaded with talent.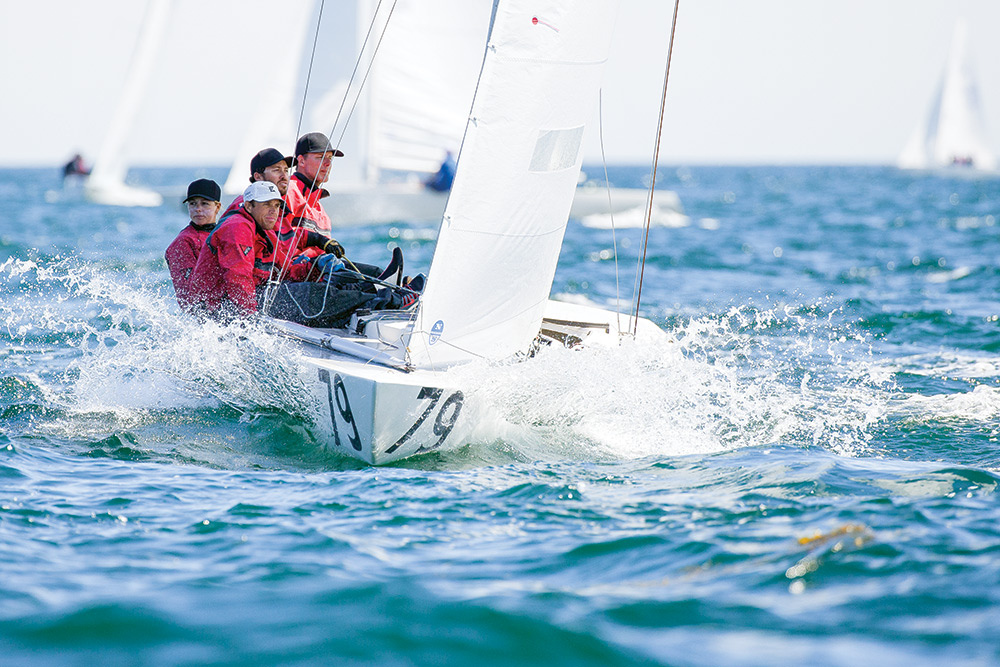 Sharon Green
"It's not like the old days where you could fill in with individuals from the host club," said Smith, adding it can be difficult for the club sailor to remain competitive amid this caliber of competition. "However, for the club racer, they can come and get to sail against the very best in the world and talk and mingle after the racing."
Other well-known Etchells sailors include Dennis Conner, Gary Jobson, Russell Coutts, David Curtis, Larry Klein and Albert Fournier, all big-boat skippers who relish taking the helm of this scrappy little sloop.
Long Island Sound yacht designer and builder E. W. "Skip" Etchells created the original wooden version of the 31-foot keelboat in 1965. It carried a main, jib and spinnaker. He envisioned the Etchells as a new Olympic keelboat. Although that dream did not reach fruition, the boat's popularity caught on in northeastern United States and eventually spread worldwide. It has since emerged as the hull preferred by professional sailors when they aren't being paid to race a different boat.