Thanks to an innovative acoustic signaling system, blind sailors are able to race by themselves, giving them back the independence they lost along with their sight
Kris Scheppe met his crewmates for the world championship regatta just days before the three men would compete against some of the best sailors in the world. Scheppe, Scott Ford and Jim Kerr had only days to get their teamwork together in a 23-foot Sonar before they would be on the starting line of a match race, another thing none of them had done before. Sound like an uphill climb? Consider this: They are blind.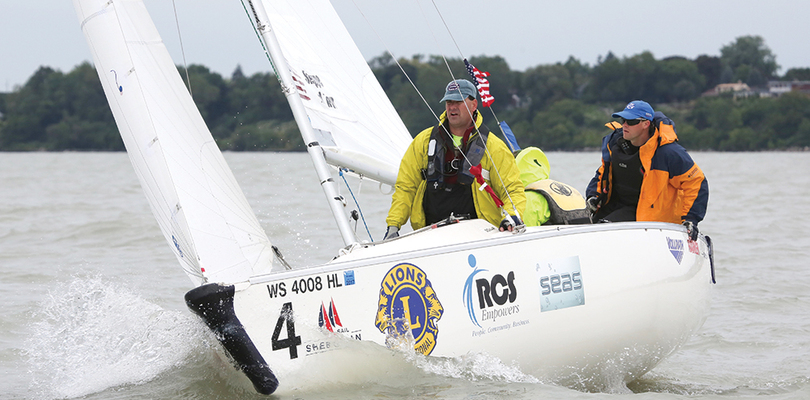 Match racing is a highly technical kind of sailboat racing and skilled sailors spend years perfecting the teamwork, strategy and skill that it takes to be successful. Scheppe, Ford and Kerr had none of that, but what they lacked in experience they made up with enthusiasm: There was no way they were going to miss the Blind Match Racing World Championship being held for the first time in the United States.
"To be the only American team, to be the host country team, is amazing," said Ford, 45.
Six three-person teams from five countries competed in the event in Sheboygan, Wisconsin, last September. Most had much more experience than the American team, but all shared enthusiasm for an element of sailing that gives them something they lost along with their sight: freedom.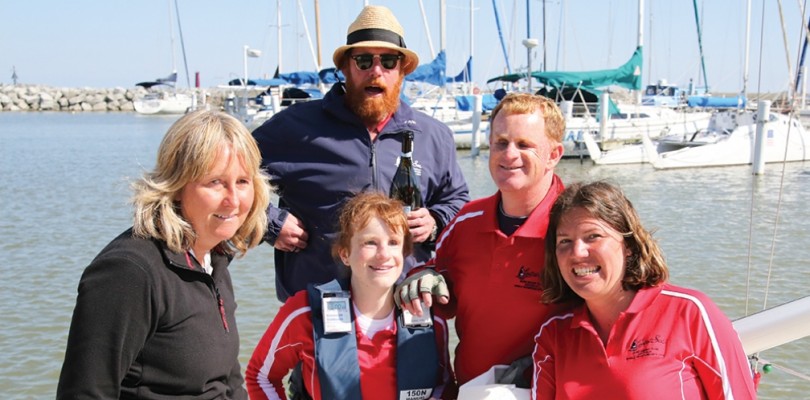 With the invention of an acoustic signaling system created by the Italian organization Homerus, visually impaired sailors can for the first time compete without a sighted sailor on board.
"When you are fleet racing, you sail through the eyes of a sighted tactician," said Vicki Sheen, the chairman of Blind Sailing International and the skipper of the Great Britain team. "You are really sailing the boat as a sighted person. But this is hugely liberating. You have to develop roles that we've never had to do before."
The acoustic system used for match racing assigns distinct audio signals to each mark and devices mounted on each boat emit sounds that change depending on what tack the boat is sailing on. A committee boat uses traditional horns for the start sequence and each team sails with a radio set to the umpire channel and an audio countdown timer.
"It's a bit of a bagpiper's cacophony out there," Kerr said.
Umpires, who follow each match racing pair in powerboats as in other match races, offer more verbal information to sailors than in a traditional match race, including penalties (usually just signaled on the boat), calling overlaps, if a boat touches a mark and an estimated time to an imminent collision.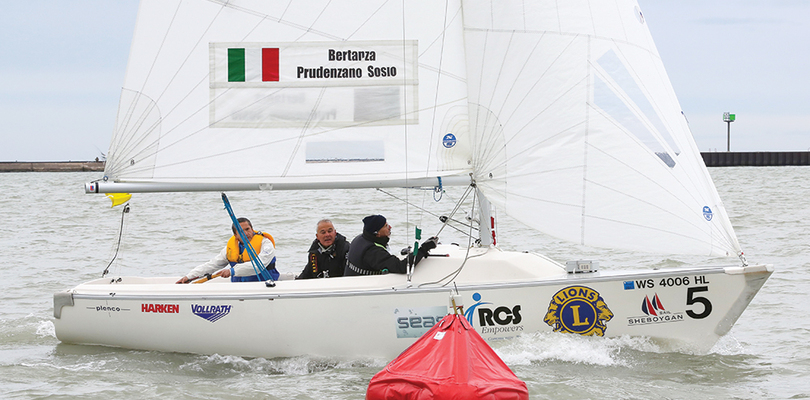 All that noise is enough to make a sailor's head spin, but many starts were full of the kind of jockeying for position that you'd find at a sighted match racing event. These sailors might have lost their sight, but they certainly haven't lost their competitive edge.
Each team had a coach, some of whom were experienced local sailors, who joined the crew between races, partly to help them work out site conditions that can only be seen, but mostly to keep the crews safe while they sail off the course without the aid of the audible signals. Seven minutes before the start, the coaches hop in support boats and the racers are on their own.
Geoff Rudolph, a 57-year-old private captain from Traverse City, Michigan, was recruited by fellow Traverse City resident Ford to help the team. Rudolph admits he's no match racing expert, but the coaching the team needs to sail on their own is more practical.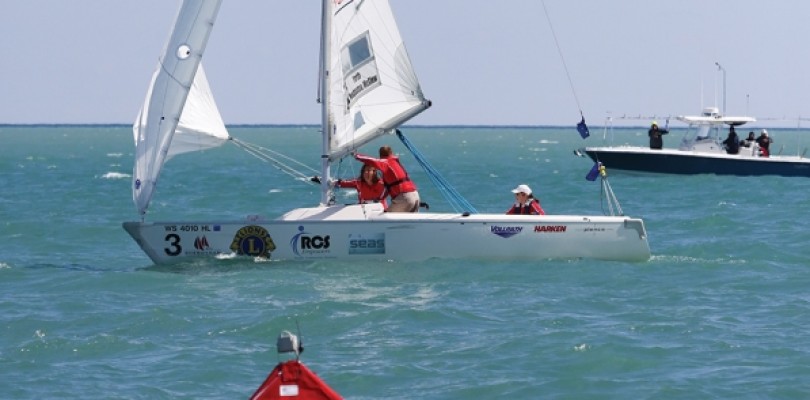 "I just keep telling them they have to keep their heads down when they jibe," Rudolph said. "I just help place them in the boat safely."
Rudolph and the other coaches also help the teams set up the boats for the day, something the sailors are capable of doing but can be done much faster by a sighted person. And then there is the practical side of things. Although Sail Sheboygan, which hosted the event, worked with Lions Clubs International to provide hundreds of onshore volunteers, sailors still needed assistance getting around. Following a meeting on a practice day, teams were easy to identify as they walked in a line led by coaches or volunteers, each with their hand on the shoulder of the person in front of them.
"His is the shoulder we rely on," Kerr said of Rudolph.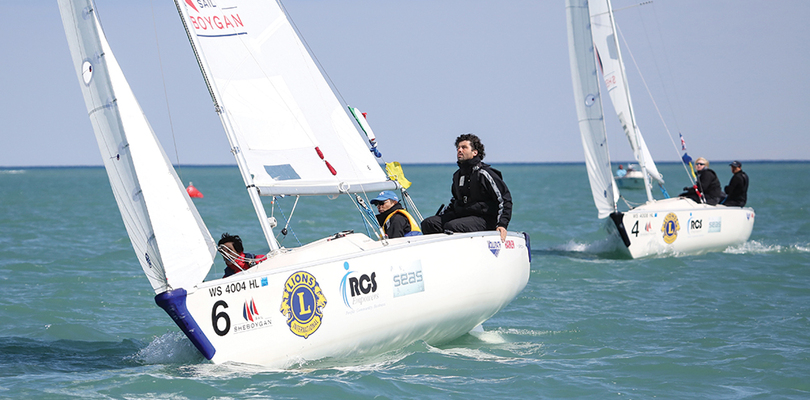 Interestingly, the blind sailors often seemed more at ease near water than on shore. It was sometimes difficult to identify the blind sailors as they walked down the 6-foot-wide dock to the waiting boats. But that's nothing compared to what happens when they start sailing.
All three of the American sailors were athletes well before sailing came into their lives. Scheppe, a 34-year-old resident of Naples, Florida, was born with the degenerative disease retinal pigment epithelium and says he can see a very small area, as though he's looking through a straw. Ironically, his vision impairment—which was tested by ophthalmologist classifiers— wasn't bad enough for the event, so he competed blindfolded. In high school he was the conference wrestling champion and became a powerlifting champion at Florida Gulf Coast University.
Ford, who was blinded as a result of a vaccine he was given while in the Navy, was active in judo.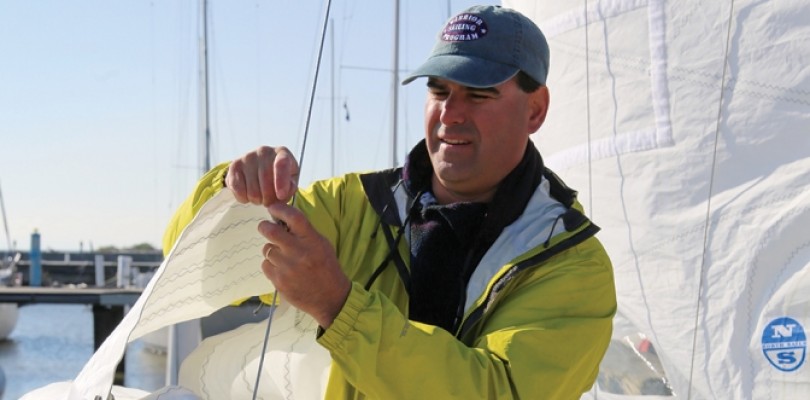 "After I started going blind, there is a moment of loss, but you realize you can either sit home and sulk or you can just learn to do things a new way."
But Kerr, a St. Thomas, U.S. Virgin Islands, resident, may be the most unlikely member of this crew. At 74 he's more than twice skipper Scheppe's age, but he brings with him a lifetime of athletic prowess. He held the U.S. national swimming record for the 50-yard freestyle and was an alternate on the 1964 modern pentathlon Olympic team. He returned to the Olympics in 1984 as a fencer for the U.S. Virgin Islands. Kerr was in his 60s when he was blinded by a drug prescribed in error. He said sailing offers him a chance to return to competition that he didn't think he would have again.
"When I became blind I decided you just have to put it behind you," he said. "Sports teaches you to let the losses go. To be at my age and have this opportunity, I couldn't miss it. It was a huge break when we got audible blind sailing going. The dynamics of this are fascinating to me."
And while competing again is a highlight for these sailors, they get much more from the sport.
"Being on the water gives you a sense of control and freedom that you can't get elsewhere," Ford said.
In a life that is filled with reliance on other people, the water is the one place these sailors can do their own thing, Scheppe said.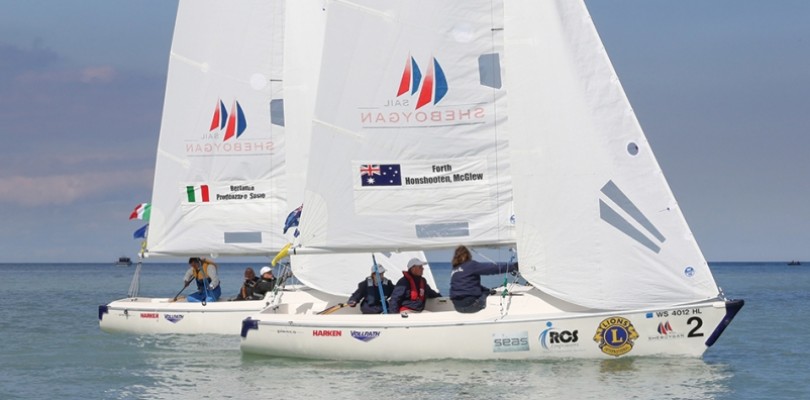 "There's no other place where you can be in control of a vessel by yourself," he said.
For Sheen, who was born with 10% vision, sailing makes her feel like an entirely different person.
"I feel very sighted when I'm on the water," she said. "Even though I can't see something, if someone describes something that's happening on the water, I can visualize that scene and I remember it as though I saw it."
But don't mistake Sheen's love for the aesthetics of sailing for a lack of competitiveness.
"I'm very competitive and a good result is hugely important for me," she said.
A good result is exactly what Sheen got. She and her crew Lucy Hodges and Liam Cattermole won all of their races over the course of the five-day regatta, taking first in the Category 2 division. Teams are categorized by the collective level of visual impairment among their crews. In Category 1, Australians Kylie Forth, Ryan Honshooten and Erin McGlew faced tough competition from one of two Italian teams, but beat them in the finals to take first.
Americans Scheppe, Ford and Kerr knew going into the regatta that they were underdogs.
"We're focused on just getting up the course," Ford said before racing on fickle Lake Michigan, which served up everything from steady breezes and sunny skies to light air and cool temperatures much more typical of late fall than mid-September.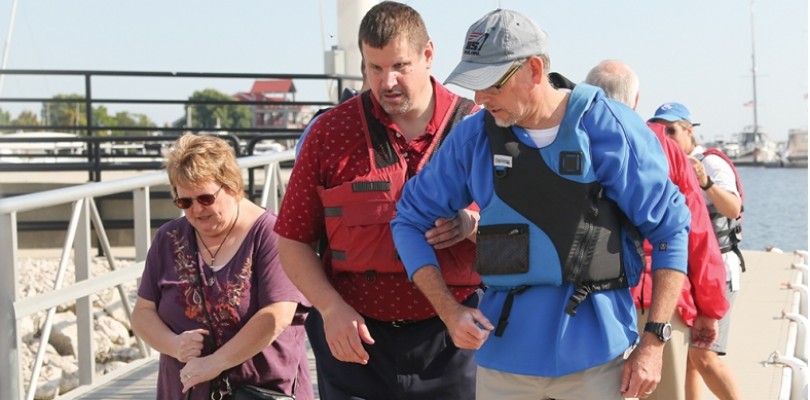 Added Kerr, "Let's just say there's no plan for slyness and skullduggery."
In the end, the Americans didn't win a single race, but they weren't discouraged. Kerr is hoping to make a bid for the 2016 Paralympic games. Ford is enamored with sailing and wants to focus on work with the Warrior Sailing Program, which introduces veterans with disabilities to sailing. And Scheppe talks about his long-term goal with a broad smile on his face.
"I want to do a nonstop circumnavigation," he said. "I just love sailing offshore."
Winning, apparently, isn't everything.