A charter cruise along Florida's pristine Emerald Coast offers up the perfect opportunity to catch a concert and the casual vibe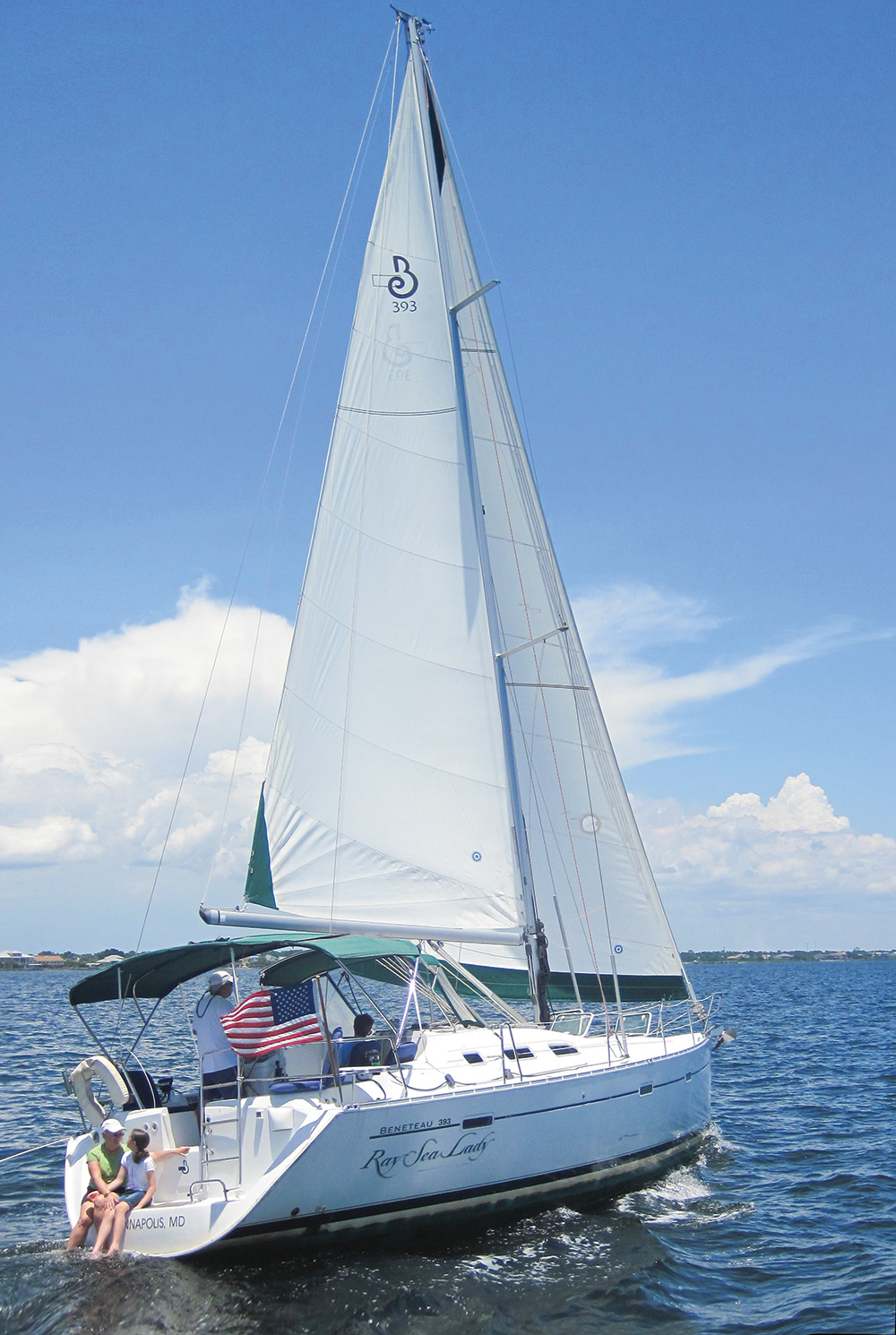 We've been to plenty of concerts but never by sailboat, so when our friends in Florida called to ask if we wanted to join them to see the Dave Matthews Band via boat, we grabbed our bags and headed for the airport. The early June concert was in Orange Beach, Alabama, about a seven-hour sail west of Pensacola on Florida's barrier beach. We didn't know what to expect, but it didn't matter because we were under full sail in the Intracoastal Waterway with dolphins leaping beside the boat. We crossed Pensacola Pass where it's possible to enter the Gulf of Mexico or, as the locals say, "go outside."
On past cruises through the area we anchored at the eastern tip of Perdido Bay amid the towering white sand dunes to explore historic Fort McRee. This time, instead of gunkholing, we stayed the course west into the picturesque bay, knowing that halfway across is the Florida-Alabama state line. As it turned out, Orange Beach was upscale and polished, and the Amphitheater at The Wharf about as good as it gets if you want to see live music by boat. We docked at the new marina equipped with every amenity, including the cleanest showers we've ever seen, then walked less than five minutes across a wooden pedestrian bridge to the outdoor concert seats.
This wasn't the Alabama my wife Christine and I sailed to five years ago, which included an overnight stop at Pirate's Cove, a few miles east of Orange Beach along the ICW. Pirate's Cove was a friendly, laid-back marina and open-air restaurant with dogs sleeping under the picnic tables and bikini-clad women in straw hats playing Frisbee in the soft sand. The locals, who had arrived in pickup trucks or small powerboats, were gearing up for Swamp Thang, a group of Alabama musicians known to crank the blues.
In contrast, The Wharf marina was brimming with expensive yachts and sportfishing boats. Our gleaming Beneteau 423 Incognito fit right in and the bow thruster made docking a no-brainer. Since we arrived early, we decided to walk to the town center just beyond the amphitheater before the concert. What we found was Alabama's equivalent of Rodeo Drive, with designer stores, boutiques, outdoor cafes, restaurants, street sculptures and a permanent Ferris wheel, which at 112 feet, is the tallest in the southeast.
Like moths drawn to light, we traipsed toward the Ferris wheel and paid $5 apiece for five revolutions. From the top it was easy to see the sweeping Gulf Coast with its white sand beaches and emerald green water.
The Dave Matthews Band played for four hours, with a single 15-minute break, culminating in an encore-driven rendition of its hit song "Crush." By then, the streets were bustling and the bars lively. It was definitely time to knock back a few beers.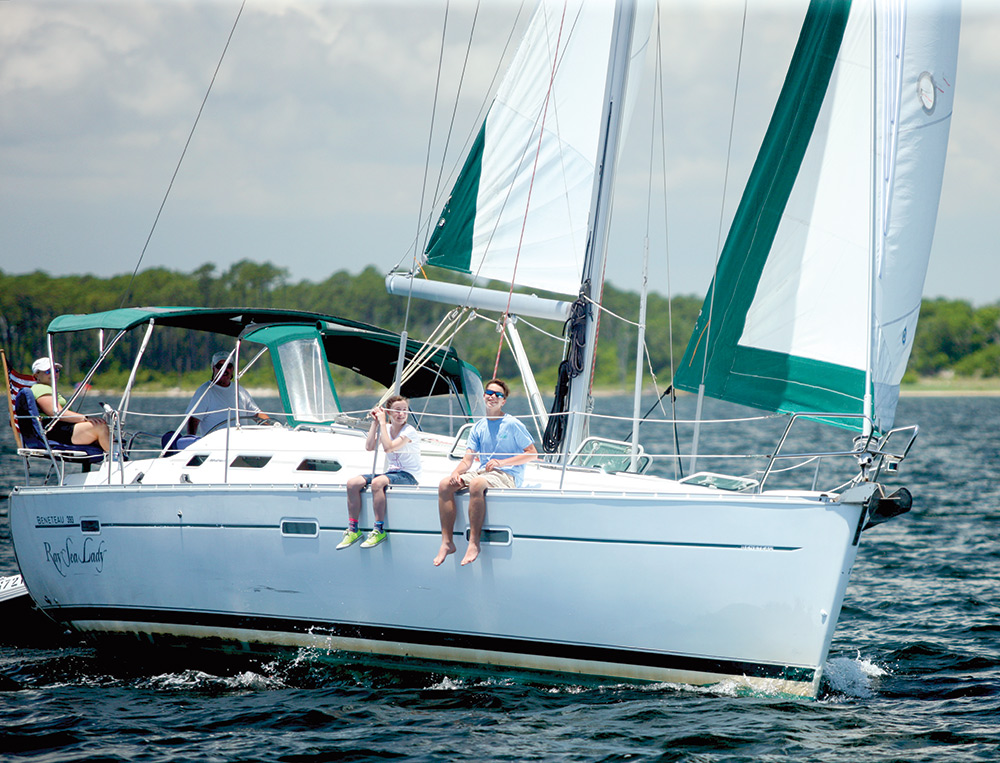 We had first met our friends Rick and Peggy Van Sleen 15 years ago, when they quit their corporate jobs at a Virginia telecommunications company and moved to Pensacola to purchase and run the Emerald Coast Yachts and Sailing School. It was a big gamble, and since then they've endured three hurricanes, including one that destroyed half their fleet, as well as the devastating BP Deep Horizon oil spill in 2010. But today the bareboat charter business and ASA sailing school are thriving as more sailors learn about what is perhaps the last stretch of unspoiled coast in Florida. And from all accounts, the environment has rebounded from the millions of gallons of petroleum that washed ashore from the oil spill.
With only one more day to spare from their busy schedule, Rick and Peggy returned to the charter base at Sabine Marina on Pensacola Beach to pick up their teenage son, Ben, and daughter, Lily, then sailed alongside us in their Beneteau 393 Sea Ray Lady as we cruised east from Pensacola Beach to Juana's Pagoda in Navarre Beach. The trip to Juana's was a straight shot along Santa Rosa Sound, the 60-mile long body of water than connects Pensacola Bay with Choctawhatchee Bay. The sail took barely four hours and we were on an effortless beam reach under a cloudless sky.
Juana's is a well-known sailors' hangout in these parts, easily identified by the conical shape of its three primary buildings designed to send hurricane winds swirling around rather than through the walls. It's nestled near the Navarre Bridge, which spans Santa Rosa Sound to connect Navarre proper with the barrier beach community.
We followed a row of red and white PVC pipes that marked the channel leading to the anchorage area in front of Juana's. Four other sailboats were anchored, along with a couple of fishing boats. People were skimming about on jet skis, paddleboards and kayaks. We relaxed in the cockpit and stuffed ourselves on mounds of Gulf shrimp, then piled into the inflatable, eager for a grouper sandwich and a cold drink.
Juana's vibrated a distinctly Caribbean feel. Our toes burrowed into the white sand as the bartender poured beers and mixed another batch of margaritas. Above our heads, the rough-hewn rafters and thatch roof were laden with curiosities, signs, sculptures, nets, traps and other nautical items. Reggae tunes set the mood, as the sounds of Bob Marley, Jimmy Cliff and a touch of Sublime twanged across the joint. Several of the staff rocked dreadlocks and T-shirts emblazoned with the letters ECT, for Emotional Control Technician. All of this reaffirmed our belief that there's something magical about establishments that don't require a floor.
Beyond the wooden railing, our boats bobbed quietly at anchor. We spent an hour playing the ring game, which involves trying to swing a metal ring attached to a wire from the ceiling onto a wall hook. Several locals joined in the friendly competition, which is part of the tradition at Juana's.
At nightfall, since there isn't much light pollution on the barrier beach, we huddled in the bigger Beneteau's cockpit to ponder the stars as 10-year-old Lily performed magic tricks and Ben related stories about what it's like to be 14 these days.
This wasn't our first romp in these waters. We were already familiar with the spectacular beaches and harbor towns east of Pensacola Beach, having sailed to Panama City and beyond to Port St. Joe. We were equally acquainted with the waters stretching west across Perdido Bay and into Alabama. But on this trip, we decided to spend more time sailing locally in an attempt to find out precisely what Pensacola has to offer sailors rather than simply use the coastal city as a jumping off point.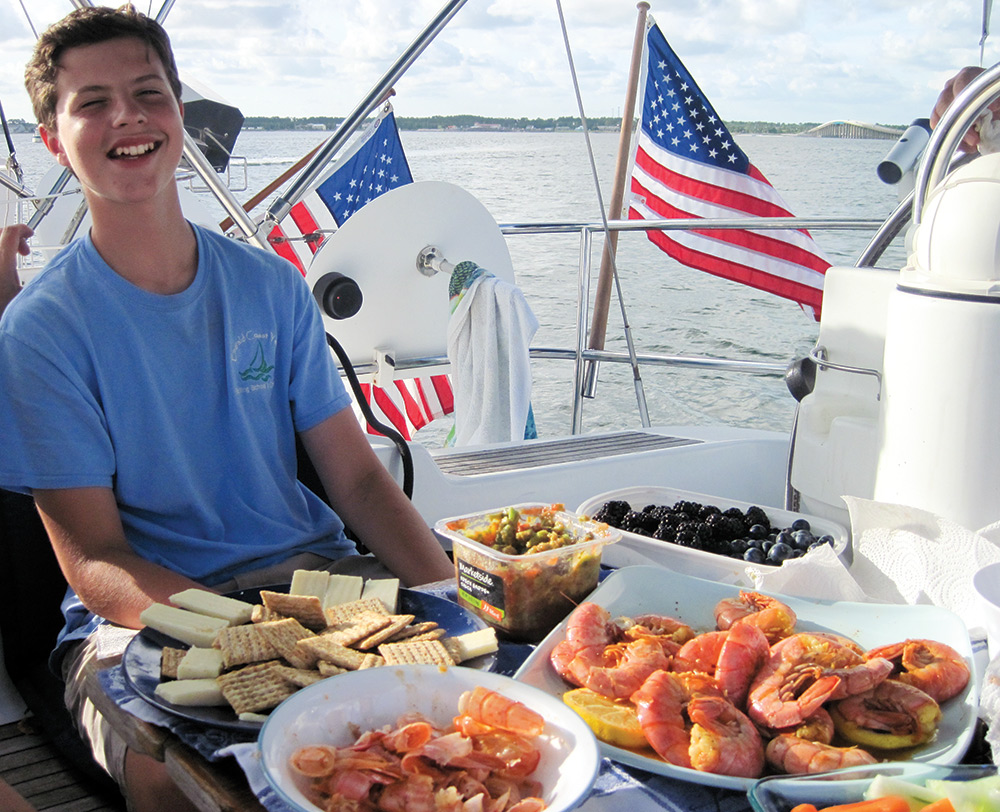 With the Van Sleens homeward bound, we again traversed lovely Santa Rosa Sound, the only sailboat gliding between the uninterrupted barrier beaches to port, and the forest and scrub pine to starboard, punctuated by elegant homes with docks. Eventually we turned north toward downtown Pensacola, which to us at that point meant a Navy training base, home of the Blue Angels air show team,and the airport. On previous trips, Rick and Peggy had picked us up at the start of our trip at the small terminal and took us straight to the Publix supermarket and liquor store to provision, a personalized service provided to all clients. So we hadn't seen much of the actual city but quickly discovered it has plenty to offer visitors, especially those who arrive by sea.

As we tacked across the outer harbor, dozens of boats festooned with colorful flags were coming toward us, the annual boat parade having just dispersed. Finding Palafox Pier behind the breakwater was simple, the location temporarily marked by the Juan Sebastian de Elcano, Spain's four-masted Navy training vessel, which, at 370 feet, is the third largest tall ship in the world. The topsail schooner was on a diplomatic visit because Spain as an ally defeated a British garrison in Pensacola in 1781 during the American Revolution.

The ship was a major attraction but we were keen on investigating the ongoing downtown renaissance near Palafox Street, which embraces the waterfront with marinas, parks and public water fountains where entire families come to splash. The area boasts gourmet restaurants, coffee shops, banks, art galleries and even mobile bars powered by customers seated and peddling. As customers get tipsy, they're handed a helmet in case they tumble off their seat as the bar moves along the street. Jaco's Bayfront Bar & Grille overlooks the Palafox Pier marina from its long patio and several tables were filled with cruising sailors.

Although it required a 20-minute walk, McGuire's Irish Pub was worth the effort. Both steakhouse and brewery, the place was hopping, even before the dinner hour. Men in kilts played the Irish pipes and drums as they wandered from one room to the next. The crowd spanned all ages and there was plenty of laughter, but then again, it would be hard not to have fun at an establishment whose slogan is: Feasting, Imbibery and Debauchery. More than a million visitors have signed and tacked a dollar bill to the ceiling, so there's literally a million bucks hanging overhead as you quaff one of the beers on tap. When McGuire's changed its location a few years back, the owners had to hire an armored car to move the money.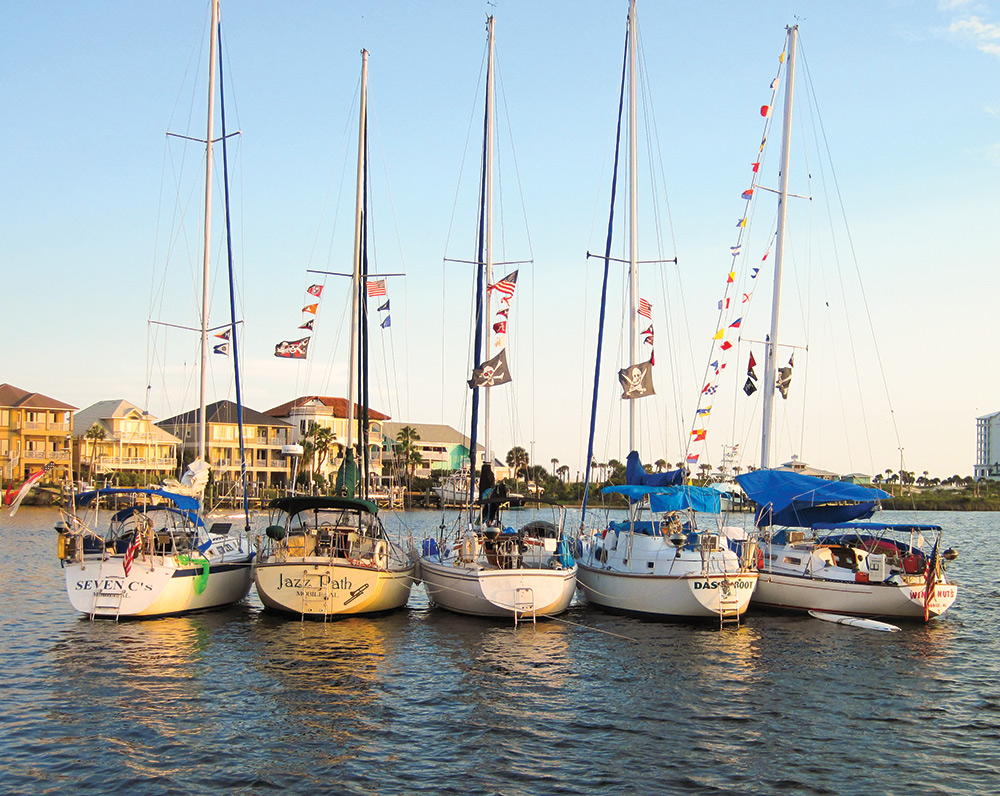 Our night aboard at Palafox Pier was calm and protected in a slip flanked by a 50-foot sloop and a towering sportfisher that had arrived after dark laden with red snapper and a few tuna. Since we had to catch a flight back to Boston, we returned to the charter base by late morning, left our bags aboard and walked five minutes to the gulf. There was no way we were going to visit this part of Florida and not take a leisurely swim in the warm, aquamarine water.

Several people were fishing from the remarkably long Gulf Pier, which juts out 1,471 feet, but most beachgoers were body surfing in the transparent green waves. The air temperature was approaching 90 degrees, prompting overheard complaints about the heat. Christine and I smiled at each other, knowing that New England was still registering in the mid-40s. We ceremoniously spread our towels on the soft sand and gazed out at the passing sailboats, the sight of which was enough to start us thinking about when we might come back.