At the top of Lake Huron lie the magical cruising grounds of the North Channel, where wildlife, northern lights and perfect sailing are a trifecta of pleasure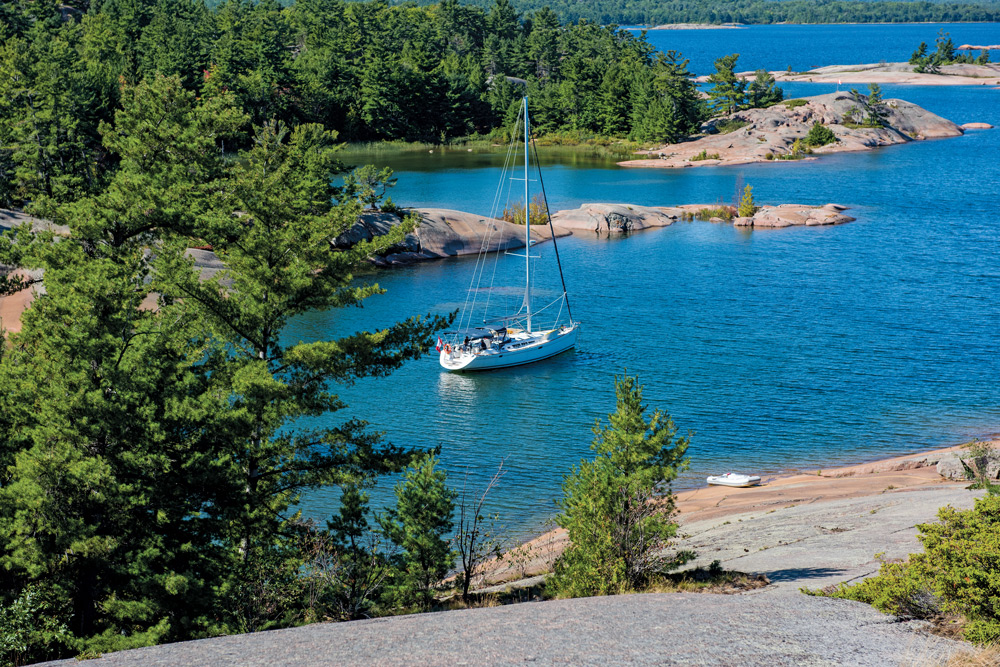 Sharon Mathews Stevens photo
Look at the bear!" someone shouted, pointing through the lifelines of our chartered Jeanneau 49 Summer Breeze. It was early afternoon on the penultimate day of our sailing trip on Lake Huron's North Channel, an area that many consider the world's best freshwater cruising ground. This unexpected encounter with nature seemed like a message sent from Gitchi Manitou to me and my crew as a living metaphor for one of the perks of sailing this pristine passage.
Not a big stretch, this allusion to the Algonquian Great Spirit Manitou given that, according to First Nations inhabitants, that very island was the spiritual home of the greatest Anishnaabe deity. At first the bear appeared like a shiny black imperfection marring the water's glassy surface but it kept moving, a V-shaped wake behind it, and when I turned the wheel to bring the boat closer we realized that we did indeed have company. We were powering through the sheltered one-nautical-mile passage after a picnic lunch in a cove lined by pink granite slopes on an island decorated with wind-swept pines. I throttled back and steered more closely to the bear, though we were careful to maintain a comfortable distance. Comfortable for us and comfortable for her.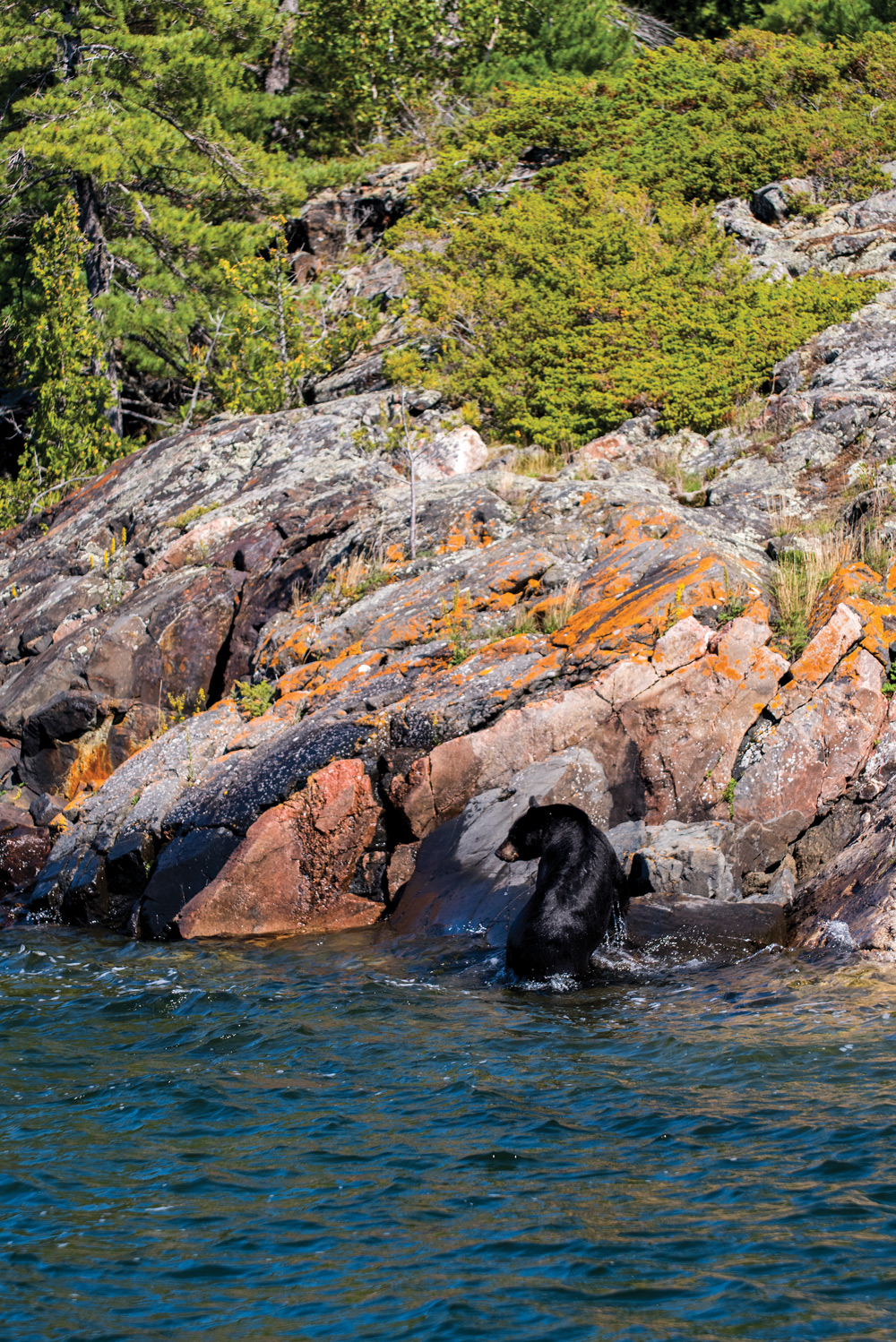 Sharon Mathews Stevens photo
She turned her head toward the boat, then she changed direction a couple of times, seemingly undecided between the island where she'd entered the water and Croker Island across this little opening. She decided at last on Croker Island. As we followed her, she swam to shore, scrambled up a steep but short slope of scrabbly rock, shook herself vigorously, and glanced back at us with a look of contempt before disappearing into the dense forest.
We throttled up, making for the most beautiful anchorage in the world. In the aftermath of our ursine encounter we were strangely silent, feeling like we'd experienced something really special. It was exactly what you'd expect from a North Channel charter.
The North Channel stretches about 70 nautical miles east from Killarney, Ontario, located in the northern corner of Georgian Bay, to False Detour Passage on Michigan's Upper Peninsula at the western end. Canadian Yacht Charters is strategically located in the channel, almost at the midpoint on the north coast of
Manitoulin Island in Gore Bay. Ken Blodgett and Pam McLaughlin (she's a Haweater, an affectionate term for those born and bred on Manitoulin Island) have run the company for more than 20 years. The company's dockside chandlery is one of the best stocked on Lake Huron north of Midland, and its charter options include bareboat and skippered charters with a fleet of thirteen monohulls ranging from a Hunter 31 to a Jeanneau 50, three catamarans and three trawlers.
The small town of Gore Bay offers everything you need both in terms of equipment and provisioning and it is an attractive spot for a pre or post-cruise stroll. The area is a gorgeous oasis marked by a white lighthouse with a red roof on the western side and a towering promontory you can hike and explore for panoramic views of the channel to the east. From here you can clear the opening of the bay to be greeted by vistas of mountains and emerald islands, cobalt-colored waters and great winds.
On this charter we'd chosen to explore the channel's easterly reaches, departing from Gore Bay heading to the town of Killarney, nearly 40 nautical miles to the east under heavy leaden skies and fickle winds. The passage between Clapperton Island and Manitoulin Island was particularly unnerving, as shoals abound in the channel, and we briefly touched bottom. The geological features of quartzite that make this such a beautiful cruising ground also mean that if you run aground you're talking rock versus sand. Your keel will never win that battle. Lucky thing it was just a light touch. It's worth keeping in mind something a channel regular told me halfway through my first charter here nearly 20 years ago. "Your stern could be showing 10 feet of water, and your bow could be on the rocks.
We made great time on a broad reach, though once past the swing bridge at Little Current we had to motor. We tied to the dock at Killarney Mountain Lodge and spoiled the crew with fine dining, a rustic bar and a heated pool.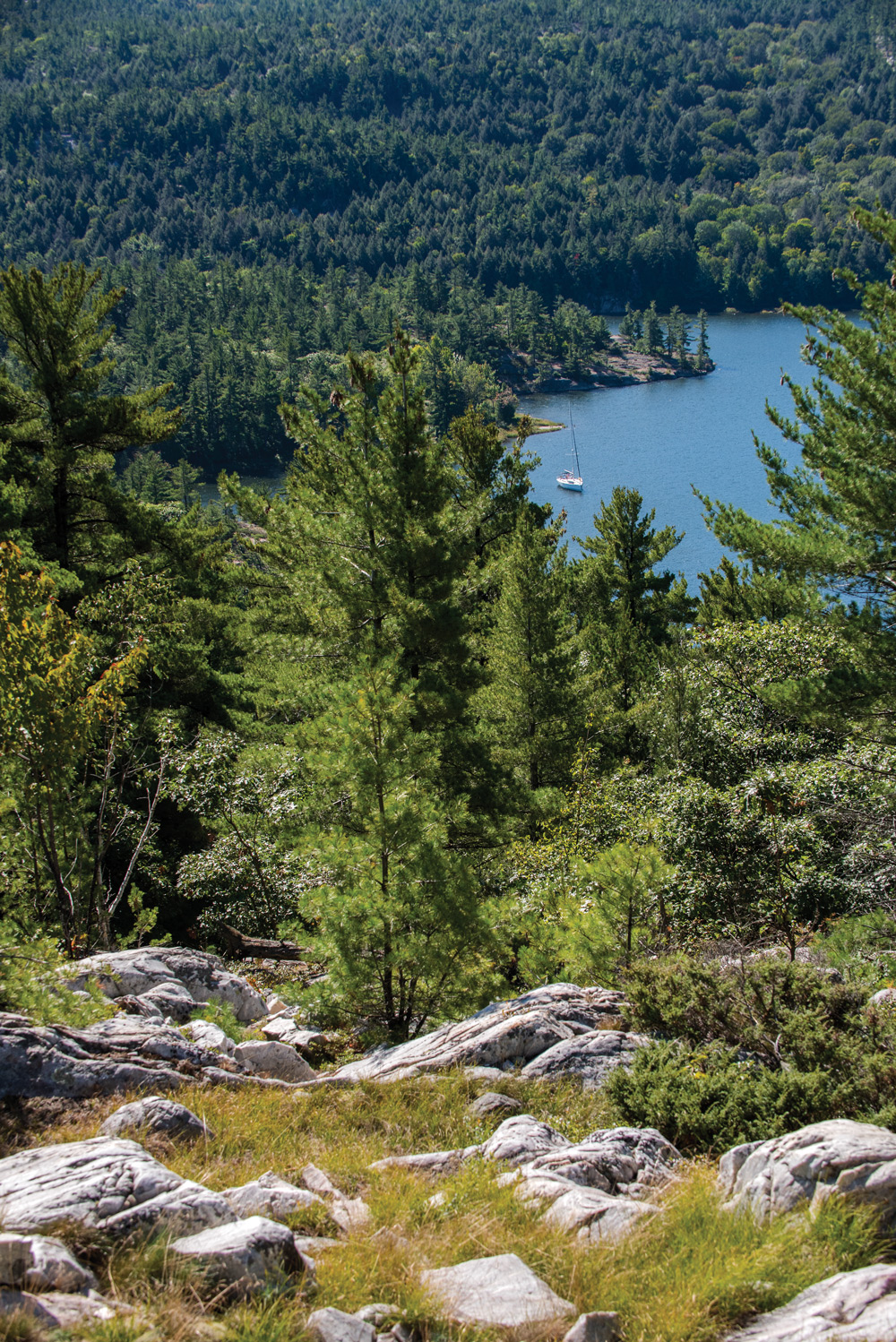 Sharon Mathews Stevens photo
A number of similar ports decorate the North Channel, including Kagawong that offers both charm and a beautiful shore hike to a pristine and much-photographed Bridal Veil waterfall. It is the hundreds of mostly uninhabited small islands and hidden coves that hold the most appeal. The next day we headed to one such spot that is reached by passaging up the long narrow Baie Fine fjord that ends at the aptly named Pool. We dropped the hook in a perfect sanctuary surrounded by granite cliffs, which we shared with only one other boat.
Shortly after dawn we climbed an old logging trail and swam in a mountaintop lake with topaz-colored water. We looked out over the Pool from the towering rock headland and decided this was one of the most beautiful anchorages in the world.
Sailing in the North Channel rivals the beauty of the anchorages, and we looked forward to the passage as we powered out of Baie Fine, turning west-southwest across Frazer Bay and sailing for the next five hours to the white lighthouse at Strawberry Island. Although our route out of Baie Fine was well marked through the shoals, we were relieved to reach the deep water of Frazer Bay. It was ideal sailing conditions and whitecaps were everywhere. Summer Breeze groaned under half a foresail and a reefed main. She was sleek, seaworthy and beautifully maintained, just like every boat we've booked through Canadian Yacht Charters for the past 16 years. The wind speed hit 20 knots true, gusting higher, and Summer Breeze loved it, sails set for a broad reach, heeling, but skimming sun-splattered waters as if on a mission from Manitou. The wind coming up to Little Current scurried across the surface, looking like icing on a birthday cake. Every once in a while we would burst into spontaneous laughter and shouts of pure glee. It was a day we'd never forget.
While Manitoulin Island protects the channel from the wrath of the open waters of Lake Huron, the channel's orientation of east to west allows for waves to build in the long fetch of the prevailing westerly winds. The channel narrows in spots, particularly around Little Current. We were happy to reach the calm of Little Current and its North Channel civilization for a must-do stop at Anchor Inn for fresh whitefish.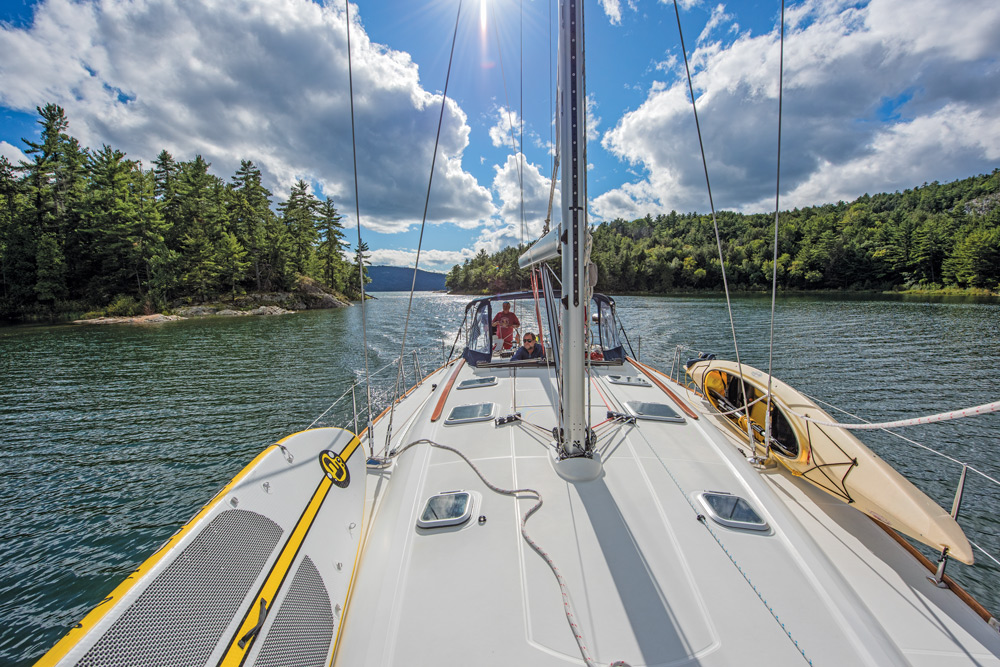 Sharon Mathews Stevens photo
Raising sails on our next-to-last morning we headed west out of Little Current, before turning hard to starboard for a beam reach up Wabuno Channel, bordered by low-lying tree-clad islands on either side and the peaks of LaCloche Mountains off in the distance. The water was open all the way to the narrows south of Clapperton Island, and we made a steady 6 knots close-hauled, sharing the sky-blue waters for a while with boats from Little Current Yacht Club out for a weekly race. We passed Manitoulin Island off the port beam, its high bluffs that are part of the Niagara Escarpment seemed majestic and aloof. The first leg of our morning passage west continued with strong wind and flat water before making another turn west for the lunch stop and bear viewing at Croker Island. We ended the day at South Benjamin Island, a place I liked to call my own little patch of paradise.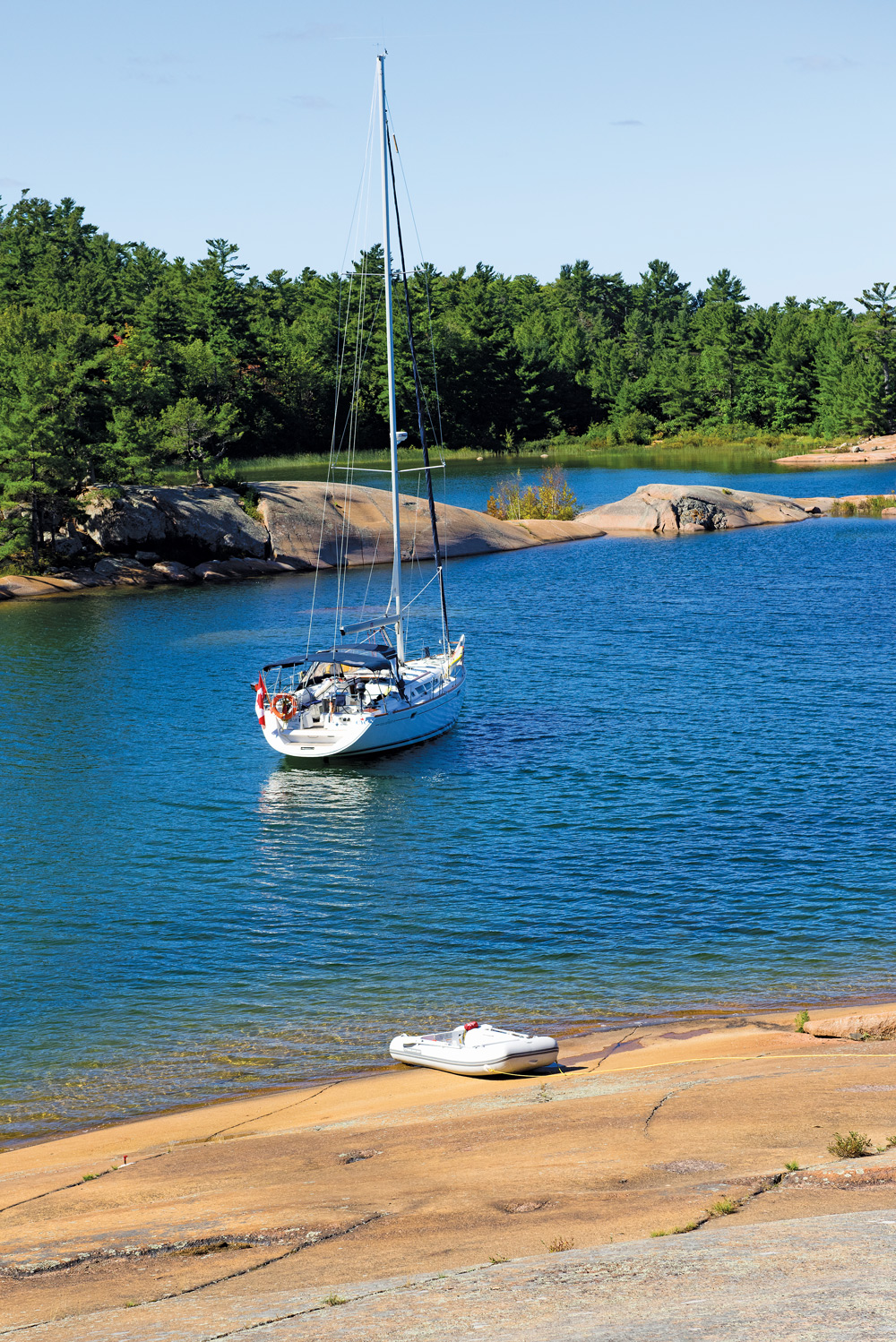 Sharon Mathews Stevens photo
The last night lying at anchor in the lee of South Benjamin, we had the cove to ourselves. The evening became transcendental and mysterious as the skies blazed with the dancing violet and pink rays of the Northern Lights. We shared memories about going ashore and hiking to Bridal Veil Falls, about the early morning mist opening up like a theatre curtain to reveal by degrees the scenery encompassing the Pool, and about perfect wind-blown passages we shared with nary another boat.
After the display of Aurora Borealis, a spectacle that local Indian tribes call the Spirit Dance, I went below to refresh our drinks. I found myself distracted by a book on the navigation table, Well-Favored Passage by Marjorie Cahn Brazer, beautifully updated by regular channel cruisers Pixie Haughwout and Ralph Folsom, who have transformed an ode to the area into an up-to-date cruising guide. Thinking to check out the write-up on the Benjamins, I plunked myself down in the saloon, gently rocked by wavelets lapping at the hull. I never found the section on the Benjamins because I became distracted by one of the very first pages containing an eloquent testament to this place that I couldn't have written any better myself.
"To the mariner in a small boat," Brazer had written, "it is a state of mind. It is a flight of the soul to a distant haunt of peace, of timelessness."
I put the book down and went topside with the drinks. The northern lights had faded but the moon had risen and the star-sequined skies sparkled overhead. And that's when the loon called out across the water: lonely, evocative, spiritual.
For more information on this North Channel charter contact Canadian Yacht Charters at 800-565-0022 or www.cycnorth.com.