Some of the world's most beloved cruising grounds hammered by hurricanes are fighting their way back to welcome cruisers
When the one-two punch of hurricanes Irma and Maria stormed through part of the Caribbean in early fall the destruction left in their wakes was unlike any seen there in recent history. Boats were overturned, tossed like toys on top of buildings and each other, structures were decimated and vegetation was obliterated.
Some of the hardest hit areas are also among the most popular cruising destinations in the world. But rather than throw in the towel, many charter operations, spurred by the enthusiasm and support of their faithful customers, have vowed to carry on.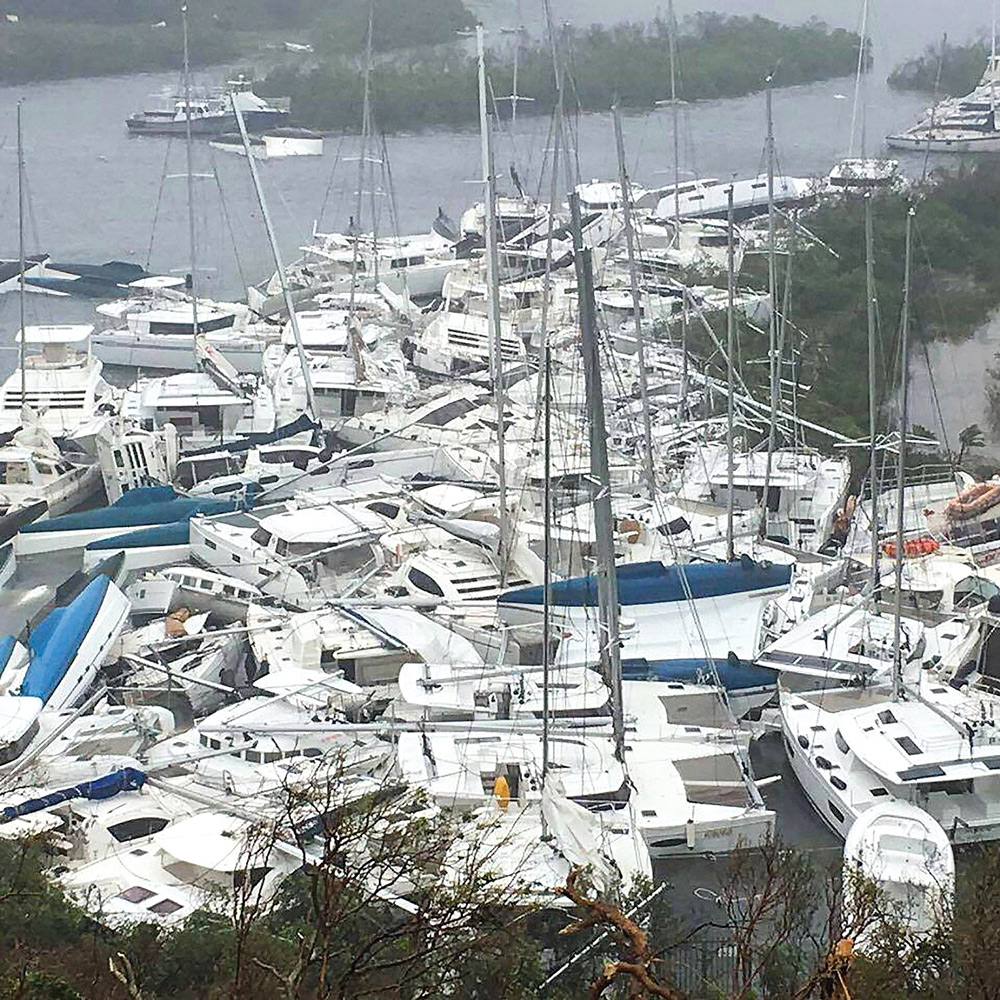 Several charter companies have announced they will be offering charters in the British Virgin Islands starting in mid-December, in part to meet the demand of customers who both want to support the islands during the recovery and revisit a favorite cruising ground. But both the BVI Tourism Board and charter companies warn visitors to temper their expectations.
"People who come will be experiencing the BVI the way it used to be," said Monique Putley, a volunteer for the tourism board. "The coral is still there, the sand is still there, the tradewinds didn't change. Folks will have found a way to get a generator for ice and there will be painkillers served. That won't change."
It may be years before the devastation wrought on the islands is no longer evident. Virgin Gorda, home to Bitter End Yacht Club, a popular stop for charterers and sailors looking for a land-based vacation in the islands, sustained tremendous damage, said John Glynn, vice president of sales and marketing for the Bitter End.
"In 30 years of doing this, no four storms have added up to this amount of damage," he said. "It's going to take a while to recover."
All 70 structures on Bitter End Y.C.'s 60-acre property were destroyed and most of its small sailboat fleet is also a loss, Glynn said.
"If we're able to salvage five or six boats out of 100, that would be an optimistic estimate."
The storms rolled through during the off-season, so only six people were onsite during Hurricane Irma, said Glynn, who was not in the BVI at the time. "It was a harrowing experience," he said. "There's no other way to describe it."
Charter companies The Moorings and Sunsail lost about a quarter of their combined fleet in the BVI, said Marketing Manager Ian Pedersen, and the companies are working nearly around the clock to restore their bases and fleet. In October, a crew of 110 people were working on the Road Town, Tortola, base, with a goal of a December 9 reopening. They expect to have 130 boats available then with additional boats coming in January and February, he said.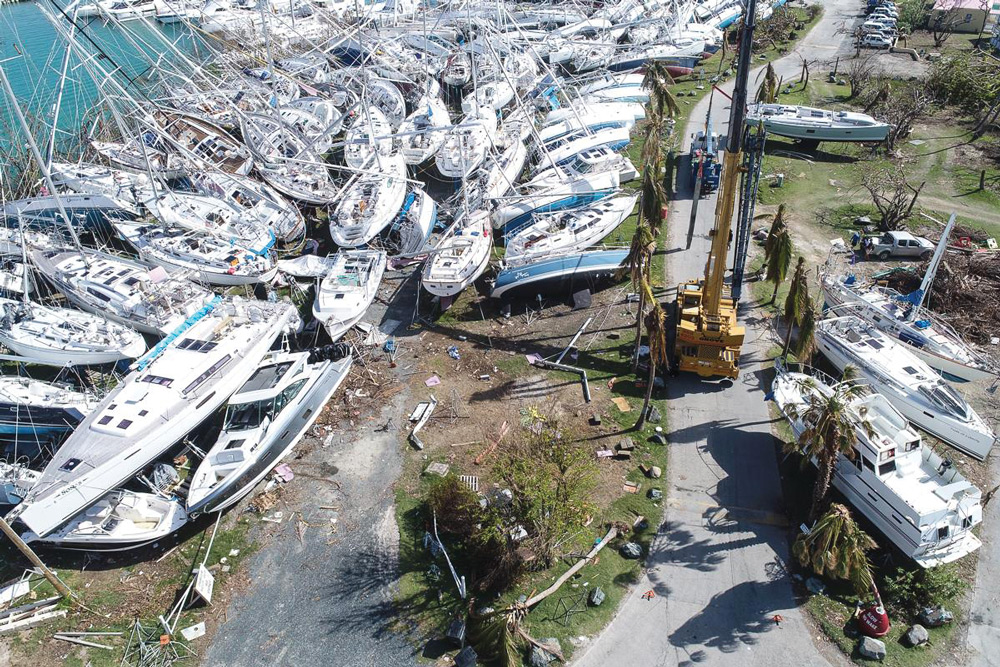 Seventy-three charterers rode out Irma at the company's base, stuck there for nearly a week before employees could help arrange transportation off the ravaged island for them, said Josie Tucci, general manager of The Moorings.
The company plans to nearly double its normal new boat order for 2018, bringing in $67 million in new boats from suppliers Robertson and Caine and Beneteau, both of which have promised to ramp up production in order to meet the need.
Other charter companies in the BVI plan to reopen prior to the holidays. TMM Yacht Charters has six new boats, all ordered prior to the hurricanes, scheduled to be delivered in time for the high season, but co-owner Lin Crook said they are still sorting through the damage.
"We've been through 10 hurricanes, and this is the only one we've had any damage in," she said.
Other charter companies, including Dream Yacht Charter, which ordered 20 new boats for its BVI and St. Martin bases to be delivered before the end of the year, Horizon Yacht Charter, BVI Yacht Charters and Marine Max have announced they will open BVI bases by early winter as well.
The status of charter operations on other islands is less clear. St. Martin, which was also hit hard by Irma, sustained significant damage to marinas and facilities. Moorings said it expects to be operational there later in 2018 but did not share a timeline.
The Spanish Virgin Islands of Culebra and Vieques off Puerto Rico's coast were damaged in Irma but pummeled in Hurricane Maria. These islands, which have become popular chartering destinations in recent years, are in a state of crisis, and it seems unlikely tourism will return there in there near future. However, Dream Yacht Charter reported that its fleet in Puerto Rico did not sustain major damage and the company was planning to have its base operational by November.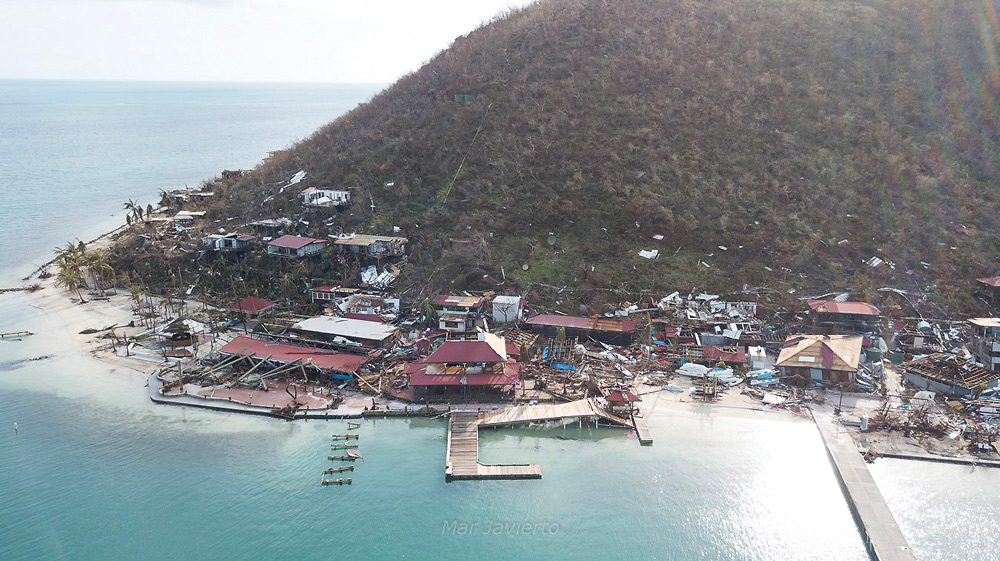 However much of the Caribbean was spared and charter sailing will be business as usual in those locations. Bases in Grenada, Martinique, St. Vincent and other parts of the southern Caribbean were not affected by the hurricanes. Similarly, the Bahamas escaped severe damage and several charter companies are encouraging sailors looking for shorter flights to consider sailing in either the Abaco or Exhuma island chains.
"We remain committed to the Caribbean and its wonderful communities, all of which rely heavily on tourism, including the yacht charter industry, and the islands need our support now more than ever," said Loic Bonnet, founder of Dream Yacht Charter. "Keep faith in the wonderful Caribbean people to rebuild and recreate the paradise that we all know and hold so dear."
Sailors who had already booked charters for hurricane-affected areas were being given the option of switching their charter to another location, rebooking for another time or receiving a refund by most companies. The BVI is perhaps the world's most popular charter destination because of its predictable winds and easy-to-navigate waters, but it may be a good time to consider exploring a new location and plan to come back to the BVI next year, said Nicholle Smirlis, marketing manager for Sunsail.
But sailors fall in love with the Virgin Islands easily, Glynn said. That's why he said he wasn't surprised by the overwhelming response to a fund set up to support the citizens of Virgin Gorda and the employees of Bitter End Y.C. The fund, one of first of several created to support the citizens of hurricane-ravaged islands and the employees who rely on tourism and sailing for their livelihood, quickly grew to more than $350,000 with $100,000 more coming at fall boat shows.
"I knew there was a very strong, passionate connection for people who come to the BVI," Glynn said. "It's a bond that I've seen over the last 30 years. It's been wonderful that even in this period of donation fatigue with so much disaster relief necessary in so many places, that even in light of that people have been so willing to help. They are saying, 'To heck with it, we're going to go there.'"
The Virgin Gorda fund—Bitter End Y.C. is by far the largest employer on the island—will be used for long-term recovery.
"We're in this for the long haul," he said. "When the government funding runs out, it's going to be incumbent upon us to keep helping and still be there with those funds in place to continue the process. There is no work on Virgin Gorda for the foreseeable future."
The BVI is anxious to have sailors come back soon, the tourism board said. Daily updates on the status of the recovery, including businesses that are open, is available at www.bvitourism.com/hurricanerecovery.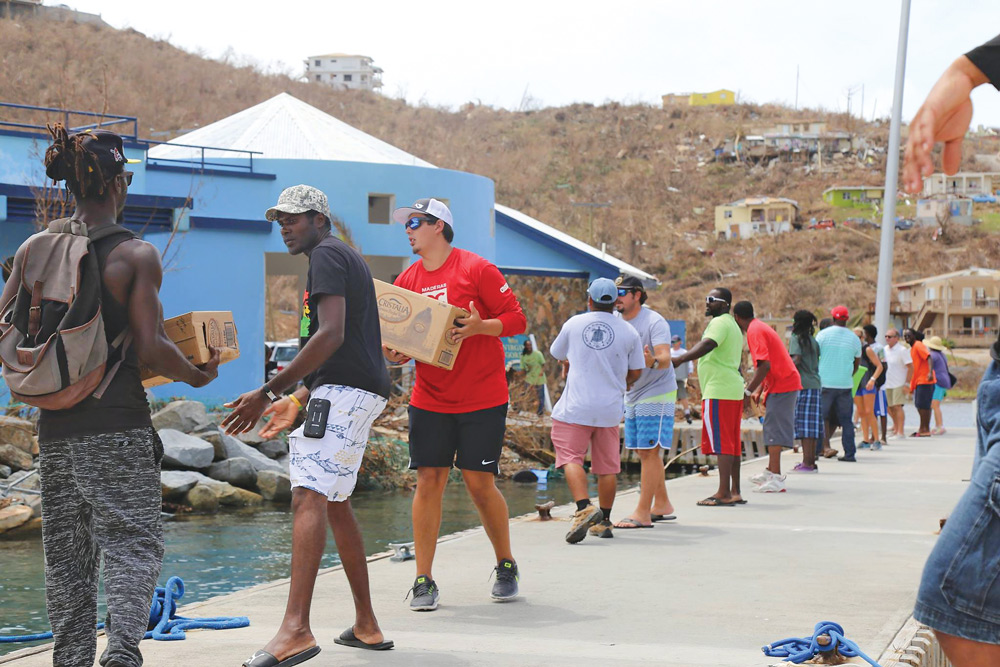 If what charter companies are reporting is any indication, the BVI won't have to wait long for the sailors.
The Moorings' Tucci said the response from clients has been heartwarming. "We've had so much feedback, and people are saying 'Just tell us when you're open because we're coming,'" she said. "We'll have rum, ice, blue water and sandy beaches."
For a list of funds supporting hurricane-affected areas and the staff of sailing organizations in those areas, go here.