Bringing back the woodies
Star boat sailors are breathing new life into the class by rescuing, restoring and racing classic wooden boats in the inaugural Vintage Gold Cup on Michigan's Gull Lake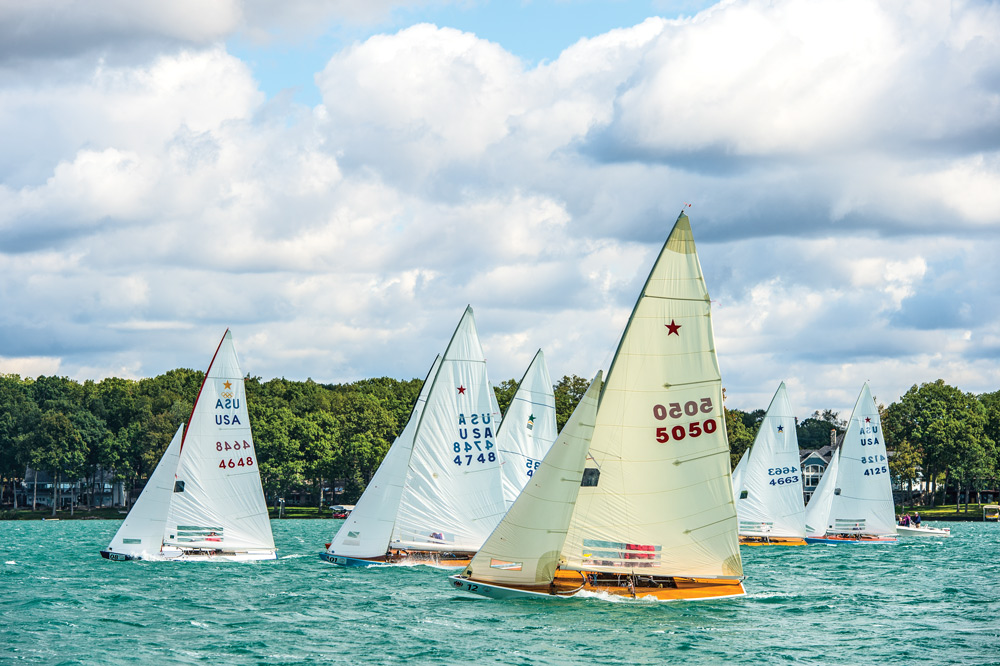 Walter Cooper photo
By all accounts, Michigan's Gull Lake is a sailor's lake, often bustling with regattas or packed with weekend daysailers. But there was something special about the 12 Stars that took to the racecourse on a crisp early fall weekend. Sailed by some of the best sailors in the class, the colorful boats were all 50 years old, lovingly restored, some just in time for the Vintage Gold Cup. It was exactly what the regatta's organizers had in mind.
"When we saw what fun everyone had in the woody regatta at the centennial in Larchmont, we knew that was something special, something that could bring new life to these Stars, and new life to the class at the same time," said Don Parfet, a businessman from nearby Kalamazoo and one of the regatta's masterminds. "We hope that this is just a start of things to come, to see it spread across the country."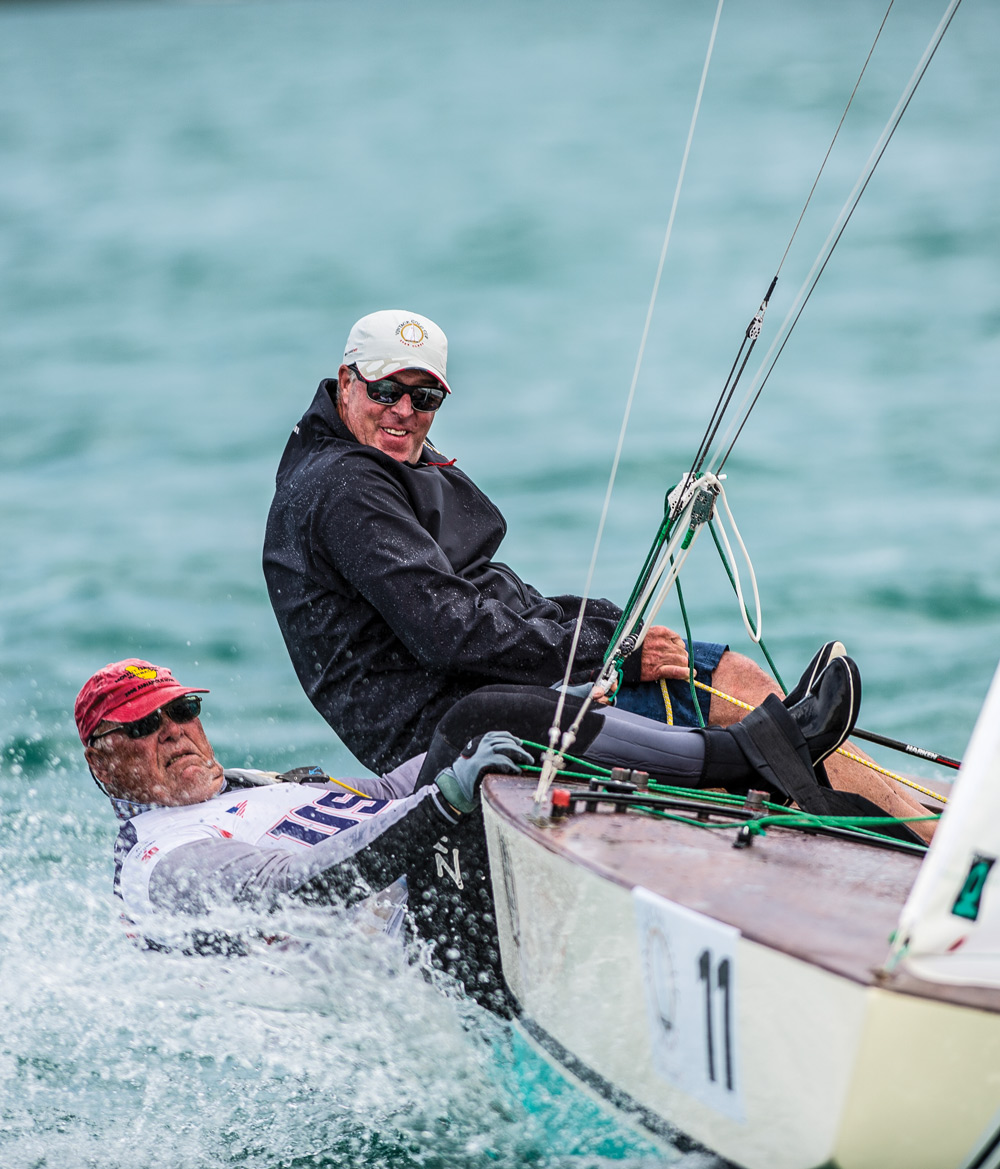 Walter Cooper photo
The event's precursor, the Star woody regatta in 2011, was at the North American Centennial regatta in Larchmont, New York, which celebrated the Star's 100th anniversary. The event inspired Gull Lake sailor Parfet, who had sailed his father's restored Star 5050 in the regatta, to organize the Vintage Gold Cup together with avid Star sailor and boatbuilder Jon VanderMolen.
The Stars sail as a one-design class, but tolerances within the measurement rule are large enough to allow for development in design. VanderMolen built a modern class design, the P Star, at his company, North American Sailing Center, in Richland, Michigan, until 2013, when interest in the class declined after it was dropped from the Olympics. More than 8,500 Stars have been built, with more than 2,000 still actively sailed worldwide. While new Star boats are still being built in Italy, the majority of the Stars built from days gone by are wood, and tapping into this languishing pocket of remaining wooden Stars is one way the organizers hope to grow the class.
"I have to say that it was hull No. 5050 that started this whole thing," VanderMolen said. "It was Don's family boat that really never left the area, and it had been mostly restored in 2002. Then Don bought it back to sail at the Larchmont centennial."
VanderMolen's next project was in 2013, after he acquired No. 4554 by happenstance when a customer looking to barter with him for P Star parts had a woody he wanted to trade.
"I really put a lot of time into that boat, and a lot of sexy P Star parts," VanderMolen said. "There's a lot of luxury in that orange boat."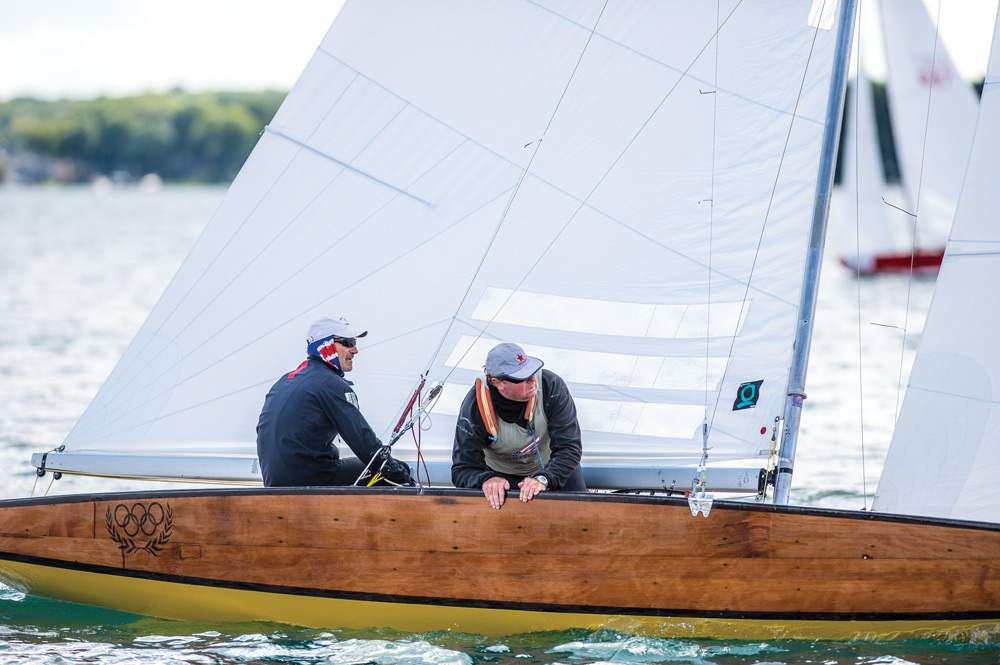 Once the idea of the regatta took hold, it was time to build the fleet. VanderMolen and his partner Mike Ward set about restoring Stars, some purchased and others donated, all originally built in the 1960s at Lippincott Boat Works, Eichenlaub Boat Co. or Old Greenwich Boat Co. The first step was to make the hulls water tight, and to fair the bottoms and keels in his bright-blue building nicknamed "The Shop"perched on a hill overlooking Gull Lake. Original hardware was used when possible or practical, although new Harken hardware and new spars and booms were used often on the boats. If a bronze part couldn't be used, a stainless part was created at 2nd Wind, a local shop run by Phil Brule, a retired engineer from Stryker.
"We restored seven boats in 11 months," VanderMolen said. "Each boat we'd do, we kept tweaking the control layouts, making the boats easier to sail."
The call went out to the class, and sailors from Maryland, Florida and Canada packed up their restored Stars to join the party. Top Star sailors, past world champions and Olympic medalists including Mark Reynolds, Paul Cayard, Andy MacDonald and John MacCausland were invited to sail the Gull Lake Stars that had been restored in The Shop. Gull Lake straddles three counties in lower Michigan's southwest corner in the town of Richland. Spring-fed, it is a little over three square miles and 110 feet deep, and racing is run out of the Gull Lake Country Club, which has an active local racing schedule and youth sailing program. The three-day regatta included a day of practice racing, daily social events and Concours d'Elegance-type judging, where club members could vote on the prettiest Star.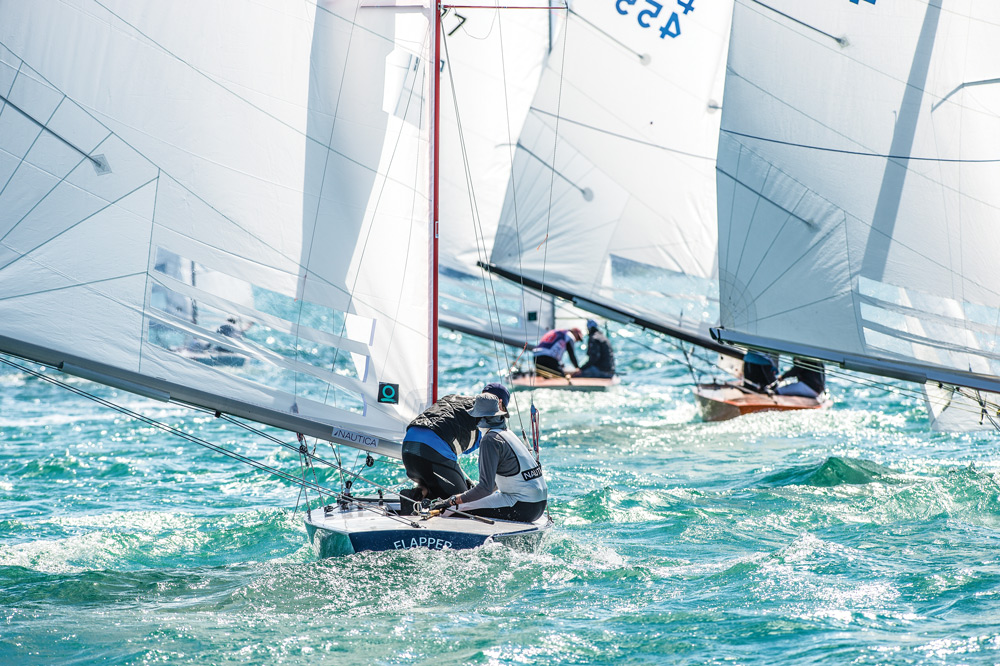 Walter Cooper photo
One of the Stars was trailered from Acadia, Florida, in the wake of Hurricane Irma by skipper Arthur Anosov, but the boat had been bought in Canada by his crew David Caesar, who races with the Seneca Lake fleet in New York.
"We always race the Tulip Tune Up in May with our own boat," Caesar said, referring to the popular Gull Lake Star regatta that has been held each spring for more than 60 years. "But this time Jon said 'don't bring your boat, I've got something for you,' and he gave us Gem IX. I blame him for giving us the disease."
Caesar found Magic, hull No. 4789, in Hamilton, Ontario, which was owned by a classic Star collector and longtime class supporter John Finch.
"We bought it this spring, and although the hull was in pretty good condition, the rig had to go. And we only had time to paint the bottom and get it rigged," Caesar said. "We didn't realize there would be a beauty contest."
"Right now I call it the Ugly Duckling," Anosov said. "When I have more time I am going to make it as pretty as the others."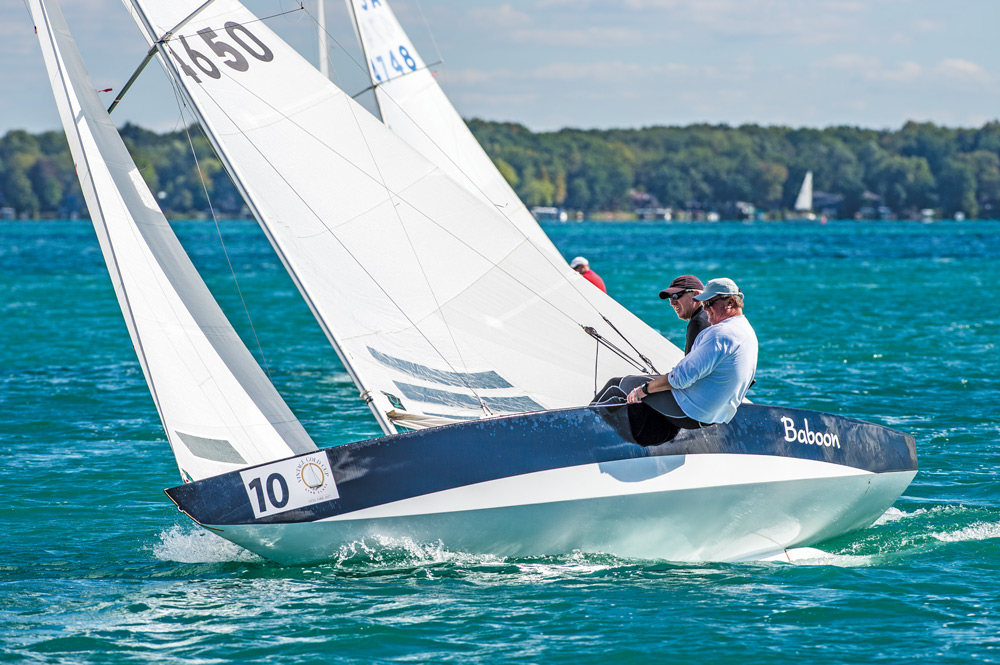 Walter Cooper photo
Designed in 1911 by Francis Sweisguth, the 22-foot, 7-inch hard-chined Star is an interesting boat to sail. Its large, 308-square-foot sailplan is powerful, and the keelboat is light at 1,479 pounds, making the boat fast in light air. When the breeze pipes up, controls such as a circular boom vang, a flexible rig that is easy to depower and the hiking vest that allows the crew to droop hike in comfort, combine to keep the Star on its feet. There are no spinnakers on Stars, which use a whisker pole on the jib and rake the rig forward to make the most of sailing downwind. While there are subtle differences in the design, such as keel placement and hull shape, the main difference between classic and modern Stars is the cockpit design, which had many of the Vintage Gold Cup sailors remarking on the bumps and bruises that came from sailing the classics.
"No question my modern Star is more comfortable; this one has more sharp edges," said Keith Donald, who sails with the Severn Sailing Association in Maryland. "But in terms of sailing, it is very similar in feel."
Donald trailered Hope, hull No. 4125 that was built by Skip Etchells at his Old Greenwich Boat Co. in 1959, from his home in Bethlehem, Pennsylvania, where he had been working on restoring her since 2007.
"It was just a hull, no rigging or hardware," he said. "I stopped counting after about 400 hours of frustration, but it feels great having brought her back to life."