Famed lensman Onne van der Wal set a deadline for the mostly DIY refit of a classic cruiser fit for the family
It was 40 degrees in the Pearson 36 Onne van der Wal had propped up on jackstands next to his house some nights. Although the boat, which was undergoing a mostly DIY refit, was heated, snow would pile up on its cover, making any project a bone-chilling affair.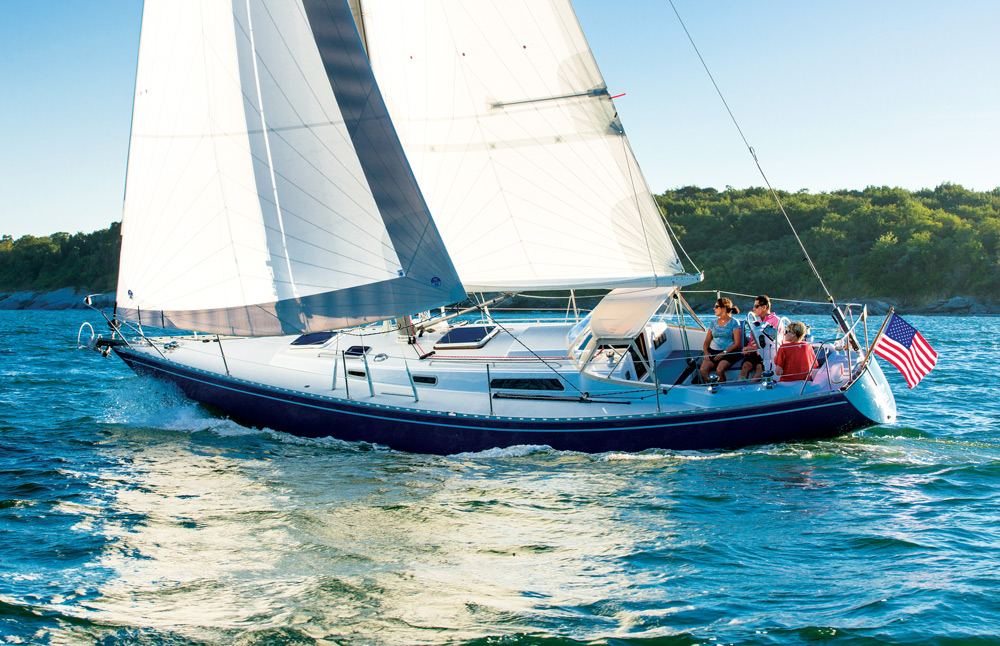 Onne van der Wal photo
But van der Wal, who raced, cruised and fixed sailboats long before he became known as one of the best sailing photographers in the world, was driven by the desire to have the boat ready for the simplest kind of sailing the following summer: go for a sail, drop the hook and go for a swim in and beyond the Narragansett Bay waters adjacent to his Newport, Rhode Island, home.
"I just knew that we would really enjoy it," van der Wal said of the impetus for taking on the 10-month project. For years the family had an Airstream trailer they would travel to van der Wal's photography assignments in to tack on a vacation, but he was craving something else. "I just got tired of always having to look for campsites, so I thought 'Let's sell it and get a sailboat.' We live in such a beautiful cruising area; we have to do this."
When setting out to find a boat that he could refit, van der Wal narrowed it down to an older boat from the 1970s or 1980s in the 30- to 35-foot range, he said. The Pearson 36 came highly recommended.
"I ended up looking at four of them, but the one in Newport was the best," he said. "It hadn't been tooled around with. It was a clean, old boat that I could just go to work on and do what I wanted."
Van der Wal and the boat's owner took it for a sail, something the boat hadn't been treated to for some time.
"The harbormaster said 'Man, it's nice to see someone out on that boat."
It was nearly love at first sail for van der Wal, who said after steering for just 20 minutes and taking the boat through a few tacks, he knew he wanted to buy it. "The deal was done before I walked off the boat," he said.
When van der Wal calls the boat "clean" he is referring the fact that it was still in nearly its original 1970's configuration. By any other measure of cleanliness, it was in rough shape. It was stuffed with stuff, as though a lot of gear had come on it, rarely did any come off. Van der Wal's wife Tenley was not as convinced as her husband.
"When Tenley went down below, she said, 'What are you thinking?' She had faith but she wasn't too excited."
After a survey in which van der Wal was most concerned with the hull-to-deck joint and the core, the sale was official and van der Wal immediately went to work, emptying it of its contents. The sale was completed in October and van der Wal needed it to be launched by July when the family rents out their house for a few weeks.
"It was a solid, concrete deadline," he said. "One of those deadlines where you can't fool yourself when it's February and 40 degrees on the boat. You have to dig deep and find the motivation to keep going."
The work on the boat the van der Wals named Snoek in homage to the fish Onne caught as a child in South Africa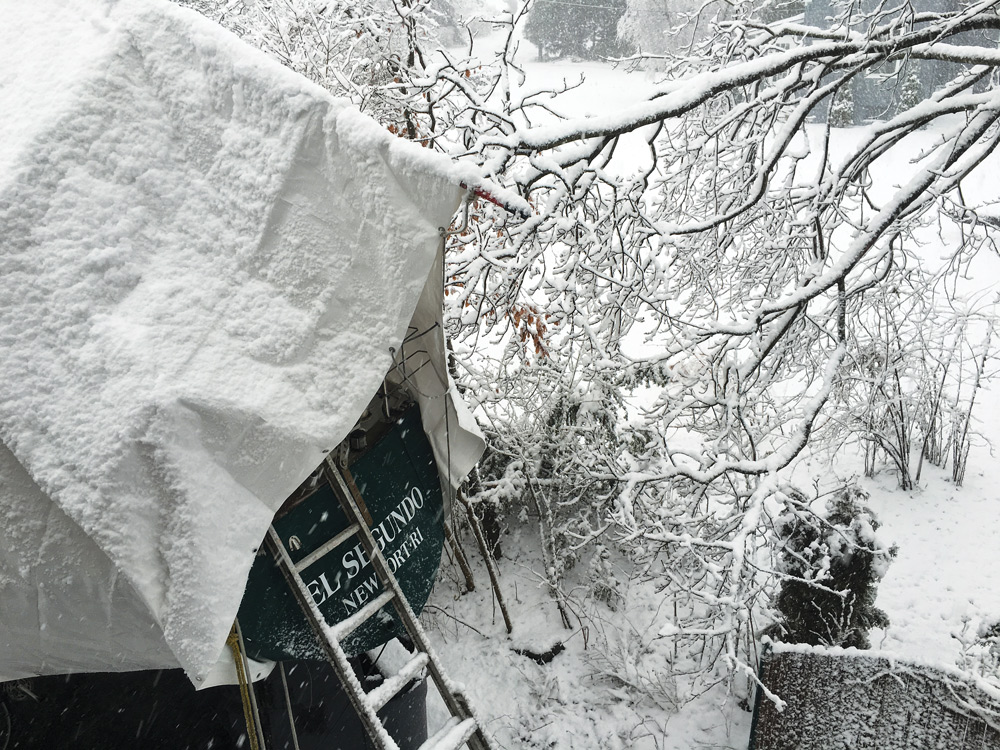 Onne van der Wal photo
was made easier by moving the boat into the van der Wals' driveway, making late night toiling away at a lengthy project list a bit more palatable. The work list, which hits on nearly every system and part of the boat would be daunting to anyone. Given that there was only 10 months to do the work and that much of it was being done by van der Wal, the list seemed almost outlandish.
It started, though, with a thorough cleaning. After removing everything from down below, van der Wal and his son pressure washed the entire cabin, from the bulkheads down. He put a 44-gallon drum under the bilge outlet where the water would drain. Sediment settled at the bottom for collection and disposal and the water would just overflow. After it dried out, he painted the bilge with Interlux Bilgecoat and all other white parts of the cabin with Interlux Brightside paint. Exterior painting would wait for the end of the project.
One of the biggest projects van der Wal took on required some help. The boat's original Atomic-4 engine had been replaced with a Yanmar diesel but new engine mounts were needed. This required removing the engine by setting up a beam across the companionway and a comealong to move it into the saloon while the work was done in the engine compartment. This also offered an excellent opportunity to give the engine a good cleaning. Meanwhile, van der Wal thoroughly cleaned the engine compartment and installed one-inch-thick soundproofing. The aluminum-backed soundproofing came in sheets that van der Wal could cut in his workshop and attach with nails. The effort was well worth it, van der Wal said, as the engine noise is greatly reduced.