The crew of a Volvo Ocean Race boat suspended a 10-hour unsuccessful search for crewmember John Fisher, who went overboard in the Southern Ocean March 26. Fisher was declared "lost at sea" by race officials, but other nearby ships continue the search.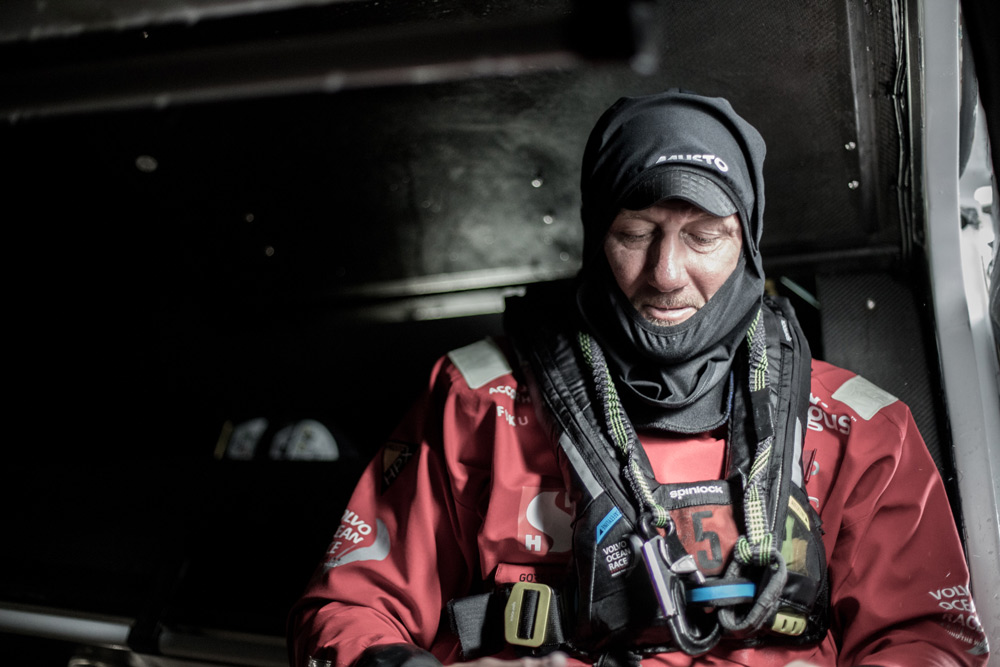 Konrad Frost/Volvo Ocean Race photo
In gale-force conditions, Team Sun Hung Kai/Scallywag crewmember Fisher fell overboard in the Southern Ocean approximately 1,400 miles west of Cape Horn on Day 9 of the 7,600-mile Leg 7 from Auckland, New Zealand, to Itajaí, Brazil. According to race officials, the Scallywag crew immediately turned the boat around and began to sail upwind in a search pattern coordinated by the Maritime Rescue Coordination Centre. After a 10-hour search, the team was unable to locate Fisher and with conditions worsening and daylight fading, they stopped the search and turned back downwind toward safe harbor on the Chilean coast, the nearest safe landfall approximately 1,200 nautical miles away.
"Given the cold water temperature and the extreme sea state, along with the time that has now passed since he went overboard, we must now presume that John has been lost at sea," said Richard Brisius, Volvo Ocean Race president. "This is heart-breaking for all of us. As sailors and race organizers, losing a crew member at sea is a tragedy we don't ever want to contemplate. We are devastated and our thoughts are with John's family, friends and teammates."
It was daylight when Fisher, who was on watch and wearing survival equipment, went overboard in 35- to 40-knot winds, 20-foot waves and 48-degree water. The Volvo 65 was sailing downwind at 18 to 20 knots.
"The crew immediately turn the boat around, started to sail upwind and commenced a search pattern to look for John," said Phil Lawrence, Volvo Ocean Race director. "Race control monitors the boats all the time and saw SHK Scallywag stop and turn around. We could tell from the telemetry that the rig was up so we knew that there was probably a man overboard situation.
"We don't immediately contact the boat because we know the sailors are totally preoccupied in trying to rescue the man overboard. So we give them some to time to get them back," Lawrence said. "They sent us an email at 1340 hours to notify us and we activated all the marine rescue authorities."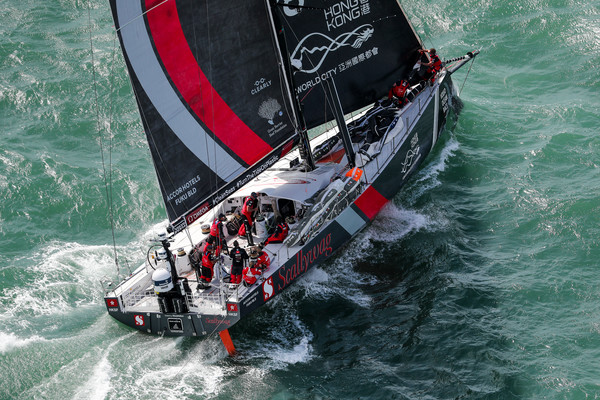 Ainhoa Sanchez/Volvo Ocean Race photo
The boats are equipped with extensive emergency equipment, including satellite communications, EPIRBs, Personal Location Beacons, Search and Rescue Transponders (SARTs), and handheld VHF radios along with aviation frequency emergency radios. Other overboard safety gear includes Jon Buoys for man overboard recovery and a man overboard alerting and positioning system.
"Every sailor in the Volvo Ocean Race is fully equipped with a wide range safety equipment: a survival suit, a life jacket, harness, personal locater beacon, strobe light," Lawrence said. "We understand, but haven't confirmed, that John was wearing the safety equipment."
The six other Volvo Ocean Race boats were approximately 200 miles ahead and downwind of Scallywag and were not diverted to assist in the search operation due to the conditions. The MRCC identified a ship approximately 400 nautical miles away, which was diverted to the scene and continues in the recovery effort.
"If we would have turn the fleet around to go back we would have placed those boats in danger, and it would have taken them at least 24 hours to get back," Lawrence said.
No details were given as to whether the crew was able to use the emergency beacon signals from either Fisher's PLB or SART, but given the gale-force conditions with intermittent 60-knot squalls, it would be like looking for a needle in a haystack. By the time the boat, which at the time was sailing at 20 knots under reduced sail, would have been able to stop and turn around, it may have been miles from Fisher.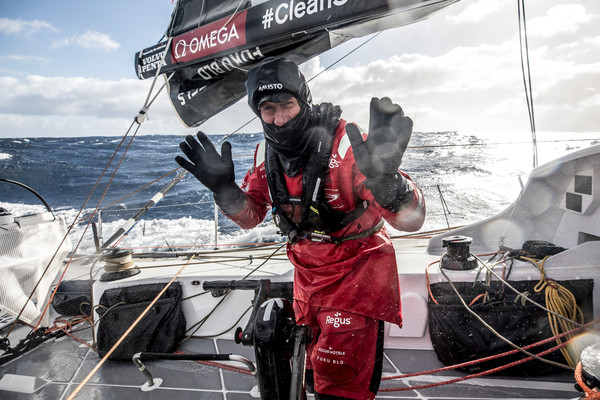 Konrad Frost/Volvo Ocean Race photo
"We don't have information on how John went overboard. We will get it when we have a chance to interview the crew," Lawrence said. "As you can imagine, the Scallywag crew is very shocked, they are very distressed, and our focus at the moment is getting the boat safely to Chile. They are in bad weather conditions and we are sorting out a routing for them that will keep them safe and get them to port."
Team SHK/Scallywag is forecast to make landfall in approximately four days time. The six boats still racing in Leg 7 are now 900 miles from Cape Horn, with an ETA to round into the South Atlantic on Thursday.
"We are deeply shocked by the loss of John Fisher, known to us sailors as 'Fish'," said race veteran Bouwe Bekking, the skipper of Team Brunel, which is currently leading the fleet toward Cape Horn. "Our thoughts are with his family and of course the Scallywag crew. There hasn't been a moment since we heard that I didn't wake up thinking about him."
This is the second overboard for this 45,000-mile around the world race that begin in Alicante, Spain, in October. On the leg 4 from Australia to Hong Kong, Scallywag crewmember Alex Gough went overboard but was quickly recovered unharmed.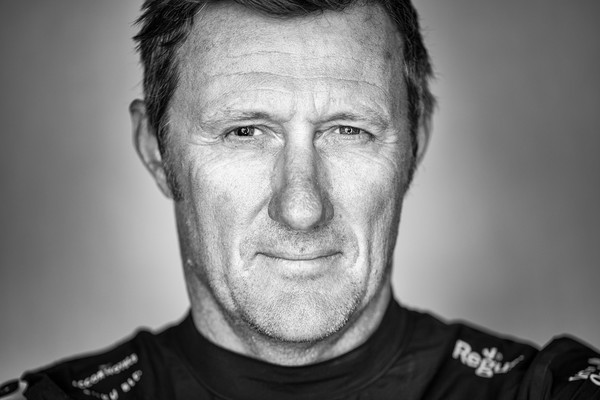 Ainhoa Sanchez/Volvo Ocean Race photo
Fisher, 47, from Southhampton, United Kingdom, had recently called Adelaide, Australia, home, where he had sailed aboard the maxis Scallywag and Ragamuffin, including the Sydney-Hobart race. This was his first Volvo Ocean Race.