The Golden Globe Race is taking solo sailors nonstop around the world using the same technology that was available when Robin Knox-Johnston sailed the first one in 1968
Just as the Volvo Ocean Race fleet nears the finish line July 1, having zoomed around the world aboard high-tech 65-footers at speeds often exceeding 30 knots, sending high-tech drone video updates of every thrilling moment, 19 solo sailors will leave Les Sables d'Olonne, France, for a nonstop circumnavigation race aboard 30-footers retro-outfitted, meaning no GPS, satellite weather, watermakers, AIS, radars, chartplotters, instruments, autopilots, digital watches or even iPods. These hardy skippers in the Golden Globe Race are going old school on the 50th anniversary of the inaugural race in 1968.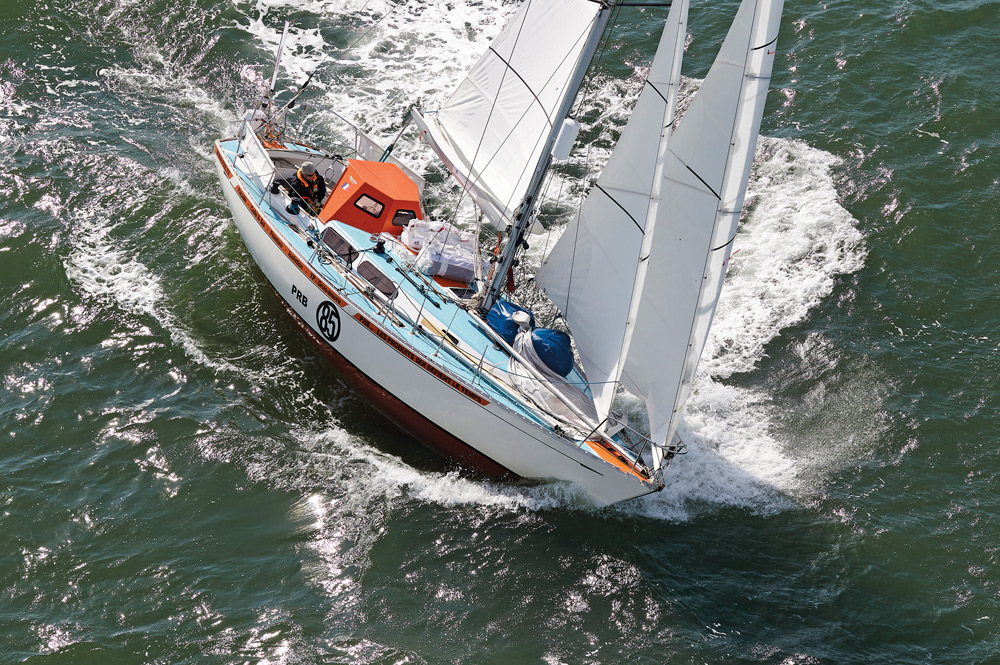 Benoit Stichelbaut/GGR/PPL
For skipper Nabil Amra, 42, of Minneapolis, Minnesota, it was the retro rules that made the race so appealing.
"I need to lay the blame on the authors who sailed this race back in the day," Amra said. "I polluted my brain with Tetley and Moitessier, devouring the whole genre."
Bernard Moitessier was a fellow competitor of winning skipper Robin Knox-Johnston in the first Golden Globe, and the skippers who will set sail July 1 will do it just as they did, using sextants, paper charts and self-steering wind vanes.
"I wouldn't have been interested in this race if it wasn't retro, and probably wouldn't have had the skills to sail a modern around-the-world racer at 20 knots," Amra said. "Modern racing may as well be space shuttle racing to me, but sailing at 6 knots really levels the field."
Amra started sailing at age 29 on small inland lakes in Minnesota with a coworker on his Compac 23 on Lake Calhoun. For the last five years, he has sailed his Contessa 32 out of Puerto Rico to reach the 8,000-offshore-mile requirement of the race. Race rules only allow 32- to 36-foot full-keel monohulls approved by race organizers. Many of the skippers have chosen Rustler 36s, Baba 35s, Endurance 35s and two have even gone so far as building replicas of Knox-Johnston's winning Suhaili. For the race, Amra bought a Biscay 36, and it is undergoing a final fitting out in Falmouth, England, while he continues sail his Contessa.
"I needed my 2,000-mile solo qualifying passage, so I sailed from Fajardo, Puerto Rico, to Portland, Maine," he said. "It was terrible spring weather as I made my way up the Atlantic, and I had my doubts about doing the race. But then three days after it was forgotten," Amra said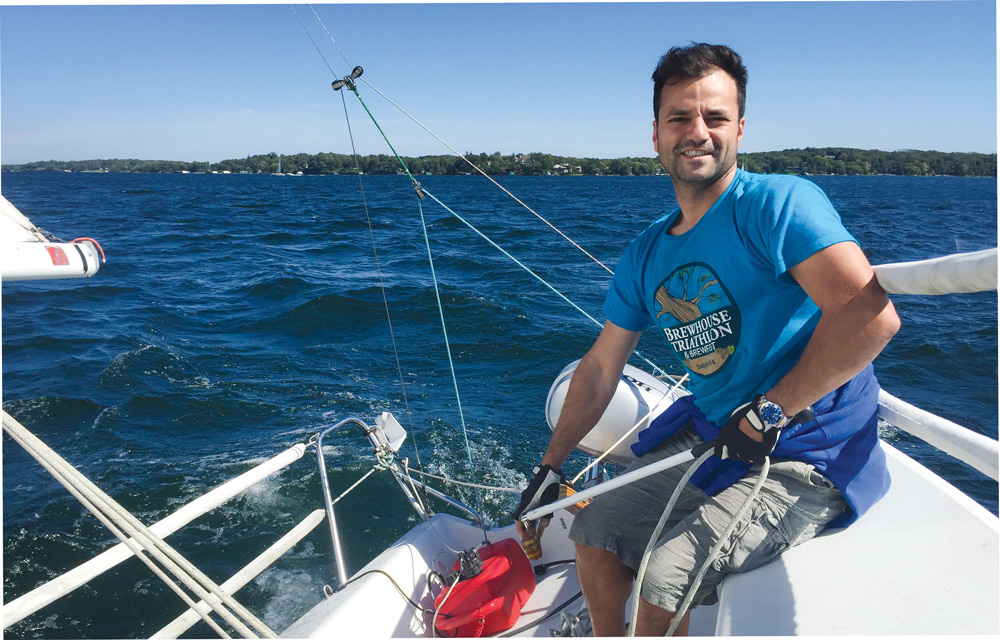 PPL photo
The boats may be older, but that doesn't mean that the race is inexpensive. In addition to the $14,000 entry fee, Amra estimates he has $175,000 into the retrofit. As an American-born Palestinian, he said he had difficulty finding a sponsor because he's chosen to sail under the Palestine flag. Amra's parents immigrated from Palestine to the farming town of Chaska, Minnesota, where his father was a general surgeon who was sometimes paid by the farmers in trade.
"I'd come home from school and find half a cow hanging in the garage," Amra said. "My father loved the corn-town life, mostly the people."
It's Midwesterners who have rallied to support Amra's campaign. His local sailmaker Tim Carlson and his company Sailcrafters located just outside of Minneapolis built all the sails. Under the rules, no high-tech sailcloth can be used. His girlfriend Gina Cook acts as his team manager.
"All my local lake friends held fundraisers," Amra said. "It might be a solo race, but it's going to take a village to get to the starting line."
---