Sail like a girl? You bet they did
The Sail Like a Girl team celebrates a Race to Alaska win, the first time a monohull has won the race. Race to Alaska photo
They had traveled 750 miles by sea, convinced themselves that they had blown their lead when they had to stop to deal with a log jammed under the boat and worked their legs as much as their brains and yet, as the team of seven woman approached the finish to what is one of the most unusual and captivating races in the world, they damn near missed it.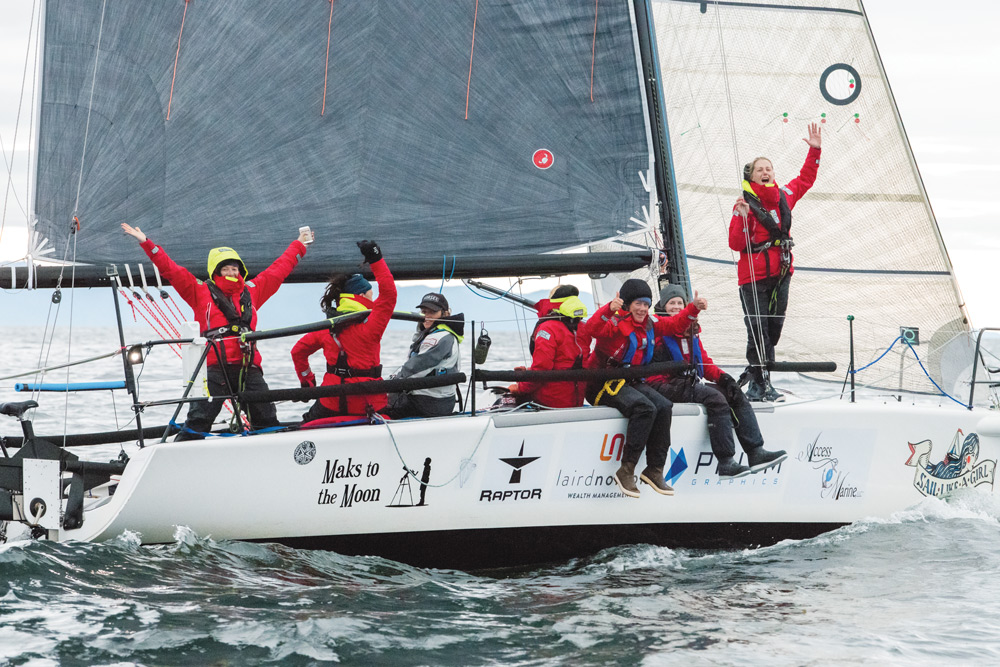 Ketchikan's harbor is notoriously difficult to figure out at night, when a maze of lights on shore can be confusing. Skipper Jeanne Assael Goussev was looking at the GPS on her phone and desperately searching for the dim green and red lights that mark the harbor mouth. She spotted a lantern swinging at the end of a dock and out of the dark came a chorus of cheers from a large crowd gathered at the dock.
"The number of people there was astonishing," Goussev said of the crowd that included family, friends, race officials and race fans, including one young girl who fell asleep in a dock cart desperately trying to stay awake for the finish of her favorite team. "It was absolutely overwhelming."
To understand Team Sail Like a Girl's accomplishment, you need to know the Race to Alaska. First run in 2015 and organized by the Northwest Maritime Center, the event is not a sailboat race. In fact any vessel can tackle the 750-mile course from Port Townsend, Washington, to Ketchikan, Alaska, (with a stop in Victoria, British Columbia) so long as it has no motor and is self-supported (no supply boats allowed).
Paddlers race alongside catamarans, although many entries are sailboats of some variety with an alternate method of propulsion to be used when the light wind that can plague the Inside Passage combines with strong tides for a frustrating and often terrifying scenario. One entrant in this year's race hopped in his dingy and towed his sailboat in light air.
There are only two prizes: $10,000 (in cash, nailed to a log on the finish dock) and a set of steak knives. But, at least for now, winning isn't really what seems to be on most racers minds. It's all about the adventure.
And that's where it started for Team Sail Like a Girl.
"The people that are in this race are not trying to win," said crewmember Anna Stevens. "It's all about the adventure part of it. I love that. It just gets to people and embeds itself in your soul."
Stevens said she had been "obsessed" with following the race since it began. "I had done a couple of practice races with my friend Jeanne and she was looking for a challenge like this too," she said. "Turns out, I had just asked the right person. We went out, bought a boat and got it all ready."
In October, they found a Melges 32 in California at a good price but in need of some work, gathered a team—Kate Hearsey McKay, Aime Fulwell, Allison Dvaladze, Kelly Adamson Danielson, Haley King Lhamon and Morgana Buell—and then spent three months together working on the boat in a barn.
"We touched every bolt and screw and replaced all the hardware," Goussev said. "We put our hard work into the boat first. That commitment to the boat really set the framework for what happened when we were out on the water."
Much of the crew are experienced sailors (Goussev was set to sail the solo BT Challenge years ago before the race was scrapped), but two—Danielson and Fulwell—had almost no sailing experience. Fulwell, an accomplished rower, was brought on when the team planned to use rowing as its alternate propulsion, but she stayed with the team when it adopted a new strategy.
"Every single person we had onboard was necessary on that race. Kelly and Aimee, they learned fast," Stevens said. "This boat is unforgiving and it gives you that immediate cause and effect, which makes it great for learning."
While retrofitting the boat, the team decided to add bikes rather than oars. Goussev's husband was integral in helping design the bikes, which were fitting off the boat's transom. The seats were designed so they could be used in either a regular biking position or in a recumbent position. They used the peddle drives from a pair of kayaks and geared them for maximum efficiency.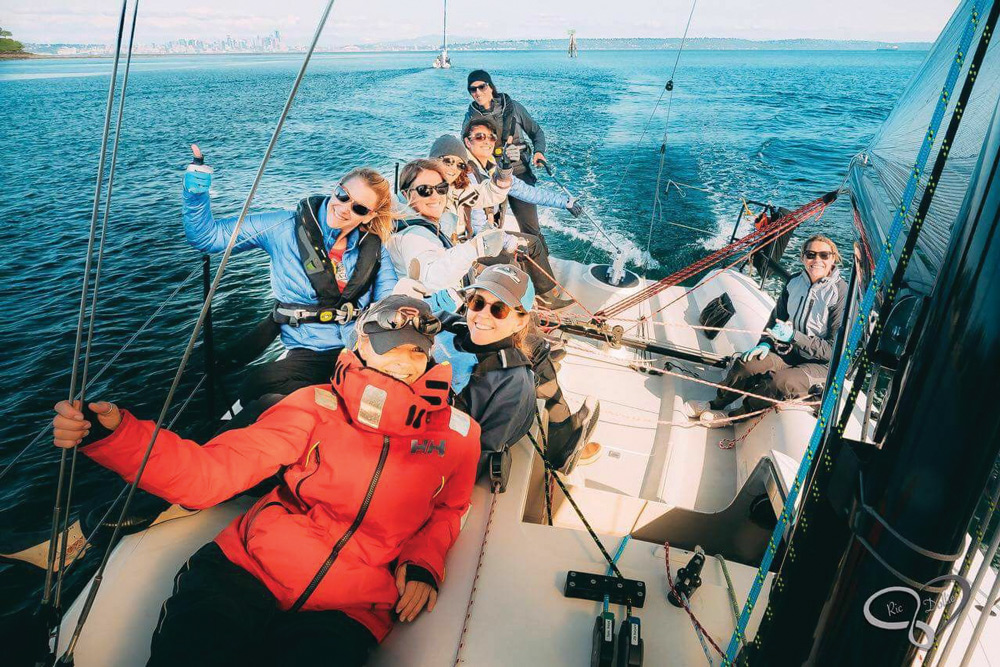 Ric and Dollie Photography
For as much time as the team put into the boat, they spent even more time practicing for the race. Stevens said they often sailed five nights a week for months ahead of the June race start.
By the time the sailors got to the start line they were a well-oiled machine, bringing a crew dynamic to the race that many other teams, both in this race and previous races, had lacked.
That helped the team manage the significant amount of light air faced by the fleet this year, Stevens said.
"There was a lot of just no wind this year. We ended up biking for about 50% of the time," she said.
The team had two people on the bikes anytime the boat was moving slowly. Sometimes a bike shift would last about 45 minutes, but at crucial points in the race—such as when they needed to get through Seymour Narrows or wait six hours for the tide—they peddled all out, swapping riders every 10 minutes or so, Stevens said.
The speed assist from the bikes was particularly helpful in combination with the boat's big code zero sail, she said.
"We used the bikes to get us enough speed to make some apparent wind and then we'd be able to carry the code zero," Stevens said. "Peddling would get us about 3 knots of speed without current and we'd get another knot with the code zero up."
The team, which covered the course in about nine and a half days, was serious but enjoyed every moment onboard, she said.