Chicago-Mac death investigated
The death of a sailor who drowned when his life jacket did not inflate during the Chicago Yacht Club's Race to Mackinac July 21 is being investigated by a committee overseen by the yacht club.
Jon Santarelli, 53, was washed off the TP52 Imedi shortly after the boat started in the Turbo section of the race, which was started in more than 20 knots of wind with 6- to 8-foot building seas. The inflatable life jacket he was wearing did not inflate and multiple attempts by the boat to retrieve him were unsuccessful, according to the yacht club. Santarelli's body was recovered July 28 wearing the life jacket, according to the Coast Guard.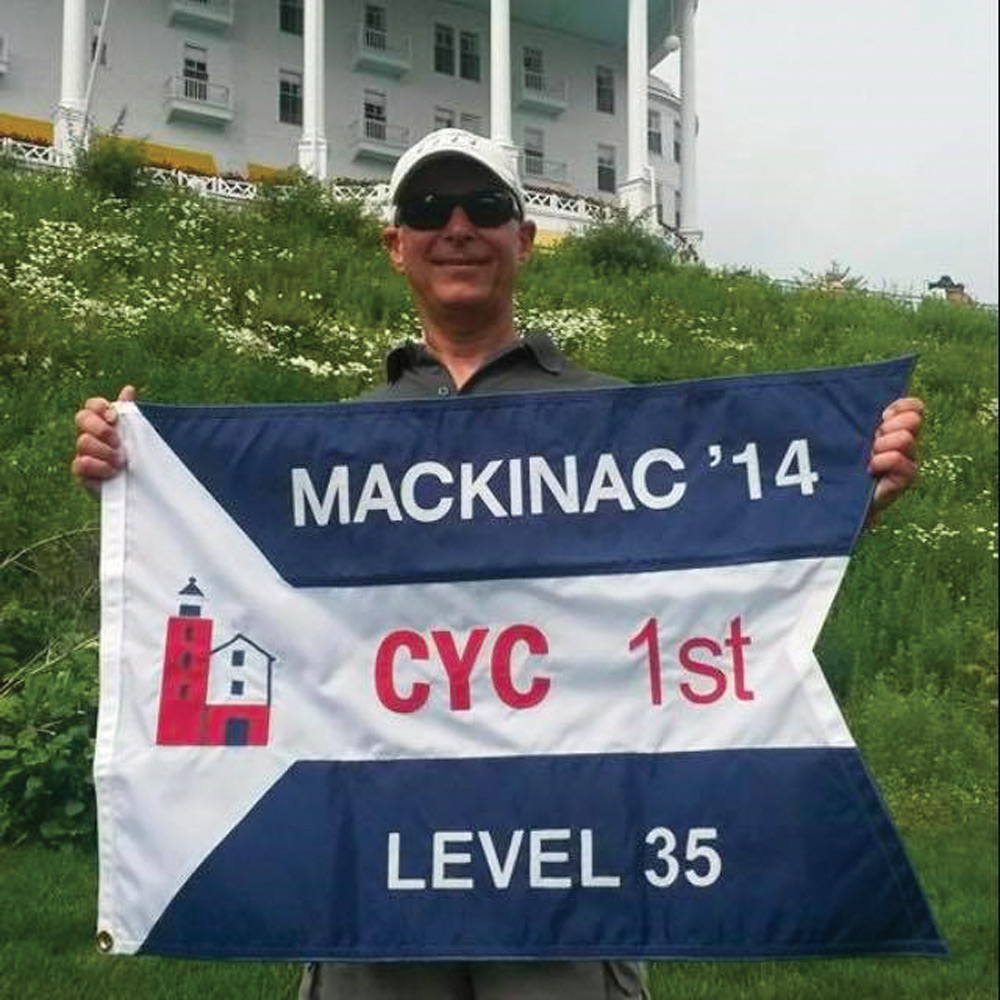 Although the club had originally announced that an investigation into the incident would include an analysis of the life jacket, on August 1 the Coast Guard informed the yacht club that the life jacket, except for the CO2 cylinder, had been incinerated with Santarelli's body.
Chicago Yacht Club and the Coast Guard were not aware of plans to destroy the life jacket and Santarelli's family had also requested it be analyzed, but an apparent miscommunication led to its destruction, Rear Commodore Nick Berberian said.
"Everyone wanted the life jacket, but we're learning a lot of important lessons even without having it," he said.
Shortly after the race, the club formed a Safety Enhancement Committee to investigate the death of Santarelli, which was ruled an accident by the Chicago Police Department.
The committee consists of Ron White, US Sailing's offshore chairman and chief measurer for Chicago YC; Sally Honey, US Sailing's Safety at Sea chairman; Matt Knighton, former Volvo Ocean Race onboard reporter; Jay Kehoe, Chicago YC's on-water director; Sarah Renz, race chairman; Chris Thomas, Race to Mackinac Safety chairman; and Shawn O'Neill, a longtime race participant. Other than Honey, all are Chicago YC members or employees. Other experts may be brought in as the investigation continues, Berberian said.
US Sailing's Safety at Sea Committee has not been asked to do its own investigation, Honey said.
According to a statement by the yacht club, Santarelli, who was wearing foul weather gear and a hydrostatic triggered inflatable life jacket provided by the boat, was trimming a sail from behind the helm when he was hit by a wave and slipped under the lifelines across the transom. Crewmembers immediately shouted "man overboard," marked Santarelli's position and performed a quick-stop maneuver in less than a minute. The boat made three unsuccessful approaches to retrieve him, during which crew noted that his life jacket had not inflated. During the third approach, crewmembers saw him slip under the water.
Eight nearby boats suspended racing to help search. Chicago Police and Fire department vessels, the Coast Guard and other pleasure boats also searched.
The committee has been piecing together information about the life jacket from crewmembers onboard Imedi, which was sold in October. Berberian said they believe they had identified the brand of life jacket but said the committee was corroborating that information before making it public.
"We're not in a position to release the brand at this time, but having said that, what we've learned is that the brand is not relevant to the larger issues we're identifying," he said. "There is a significant issue with care and maintenance of these devices.
"The other issue is with training for the person who goes in the water with one of these on. The Coast Guard has told us that very few people think about pulling the manual inflation backup. A normal person is counting on that going off, and if you fall in, you're thinking about survival, not the manual override. We need to look at the manual inflation as the primary method. If the auto-inflate goes off, great, but if it doesn't, you're still covered."
The Race to Mackinac requires participants to wear Type I life jackets—either inflatable with at least 33.7 pounds of buoyancy or inherently buoyant with at least 22 pounds of buoyancy—when on deck between dusk and dawn and other times when instructed to by the boat's person in charge. Most kayak- and dinghy-style life jackets do not meet this requirement.
Berberian said the committee may make recommendations about changes to requirements for the Race to Mackinac, but hopes to also identify information that will be helpful to the sport.
"As a leader in the sport, we feel a responsibility to give back, and that's especially true in terms of safety," he said. "Our intent is to work closely with US Sailing and the boating community to raise awareness. We'd like to have something positive come from this terrible tragedy."
Chicago YC said it expects to issue a report on the committee's investigation in January.