The Hylas 48 is a robust offshore passagemaker tricked out with creature comforts, sophisticated systems and a seakindly nature
Under sail
It was shaping up to be a beautiful day on the bay and Bikini was ready to sail, so we cast off the lines and headed out Back Creek toward Chesapeake Bay. The Hylas 48 is set up for shorthanded sailing and it was simple to unfurl the main and genoa. The mainsail sheets to a traveler and single winch behind the helm, and with the end-boom sheeting, it provided excellent control. It was easy to reach all winches from the helm and the optional electric jib winches made tacking easy. To tack the genoa, we furled it almost all the way for it to slip in front of the inner forestay.
The fickle breeze provided enough punch to see the potential, and the H48 was able to sail at 3 knots at 32 degrees apparent in the 5-knot breeze, and as the wind built to 10 to 12 knots I saw the speedo hit almost 7 as we dodged the crab pots. Pschorr said the boat can happily reach at 9 knots.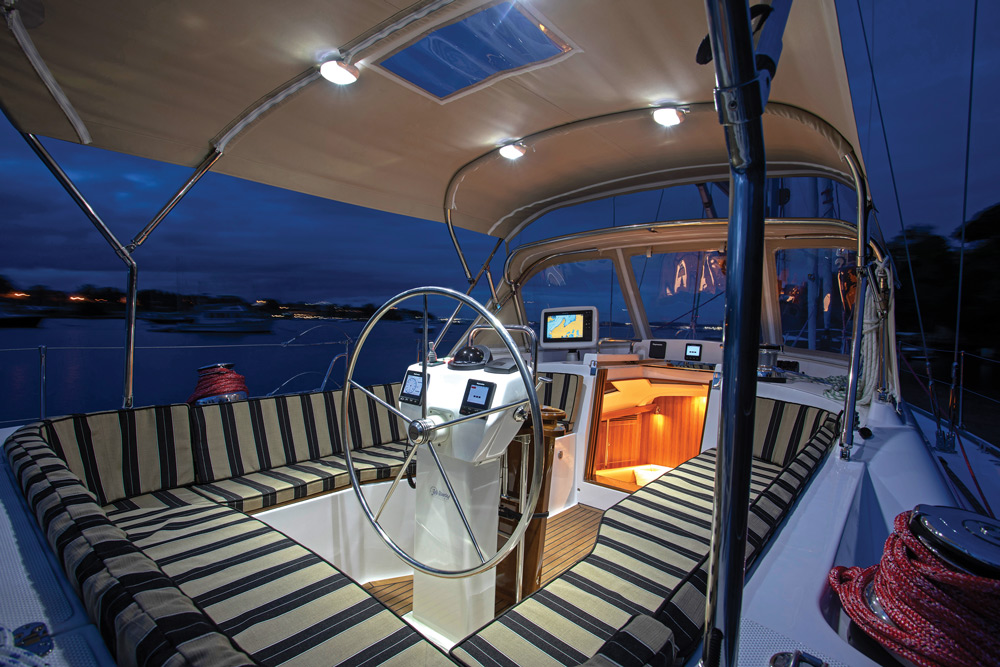 Billy Black photo
"On the delivery from Newport to Annapolis, we ran into some really rough weather with 30-knot winds and 10-foot seas, and the boat handled it really well. We rocketed south," Pschorr said.
Taking the wheel, the helm felt solid, with the rod-and-gear steering system and integrated autopilot, but this type of system also gives a lighter feel than a cable-and-quadrant steering system. There was good visibility from the helm, and the throttle and Raymarine electronics were easy to access on a pedestal. The large chartplotter was mounted on the cabintop.
The sailing was so relaxing that we didn't realize how far down the bay we had sailed. With more appointments to make, we quickly furled the sails and hightailed it back to the marina under power, easily making 8 knots at 2,700 rpm with the 75-horsepower turbo Yanmar. Bikini and I tucked into a corner of the cockpit enjoying the cooling breeze in the shade of the bimini. Thanks to the bow thrusters we squeezed back into the slip in short order, the easiest doublehanded landing in recent memory.
The Hylas 48 is meant for long passages. With its beefy construction, sophisticated systems for living aboard for long stretches and seakindly sailing characteristics, you just have to ask, "What's the next waypoint?"
---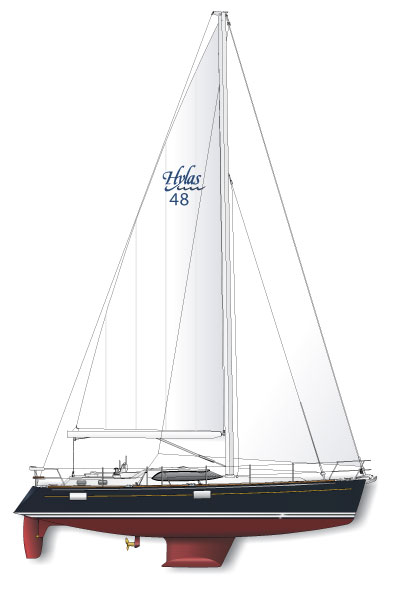 LOA 47'11"; LWL 42'4"; Beam 14'6"; Draft 6'6"; Displ. 36,360 lbs.; Ballast 13,111 lbs.; Sail area 1,373 sq. ft.; SA/D 20.4; D/L 208; L/B 3.3 Auxiliary 75-hp; Fuel 290 gal.; Water 119 gal.
Sailaway price: $729,000
Hylas Yachts
1688 Meridian Avenue, 7th Floor
Miami Beach, FL 33139
786-497-7882