How to make the most of your charter
Fine-tune your charter to your liking to create the ultimate sailor's vacation
The charter business was born 50 years ago in the British Virgin Islands with six 35-foot sailboats and a dream by Charlie and Ginny Cary to help people go sailing in one of the best cruising grounds on the planet. It was known as The Moorings.
Since then, chartering has become one of the most popular ways to go sailing almost anywhere in the world. Charter companies have perfected the art of offering exactly what sailors are looking for and it's easier than ever to tailor a charter to meet your every need.
Chartering has never been easier but there are still a few ways to make sure you make the most of your sailing vacation.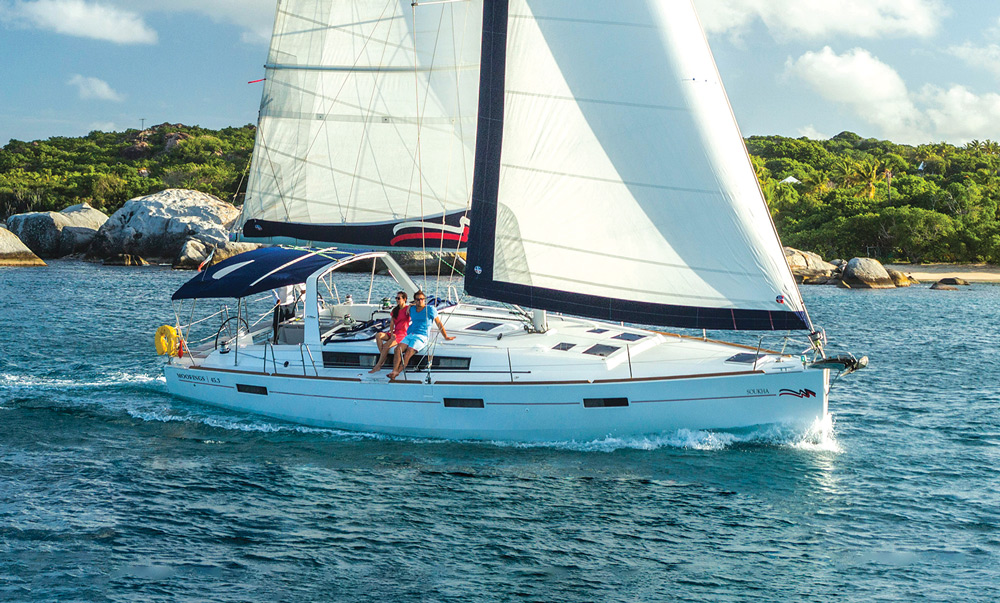 George Kamper photo
Start right
Some of the most important decisions you'll make about a charter are the ones you make first. Where do you want to sail? Are you looking for something easy to get to and easy to navigate when you're there or do you want to go farther afield and take on a more challenging adventure? What charter company should you go with? Who do you want to sail with? A charter with sailing friends might look much different from a charter with family or nonsailors.
The answers to the first two questions might be easiest to come by at a boat show where you can talk to representatives from dozens of charter companies and see some of their boats. You'll get a feel for what the company offers, the boats in its fleet and even a feel for the atmosphere at the company.
The question of who to charter with is perhaps more complicated. You might feel better having fellow sailors on board if you're new to chartering. If it's a family vacation, don't let bringing the kids discourage you. Some of our writers' most memorable charters have been sailed with kids of all ages. But you may want to consider a destination with less challenging sailing and shorter distances between stops.
Think hard before you invite landlubber friends along on a charter, and certainly don't let it be their first time sailing. But if your friends loved their daysail with you and are the types who are up for anything, by all means, invite them along. Just make sure to tell them what to expect.
"A charter vacation is what you make of it, so fill your boat with people who are easy-going and fun, and the rest will take care of itself," said Ian Pedersen, Moorings marketing manager.
What kind of charter
Even as recently as a few years ago, the only decisions you had to make about the kind of charter you wanted to take were bareboat or crewed and monohull or multihull. But now charter companies offer many more options to consider.
Various themes on the crewed charter idea include hiring a captain for just the first few days of a charter in order to help you get familiar with the boat, or a captain during the day, bareboat at night concept in which charterers have the boat to themselves after it's tucked in at anchor.
Flotillas are an increasingly popular option, allowing sailors to charter in conjunction with a group of boats for camaraderie and perhaps confidence. Many charter companies also offer themed flotillas with extracurricular land-based activities for the group.
And many charterers choose to incorporate learning in their trip. Charterers are students by day, sometimes gaining ASA certifications for bareboat chartering, multihull sailing or other sailing skills during their charter. If learning is on the agenda, you may want to start your search with your favorite sailing school and arrange your charter through them.
Plan ahead
Charter companies offer suggested itineraries for charter locations and these are a good place to start your planning. The next step should be to pick up a charter guide book and highlight the areas that sound interesting.
Sitting down with your crewmates for an itinerary planning session is a good idea. Have everyone bring their suggestions as well as the above materials and a chart book or navigation app. Keep in mind the amount of time you'll want to spend at each destination. If a long passage is required, consider building in the entire next day for exploring and enjoying an anchorage. If short passages will get you where you need to be, consider looking for a lunch stop for a midday walk or swim.
Feel free to rely on your charter company for planning help; it's part of what you're paying for.
"We have a wealth of resources available to help you prepare for your trip, so take advantage of it and take the time to go through everything properly," Pedersen said. "And most importantly, complete the documentation we request. The more information we have, the better we can help you once you arrive for your vacation."
No matter what though, have a plan for your first stop. There's nothing worse than getting all geared up for a charter and be ready to push off the dock and have to stop to ask, "So, where are we going today?"
But go with the flow
All that planning will help make sure that everyone on board gets to see some of the places they'd like to. But don't set anything in stone.
The odds are that you'll learn of some places you'd like to see during the boat briefing before you leave the dock. Charter base employees know the area better than most and are happy to share tips on great anchorages, restaurants and activities that the guidebook might have missed. They may also have suggestions on how to improve the itinerary outline you made before you came.
Don't be a slave to your itinerary. You can't control the weather and rather than fight it in order to stick to an itinerary, be flexible enough to change things up on the fly. Pleasant sailing makes for a great charter even if you don't hit all the destination high points you planned to.
You don't need as much stuff as you think
It's always amazing how little personal gear you really need on a charter in the tropics. In general, most tropical cruising grounds are very casual, so a few shorts, shirts and a swimsuit or two cover most circumstances. A foul weather jacket, light jacket and sun protection generally round out the requirements.
As far as other onboard gear goes, charter companies offer almost everything you need, including fishing and snorkeling gear (typically there is a big box of fins, snorkels and masks at the base and its worth making sure you find what fits well). Although all charter boats are outfitted with chartplotters, you might opt to bring an additional handheld GPS just for comfort or plan to use an app on your phone (make sure you have an international data plan installed before you leave).
There are some creature comforts that can make a charter a little better and it may be worth taking out a pair of shorts to sneak a few in your duffel bag. (Serial charterer Betsy Crowfoot Senescu shares some of her must-haves on page 60.)
You may need more gear for cruising in cooler places or those with less predictable weather. Space is at a premium and it's not fun to lug a heavy bag up and down the dock. Before you pack it, check with your charter company to see if they provide it.
Transportation and provisioning
Many charter companies provide transportation from the nearest airport, but some do not. Check with your charter company about the best way to get to the base and what you should plan to do if your flight is delayed. Have the address of the charter base handy in case you need to take a cab.
All charter companies offer various levels of provisioning that start with a starter pack of basic necessities like paper towel, dish soap and aluminum foil, and range all the way to a completely stocked boat. Ask about nearby grocery stores. In most cases you'll find better prices and better selection doing your own shopping. But don't overshop. It's unlikely you'll be eating all your meals on board and there are likely markets to pick up things along the way. Keep the makings for one easy meal that uses mostly nonperishables on hand in case the one restaurant at your destination that you planned to go to is mysteriously closed or if your plans change and you decide you'd rather spend a night on a hook in a secluded anchorage.
Safety
Charter companies make staying safe easy. Most cruising grounds are very traveler friendly, so staying safe generally means navigating carefully (pay attention during the chart briefing) and taking care of the boat.
If something breaks on the boat, do your best to figure out a solution. Charter companies are happy to help, but if you can accomplish a fix on your own or with some advice over the phone, you'll keep your trip on track. If you have to wait for someone from the charter company to get to you, your plans will almost certainly be affected. Self-sufficiency is important even when the boat is a rental.
Make sure you have phone numbers and a list of monitored VHF channels for the base handy. This is usually provided in a binder on the boat, but check to make sure you know this information.
And lastly, mind the dinghy. Dinghies might cause more trauma than anything else on a charter. They float away from a hastily tied cleat (a backup bowline is a good idea), are flooded from being towed too closely, can get stolen from a dinghy dock (always take the key or kill switch) or get damaged in many other ways. And charter companies will make you pay for this. Don't end your charter divvying up the cost of a new dinghy you'll never see.
Chartering is more sailor friendly than ever. Charter companies are happy to answer nearly any question and offer lots of suggestions. But there's no need to fall into a cookie cutter charter. Spend a little time off the beaten track and make your charter truly your own.