A family soaks in the food, sun and perfect sailing on a charter cruise to the lesser-traveled Greek islands of the Ionian Sea
Let's meet in Greece."
That's how our latest sailing adventure began during a family holiday dinner conversation. My wife Christine and I, 30-something son Zack from San Francisco and 20-something daughter Julie from Boston, sail together whenever possible, and Greece was always on our dream list, so the next step was picking an island chain.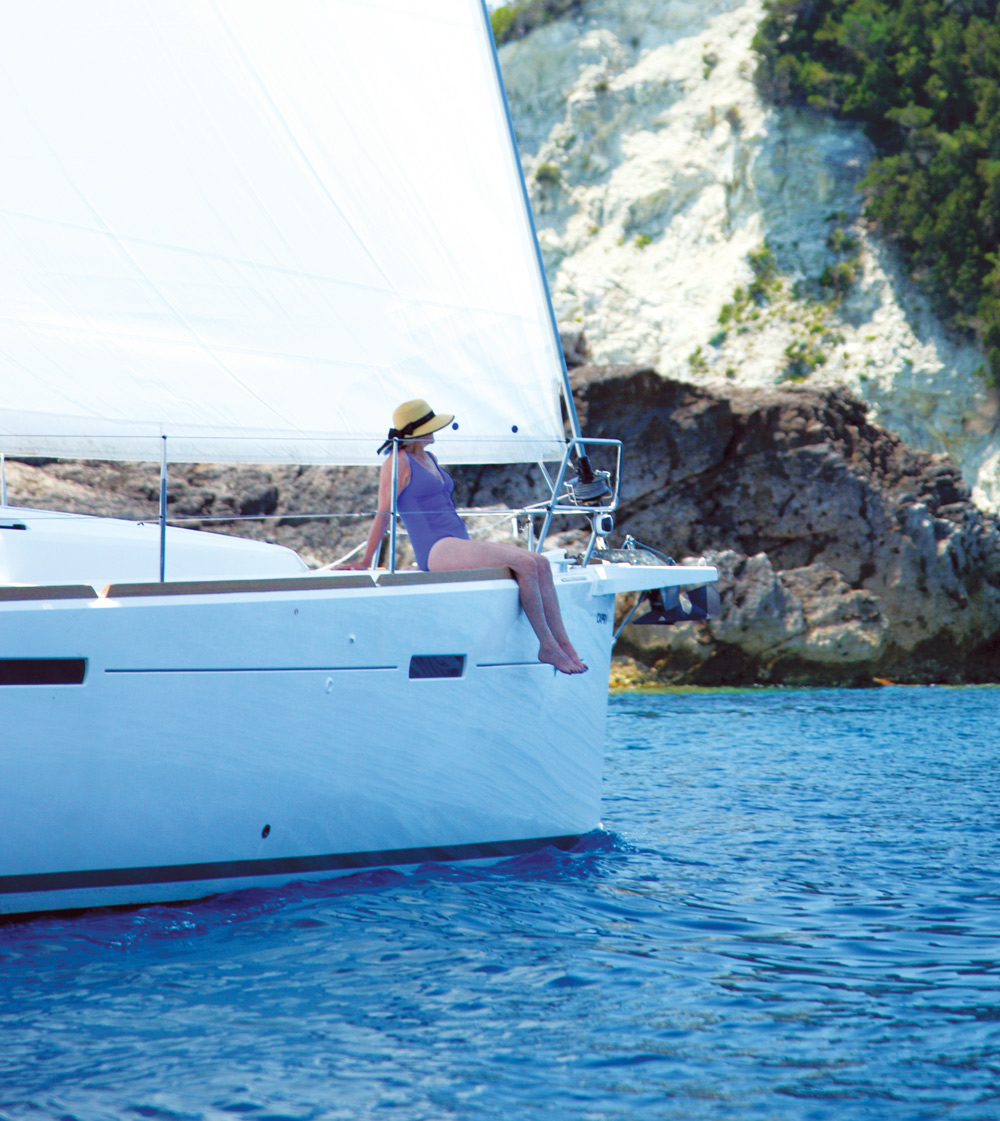 We considered the Aegean Sea off Greece's eastern shore, where most islands are brown, rocky and volcanic, with sunbaked soil and sparse vegetation. But the prevailing Meltimi wind turns the Aegean into a washing machine and the distances between islands make for long passages. So we diverted our attention to the green isles in the Ionian Sea to the west of the country's peninsular mainland. From all accounts, the birthplace of Homer, the legendary author of the "Iliad" and the "Odyssey" assured more relaxed sailing.
Joined by Zack's companion Kelea Somerton and Julie's friend Nate Macomber, we arrived by plane on the island of Corfu, where the Dream Yacht Charter base is located at Gouvia Marina just north of Corfu Town. Base manager Angeliki Tzouropanou went over the systems aboard our Sun Odyssey 449 Capri, with its four cabins, two heads and spacious cockpit, and offered advice on our proposed itinerary. We spent the late afternoon buying provisions at the marina's market and the AB Supermarket where prices are more competitive. We had a choice of staying at the dock the first night or heading to an anchorage just beyond the harbor entrance, keeping in mind that navigation buoys in Greece are the opposite of those in North America. Had we adhered to the rule of "right on red returning" we would very likely have ended up on the rocks.
Corfu, known locally as Kerkyra, is roughly 40 miles long, 20 miles wide and on the same latitude as Albania. The largest of the Ionian's seven main islands, its craggy shoreline is dotted with small coves and beaches where, depending on the wind direction, it's possible to drop a hook and be the only boat in sight.
Eager to set sail from Gouvia and get a feel for Capri, we headed south for Petriti, a small village with a working fishing fleet. We arrived in less than three hours, the boat handled commendably in the steady breeze. Once inside Petriti's protected harbor, there was room to anchor and the mud bottom provided good holding.
Petriti proved itself an authentic Greek village, allaying our fears it might be a tourist façade with countless trinket shops, fast food and overpriced drinks. We soon found a quiet taverna that overhung the dinghy dock and boasted an expansive view of the harbor. It was easy to quench our thirst. A bottle of Mythos or Fix beer cost $3 U.S., while a liter of the crisp local white wine was $8. We came to realize the Ionian is a bargain for visiting sailors.
Yanni, the third-generation restaurant owner, invited us into his kitchen to select freshly caught mullet, red snapper, sea bass or squid from the cooler. Zack and Julie picked out fish for the grill and soon our bellies were full. Yanni later joined our table, carrying a tray of chilled ouzo shots, after which he broke into a brief Greek dance. And for the first of what would be dozens of times in Greece, we toasted yamas, which means to your health.
Prior to our departure from the United States, friends asked whether we were concerned about possible terrorism, crime, Greek's economic woes or communicating in a language with an imposing alphabet. Any such worries were needless. Throughout the week, we met countless Greeks like Yanni who were kind, friendly, helpful, good-natured, and willing to communicate despite the language barrier. Many had a rudimentary command of English, while we, unfortunately, spoke only a few words in Greek. We were grateful for their hospitality, which emerged on every island we visited.
Two islands just south of Corfu­—Paxos and Antipaxos—were key stops on our itinerary. According to Greek legend, Paxos was the romantic hideaway of Poseidon, god of the sea, earthquakes and storms. Leaving Petriti, we had a brisk downwind sail to the village of Mongonissi on Paxos. The wind was warm and dry, the sun powerful. We passed small inlets with sand beaches on the coasts of Corfu and Paxos where single sailboats were peacefully anchored. As the wind increased, Kelea's favorite hat was blown into the sea. We executed a figure-eight man-overboard drill and nearly rescued it with the boat hook, but the Ionian took the spoils.
Upon arrival on Paxos, the village of Mongonissi brought plenty of excitement, not all of it welcome. The anchorage was crowded so we prepared to moor Mediterranean-style by dropping our hook and backing toward the concrete seawall that was fitted with iron rings for tie-up. It took a couple of tries, but with help from other sailors on the seawall and plenty of fenders along our port side, we nestled against the last boat in the line-up. We adjusted our two stern lines, set a spring line, put out our wood passerelle from swim platform to seawall, and prepared to relax.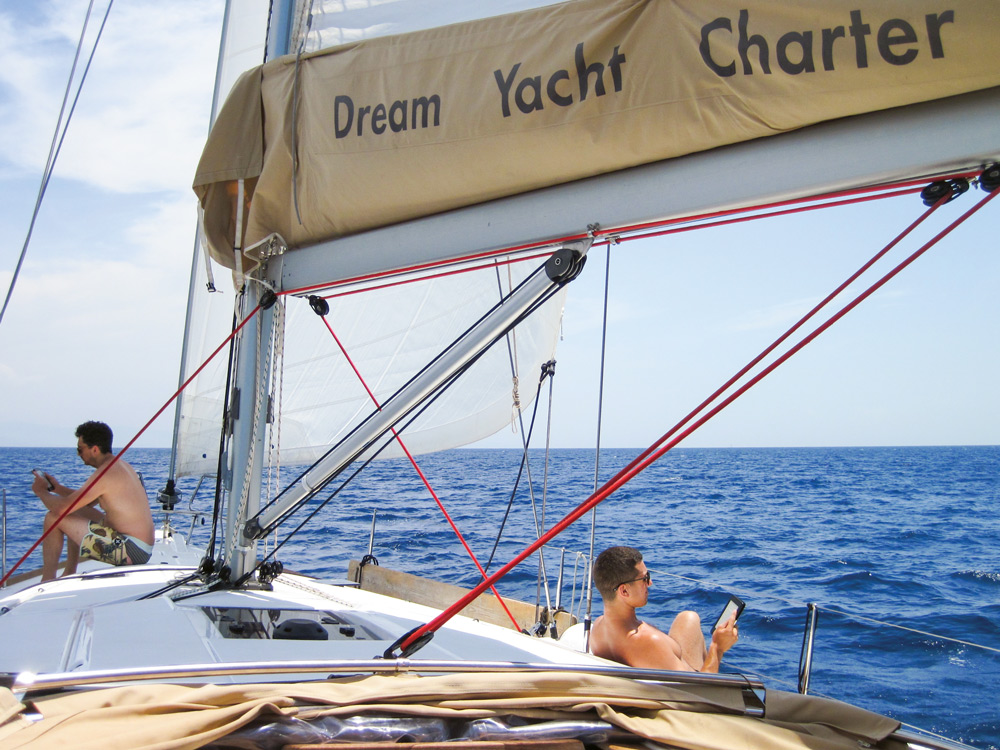 The Maestral wind that predictably blows from the northwest at 20 knots from May to September gathered some late afternoon punch just as a 46-foot chartered sailboat entered the harbor. The skipper attempted to Med-moor next to us, but dropped his anchor far off the mark and tangled with the chains from three other boats, ours included. Fortunately a seasoned cruiser named Frank scampered into his inflatable, fired up the outboard and rammed the intruding boat, pushing its hull away from the others. People on the seawall and from surrounding boats cheered while those aboard the out-of-control boat sheepishly retrieved their anchor and motored out of the harbor. It was definitely time for a beer, and as though on cue, traditional Greek music wafted across the water, prompting us to walk to the waterfront restaurant where dancers in costume were twirling scarves and spinning in circles.
The Mongonissi harbor shoreline was a garden of bougainvillea, cacti and exotic palms, the air perfumed with flowers. Like Corfu, Paxos has benefitted from sea mist and abundant rainfall to ensure its vegetation stays green and lush. A strenuous hike to the far side of the island revealed an untamed wilderness of jagged rock thrust against the turquoise sea. The raw beauty was overwhelming.
The sky was still light at 9 p.m. when Zack prepared a cockpit dinner of carbonara and a big leafy salad. We ate, drank more wine, watched the sunset and talked about the next day's planned sail to Antipaxos. As darkness enveloped the harbor, star-gazing dominated as the crew's pastime. The mood aboard Capri was effervescent. We were in the land of endless summer, outdoors all day and night.
We'd heard and read about Antipaxos, the smallest Ionian island at two square miles and frequently described in travel articles as an unspoiled paradise of aquamarine water and pristine beaches. To our surprise, it was packed with chartered sailboats, motor yachts large and small, and ferries overflowing with day trippers. We anchored, donned snorkeling gear and swam to the natural sea caves, which in the darkness made us feel like pirates looking for a spot to hide our treasure.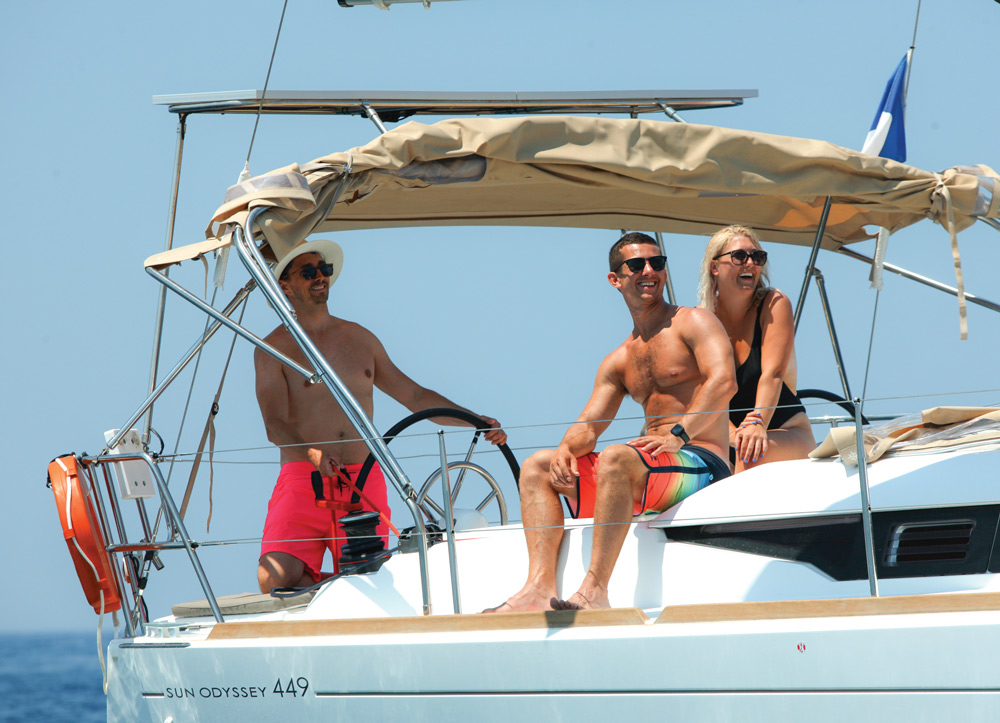 Kayakers and other snorkelers competed for space at the cave entrances, so we decided to row the dinghy to Voutoumi Beach, a strand of softball-sized, cream-colored rocks that, while smoothed by the relentless sea, were difficult to walk across. The experience reminded us of The Baths in the British Virgin Islands, which very early in the day or during the hours shortly before sunset can be idyllic, but in between those times the magic gets stomped out by too many people. Since Antipaxos isn't the best site for overnight anchoring, we set sail for Paxos and the picturesque village of Lakka.
Every sailing trip has its sweet moment and Lakka was ours. The village was built on a small bay protected on three sides, the turquoise water so clear it was possible to see our anchor and other features on the sea bottom 20 feet below. The streets were paved with ancient stones, the narrow alleys lined with useful shops such as a bakery, grocery and nautical supplies. It was easy to provision.
No litter marred the streets. Signs pointed the way to a dump station at the outskirts of the village where visiting sailors could dispose of their trash. There were several unique boutique clothing shops and few cars. Cafés and restaurants lined the curved waterfront and more culinary delights awaited us two blocks inland. It was there we discovered Stasinos Garden Restaurant and the owner's passion for food. We ate oven-baked bone-in lamb served atop crushed peas in a spicy sauce with a side of fried potatoes. Prawns and mussels topped the fresh pasta dishes. Plates arrived at our table with sardines, soft cheeses and Kalamata olives. We devoured the crusty local breads dipped in olive oil and, of course, drank more of the region's white wine. It was easy to understand why Greek legend has it Lakka was the romantic hideaway of Poseidon. The guy knew a good thing when he saw it.