Cruising to Smuggler's Cove
Just 16 miles from San Diego, Mexico's Coronado Islands are a perfect spot for a staycation cruise
"One good thing about this pandemic is it has made me stop and find the beauty in our own area," Diane said. Eventually she stepped onto a paddleboard and began paddling toward the island, with her little rescue dog Sophia perched on the bow.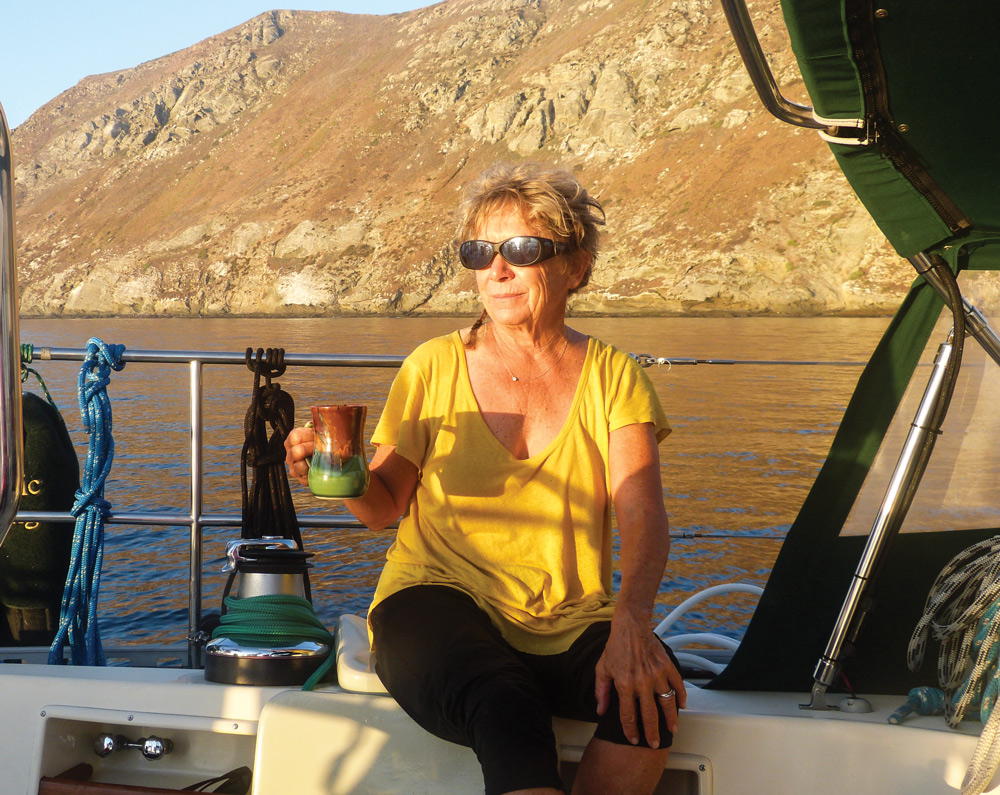 Betsy Senescu photo
Diane and I met two dozen years ago on a sail to Catalina that would turn into my very first story for SAILING Magazine. She is one of those incredibly multitalented people, having been a fashion buyer on Fifth Avenue, a Peace Corps worker in Fiji, owner of a pizzeria and USCG licensed captain. She has sailed thousands of miles on multiple continents. Her lifetime goal has been to sail around the world and she is making good on it. Since 2016 Diane has been putting prospective crew and others through the paces on a comprehensive and free sail training program, and plans to leave for points south next spring.
Halfway back from the island Diane jumped off the paddleboard to get some laps in, swimming with the board in tow. She is fearless, I realized, as I watched her swim back. I am terrified of sharks and took only a quick dip into the water. Perched on a boogie board with limbs splayed out I conceded how much I looked like shark bait, and scrambled up the swim ladder.
"What am I going to do, not go swimming?" Diane asked on her return. "Besides there are so many sea lions here, why would a shark want me?"
'Indeed,' I thought, as we bobbed in the midst of Golden Corral Buffet for sharks. But somewhat emboldened, I decided to take a turn on the board and paddled to the island.
The water was shockingly warm. As I approached the rocky bank, slick rubbery looking sea lions alerted and splashed in. The water was clear along the shore, where it churned in the scree.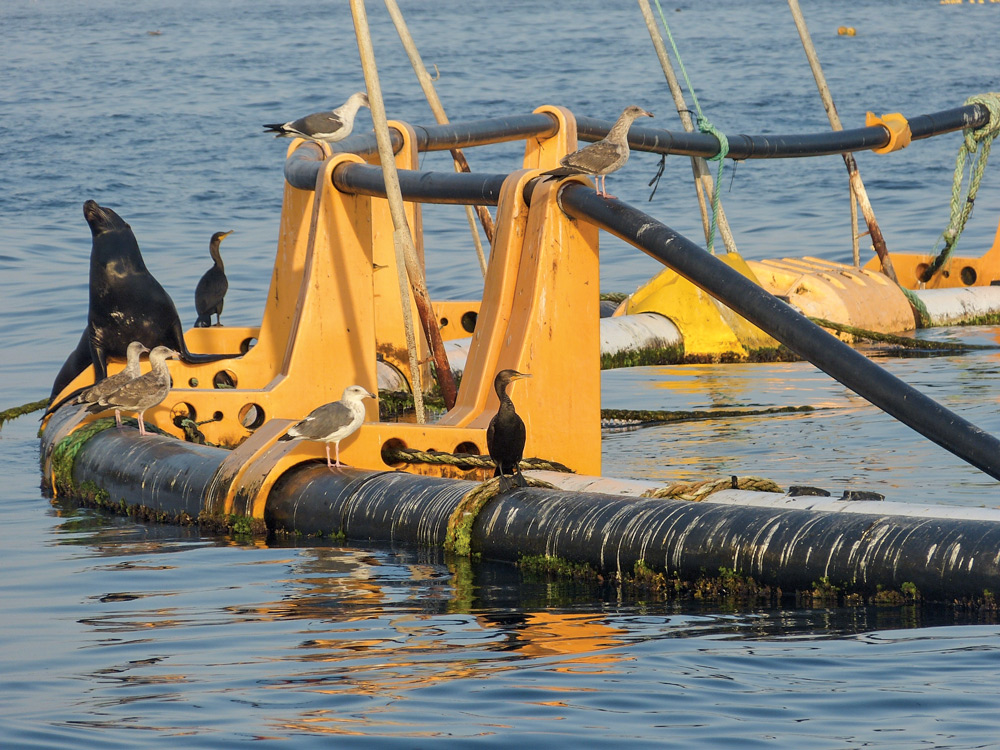 Betsy Senescu photo
Scientists have recorded more than 150 species of birds both migratory and resident on the islands: gulls, cormorants, pelicans, petrels, auklets, alcids and rare murrelets and brown boobies. The islands are vital rookeries for California sea lions, seals and northern elephant seals, and the surrounding waters rich in marine life. Fortunately, that day, no sharks.
Later, as the heat of the day intensified, we decided to pull up anchor and circumnavigate the island. Clearing the rocky outcroppings at the top, North Island was clearly visible: nearly half-mile long and more stout; with the much smaller Pilón de Azúcar nestled in between. Translated to "Pile of Sugar" for its blanket of white, it's more accurately a pile of bird droppings, drenched with guano from the thousands of birds that nest there. To the west was Middle Island, an elbow of rock where another boat was anchored, hobby-horsing wildly in the surge. We decided to pass on that pleasure and motored back to our original anchorage.
Our fisherman friends saw us and came alongside, offering some of their catch in appreciation. But we had dinner thawed and politely declined. Later that night they zoomed by with a floodlight checking on us, calling out, "OK? OK! Good night!" and disappeared into the darkness.
Overnight the boat swung 180 degrees into the southerly breeze. It was a chilly damp morning, socked in with fog. Even the sea lions slept in. We stayed nestled in our bunks, drinking coffee and reading, as Diane cranked on the heat.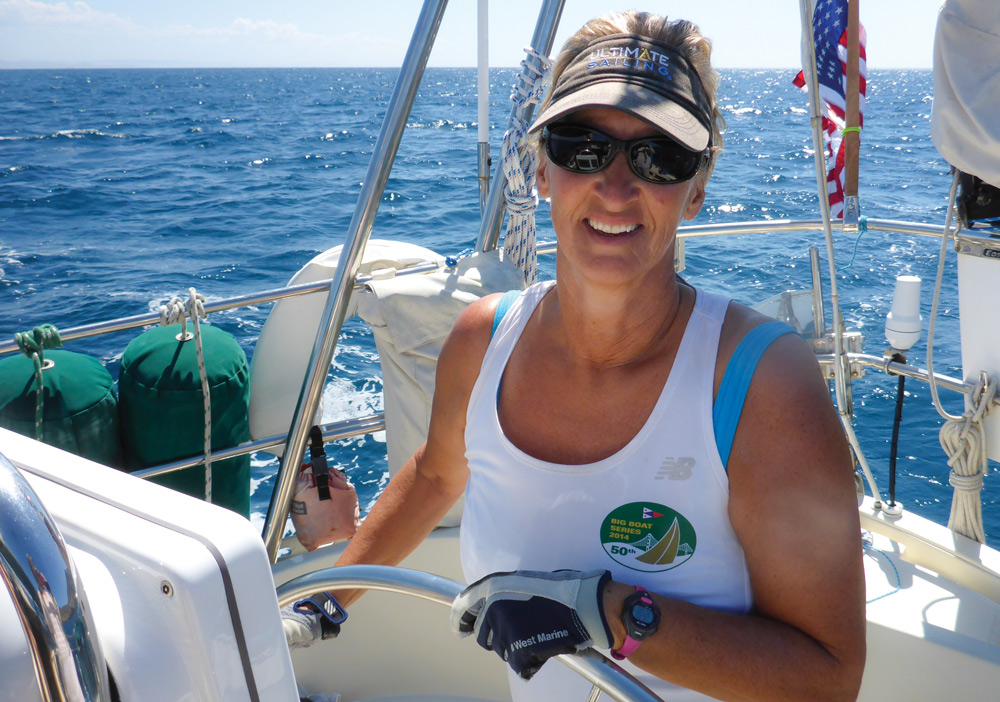 Betsy Senescu photo
At 16 years old,
Celtic Song
is in spectacular condition. Diane and her husband John have tricked it out with everything a bluewater cruiser could want. Amazing features like bow thrusters to help tuck in and out of the slip, along with a watermaker, solar charging, backup fuel and water tanks and state-of-the-art electronics. Despite the classic beauty of the Pacific Seacraft interior, the panels in the nav station made it look more like the International Space Station.
The cloud cover barely lifted, covering most of the 700-foot-high island. Below the ceiling the scant greenery on the bluff was intensified by the soft light, and the guano looked like snow. Combined with the choppy gray seas and intense damp, I was transported to the Hebrides. I nestled back in my bunk, content, and marveled at how a staycation, even just miles from home, has the ability to truly make you feel you've managed an escape worlds away.
---
If you go
Los Coronados Islands lie in Mexican waters; everyone must carry a current passport in addition to all proper vessel documentation. A Temporary Import Permit is required from Mexico and is available for about $50 and valid for 10 years. That said, no-one came to check.
The islands are protected and visitors are not allowed ashore. The primary anchorage is an open roadstead on the eastern side of South Island. We carried a 65-pound anchor and 250 feet of chain and used it all. Do not anchor in the protected cove occupied by the Armada de México. Middle Island offers a haven in light and prevailing conditions.
Bring along a copy of Greg Niemann's "Baja Fever" to read more about the Los Coronados and Baja, Mexico.